Campbell Rivulet Falls 2018 May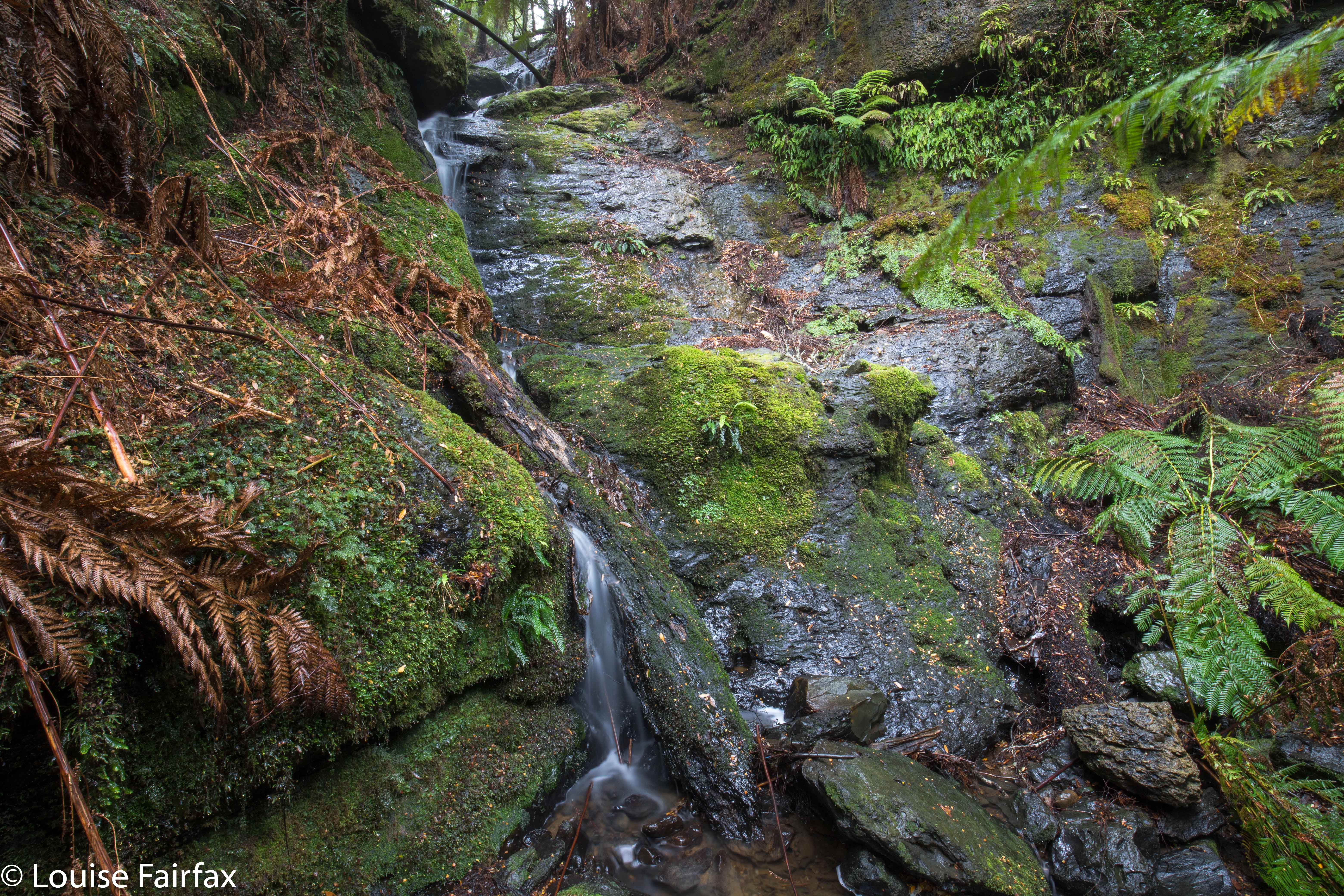 "Hey Carrie, Are you wanting an adventure soon?", I type. "Definitely keen," comes the quick response. It's on. I'm going to try to get us to Campbell Rivulet Falls, which are not on the map, not signposted and have a position I've guessed at from information I've gleaned. I hovered my finger over where I was expecting the falls to be and marked a waypoint. Hopefully if we get to that spot, we'll at least be able to see or hear our goal. I'm not overly confident, but Carrie doesn't know that. This is an adventure, and of course we'll find our falls. We always do. Hm.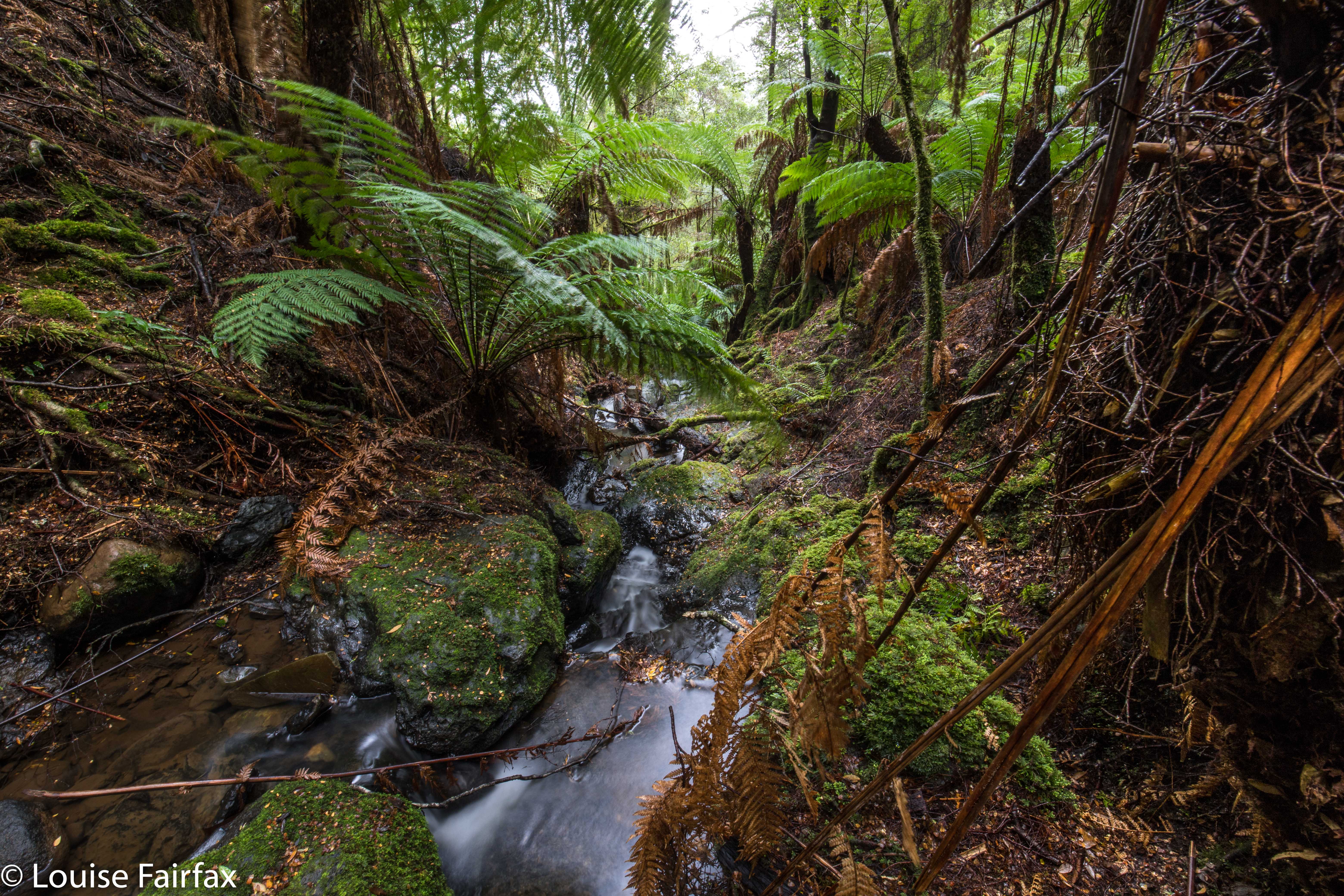 How thick was the forest? How steep the slopes? How choked and impassable the creek? The only other person I know to have visited these falls (Brendan from tassietravelsblog.com) chose not to go up the river. I knew his route involved climbing a steep spur, and that it worked, so, liking routes that work, I chose to do likewise and climb a big spur so as to drop into the falls rather than risk failure fighting my way up an unknown creek. Besides, I love a good stiff climb. It turns the waterfall bagging into a decent workout. Carrie, who also likes a good workout, agreed.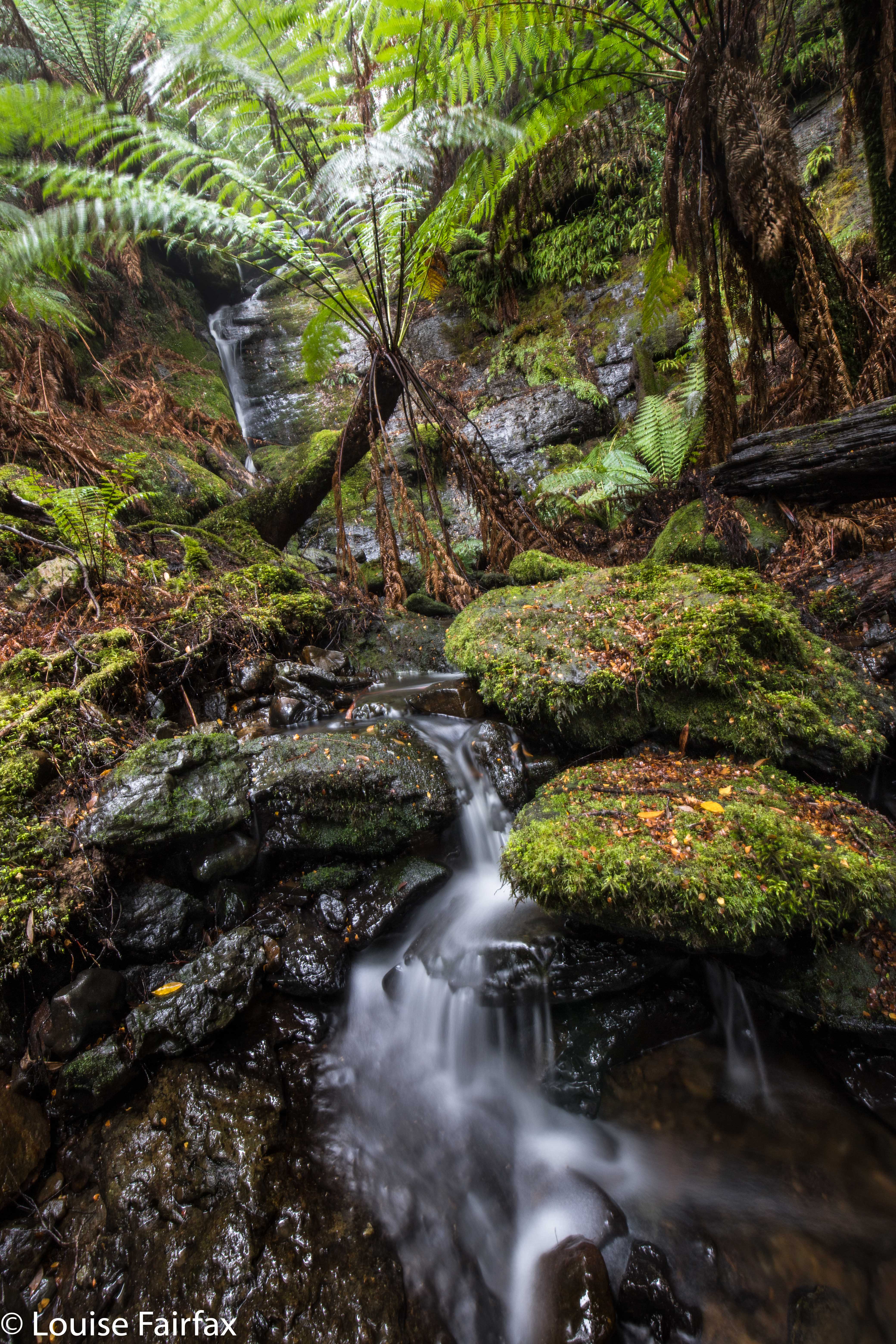 I had found the Campbell Rivulet on Listmaps, so I knew roughly where I was heading, and Brendan helped me by telling me the lead-in road. He is a courageous driver, and owns a 4WD. I am timid (when driving – my car is relatively new and I love it), and own an AWD. We didn't go far off Farhquar Rd on the Campbell Range before we started walking. Again, we both enjoy exercise, so why keep driving when you can walk? And the walk was magic, with pockets of fungi everywhere. It was raining lightly, but that was fine. It made the forest shiny, and meant the sun wouldn't destroy our photos. On we pressed, down the road, until we neared Campbell Rivulet. We were now at the spur immediately before it, so we headed left up its steepness, on a quad track, and then through the forest in an easterly direction across the flatter part of the spur, and then more southerly, down, down to where my waypoint was. And there, at the centre of my waypoint, was a waterfall. Bingo. It was beautiful.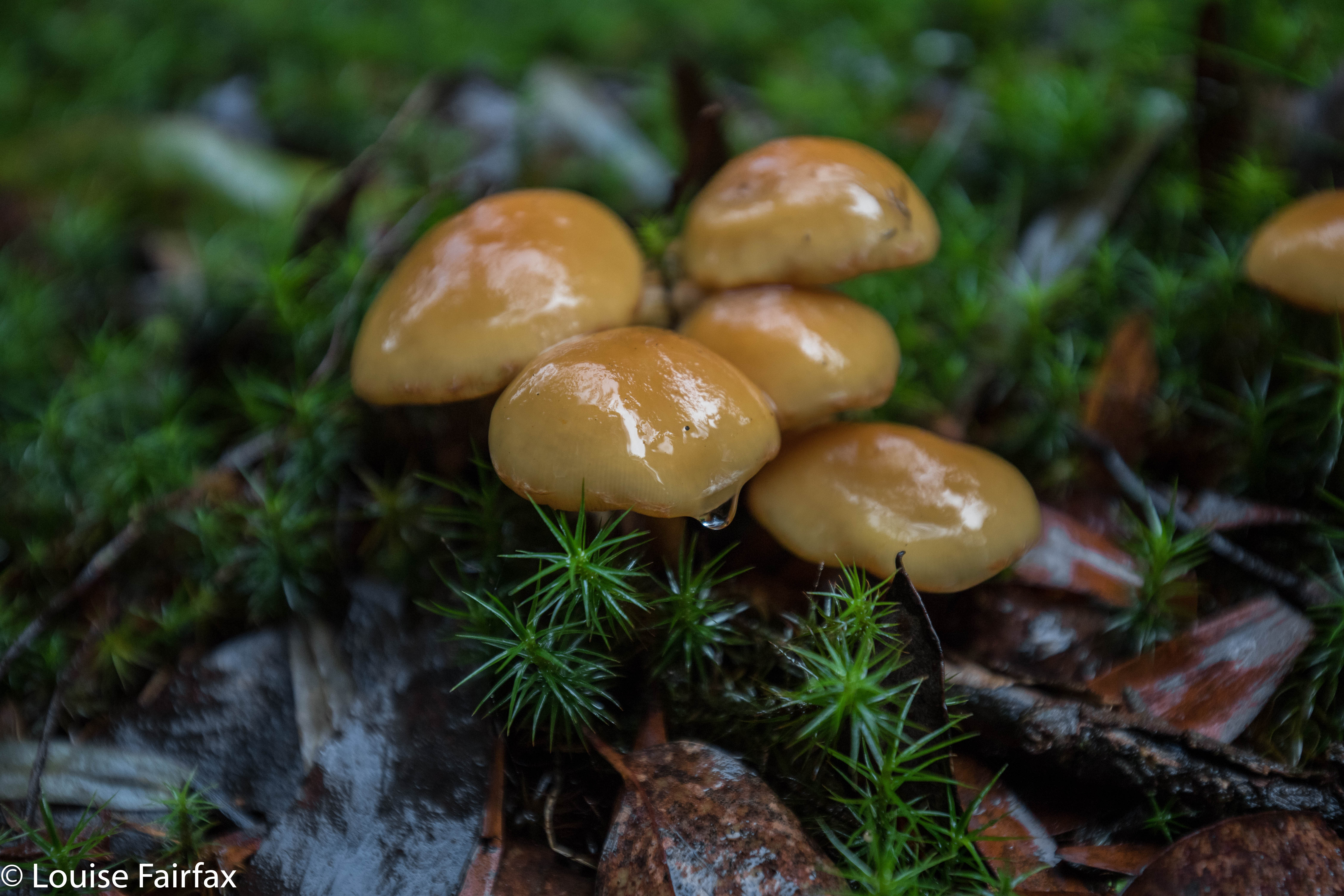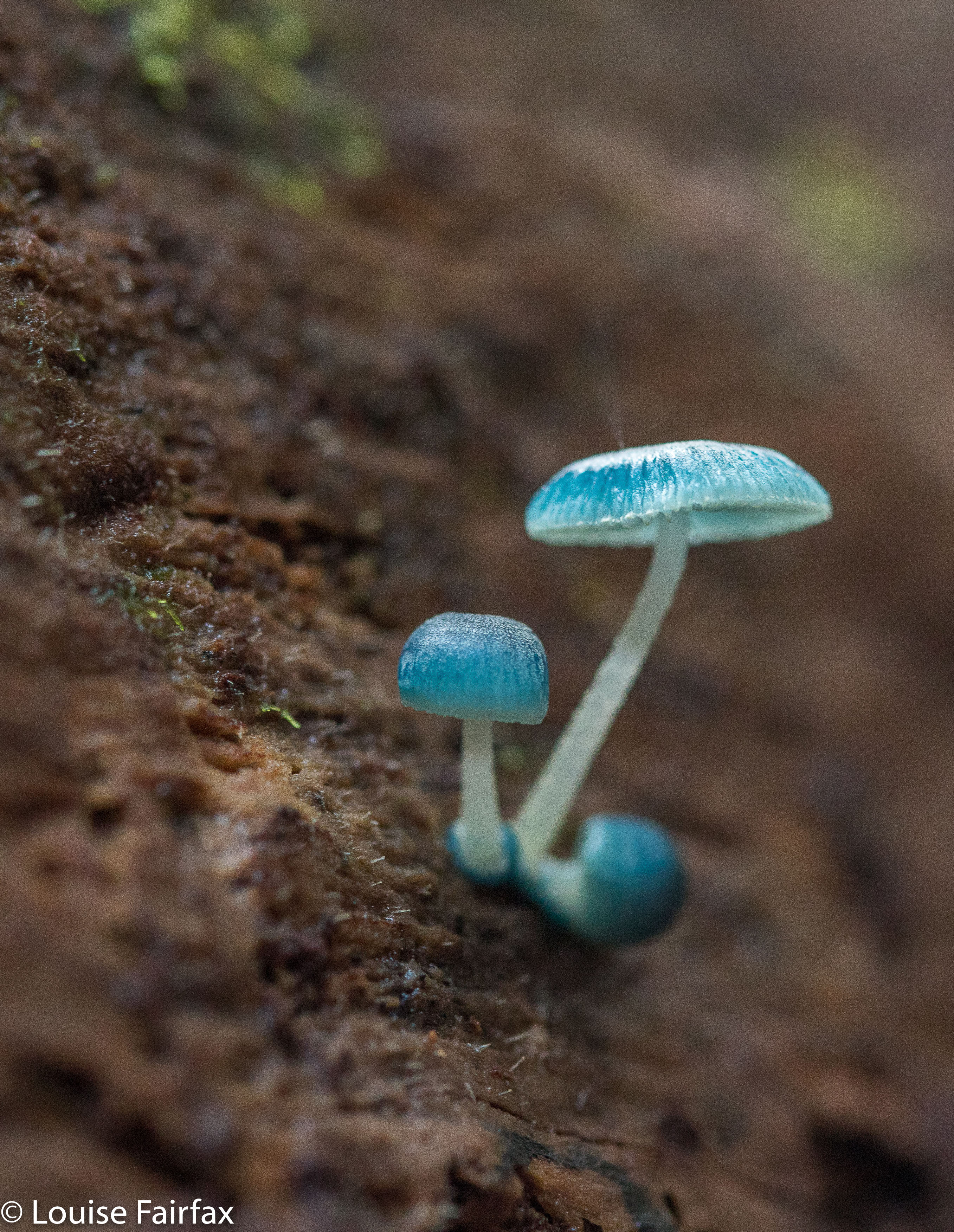 Light rain does wonders for a waterfall, even if it does make life tricky keeping the lens clear and dry. We managed, although I was pretty soaked by the time we got back to the car. Luckily I had a different coat and anorak for the next falls we'd do – McGowans.