Abby's first overnight bushwalk 2018 Feb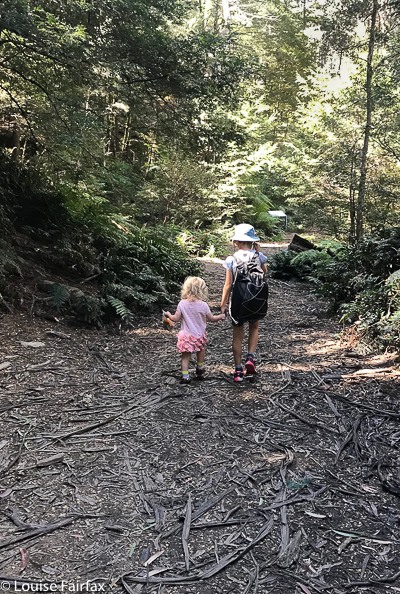 Abby was nearly two and a half, Gussy six. The family decided it was time for Abby's first overnight bushwalk. They chose a route that was sixteen kilometres long, which had a clear track all the way. Mother and father were loaded to the sky, dad carrying the four-person macpac citadel tent that our family has now used for two generations of family camping. Gussy carried his own clothes and lollies. Abby carried her own lollies. I talked to her later about the trip: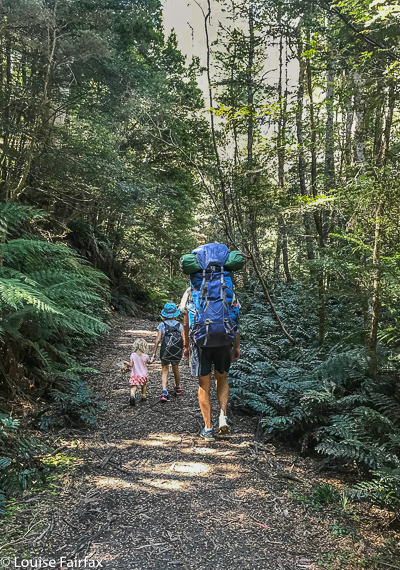 Dad seems to have a bit more on his back than the kids.
"Hey Abby. I hear you had your first big bushwalk."
"Yes, I got a bag of lollies". (These are not part of the normal diet).
"Great. I hear you slept in a tent." (Sounding excited to help generate enthusiasm for this activity).
"Yes, I got a bag of lollies."
"Did you have great fun?"
"Yes, I got a bag of lollies."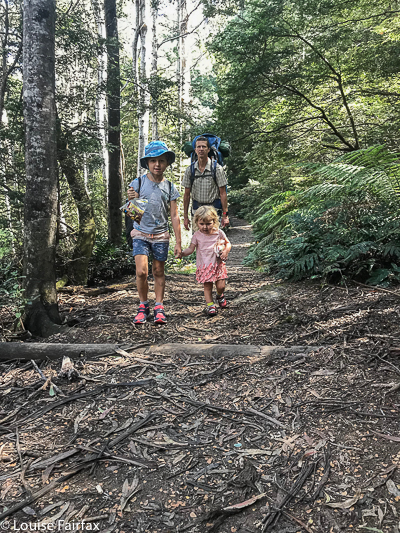 You don't need me to tell you the highlight of the bushwalk in the mind of a two-year old. Maybe one day down the track she'll talk about the beauty of nature, like her big brother does. For now, the only really important thing is – and possibly thanks to the presence of lollies – she thinks bushwalking is a good adventure, and will happily participate next time. Gussy was proud of his efforts, and actually ran the final 5kms, as a friend had come to join them, and he was excited. Sadly, he then did not perform brilliantly at the school cross carnival a couple of days later. I think he was exhausted. Maybe it's just that cross country running is not as exciting as bushwalking. 🙂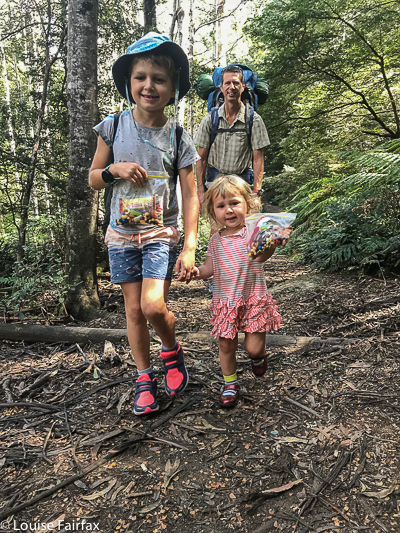 You will note that Abby is in a frock with patent leather shoes. That is not because her mother thinks little girls should dress like that in the bush. Rather, it is because Abby vomited in the car, all over her walking clothes and shoes, and luckily this outfit was at hand. She saw nothing wrong with wearing such clothes on a bushwalk. I was a little surprised until I got told the reason. (Note, the object that is the real highlight of the trip – the all-important bag of lollies – is being displayed like a trophy to prove it really happened.)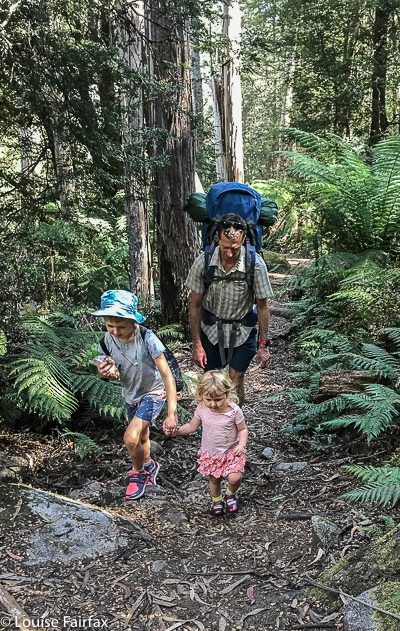 When planning a walk with two or three year olds (or, possibly, even four), you need to realise that you are more of a limiting factor than they are. Just admit, they are going to need carrying, possibly after the first kilometre, and don't go further than YOU can go in the time span with such a load on your back. Also, be aware of the environment you are heading for. You will never find me recommending a spot where children could easily fall off a precipice, or drown before the adults noticed they'd disappeared. I assume the adults will be very vigilant near creeks or lakes under any circumstances, but there are some spots – Growling Swallet comes to mind – where a single lapse of concentration is more deadly than others.

The website parks.tas.au has a pdf file, as well as a hard copy style booklet, titled "60 Great Short Walks". You can browse it in the web. My tastes are very different from theirs, and I like being on narrow paths, climbing mountains or going to secluded rather than tourist-ridden waterfalls – areas like the one depicted below (Holwell Gorge Falls near Launceston. Abby is nearly two there, and walked the whole way, excitedly counting fungi as she went).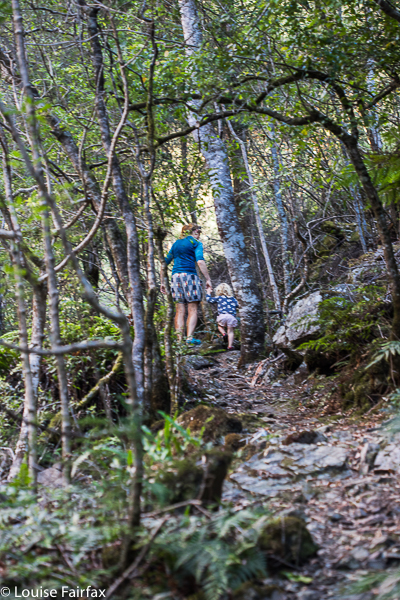 I will therefore over the next week compile a list made from the contents of this blog, and put mountains and waterfalls of the day-walk type that a fit set of parents can take one carried and one reasonably energetic child (who can do the whole thing). If you are searching this site before I have completed that part, then if you use my search magnet top right and search "Gussy" or "family", you will get a few ideas for starters. These little children will be the ones making big decisions about our planet in years to come. How important that they learn about nature!!