Pearl Creek Falls, Queenstown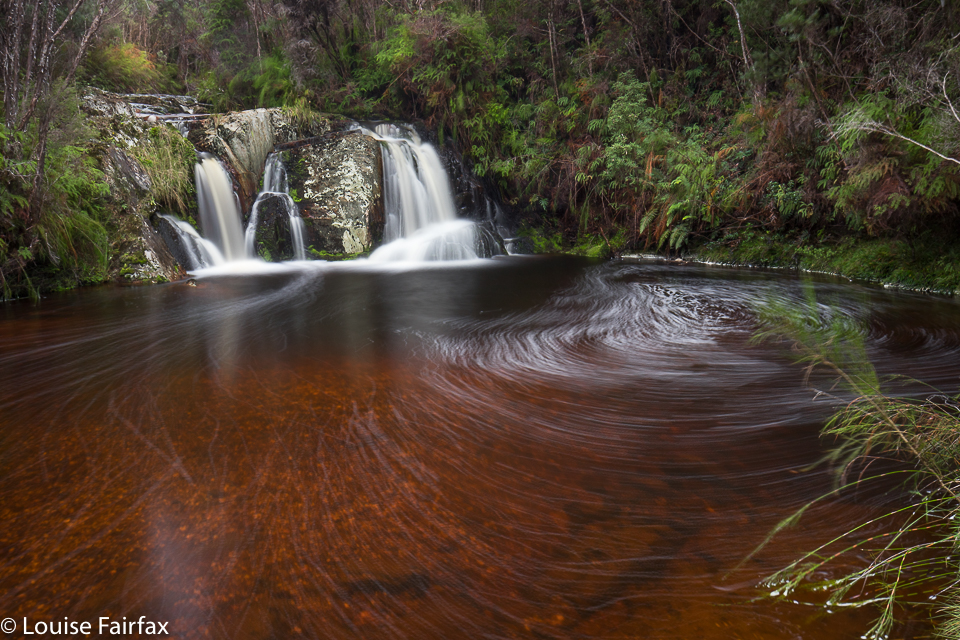 I really wonder why a tourist town like Queenstown does not capitalise on its beautiful little waterfall, Pearl Creek Falls. It's not like they need to spend any money. There is already a track that someone has cleared – admittedly through boring marshland – but, hey, the walk took me a tick less than three minutes in each direction, so it's not like you have to endure hours of boredom before you reach your gem. There are some quite interesting lumps and bumps in the area, too, so someone with some ingenuity could design a longer optional route for the rebound if that was felt to be worthwhile. What's more, this walk is only about five minutes' drive from town. Perfect for a little post-dinner amble in the summer.
And certainly, Queenstown was abuzz with activity when I was there this long weekend. Everywhere I looked there were groups of happy tourists dressed in outdoor gear, and talking of cruises, rafting, train rides and waterfalls. The mood was positively fun. I felt like I wanted to do every single activity on offer, and all of them right now. (It seems I am rather a greedy person.)
As I write, however, this waterfall remains quite hidden and unsigned. It is not marked on any maps I have found, and does not make it to any noble (or ignoble) lists. But if beauty is any qualification at all, then this waterfall belongs and can hold its head up amongst heaps of named ones.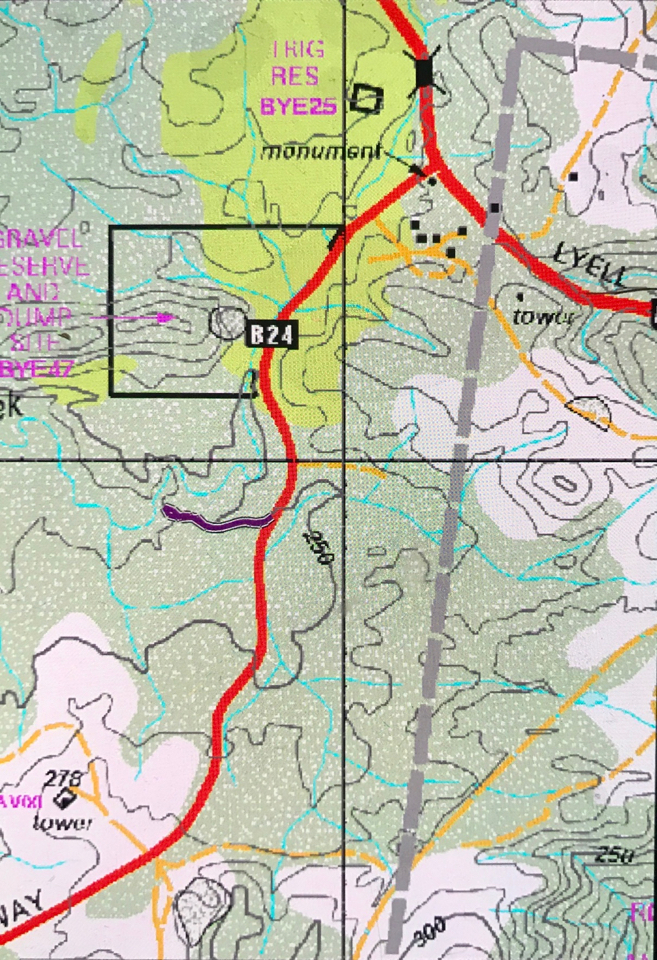 (Route in magenta) I knew it was on the airport road (Take the A10 out of town north, and then head on the Strahan Rd B24), which also happens to be the road to the airport. There is almost immediately a sealed road to the left leading to some business something; Downer, I think it might have said. Ignore that, but don't drive too far. From the corner, only drive about a kilometre. If you go past a nobble with a kind of tower on top (see map), you've gone too far. Turn around and try gain … and again and again. My problem was that I was looking for a tiny pad leading into the rather impenetrable and uninviting marshland. In fact, I was looking for a metre-wide path that a quad bike could happily drive along. Once you've found this path, the rest is easy. It's just a three minute amble (200 ms) to the falls.
Perhaps the reason Queenstown is quiet about these falls is their very easy access. Maybe the denizens don't want tourists trashing the place with their discarded rubbish and general carelessness. Let's all help them out by leaving the place either as good as we found it – or even better than that (by taking away the trash of other inconsiderate people who seem to think that beauty is meant for them and no one else). It's also a great idea to go to the toilet in Queenstown before leaving to avoid using the bush as a general latrine.