Cam Falls and Owen Brook Falls. 24 Aug 2017.
Being somewhat new to the waterfall bagging business, I was really confused about whether the Cam Falls and the Upper Cam Falls were the same thing. Many web sites depict a waterfall and name it the Cam Falls, but the picture is actually of the Upper Cam Falls, which is confusing if you've come in from the outside. The Waterfalls of Tasmania website does not list the Cam Falls as either a documented or an undocumented feature of our environment. Wikipedia kindly has them both, and the wiki-map cleared up for me the confusion about where each one was. See the map at the end of this article.
We had a free day on Thursday. It seemed like a nice waterfall sort of day. Off we set. I decided to tackle the easy one first (Upper Cam Falls), so that we didn't return from the drive empty handed. Good idea. What a delightful waterfall this is! For directions, see
www.natureloverswalks.com/upper-cam-falls/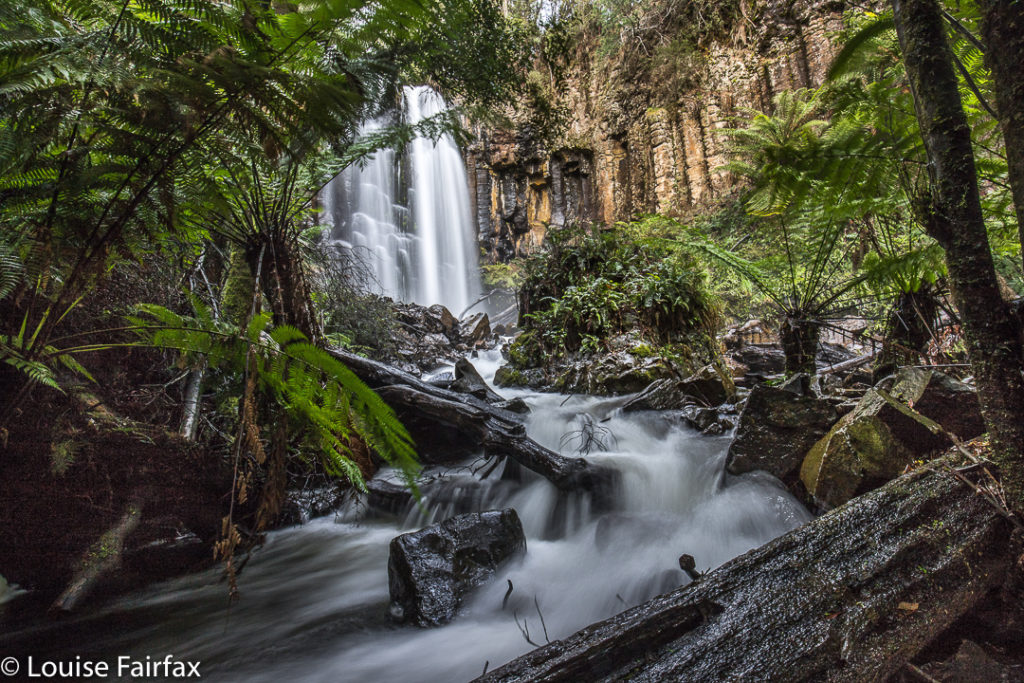 These are the Cam Falls (without an "Upper" prefix). I cannot find another web image of these falls.
To get to the Cam Falls, we travelled along the C103 until its intersection with the C101. Where they met, we turned left and went to the end of the bitumen.
We parked by a green, corrugated shack (which I knew about from a different useful post), and I went to ask permission to see the Owen Brook Falls, which are in a paddock behind the house. My web source said this person was friendly and granted permission. However, there was no person, and the shack was broken down and vandalised. I decided to see the Cam Falls first, as these were also in walking distance from the dwelling, on the other side. This took a very long time, as I was super cautious descending the excessively steep and not-necessarily stable slope, choosing trees that might take my weight, finding footholds that wouldn't give way. What an impressively steep gorge!! There is a railing up the top to allow you to view and lean a bit without killing yourself, but I would not take children near this place unless they were on a lead. I would also not descend unless really competent and experienced in this kind of untracked steep terrain. If you do, please remember that you do so at your very own risk and don't think it is someone else's responsibility to keep you safe. My husband did not attempt either descent.
The Cam Falls were on the East Cam River. The Owen Brook Falls are on Owen Brook, which joins the East Cam just below both falls. The gorge area was fantastic and I would have loved to have explored for longer, but we hadn't brought our lunch, and I was (as usual) starving by now, so we left, contented, and eagerly headed for our next treat – savoury food at ETC, and dessert at the Raspberry Farm. We love this post-walk ritual. Tessa considers herself to have bagged three more falls.