We set bearings from our paper maps, but also plotted our course on our gps systems to check our progress, and off we set, around Little Throne, past nameless bumps of great beauty, offering excellent views, and past thousands of tiny tarns, all sparkling in the afternoon light. We just adored it. All further creek crossings and tarn skirtings were problem free, and we were happy with our progress.
We swept the ice off our tents with brooms made from the scrub and slowly packed up. The only pressure for the day was our appointment with the Raspberry Farm for celebration cake, and there was no risk of missing that. We deliberately left unfinished business in the area, planning instead the next trip as we bypassed peaks that could wait for next time. What a glorious weekend.
Route data: Day 1, 20.35 kms +702 ms climbed yields 27.3 kilometre equivalents. Total of 7 hours' walking.
Day 2, 14.55 kms + 410 ms climb gives 18.7 km equivalents. 5 hours' walking.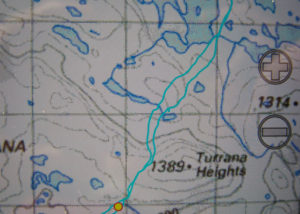 Continuing SSW over the side hump of Turrana Heights
Note, these are "only" 1: 100,000 scale, chosen to give the broad shape of the land without too much detail to confuse.