It was a perfect day for fungi hunting – albeit a little cold – and, as I had been waterfall bagging cum bushbashing the day before, I decided to have a lovely relaxing day searching for treasures on the slopes of kunanyi / Mt Wellington. I also wanted to get my first ever photo of Myrtle Gully Falls with a decent flow, so headed in that direction.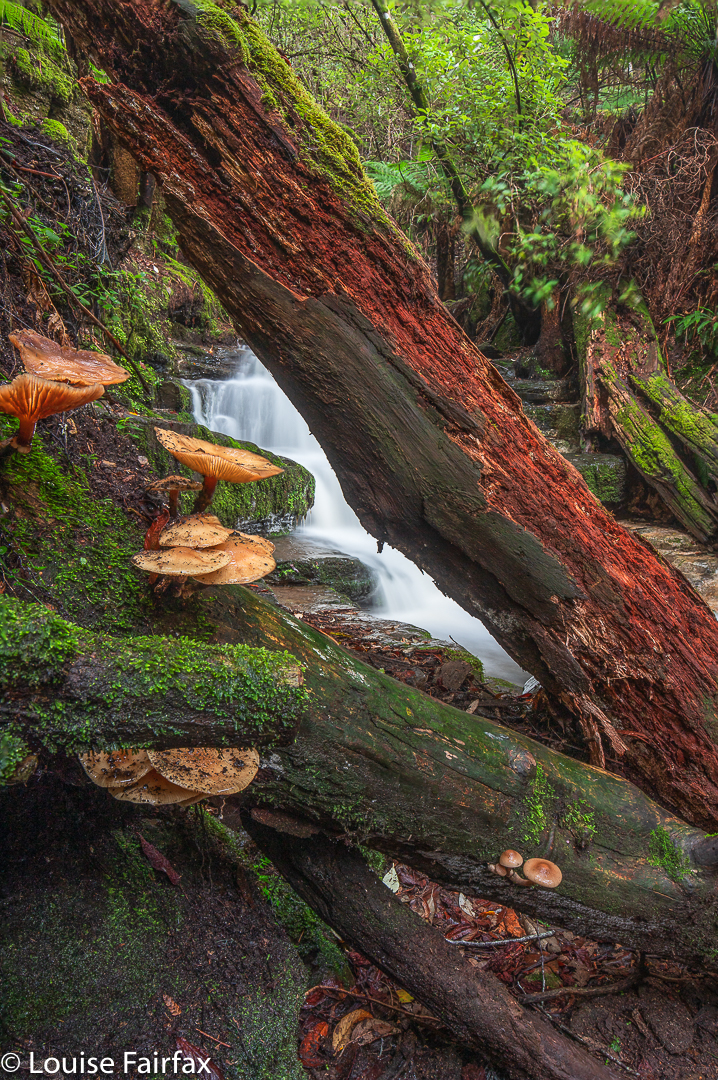 Silly me. I only brought my landscape lens. No matter. It meant I could return later with my macro one. I hate changing lenses in the forest anyway.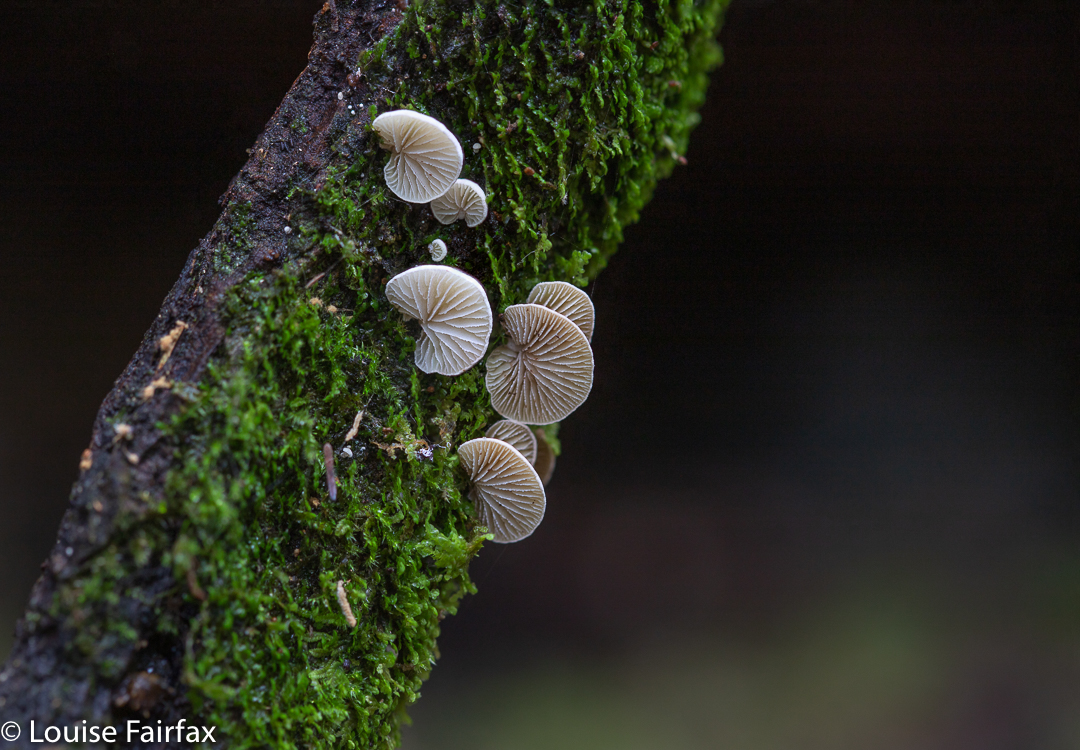 Having set out early so as to ensure a parking spot, I had the entire forest to myself on the way out.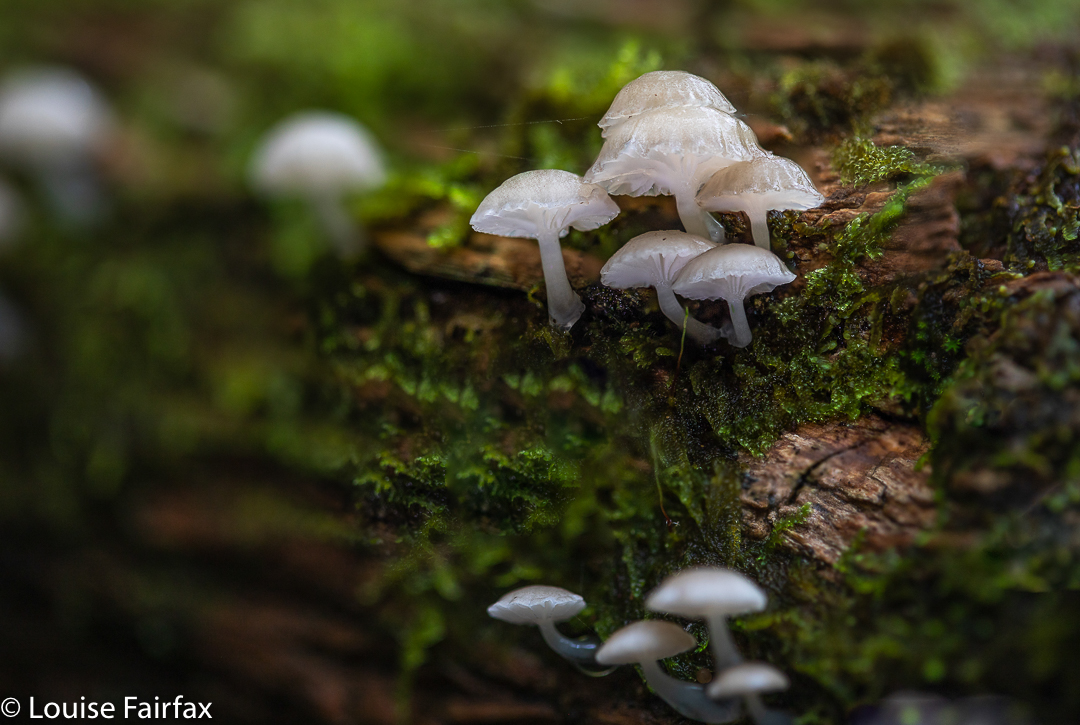 At the time, and having finished shooting landscape shots, I was cross at not having brought my macro, but once I'd resolved to return, I could just relax and select the specimens I wanted to photograph later.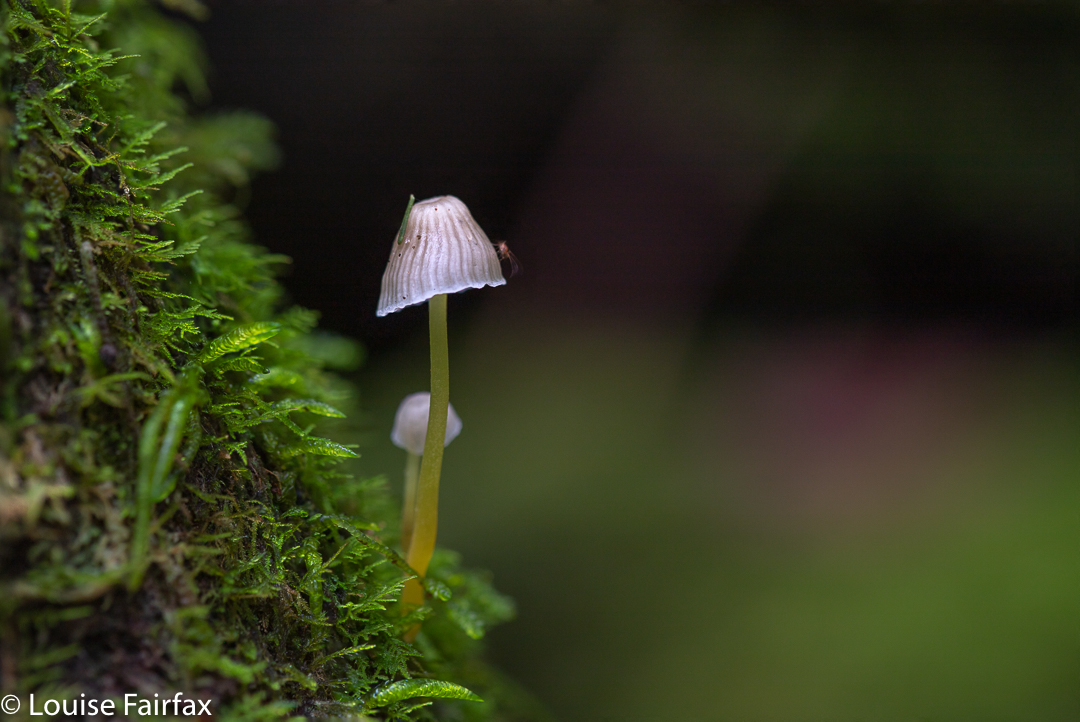 One patch of fungi that intrigued me was a total gang of Hygrocybe firma in a kind of open mossy area. I resolved to also bring little Abby there later so she could play fairies. There must have been at least 50 specimens – all tiny – in a slightly scattered cluster.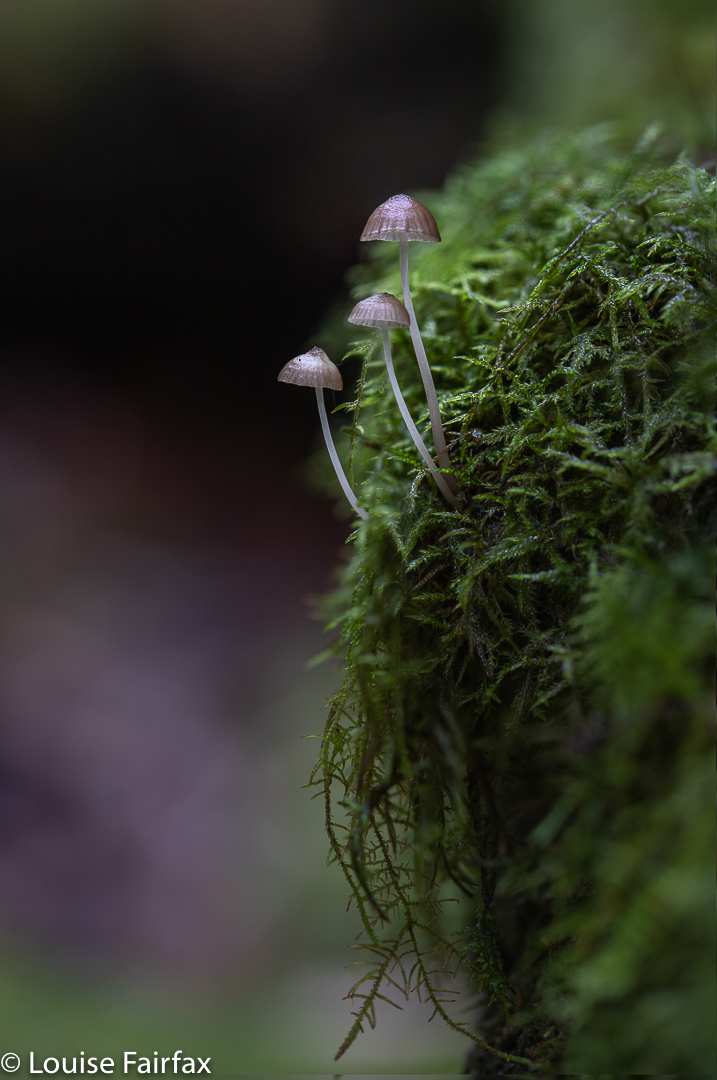 On the second trip, I met heaps of people: some in family groups, lots walking their dogs (all on leads), some fungi hunting, like me. We all smiled as we passed each other in a general feeling of good will. Several commented on how lucky we are to have this mountain at the city's doorstep, and they were not wrong. It made me really happy to see so many people out enjoying its beauty.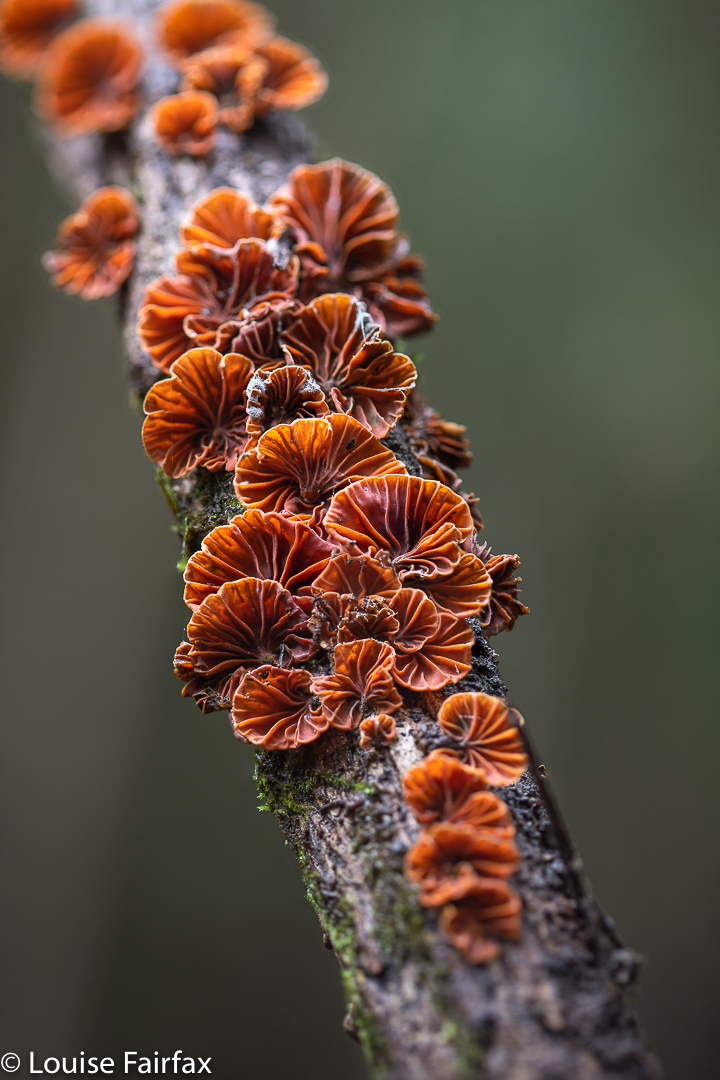 My joy, however, was quickly dispelled when I returned to the area of all the Hygrocybe firma. There I saw four females in their early twenties (probably) ducking down and gathering things from the ground. There were NO Hygrocybe firmas left! I was really cross. I asked them what they were doing, and they said with a kind of chuckle: "Oh, we're just doing a little foraging." Their hands were absolutely full of fungi! Fungi that belong to ALL the people of Hobart, and not just them. I was so cross I followed them back to the car, and took a photo of their number plate. They were in a car from NSW. Tourists, stealing our fungi. As if it isn't bad enough that our government wants to rape and pillage everything called "National Park" to sell it as a commodity to tourists without said tourists also thinking they can come and destroy public space in this manner. I told the slowest of them (the others were scurrying away from me) that she should take up photography, as then she could "take" fungi without touching or destroying them for others. I pointed out that their piles of fungi were presumably going to land in a bin somewhere; they weren't even of any use. One of them was videoing the caper (as I arrived). I'm sure it made a fantastic Insta story.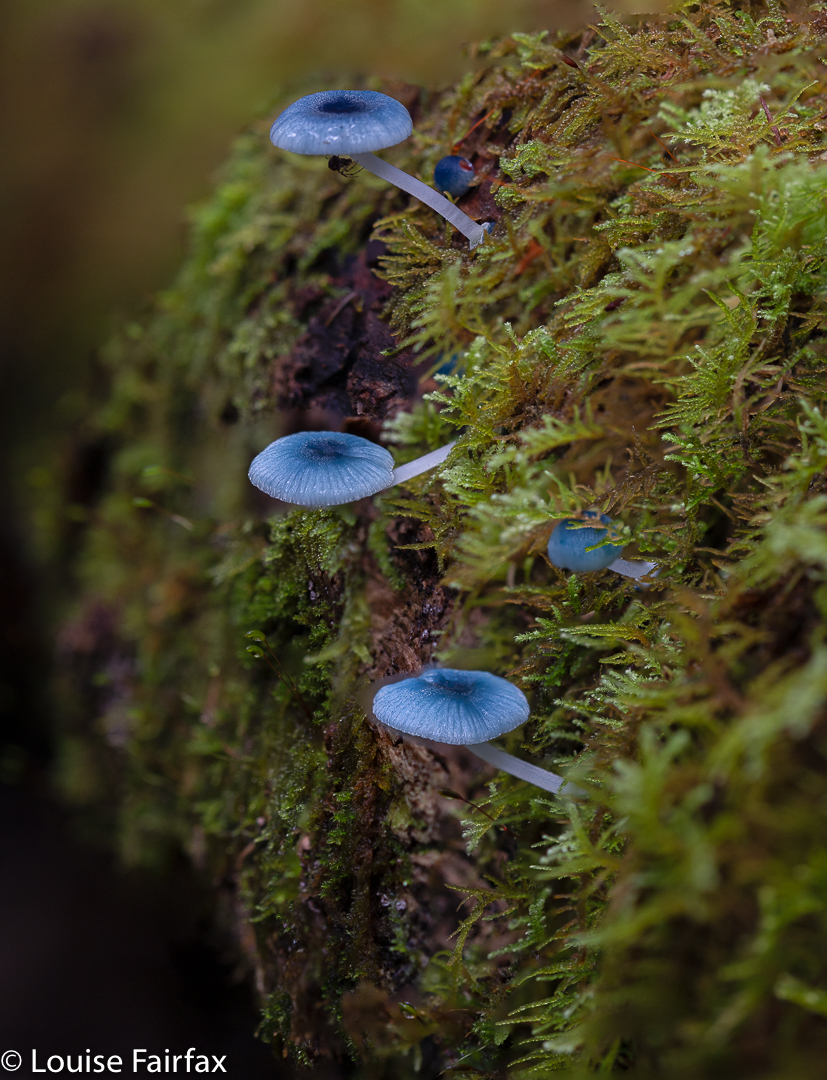 So. I didn't get to show Abby the red fairy bonnets growing on "her" mountain.