Ben Nevis. June 2013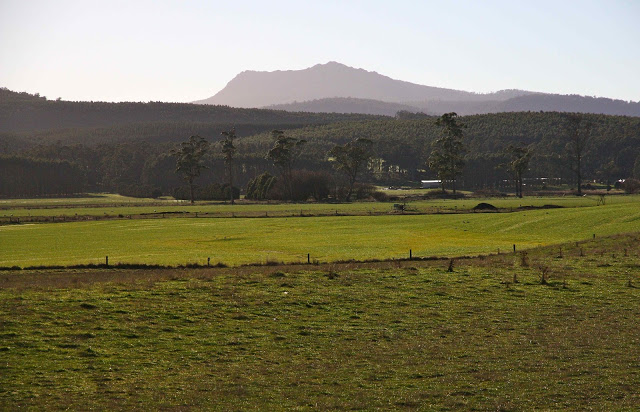 The story of Ben Neivs can begin at the track on the road … At exactly 3.7 kms from our turn, there was a dirt 'path' indicating a track of sorts. "No, that's not a road. Keep driving," Bruce said. Well, it did look very minor, and I'm driving so didn't have time to look. He, as passenger, did, so I presumed he'd rejected it on good grounds, but as no other turn offered itself after a further 3 kms, I turned back to the rejected one, and sure enough, it matched the description in the Abels book. There is one sense in which one can't blame him for spurning it: it began with a dirt mound-ditch kind of thing that was not what our two-wheel drive vehicle fancied. However, as I was loathe to leave her on the main road, I dared try the track, wondering if there would ever be space for turning if I couldn't ford the next ditch. The first one is the worst one, and there is room to turn at the end.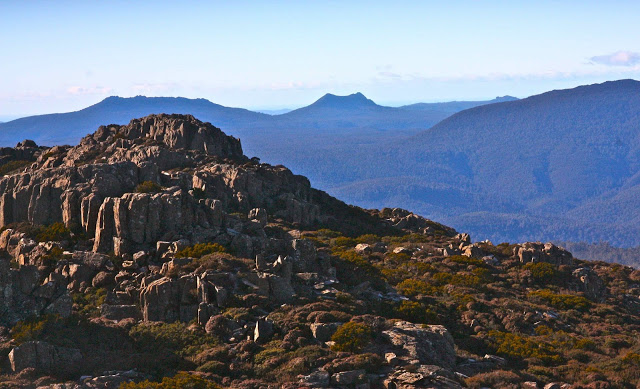 The walking pad we followed was alright. I don't find that kind of dry scrub scenic – certainly not photogenic – and scratchy bushes had grown to meet each other over the tiny path that walkers would take (we gathered not too many take it). I had to concentrate quite hard to discern where it actually went, but some very kind person had put bright pink tape out at almost suitable intervals, so we didn't stray from the intended path of least resistance. The bush was very thick: you wouldn't want to forge your own way through its resisting scrub.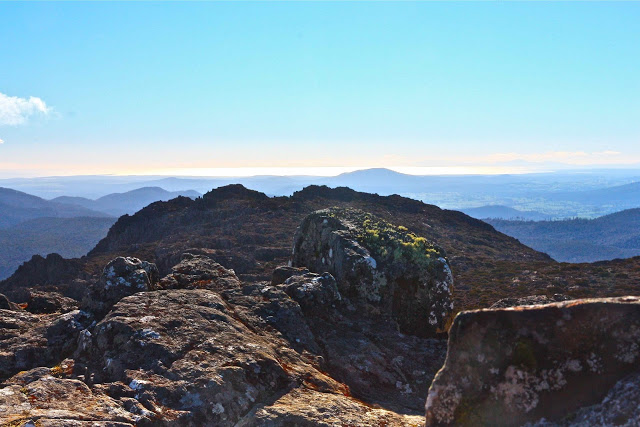 It seems we had made a "gear error". We didn't know – hadn't gleaned from other reports – that full battle gear was required. Our legs, which lacked gaiters, are still stinging from all the scratches; our hands still prickle from lack of scrub gloves, for the pad is not wide enough to prevent contact with all the bushes, and pushing and shoving is still necessary in places. This was especially so later when we decided to visit a knob that was off track. Ouch. Progress was not just painfully slow, but painful in extremis per se. Not a good idea, and the views did not justify the effort. Pity. I still picture the other, unvisited mounds of rock and wonder what they had to offer – but we had had enough by that time, so descended.
The summit itself has a track, as long as you keep to it, which involves spotting tiny bits of blue tape on the blue-green leaves. This was OK on the return direction, but hard when the wind was making our ryes stream and the winter sun was intruding on eye space (the way there). We crisped and crunched our way along the shards of ice, enjoying the white spectacle, sidling around and being bashed by scoparia bushes that have had too much Christmas pud and had girths that protruded over the former line of track space. Ouch again.
I gave the trig an obligatory handshake – one that I don't think I'll bother to give again.
I'm still trying to decide whether that mountain offered enough walking and pleasure in return for the driving. I fear not. Perhaps I was just in the wrong mood having had a fabulous walk the day before. I wanted lots of exercise in return for as little driving as possible, with great views. We reached the top far too quickly, were not overawed by the views and didn't even nearly match a 1:1 ratio of exercise to driving. Perhaps the fact that this photophile only has five images in her Ben Nevis folder says it all.