I fear the drive to Styx Falls took longer than the walk – but that is not to say that the walk was not enjoyable or worth the effort: it was wonderful, with all the lushness and mossy beauty that one might expect of anything carrying the name "Styx" in Tasmania, and with a mass of colourful fungi to add to the joy.
To get to our (walking) start, we had to drive along the Styx Road from its eastern end, over the river bearing its name, and then up a spur until we curled back on ourselves, but now at a greater height. Once driving became dodgy, I parked and we began our walking part along a former road, but on a path that is now pretty overgrown (for vehicles; fine for walking).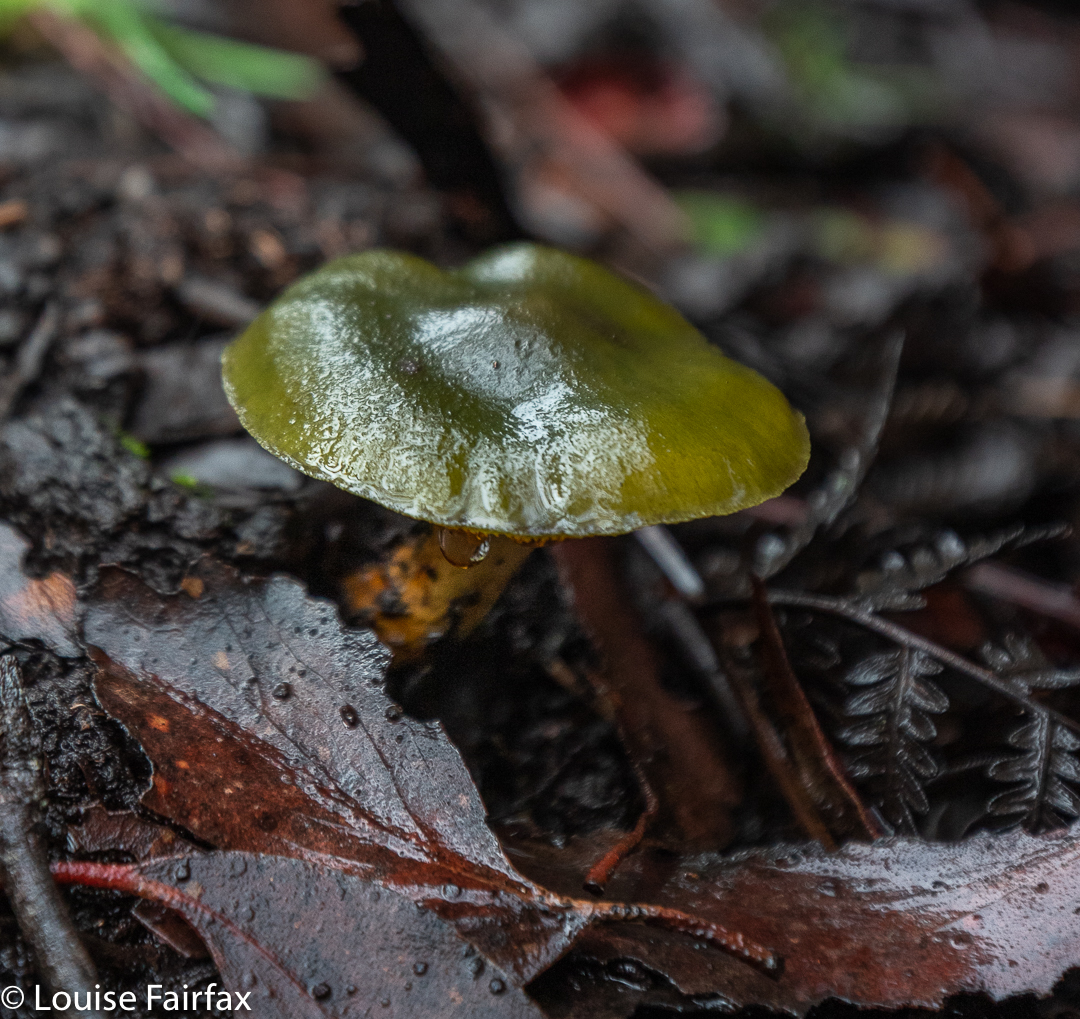 That easy part completed, we then plunged like deep sea divers into the green mass of steep forrested matter until the roar of the falls announced that the line we had taken was absolutely correct.
The bush was so thick, and the falls looked so lovely from a distance that I was tempted to try to shoot them from higher up and slightly further away, but found myself being pushed down to where Adrian and Caedence were, at the base. The wind and spray off the falls of the morning had been so bad (and any fallen trees in the basal area so very slippery) that this was not really where I wanted to be,  but the view of the falls was definitely superior to anything I could grab higher, so there I was. I would just have to try to get a spray-free shot. I even got out my umbrella to help, which made me pretty clumsy, and Adrian came to my aid. Part of the problem with falls like this is finding a base that is firm enough to hold the tripod still: not always achievable.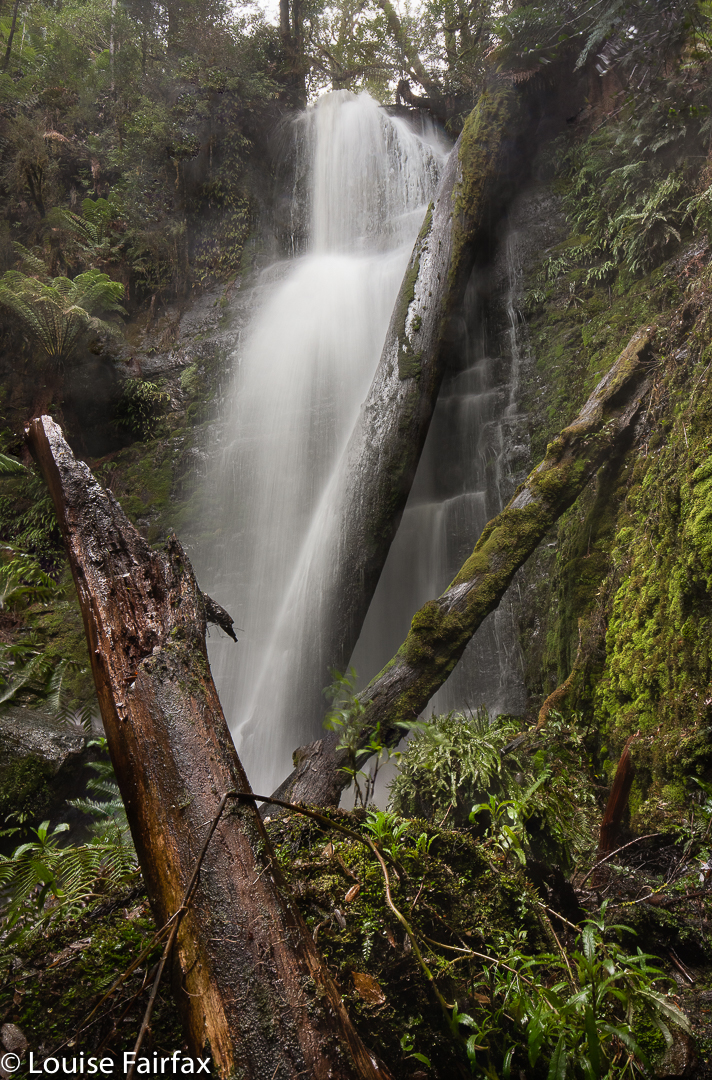 While Caedence and I played with tripods and long exposures, Adrian explored a bit downstream, returning to announce that there was one small but pretty drop a bit further down, and something that could be a good fall beyond that.
Once our shooting was completed, we followed, to find what was actually my favourite waterfall of the day. It's good the way that what pleases one person doesn't over-excite another, and vice versa. For me, size of drop or quantity of water are not as important as finding a picturesque scene, and a fall with a beautiful shape and flow lines; here I had my desire. And it was not so big that it created a monstrous spray.  Hoorah.
The promising drop below turned out to be nothing but a log jam, so it was time to turn around. This did not disappoint me, as I was by now soaking wet and rather cold. My body yelled that it was hungry.
As with this morning, the drop down had been so steep that I had a few misgivings about getting back up, but, also as with this morning, there was no problem at all, and the climb out was easier than the descent.  It had been  a great day of adventure and beautiful scenery, and I now had a mass of photos to edit. Sigh.
The falls of the morning can be seen at the site:
http://www.natureloverswalks.com/ice-falls-bowl-falls/