ICELAND 4 2018 June. Final four days.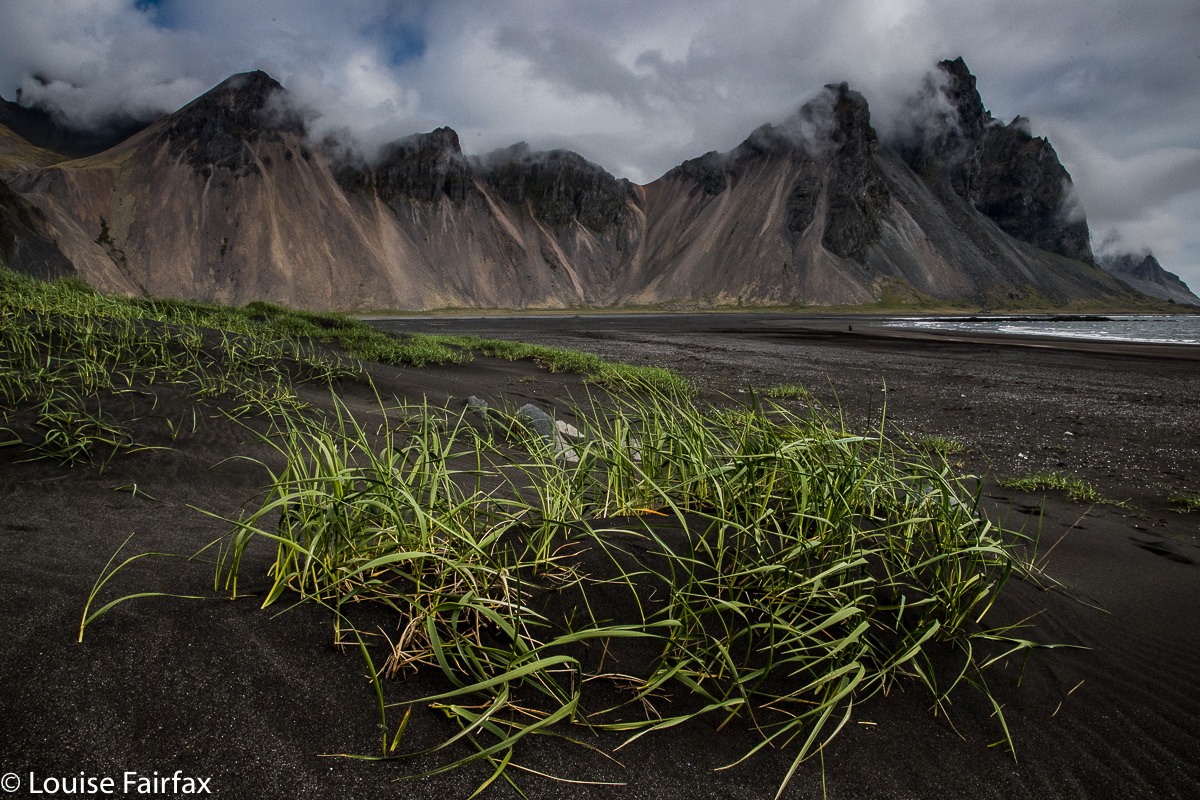 Day 11 dawned grey and moody, like its predecessor, … so, we didn't rush out of bed for sunrise photos (which was a bit of a relief: we were getting rather tired by now), and chose instead to just take the Horn in our stride as we continued east. We were nonetheless thrilled with what we saw. We stayed there so long that we needed lunch not too long afterwards, a meal had in a bunch of lupins with dark grey mountains observing our table manners.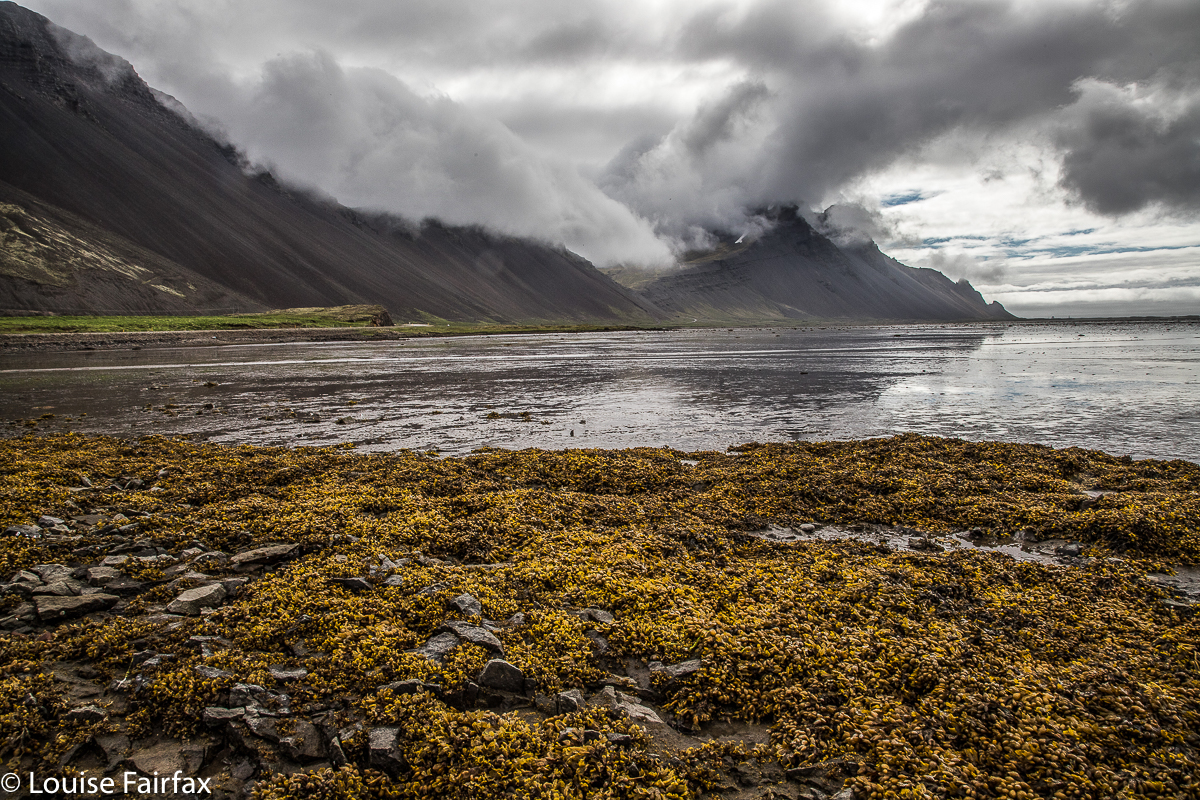 I hadn't done any research on the next section of our eastward journey: life would end at the Vestrahorn, all the rest was just marking time, I thought. Ha ha. The road was full of drama and wonder, and we also ended up having a fun game of hair and tortoise with a couple of other cars:
(Us to the Spaniards): "We'd better get a move on. The Germans have taken off already. They're now in the lead."
(Spaniards): "Don't worry. You'll overtake them. They'll be distracted by the next lay-by".
100 ms or so down the road:
(Germans): "Ah, you got us back."
"Yes, the Spaniards bet we would. Look, they're pulling over too."
"We're moving on now. See you at the next beautiful spot."
"Yeah. In a hundred metres or so".
We pulled out of the game when we hit the coast and got out to do some walking as well as photography.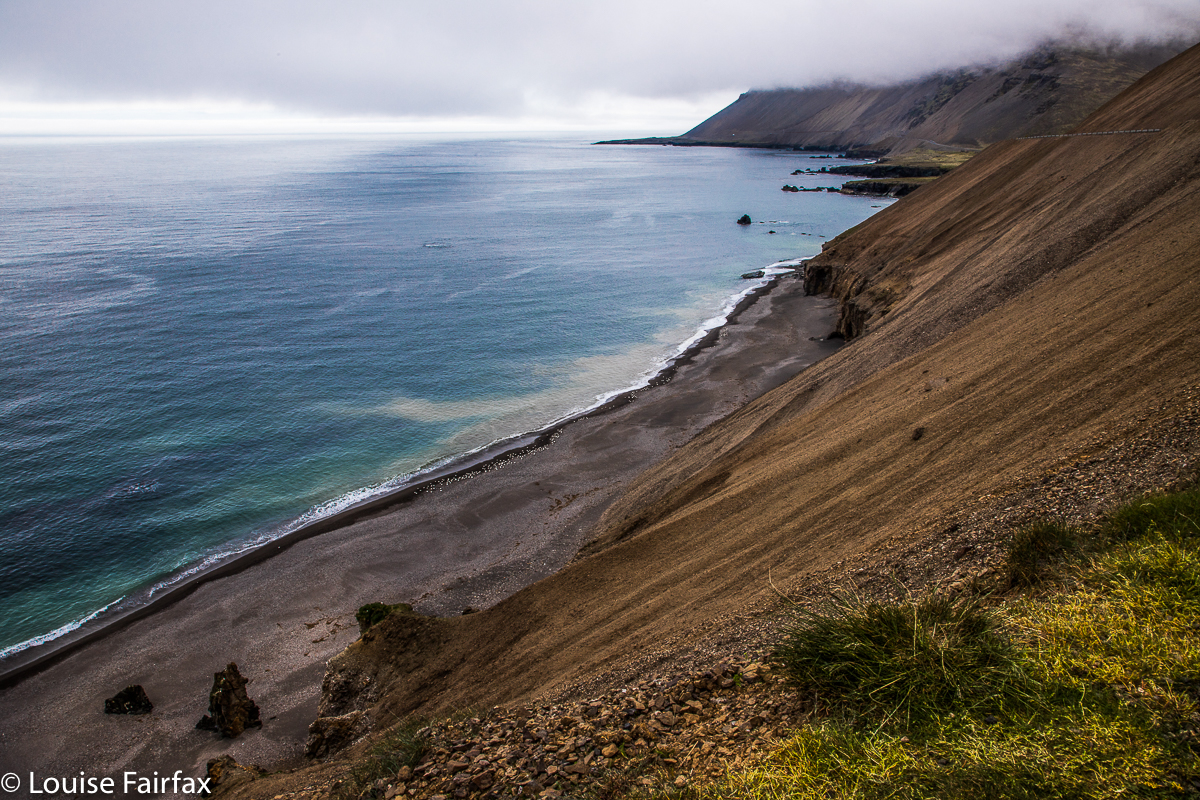 Coast past Eystrahorn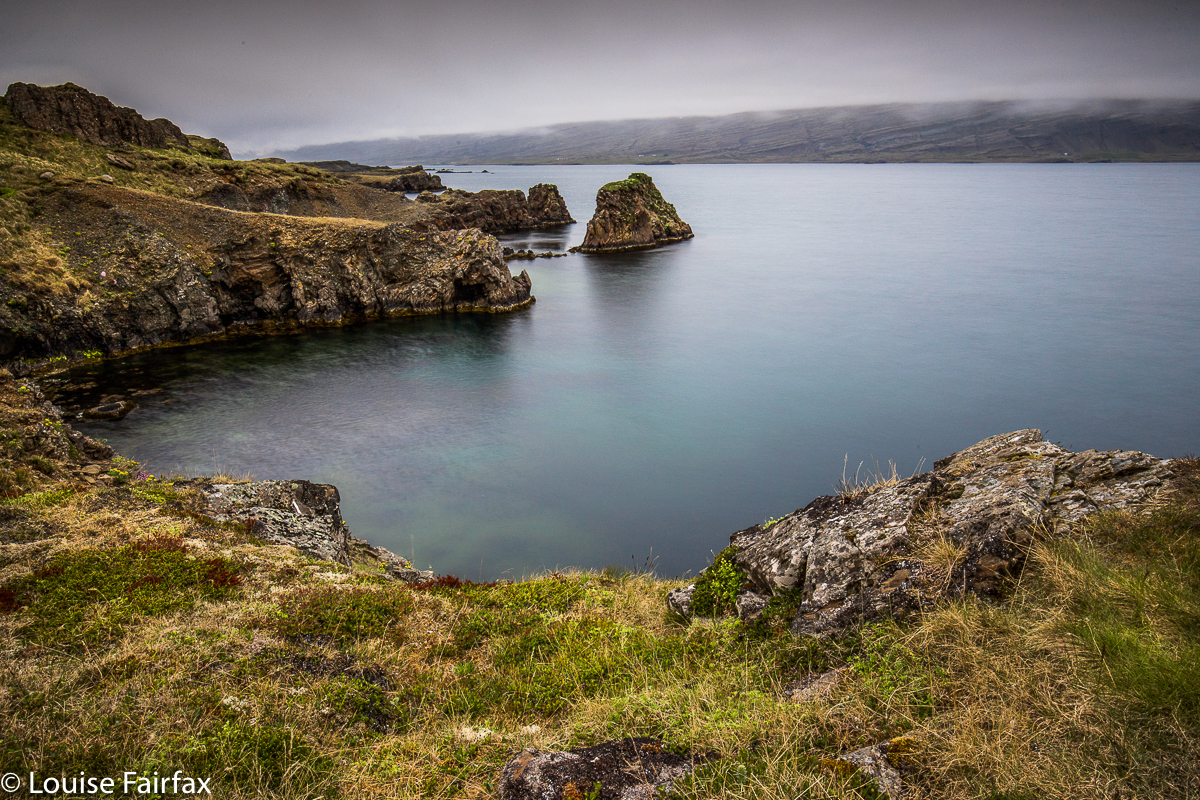 Coast after Djupivogur
And then we met Jay and Lissa, who are still our friends. Lena the brava had already crossed this big wide river with slippery boulders at the base of the Sveinstekksfoss. I was pussy-footing around its edges and had just decided to go back to the car when another couple pulled over. I watched while they did some vacillating about exactly where one might cross. (Lena clicked away, undeterred). I was relieved that someone else was worrying about their equipment like I was. I went up to them to make friends and compare notes. In the end, Jay crossed. I stayed on the safe side with Lissa, deciding the photos on the other side weren't worth the risk to my gear.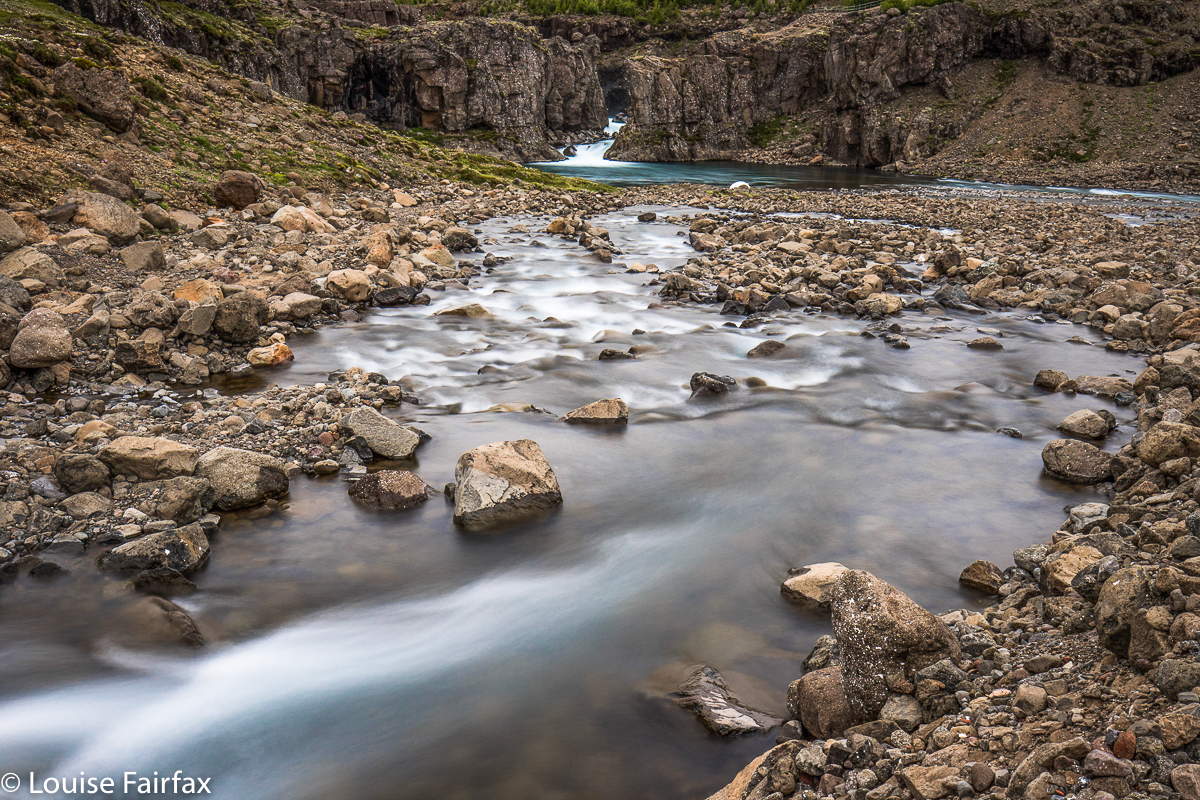 Sveinstekksfoss from the wuss side of the river.
I had already determined we would next photograph the bigger waterfall behind from above, so drove there, and the same two parked near us. We liked them, but I was concentrating on my task. This time it was Lena who did most of the talking. They were gone when I once more entered the world outside my immersion in the scenic moment. We had found out their names, but not a great deal more. That night we checked out Jay's photos on the web (www.jaykerrphotography.com/). They were gorgeous. We were sad that we wouldn't see them again.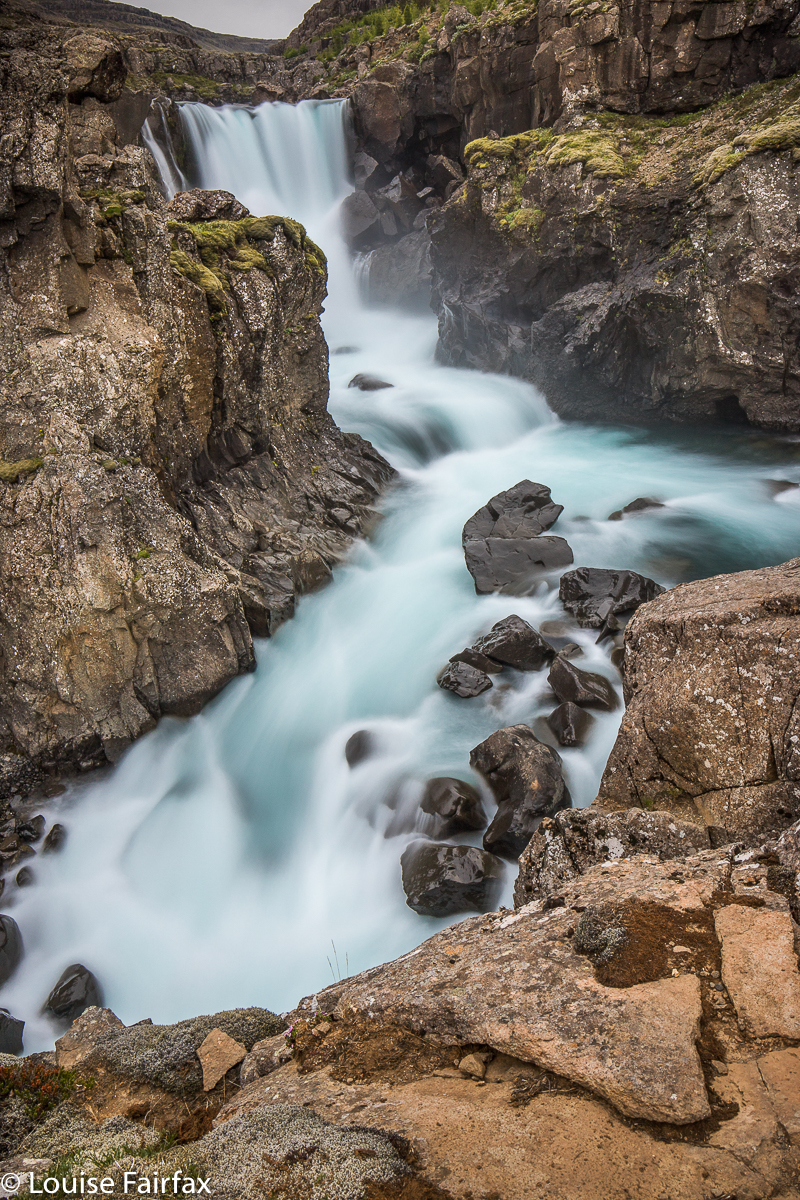 The higher version.
Somewhere between there and our accommodation at Berunes HI (YHA), I became aware that my phone was missing. I decided I had dropped it at the cafe where we had had afternoon tea. We couldn't do the "where's my phone" trick, as we needed wifi for that, so pressed on to the hostel. I expressed disappointment in Icelanders. Surely someone noticed I'd dropped my phone.  Why didn't they call me back? We eventually found it in the door of the car. This lead to a few stupid in-jokes about Icelandic phone thieves, in which we would giggle, but others were no doubt dumbfounded as to the point of our mirth. Don't worry. I'm sure there are no phone thieves in Iceland. We felt delightfully safe there.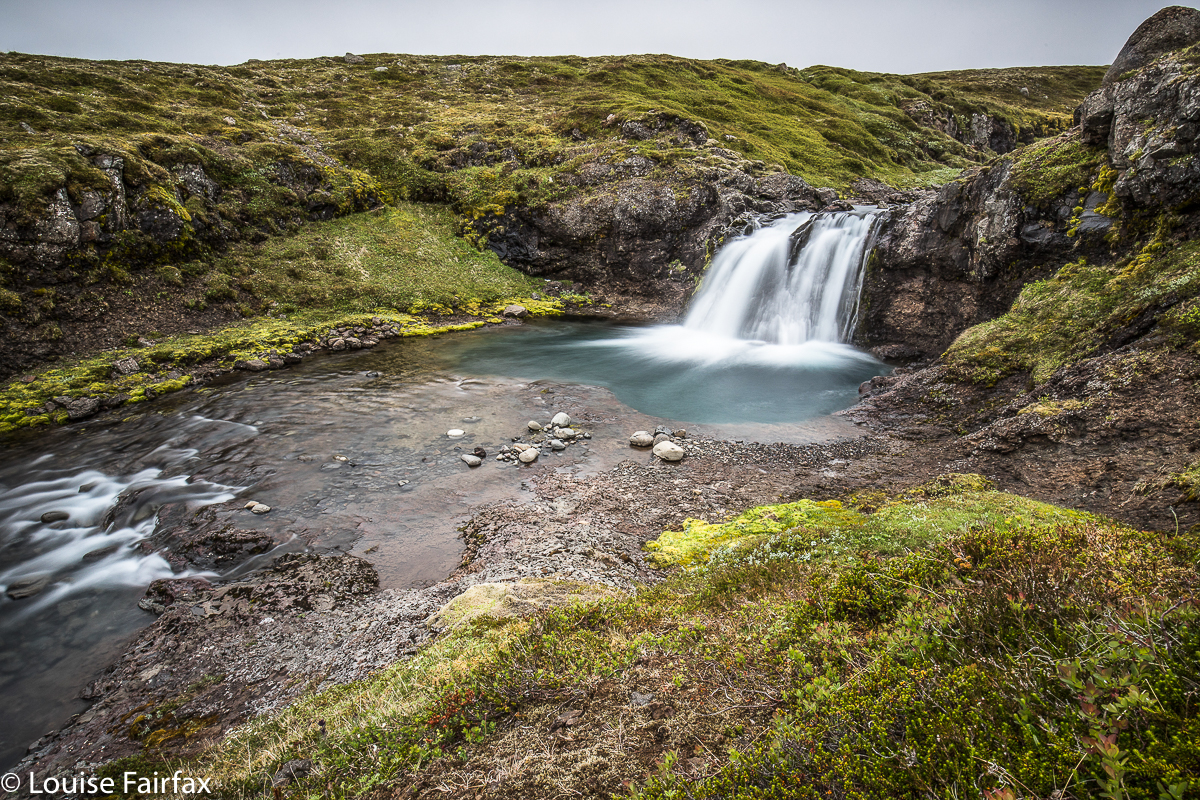 Our hosts at the fabulous Berunes HI were Steinn and Sigridur, so I have called this waterfall Steinnurfoss. It is on Steinn's family's farm. Hope he doesn't mind the name.
We loved absolutely everything to do with Berunes: it was so delightfully isolated; the hosts so utterly friendly and lovely; the food, so extremely delicious. We wished we had arrived earlier, but at least enjoyed the tiny bit of time that we had allowed. The fish soup for dinner was exquisite. The cinnamon and apple porridge for breakfast (and fresh bread), just what anyone would dream about.
Day 12.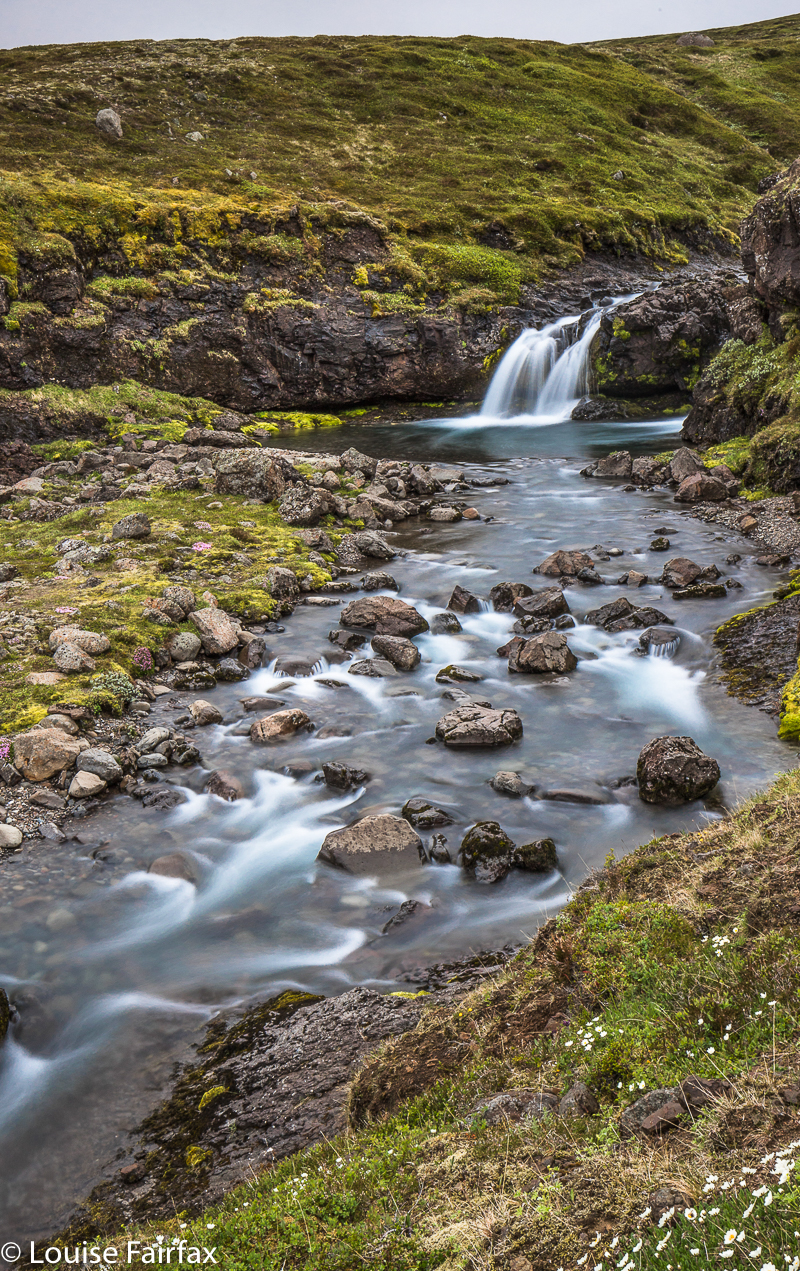 Steinnurfoss from a different aspect.
Gilsarfoss, also on the farm.
After these private waterfalls, our next goal was to go and see the puffins on the north east coast. Now, it is just a little failing that Lena and I share by bad genetics that we get so excited by the immediate happenings that we kind of forget practical little details like buying petrol. This was the third time this trip where the wretched petrol light went on in the middle of nowhere, putting us in mild panic. This particular nowhere was situated such that we knew we could not go backwards. We just had to hope that forwards would work. There was a name on the map, written in purple. Surely that was a good sign. Lena consulted Siri, who gave us directions. Hoorah, we made it over the mountain pass (always a test when low on petrol), and began rolling down the other side, still in the middle of nowhere. Siri announced we had arrived. We were laughing so much I had to stop the car. We would have had a terrible accident had I not pulled over.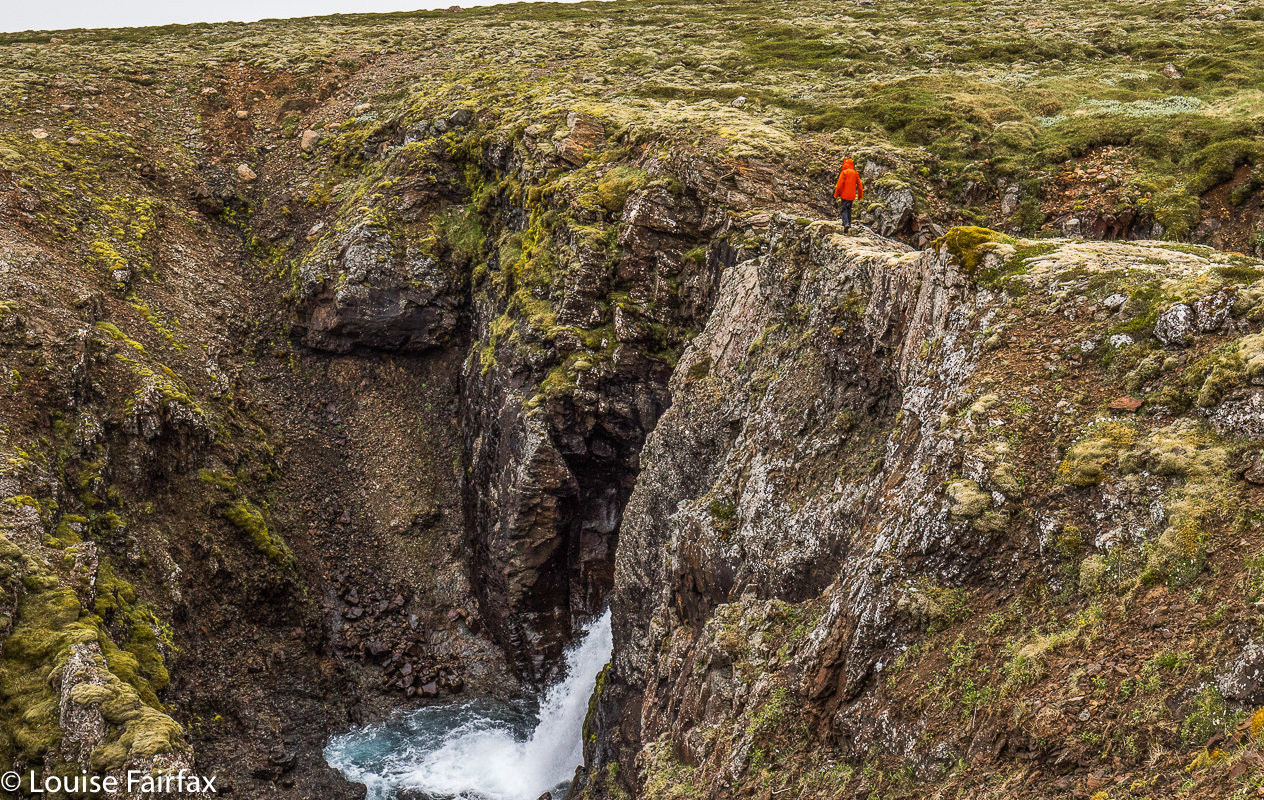 Me playing with edges on the natural arch above Gilsarfoss.
What on earth were we to do? Well, we'd just have to go on until we ran out, and work things out from there. On we pressed. We saw yet more beautiful scenery, so pulled over to photograph it. Hey, you might as well run out of petrol with beautiful pics in the camera.  Who should pull over at the same spot but Jay and Lissa! We were overjoyed to see them, and said that if we make it to the puffins, and if there's a cafe there, we must have coffee together. Meanwhile, Jay said he'd drive behind us to kind of mop up if we didn't make it. This was a fabulous offer, and we felt very secure all the way to the funny little shed with funnier man who, unbelievably, sold us petrol.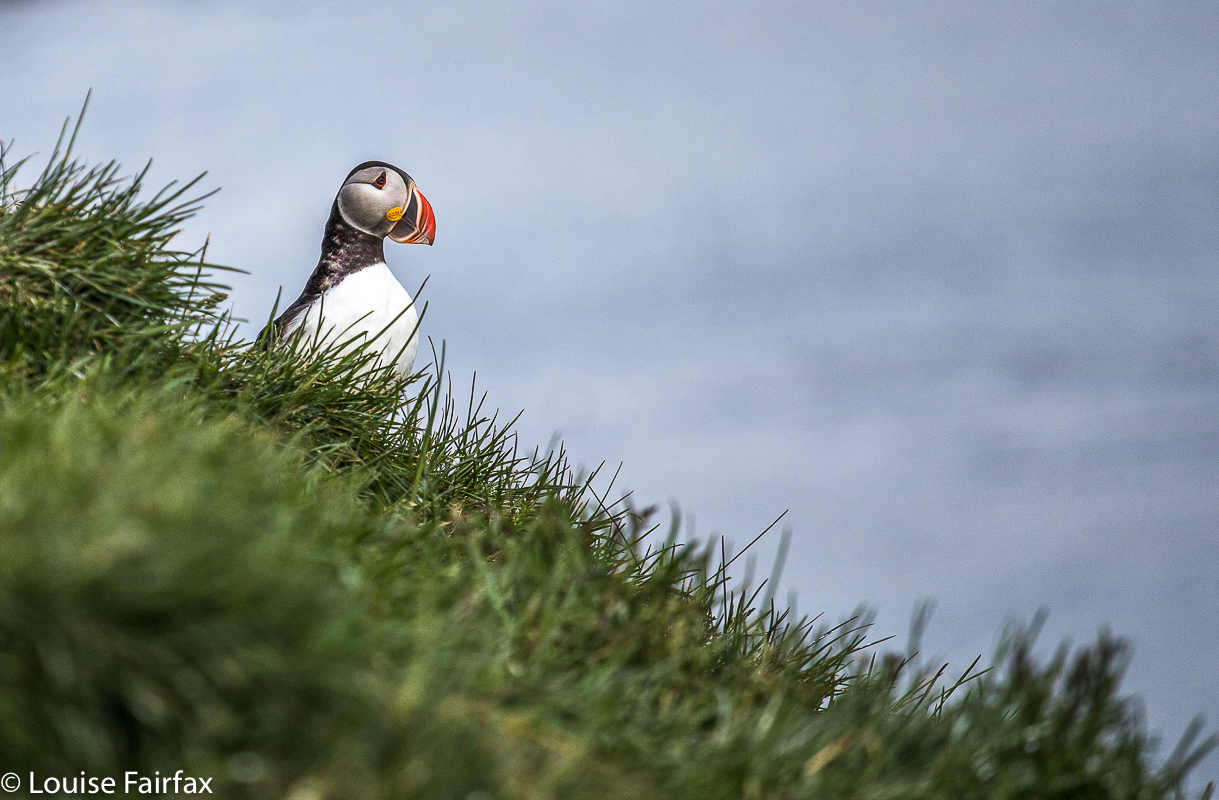 Now we could relax photographing puffins with Jay and Lissa; now we could enjoy the over-an-hour having coffee when we really should be driving to our next accommodation, which we finally reached at quarter to eleven when the owners had gone away (but, never fear, it worked out fine). Driving into Seydisfjordur with ice and snow and steely gloom was very atmospheric. This was our final day of pure pleasure. The next two days would involve a huge drive west to get us to the airport in time.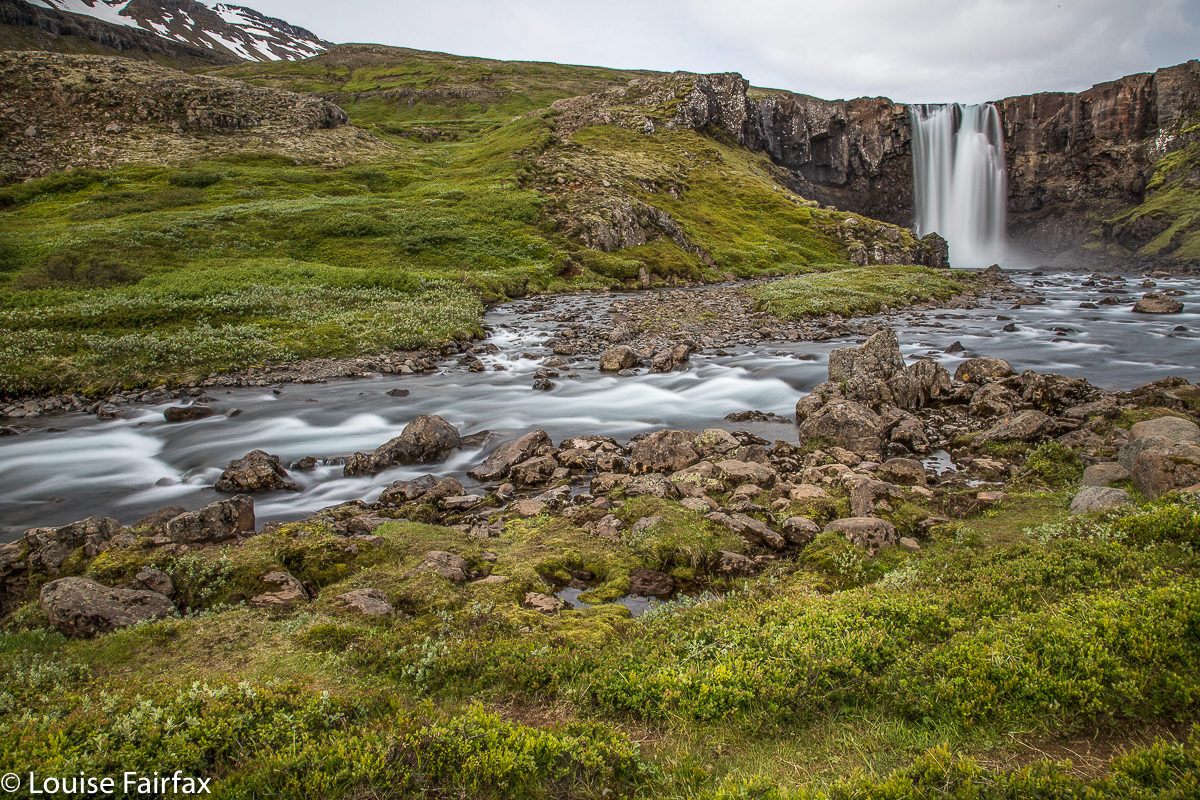 A wretchedly truncated stop by the fabulous Gufufoss as we set out from Seydisfjordur. Don't worry beautiful foss. I will be back next year to give you more time!
Day 13. This day was earmarked for driving as far as Vyk. This seemed to me a daunting task, and I was very tense at breakfast time. We did not really stop much anywhere along the way (apart from at the Gugufoss, right at the start of the day), which was great as we arrived at Vyk, somewhat dizzy but alive, around 2 in the afternoon.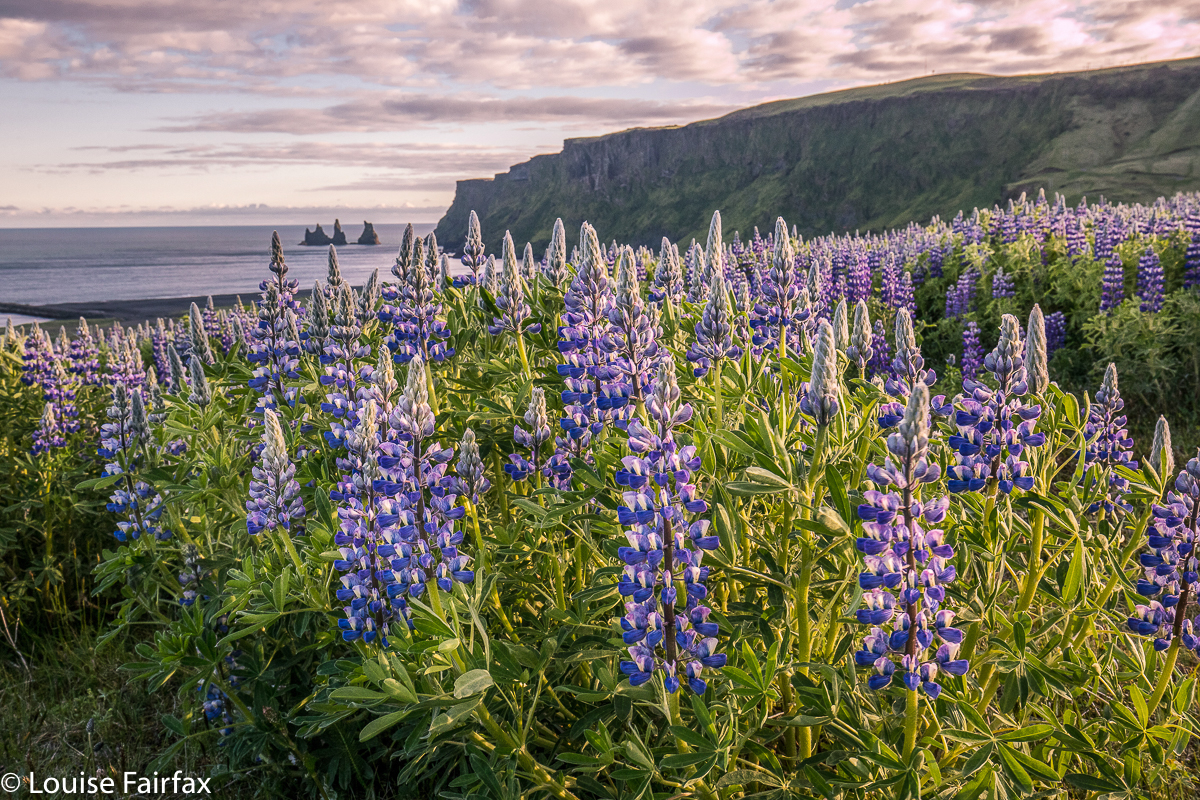 This thrilled me, as I really wanted to see Dyrholaey, and now we had the chance. It was fun up there watching the lowering sun, and enjoying the cliff edges.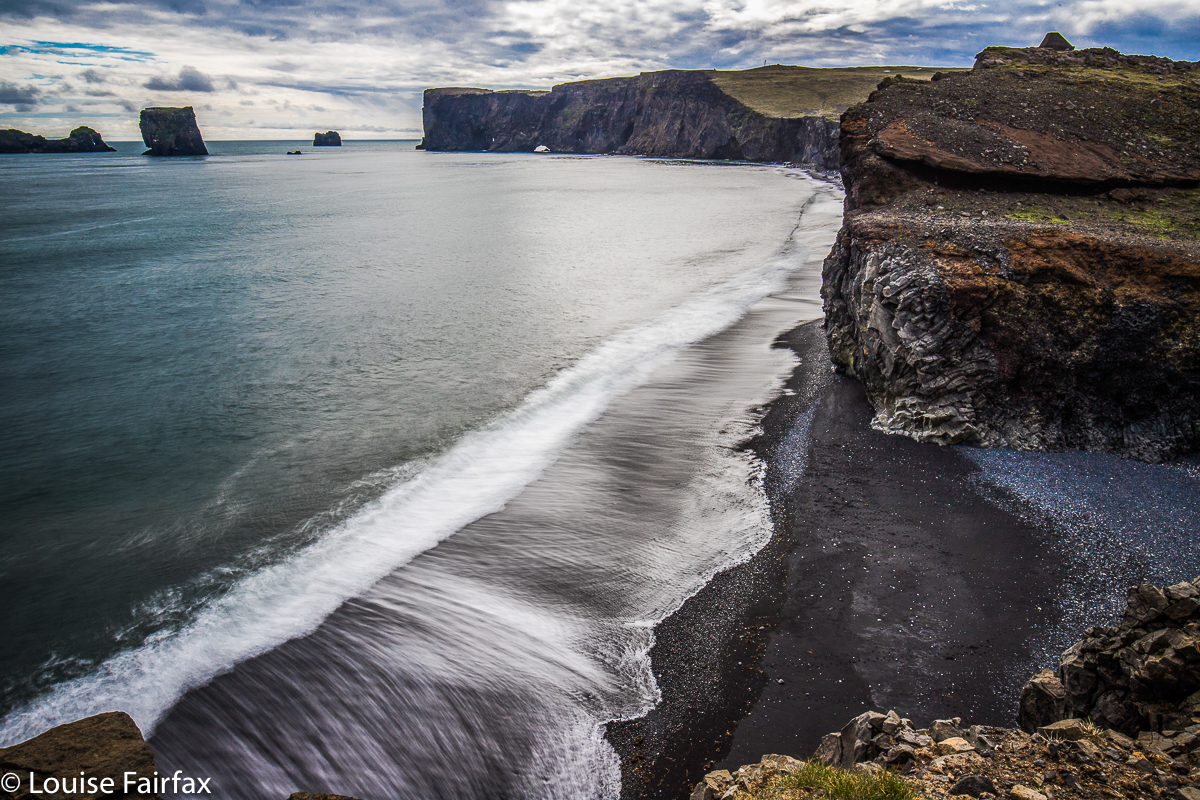 Dyrholaey and its fabulous cliffs.
Day 14. This was such a sad, sad day: our last full day in Iceland, but we were too busy enjoying it to think much about sadness. We began at 4.50 a.m. with a climb up the Reynisfjall, to shoot the Reynisdrangar from above as the sun rose in the sky. It was utterly exhilarating up there. It was also rather cripplingly cold, but we managed. Beauty invigorates somewhat.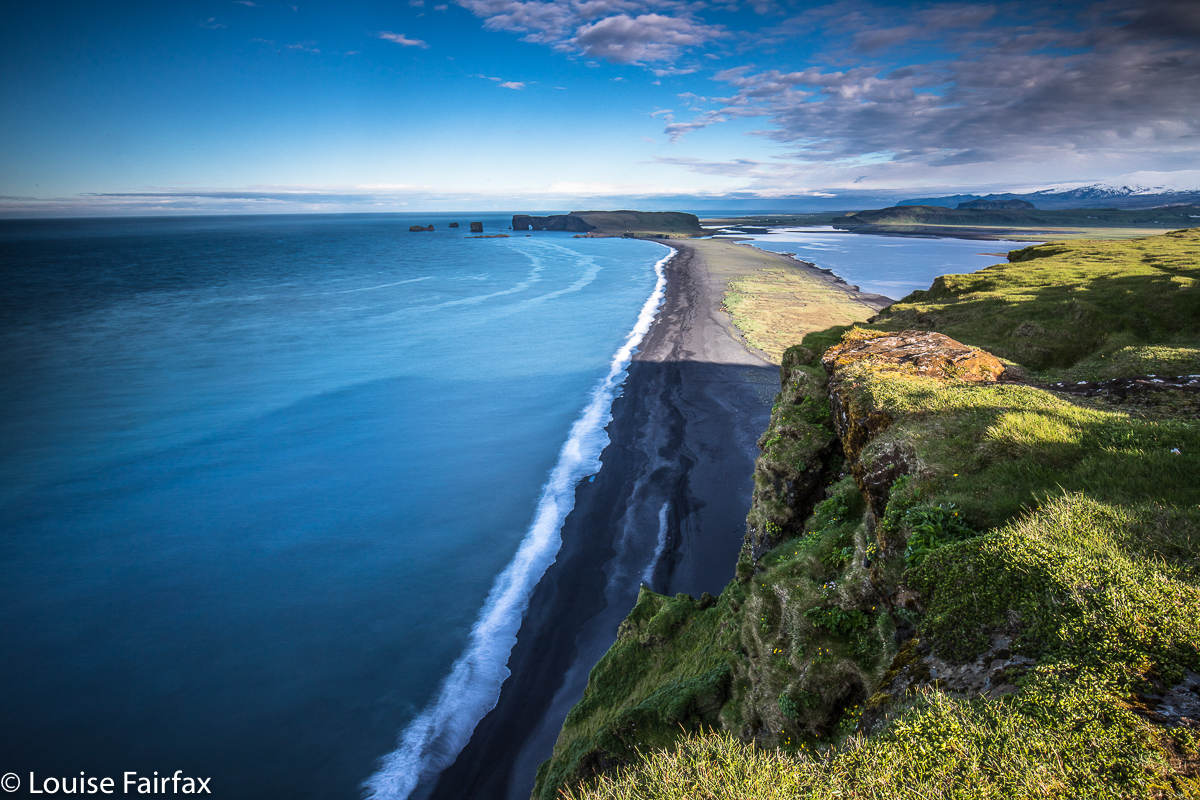 The rewards of climbing a mountain at 4.50 a.m. are many.
Our last full (delicious) breakfast in Iceland, and off we headed west again, bound for the airport, but with a swim at an historic hot pool, fed by a thermal spring in the mountains – a pool (we had been told by Timea) that was the oldest in Iceland. Lena swam while I climbed up high to a beautiful area above. We had some delicious soup for lunch not too far away, and then full speed ahead for the airport.
The famous Reynisdrangar from above. This perspective dwarfs them. A human does not even come up to the first and bottom bump on these giant rock towers.
Our very last night was utterly hilarious, mainly due to the discrepancy between expectation and reality. I don't want to offend the owner of the accommodation, who, I assume, does everything she can to make it work, but the situation gave us so much mirth that tears ran down our faces, and we clutched our aching sides with the hilarity of it all (not in the owner's presence). Instead of a final celebratory meal (to be had in a town that didn't exist), we had a few scraps from our food box and more laughs. "The last night and the last meal are never good," says Lenie.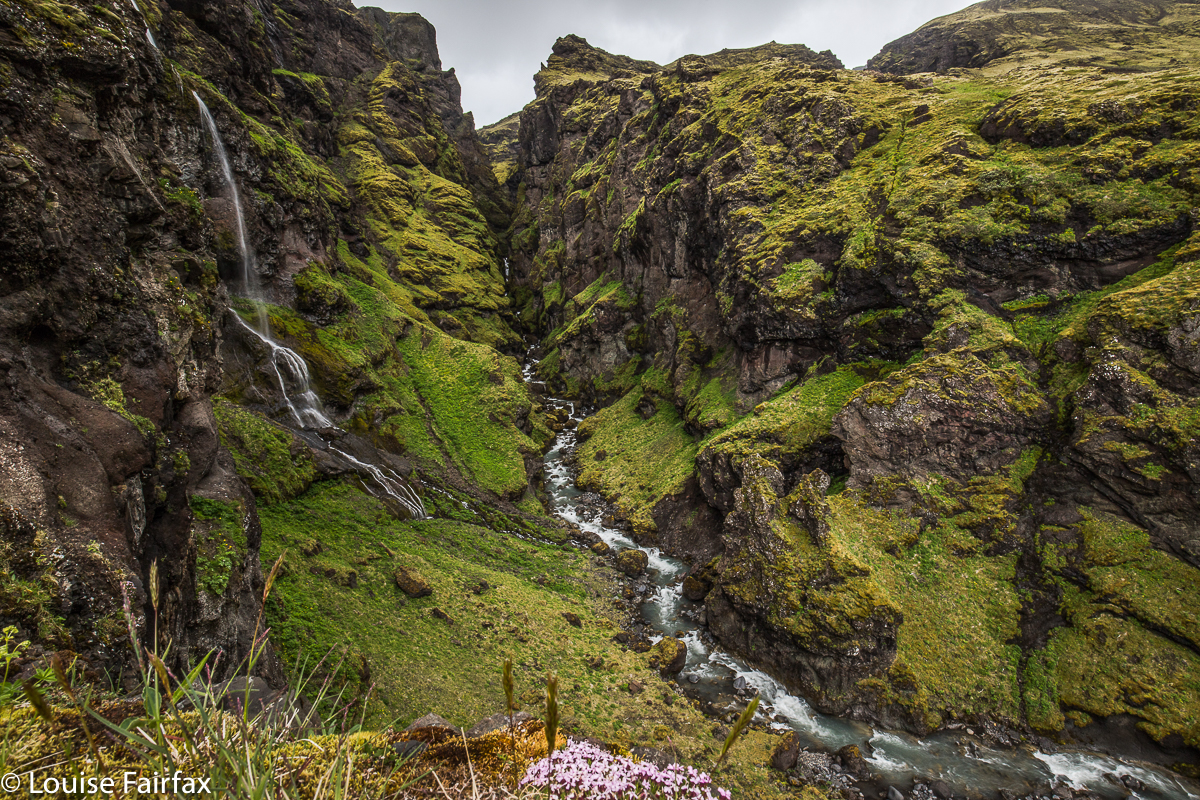 Selja River, above the famous pool. Lenie swam; I explored the higher ground … both quite predictable. Farewell beautiful Iceland. I will be back!