Billopp Bluff 2013 Nov
The top part of Billopp Bluff from below
I had never heard of Billopp Bluff until I read it on the club programme. That's one of the things I love about being in a club: it introduces us to new peaks. I assumed it would be a bit like nearby Drys Bluff – along, then up a bit, maybe a bit of real climbing, and then vast views out over the plains below to the north and east. Fine. One point. Put our names on the list.
Only in the bus did I start to hear horror reports of thick bush and nasty scree – one club member said he'd prefer to be at work, and he hates his job. Oh oh.  My mental image switched to a long unpleasant day fighting thick, prickly scrub, then dancing interminably on scree as the summit ran away from us in the distance. We had an older member with us (73) so I feared we would not get to summit at all. Oh well, here we were.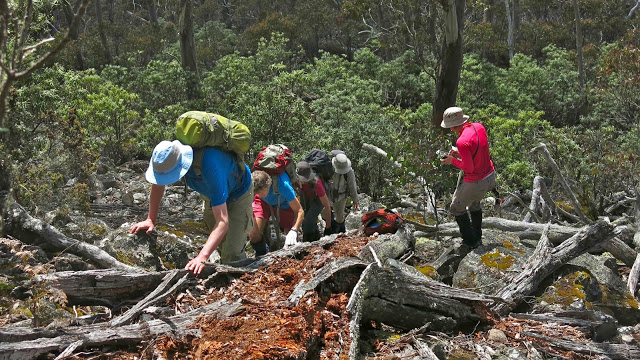 Up they come
Medium-density scrub
The leader didn't mind my choosing the route, and the former orienteer / wild animal in me enjoys that kind of thing. I love reading the bush for the best line through it. Up the spur we went – bush not too thick, lines made going pretty easy. The older member was keeping up famously. Life was good.
The knob-cliffline saddle
The first time we hit thick scrub was just near the cliff line, when really we were nearly there, so it was pretty short lived. The route we had been advised to take was to go left via a saddle between a bump and the cliffline (see photo), and then hang a right up the gully leading to the top. Follow your nose and common sense to the summit.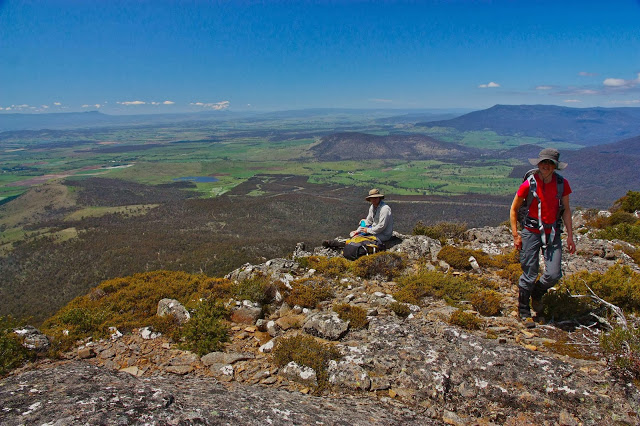 On the top. Vast views as expected
Fine, but my good friend and I were smitten with curiosity when we eyed up a different gully, and we both felt like experimenting and trying our luck in it – it looked so tempting. The leader trusted us, so off we went. It was more exciting than the real route, and we enjoyed trying to lever ourselves up the steep ledges; however, in the interests of safety and group harmony we eventually backed out of it and gave chase after the others. An added bonus of our exploits was that we found the only running water on offer for the day – and it was a very hot one.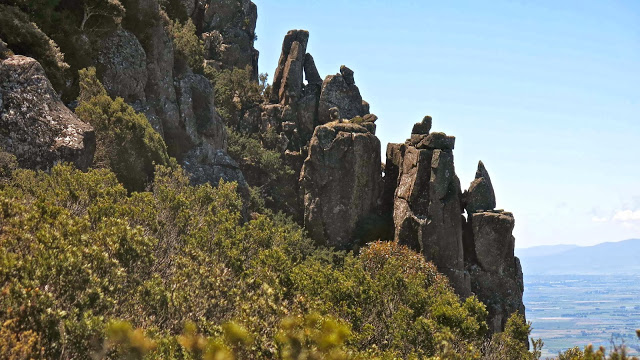 some great rocks seen on the way down
So, up the real gully and along the tiniest bit and there was the summit waiting for us (and not running away at all). There was nothing at all that I call real scree at the top. In fact, there was no 'real scree' to play with the whole day. There were some stones in places. I have no idea where these horror stories came from. Of course, it was not a walk in the park, and should not be attempted unless you can navigate and are very comfortable off track, as you do have to find your own way there, but given those things as prerequisites it is NOT a mountain to avoid by devising new work at the office. The 73-year old made it, which was especially good as this was his third attempt.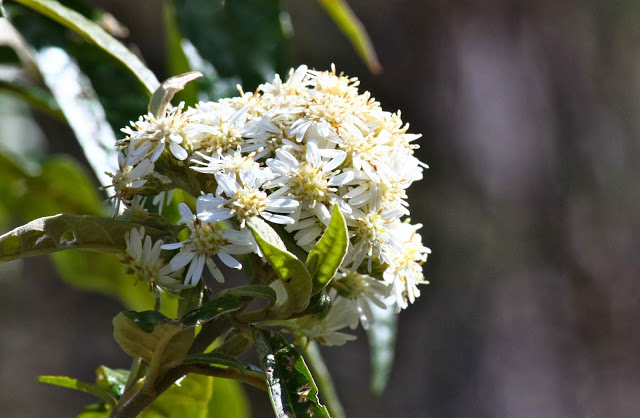 We took nearly as long on the way down as we took to ascend, which says a lot to people who know about mountains.