Pavement Bluff, Sept 2015.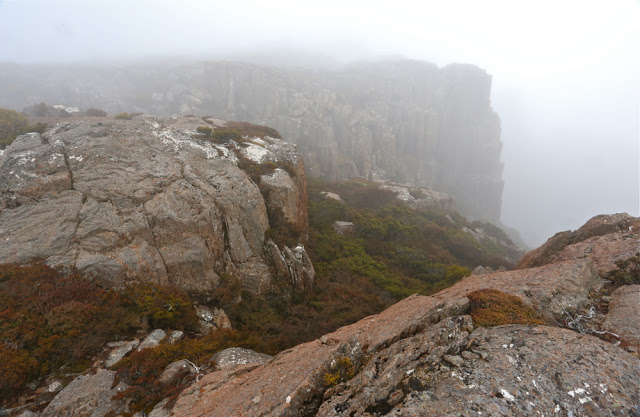 The view north towards Pavement Bluff from Broken Bluff. Heading DUE north at this stage is not such a good idea.
I had endured a torrid week; my friend Angela had missed last week's walk and was feeling mountain and exercise deprived; Bruce (my husband) had had an alarmingly busy week at work. It was time for the three of us to experience the recuperative and restorative powers of the mountains to heal body and soul: time to withdraw and take stock of things in life far more important than keeping the economic system rolling. This was a perfect day, then, to head for the nearby Ben Lomond Plateau and climb a new mountain.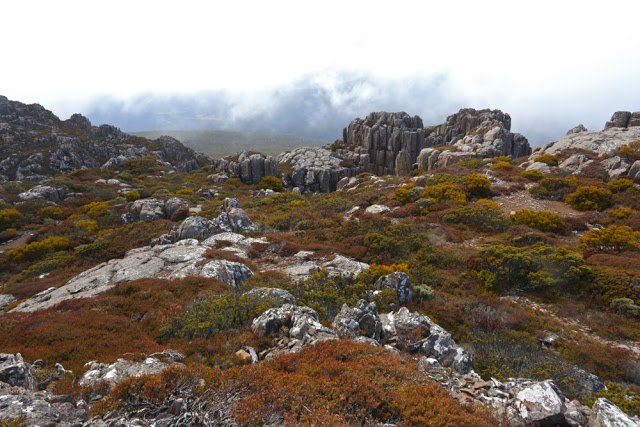 Once more, a view to the north towards Pavement Bluff from the Broken Bluff playground.
It looked as if it'd be cloudy, but for me climbing a mountain is far more about getting to know that mountain, about feeling the wide open spaces around me, uncluttered by signs of "civilisation" than it is about seeing some panorama or other. For me, each mountain has its own distinctive feel (which is why I also like to give each mountain its own little story; its tale is, for me, part of the character of that mountain). The vista is part of what it has to offer, but I love the minutiae as well.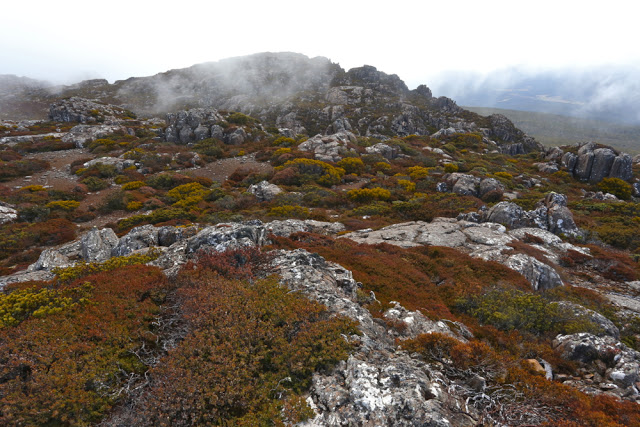 Now, only the creek, with its gully, separates us from the Bluff of today's goal.
We'll have to return to Pavement Bluff to see the view that I can only suppose it has. However, we are now well-acquainted with the tapestry of reds and browns, ochres and rusts it offered us, enhanced by the encircling mist, sometimes tantalising us with a quick exposure of dramatic cliff lines before it once more drew the curtains.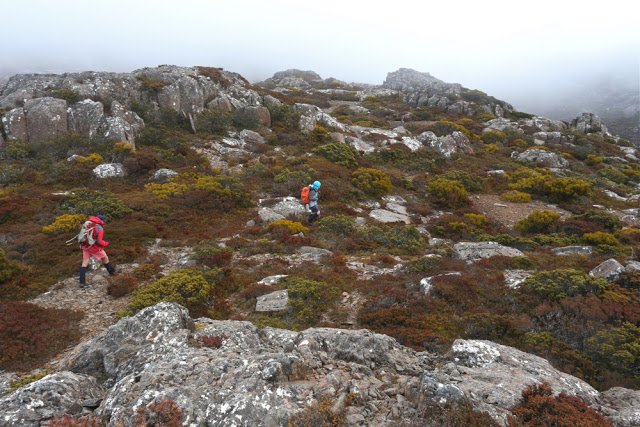 Angela and Bruce stride out while I play paparazzi for a while longer.
It was a lovely little jaunt: 1 hr 20 to the tops. We played around up there, mounting assorted high points on Broken Bluff and then proceeding on, northwards, to Pavement Bluff where more exploration and photography took place. There's a creek on the south side of the bluff, so on our way back we stopped there for lunch before once more passing Broken Bluff and descending on the track in the gully to its south, back to the car parked at the track's end.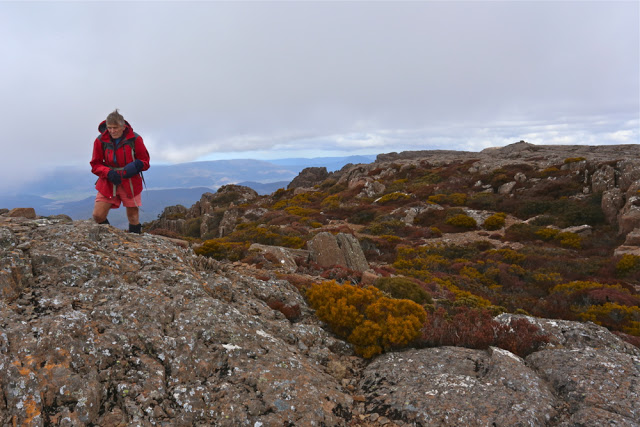 There were two summit cairns on Pavement Bluff. Here is Bruce about to reach what we dubbed "Summit A". It had the more impressive cairn. You can see the smaller cairn of "Summit B" in the background. The map had no black dot.
The track is a little overgrown, which poses no problems for anyone with experience. If you are new to bushwalking, just remember that you may need to scout around in one or two spots to pick up the trail again. Don't go up without a map and compass – and preferably also, a gps. There are two dirt roads that the track crosses that are not on the map and that may confuse if you're used to perfect maps. The track itself is on maps.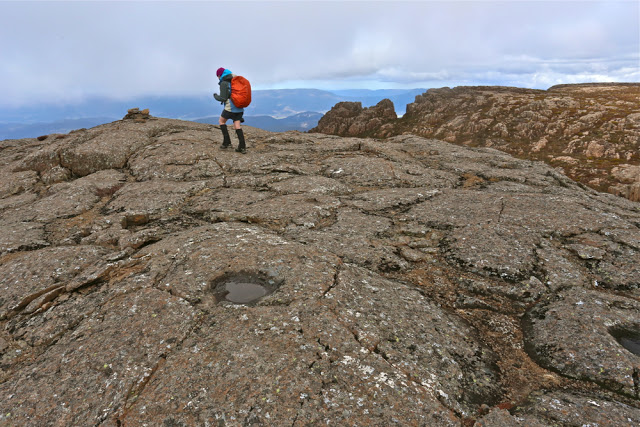 Angela, about to do one of those "just in case" touches of Summit B.