Iceland. June 2018.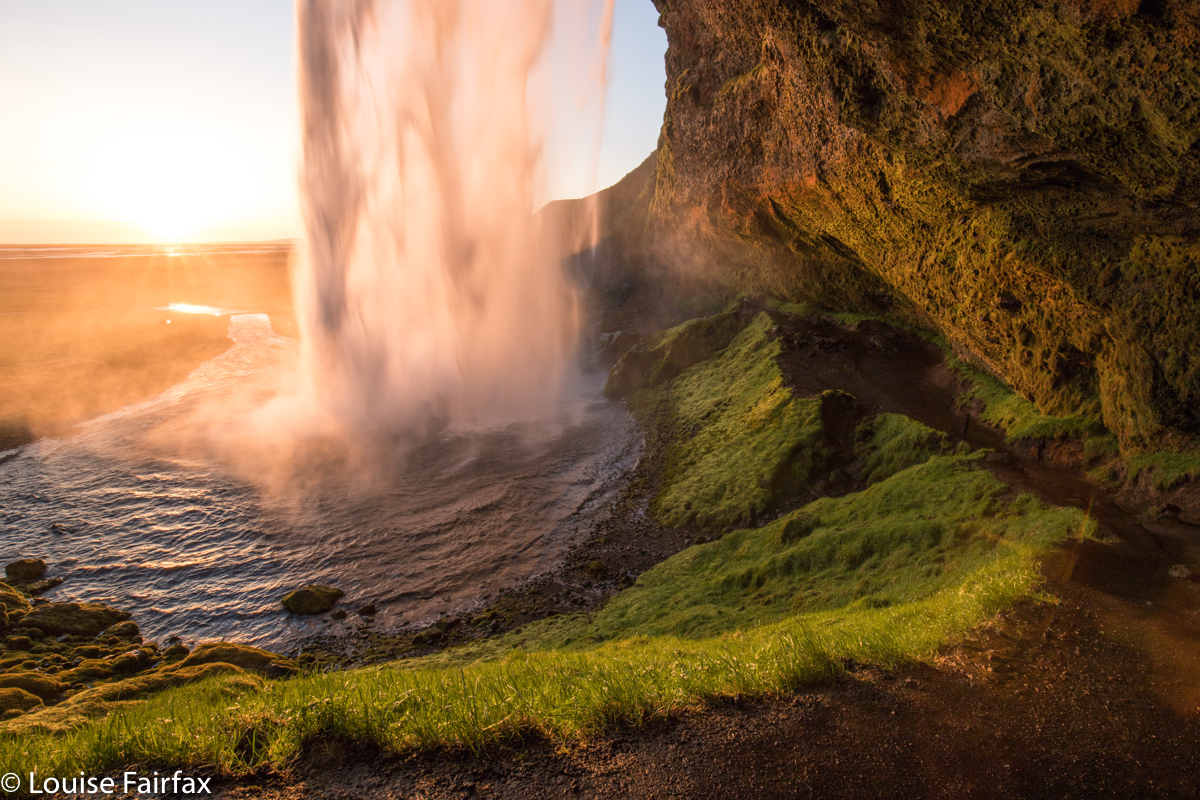 Iceland. That very name evokes so many emotions. Even before I stepped foot in the place, my mind had been baptised by beautiful images from others, by books that I'd read (like Sagaland and Sealwoman's Gift – both highly recommended), and by the very name of the island: land of ice – of white, of vast spaces, of wild nature.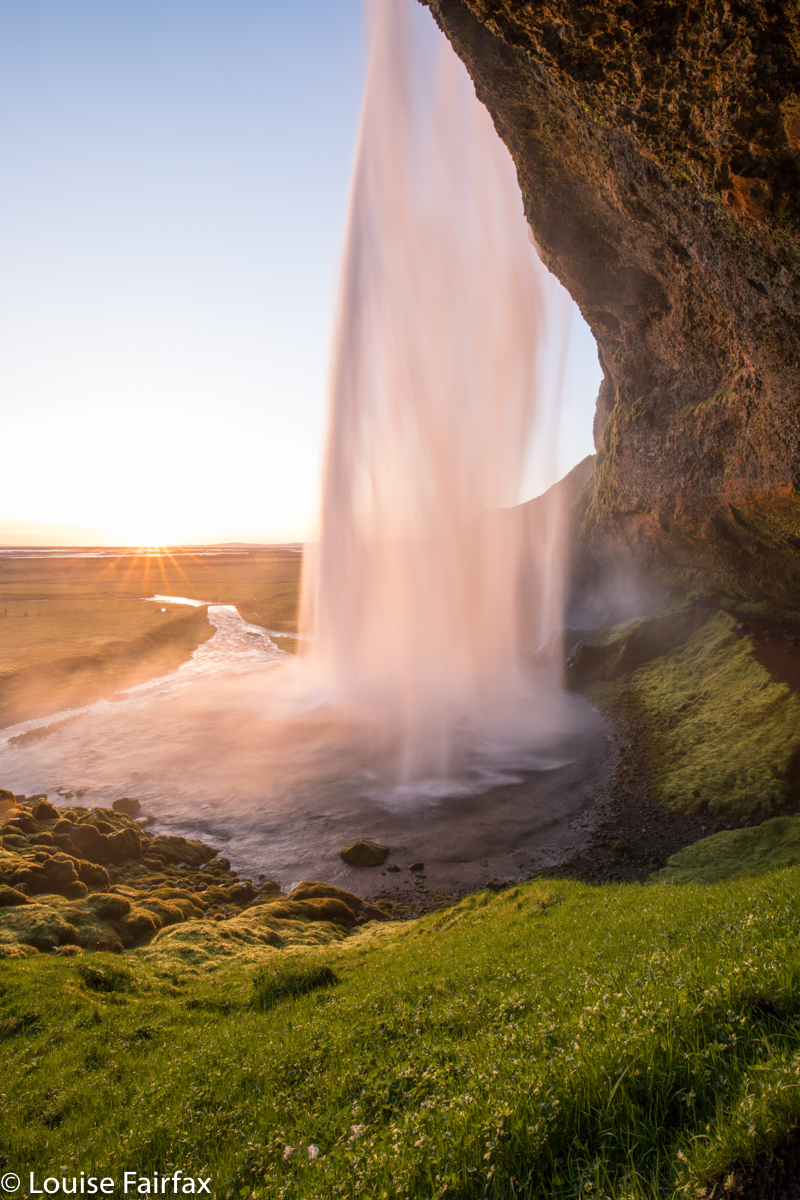 Seljalandsfoss
Iceland and its mystique have called me for years. Of the many reasons why this is so, probably the main ones are
(i) the unspoiled nature of the uncluttered expanses generated by such a severe winter;
(ii) the fact that this particular nature was intertwined in a rich tradition of stories; and
(iii) the marvel that in Iceland, nature has not been "tamed" or "dumbed down" by the bureaucratic mind that wants warning signs on every post, a fence on every cliff, and a risk assessment factor of zero. In Iceland, you are allowed to experience some of the wildness of nature and to delight in it without some government-appointed nanny telling you it's unsafe.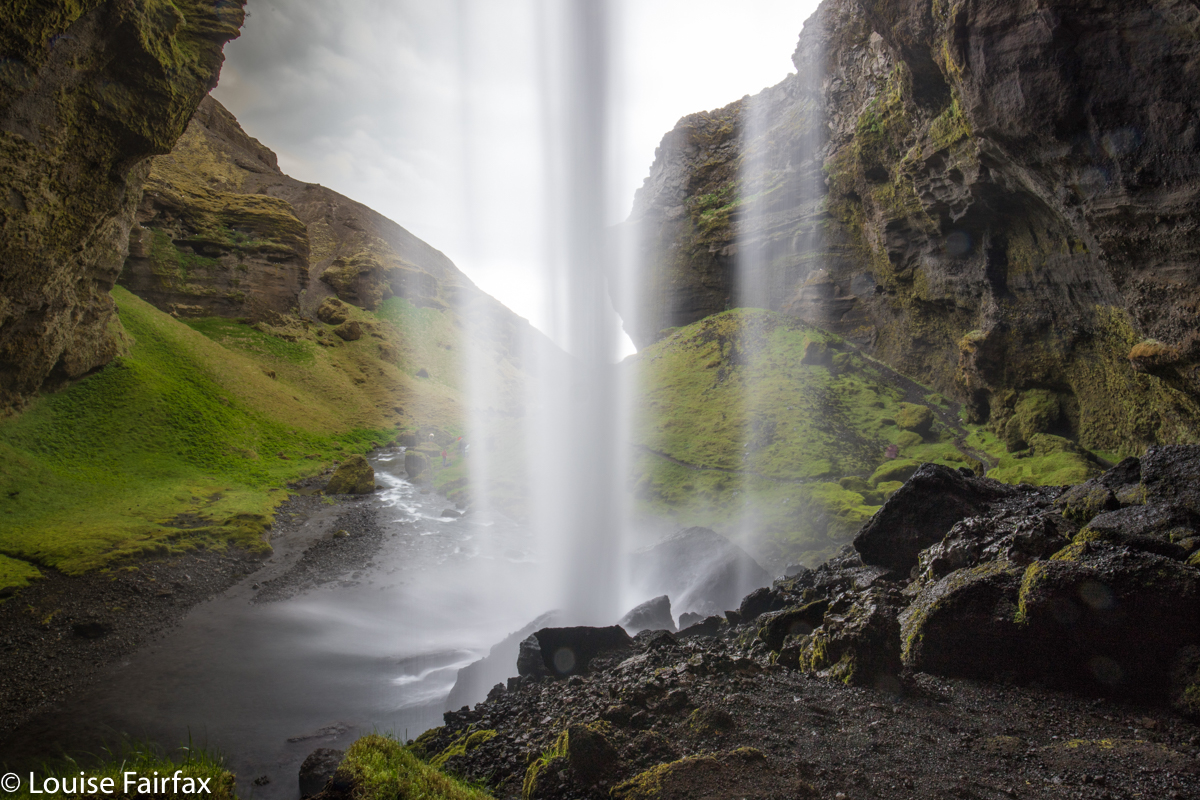 Day 2. Kvernufoss
And at last here I was, eagerly pressed against the plane window with my daughter, Yelena, both of us craning to get a glimpse of this environment that so excited us.
"How vast; how empty", Lena exclaimed, full of joy at what lay ahead.
"Just look at all that space."
In Iceland, you can experience infinitude.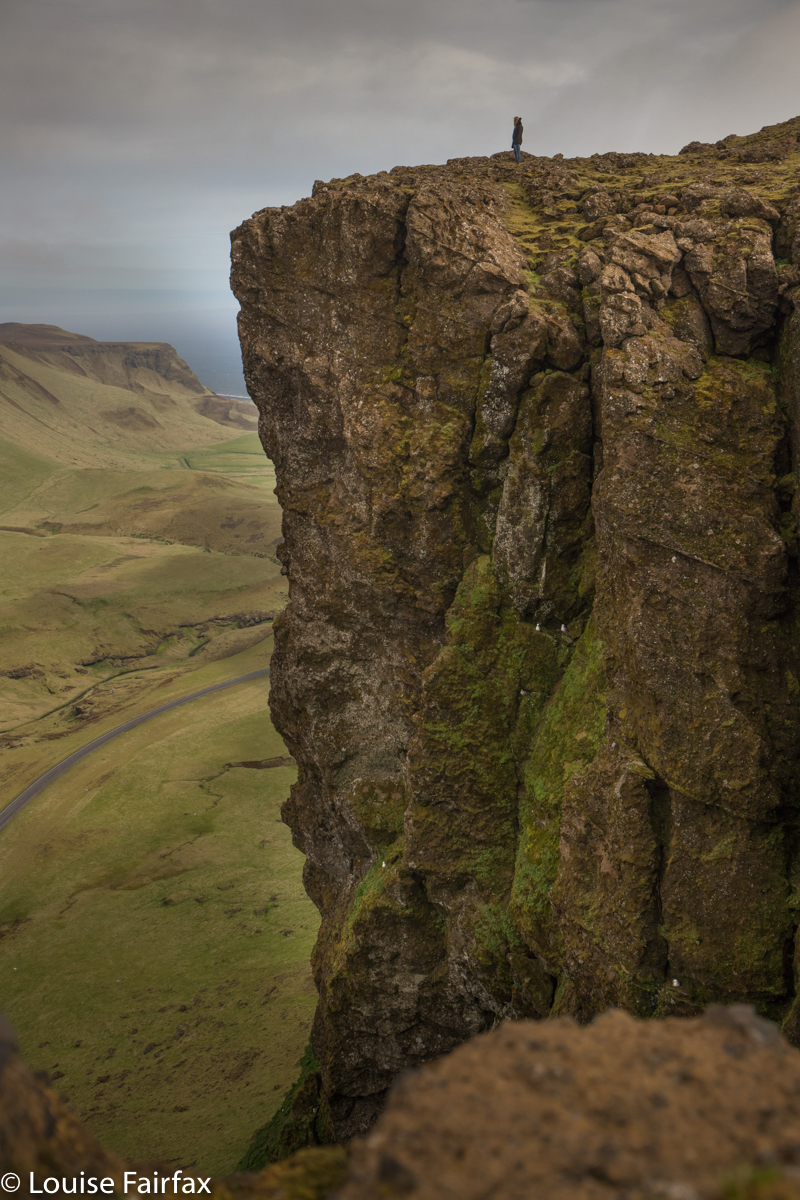 Day 2 Reynisfjall. Lena
I had booked our first four nights to be spent on a farm near the famous Skogafoss and Seljalandsfoss, hoping thereby to be able to visit both easily at odd times of day. Four days gave us plenty of time to explore the local area and settle in to a new hemisphere. Meanwhile, our host, Þórarinn, had assured me there were abundant waterfalls, beaches with seals, Icelandic horses, and mountains to climb in the area. Who needed more? Not us.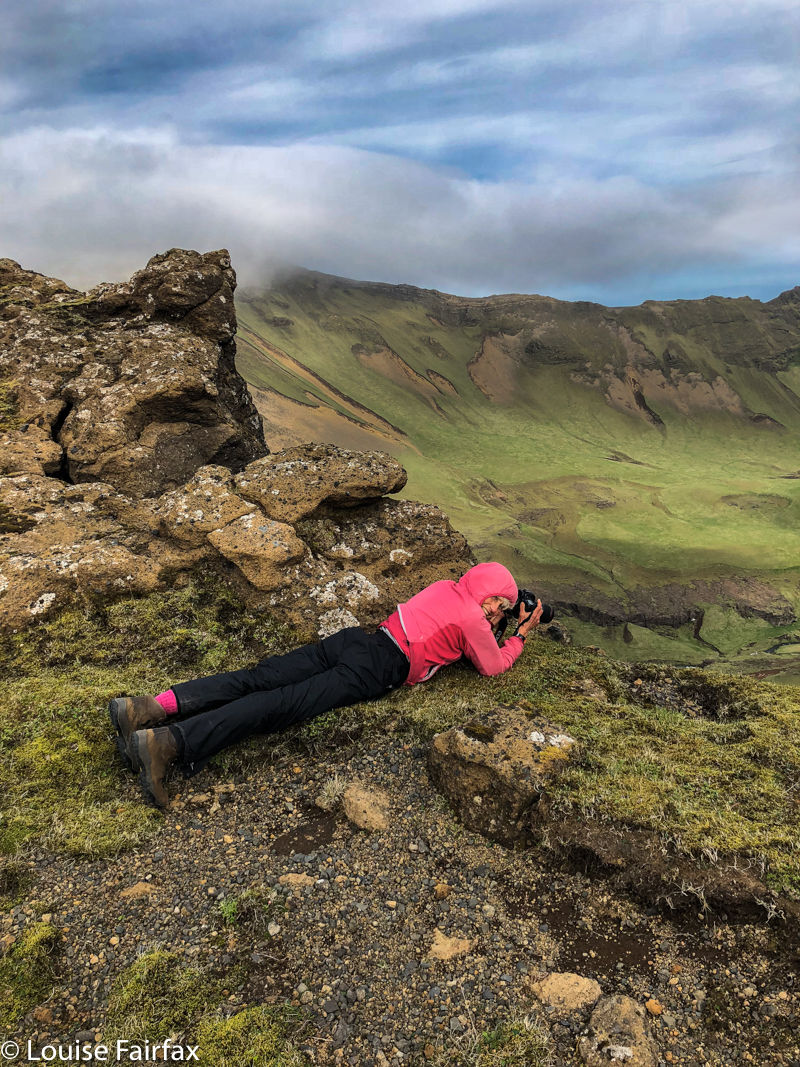 Reynisfjall. Day 2. Louise playing it safe
After forty-six hours' travel, we downed some spinach soup and … did we rest? No way. We were far too excited for that. The sun was shining. It was only 9 pm. Let's go and shoot sunset at Seljalandsfoss, the waterfall that was number one on my list. So, forty-six morphed into forty-seven (half an hour in each direction). We didn't mind. Only with cameras whose bellies were full of images of pink waterfalls could we at last give in to the needs of mortal bodies, and admit some sleep. Night 1 in Iceland. June 1st.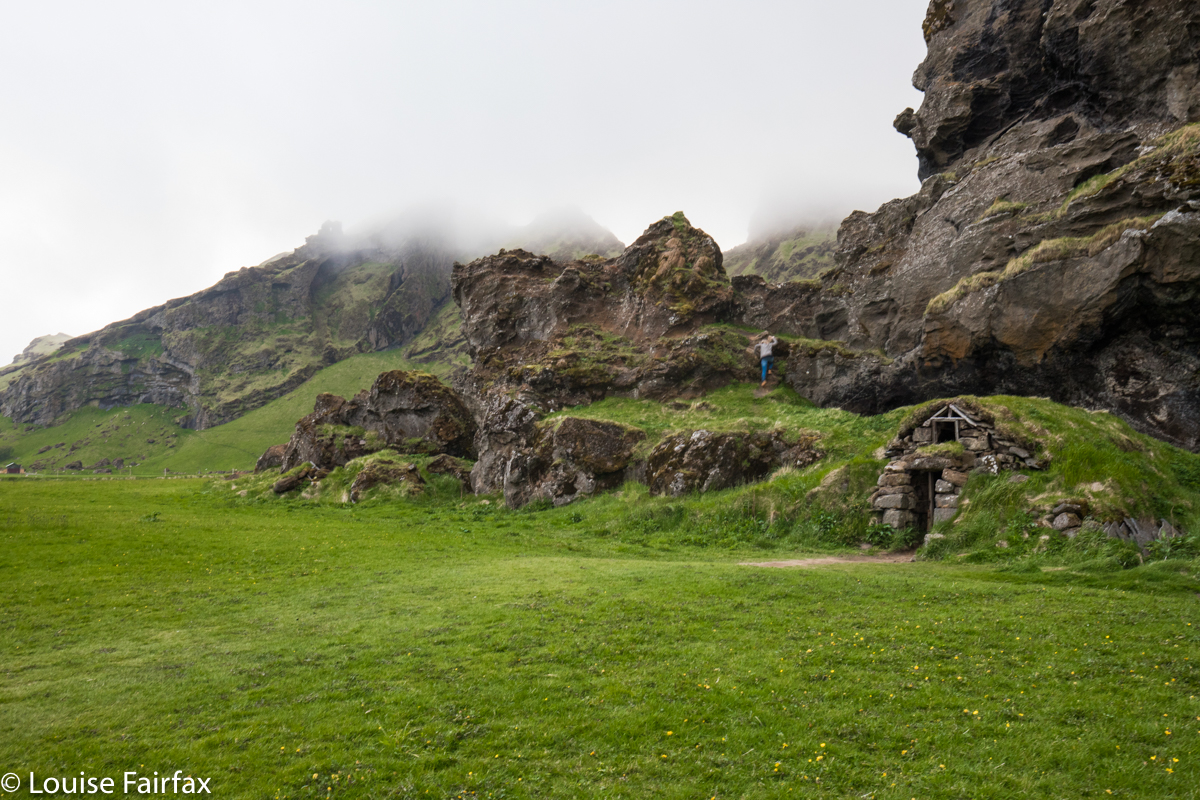 This rocky playground was only about eighty metres from our bedroom. Fun for a bit of evening sport. 9pm Day 2.  Can you find Lena scaling the rocks?
On Day 2, Timea, Þórarinn's girlfriend, not only armed us for the day with a brilliant breakfast full of Icelandic treats, but also, aware of our interests in nature and photography, had a little list of nearby secret and other waterfalls we might like to visit. The first of these was Kvernufoss.

I am not sure how or why item number two on our itinerary took place, but I got it into my head that I wanted to climb the huge cliffs on the Reynisfjall outside Vik. There is an easy route up this massif, but did I want that? Of course not. A lady later said she'd never heard of anyone going up the way we went, but I saw a possible gap and was itching to see if it was viable. It was. We were greeted up the top by a wind of astonishing ferocity, which meant that the normal cliff-standing Louise took to lying down, while Lena instructed me on safety. I was mindful of the fact that when you have recently lost your father, losing your mother in the same year might be somewhat traumatic – even when the mother is me – so obliged more than might normally be my want.
The evening was cloudy and dull as well as windy. We delighted in Skogafoss, but also vowed to come back later to do it justice. We had our evening soup in the popular eating place near the "car park", very content with all we'd seen, played a bit more in the rocks near our base at Drangshlid, and turned in when we absolutely had to.

That's our accommodate, way down there.
Day 3. When we arrived at our farm on day one, the first thing I did was look up at the cliffs that towered above; I was instantly challenged to find a way up. I kept looking, but was not confident that possibilities would turn into actualities … or whether they would be dead ends on closer inspection. Timea said that Þórarinn knew a way. Maybe he was waiting a bit to see if we were worthy of a route (maybe neither of us looks like a promising climber). Anyway, on day 3 at breakfast, she explained to me how to get up. You beauty. Of course this jumped the queue on any other possibilities. Off we set to reach the cliff tops.
Now they were very alluring indeed (although Lena didn't quite like the sharp slopes dropping many hundreds of metres in a possible life-ending slippery slide; she hasn't been married for half a year yet, so thought continued life with her husband might be a very nice thing), but, hey, behind these cliffs lay an even more cozening mountain that surely HAD to be climbed. Lena agreed. She is the best ever daughter. Up we went to the summit cairn, with views not only over our farm, but way, way below to the winzy Skogafoss and the Laugavegur trail beside the Skoga River. The mighty waterfall was a tiny bit of white from up there.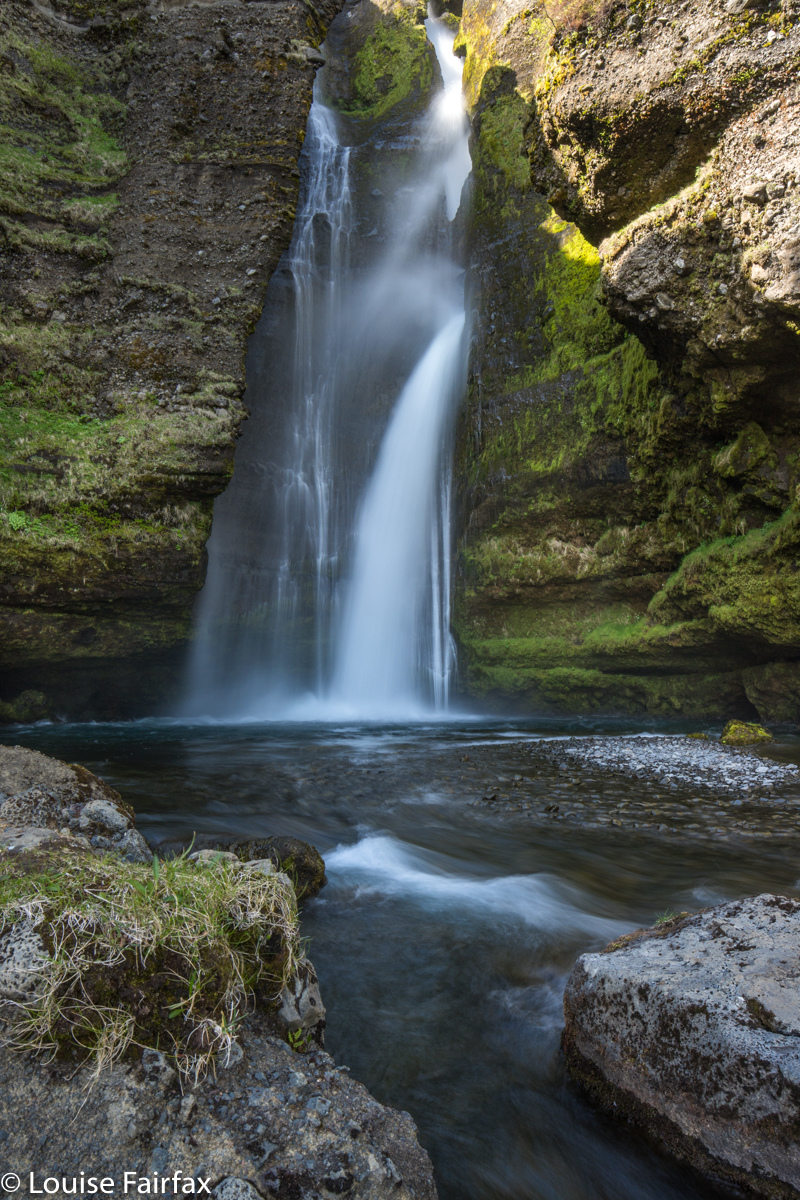 Gluggafoss
After lunch and a tiny bit of down time, off we set to find the collection of waterfalls Timea had given us: Gluggafoss / Merkjarfoss, Irarfoss and Gljufrabui. We hit the first two too early, but you can't be everywhere at sundown, and we thought we'd sacrifice the good lighting just to at least see these falls. Irarfoss was a good hike but the sun was way too high to be bothered photographing. I came back to discover Lena in the middle of dangerous antics: her precious (and very expensive) hat had blown off her head and over a cliff and she, having admonished me in the art of safety, was busy risking  life and limb for a hat. Now it was my turn to say "No".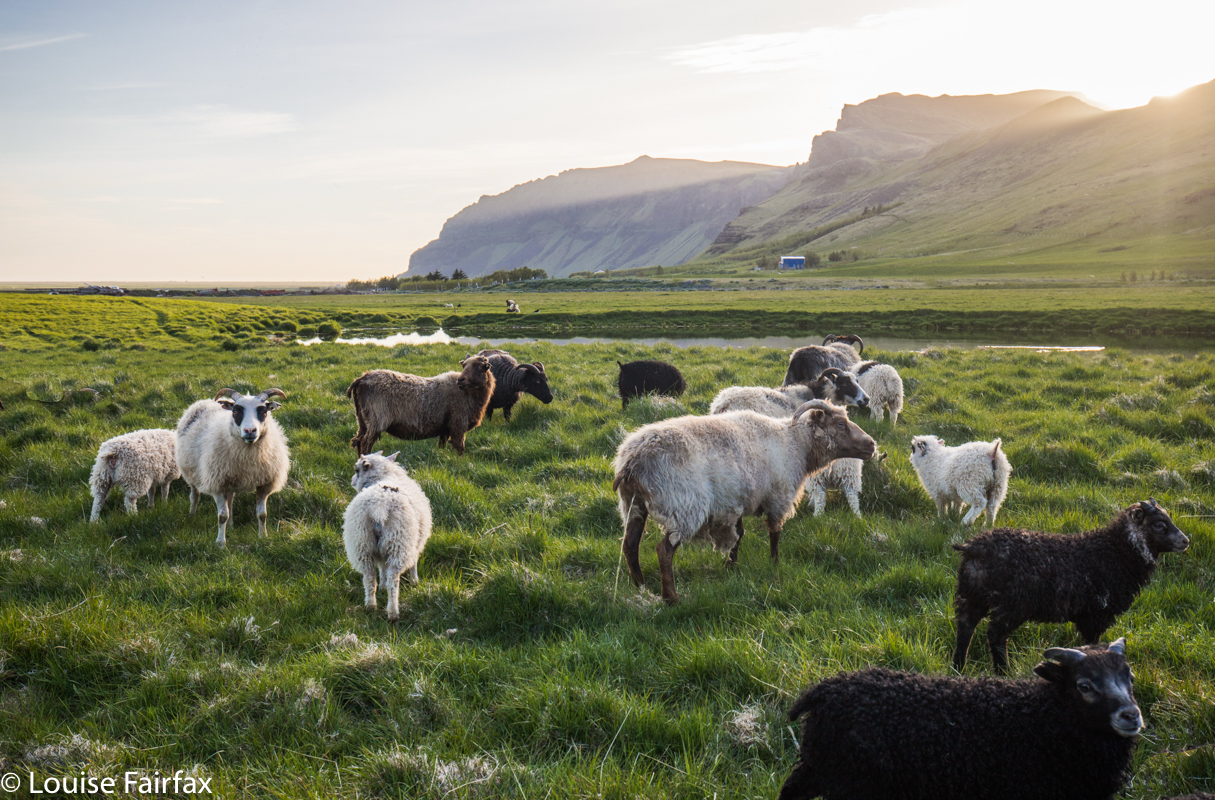 But she wanted her hat. I said we'd return after dinner, when I'd thought of a solution. In the end, I got a four metre stick, leant right over the edge and used the stick the tip the hat the rest of the way down the cliff – way down to a waiting Yelena in the river at the bottom. Was she ever happy to see her hat! It was banned from all further hikes. I found the sheep in the paddock at the end of the hat saga to be far more interesting than Irarfoss, buried deep below me in heavy shade.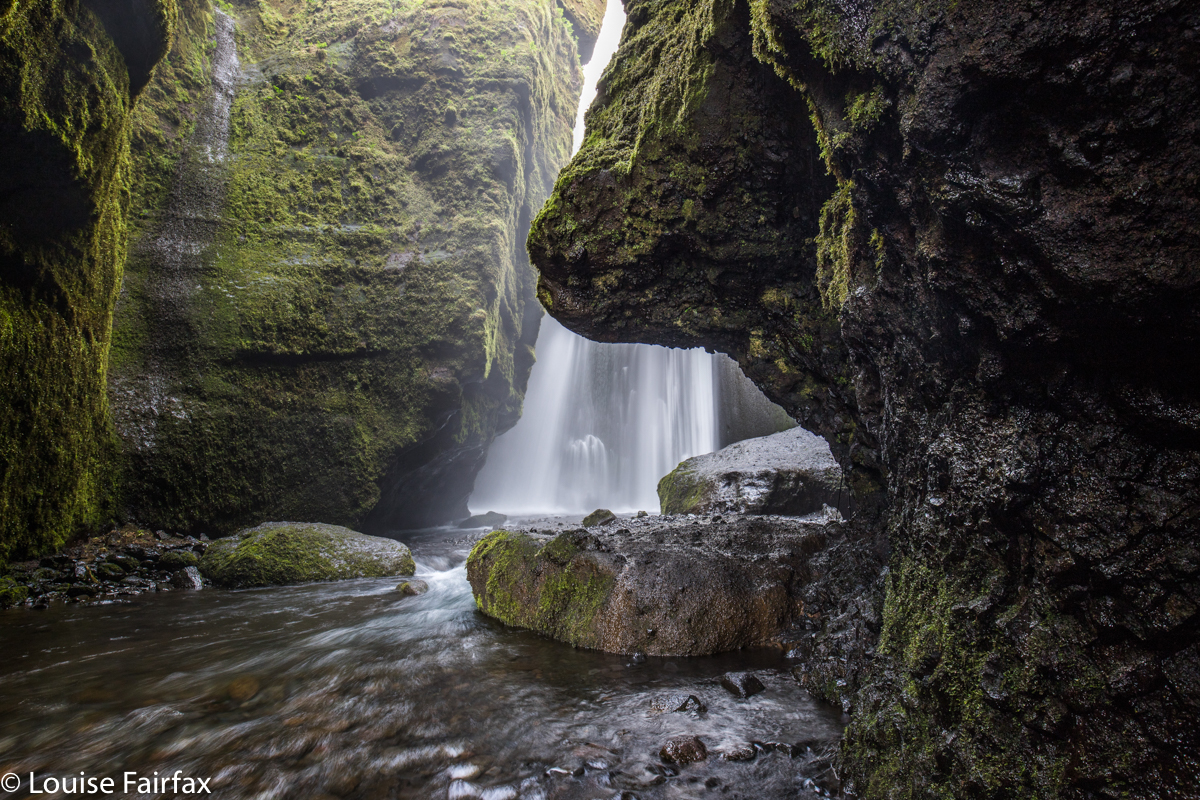 The highlight of the day was visiting Gljufrabui. We'd thought we were late enough so that all self-respecting tourists would have gone home for dinner, but they were still there taking photos of themselves with a hint of waterfall in the background, totally oblivious of the fact that they'd waltzed into the frame of our long exposure and ruined it. It was very wet work in that cave, and hard to get a shot that didn't have droplets on the lens, but we persevered, and managed. Lena was very glad I'd told her to bring gumboots on this trip. We made our first tog friends of the trip this evening.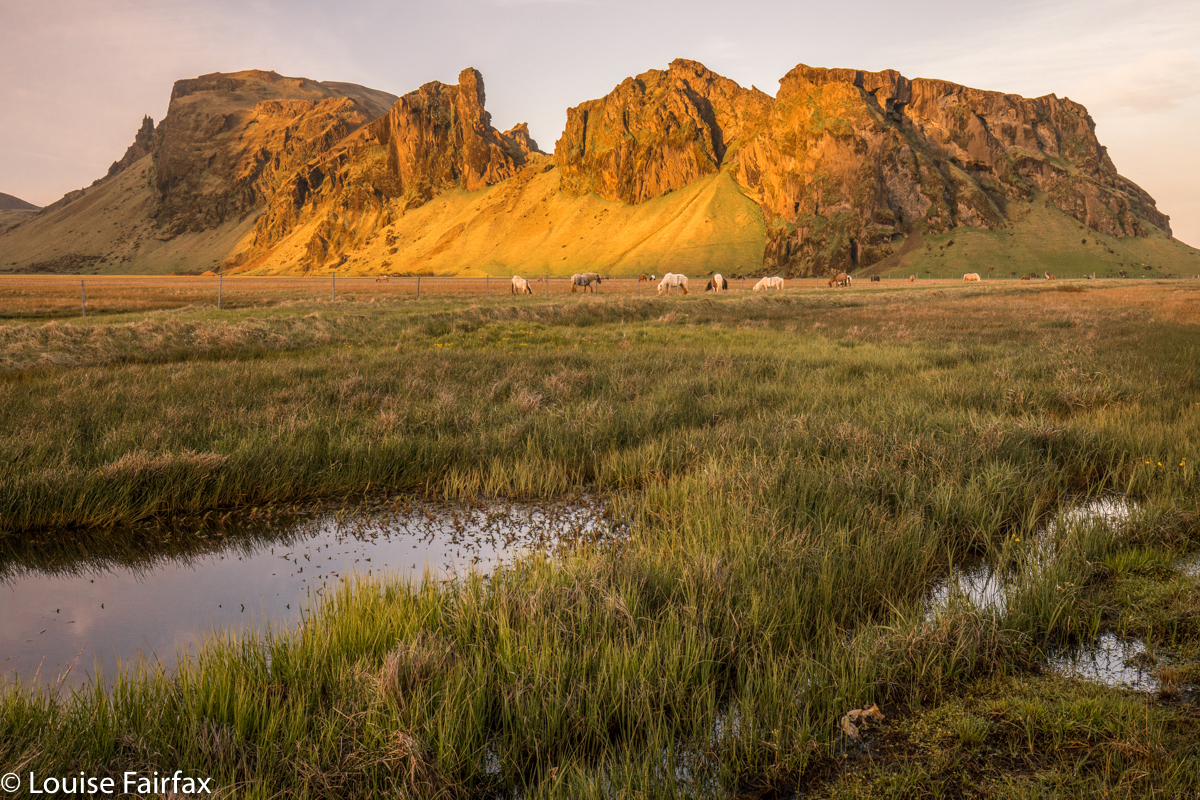 The evening light as we wended our way home was beautiful. Those shapely lumps there had been tiny anthills from our mountain that morning. We were absolutely loving our Iceland experience.
Day 4. Our last full day here. Already we were in mourning. We were having such fun at the farm, and had become quite spoiled by Timea's home-baked bread and delicious food for breakfast. We began our day with a several-hour hike up the Skoga River along the Laugavegur. We had a truly gorgeous time, but I ran out of memory card, and was told I could buy an additional one in Vik, so that rather decided the activities for the afternoon: we would go to Vik and photograph the Reynisdrangar from both west and eastern sides. We were both rather put off by the hordes of tourists in this spot. Timea explained they're all desperate to see the place where other tourists have died. Fascinating. There was no pretty sunset, and it just didn't do it for me, marvellous though the knowledge of death in this spot might be.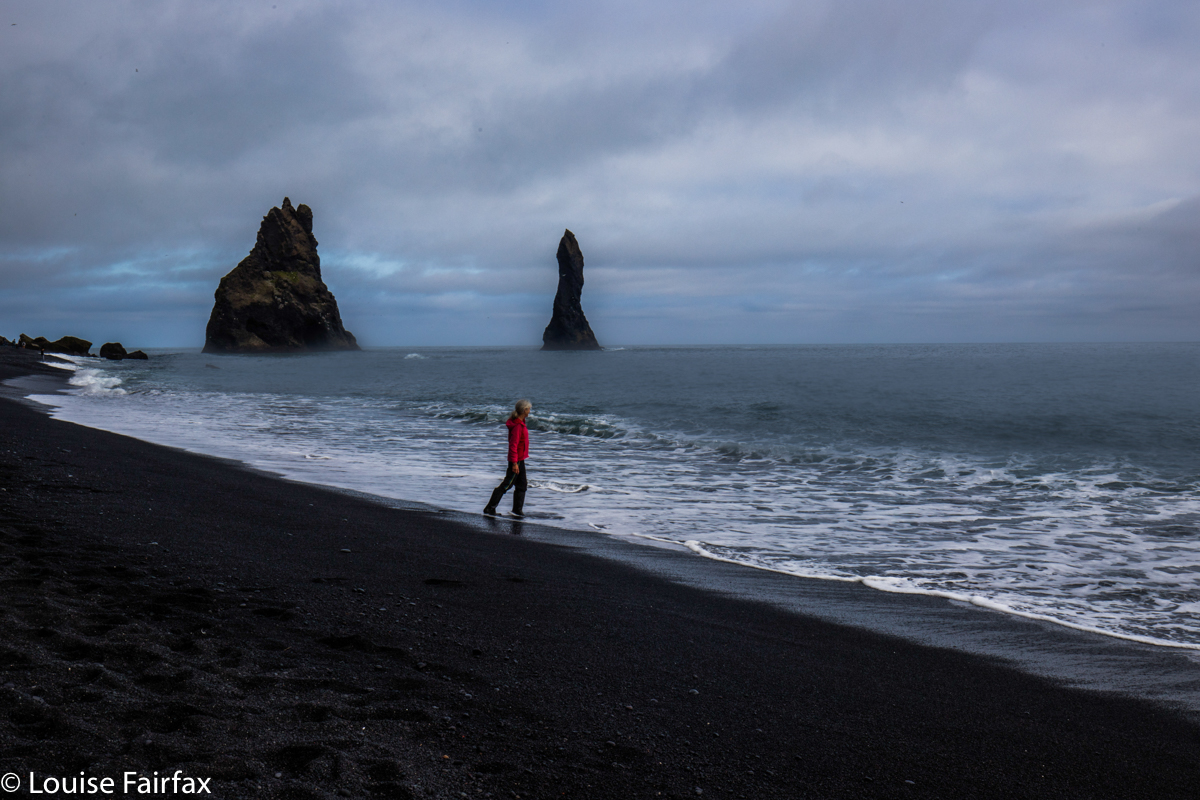 Me, contemplating death by drowning like the other tourists. I am more likely to die of starvation because I'm not strong enough to open the jars of food on my bench. This is a serious concern.
Day 5. We were not finished with the Skoga River (seeing's my memory card had run out the day before), so we set our alarms and climbed back up there to put in a few hours before breakfast. I wanted mist, and got it, so was very happy.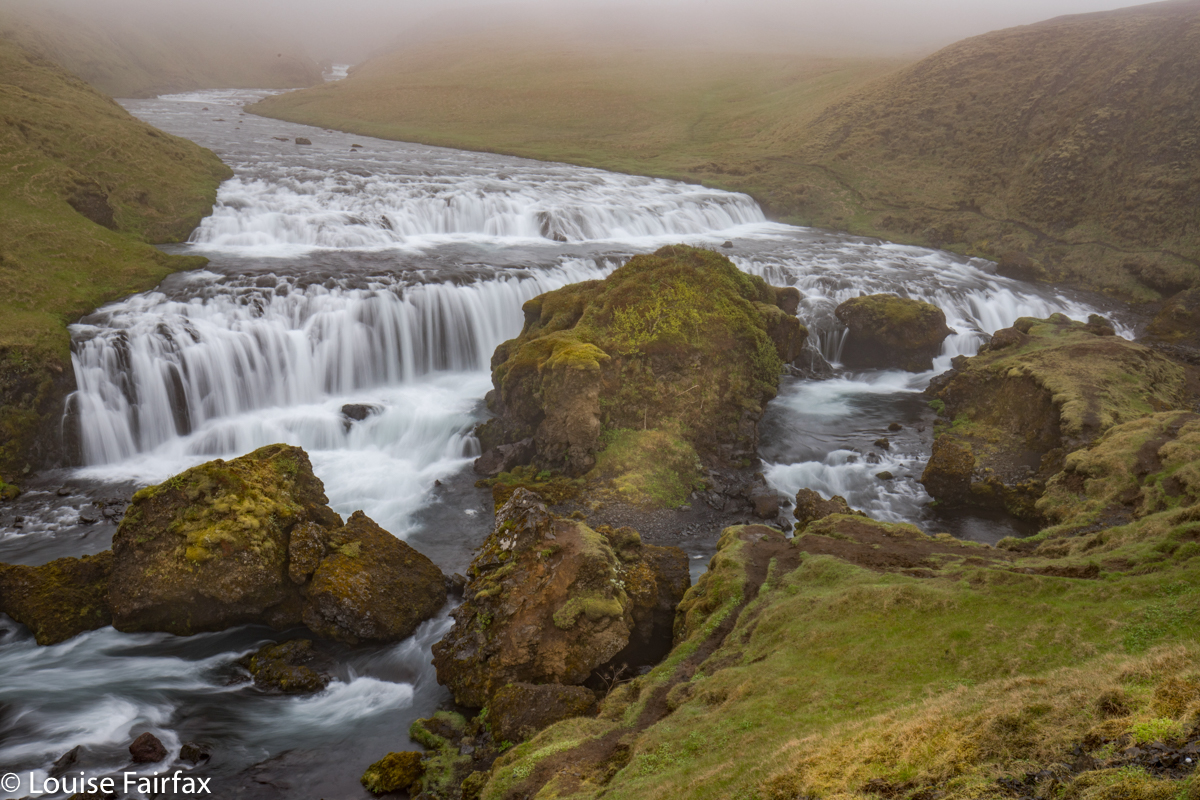 Hestavaðsfoss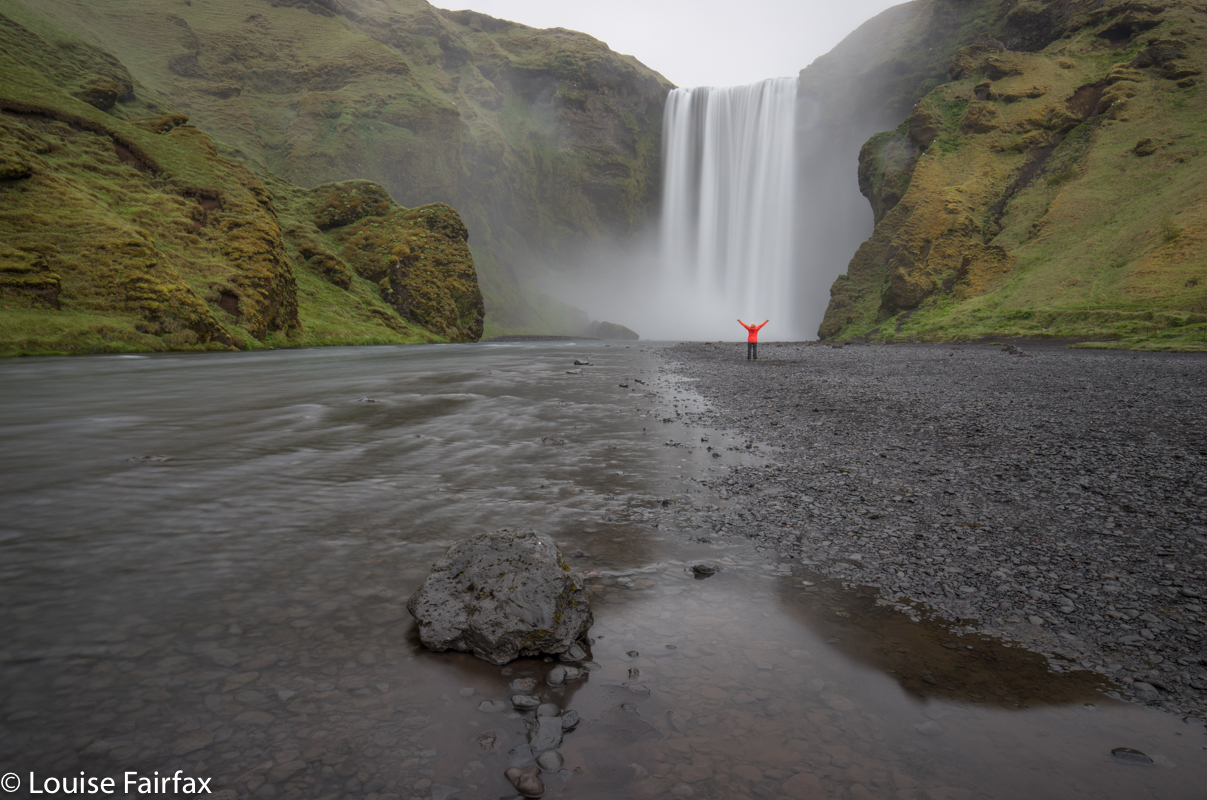 Even with a diminutive Louise in the foreground, you still don't get the full scale of this thing. All that white around it is the spray it tosses up when so much water is involved in such a huge drop.
That brings us to breakfast on day 5. It is time to leave and transfer our base to Vagnasstadir, 28kms beyond the next big photographic goal: Jokulsarlon and Breidamerkursandur, the beach strewn with iceberg babies that look like sparkling diamonds.
This blog is quite long enough, so I will use the changing of base as a bookend for this episode. The next one will be about the journey to the Jokul and the time we had there: days 5-8.
For the next episode, proceed to
http://www.natureloverswalks.com/iceland-2018-2/