Cradle Mountain 27 Dec 2013 
My daughter, Yelena, flying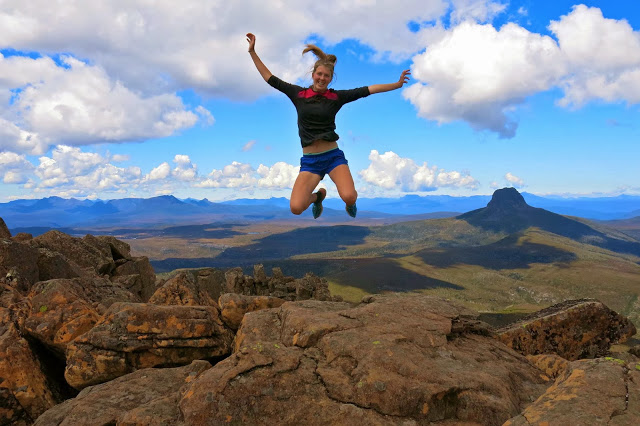 With joy we realised we could squeeze in one more mountain before our Swedish visitor, Elin, had to leave, and there was no doubt at all as to which mountain it was to be: she has long harboured the wish to climb the iconic Cradle Mountain, so we packed our gear and off we set in two cars, as this was a full family affair + visitors. I have climbed Cradle five times now, but who cares? A good climb is a good climb.
For some reason the other two girls thought it was a good idea to do a 90 sec plank after the first descent, so, one in all in  … .  Frederik got to photograph.
The forecast was not brilliant, but off we set, and, luckily for us, by the time we actually started up the mountain, the early clouds were drifting away to the coast, giving us crisp lighting and sharp, artistic shadows on the mountain as we climbed.
 Two cars meant that we had one car of Cradle climbers, and one car of toddler minders. The four Cradle climbers made great progress and were on top a shade under 1 hr 30 mins, which meant the toddler minders, who had set out after us anyway, had only got a bit further than the little boat shed on the lake by the time we'd descended.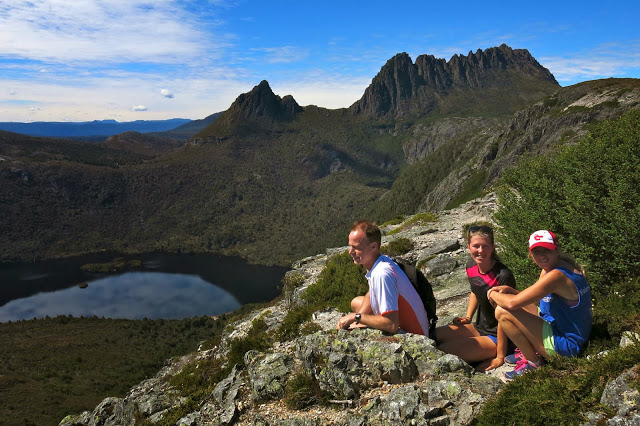 Cradle from Marion's Lookdown
My other daughter, Kirsten, took this shot.
We lunched on the beach and progressed at toddler pace around the lake. Hilariously, it took nearly as long to circle the lake as it had taken to get up and down the glorious mountain that stared down at us as we circled. I think for some of us, the slow part was also more tiring than the mountain. It is many years since Frederik has done a day that long. A hungry gang of eight enjoyed burgers at the Tavern before setting out for home.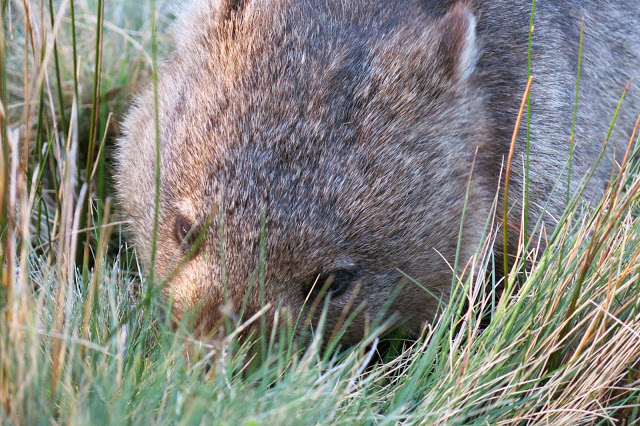 Wombat number one of thirteen
I am delighted to report that the wombat : leech count was thirteen : two. Brilliant. As seeing a wombat had also been on Elin's wish list, she leaves very satisfied, but is bitten by the peak-bagging bug. Now she's seeing if she can get back to do some SW mountains with me before she flies back home. I sure hope she can.