Mt Barrow 29 Oct 2013
Yesterday was a perfect day – blue sky, no wind – just the sort of day that anyone who is sane and is not obliged to be working right now would decide to go up a mountain. So, my daughter, Elin and I  picked up my husband after work and told him we were going up Mt Barrow. I had packed his clothes.
Mt Barrow is a fabulous mountain if you don't have much time. Both my daughter and I have run up it quite a bit from the bottom. Today, with toddler Gus in tow, we were just going to do the last climbing bit before the summit to give Elin another point. She's enjoying this points game. She's been in Tassie only a few days and has already accumulated three points to her great satisfaction. She's plotting more mountains and more points on a return visit next month.
 We parked and did some mini-rock climbing with Gus before having a kind of summit relay that enabled a combination of babysitting and summitting for all who wanted to. Gus had a ball climbing smaller rocks and throwing stones into puddles while we all had an even better time jumping bigger rocks along the ridgeline from the top of the stairs to the trig.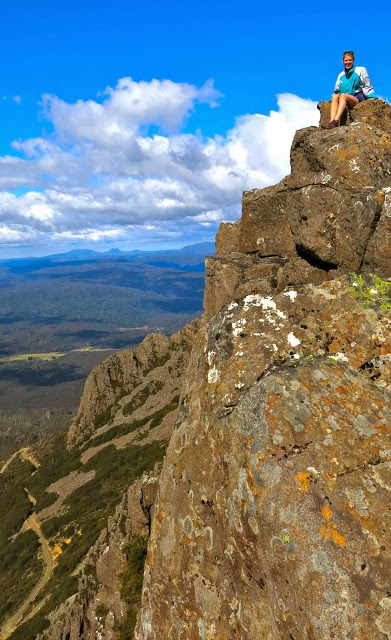 We have been doing a "plank challenge" that is more than a little testing, but Elin said her legs were shaking, not from the planks, but from the precipitous drops we managed to find to increase the fun.
We were home in time for a not too late dinner. What a grand thing it is to live near mountains!!!