I love the Du Cane Range, and seek any excuse at all to go there. I have been planning a night's sleep at its high point for a very long time, so when I saw its name on an HWC list, I was excited. It wasn't the trip I have been mentally planning for myself, but it can wait until summer, and meanwhile, it would be fun to just be there again and climb a few mountains. As it turned out, I ended up going there with only two others, and the snow was so deep we didn't complete our original plan of three mountains, but we sure did get to see some beauty.
I broke two ribs a couple of weeks ago, and this was my first pack carry since then, so I decided to catch the ferry to Narcissus, and meet the others, who were walking in, at Pine Valley Hut. That would give me plenty of time to see how the ribs were coping with the heavy pack, and the afternoon to do some packless exploring after I'd arrived. The ribs were fine, and in the afternoon I took some shots of the flooded valley and then went up onto the Acropolis plateau where the wind howled and light rain fell. Valley and heights were ankle to calf deep with water from the recent rain. It was going to be an "interesting" trip.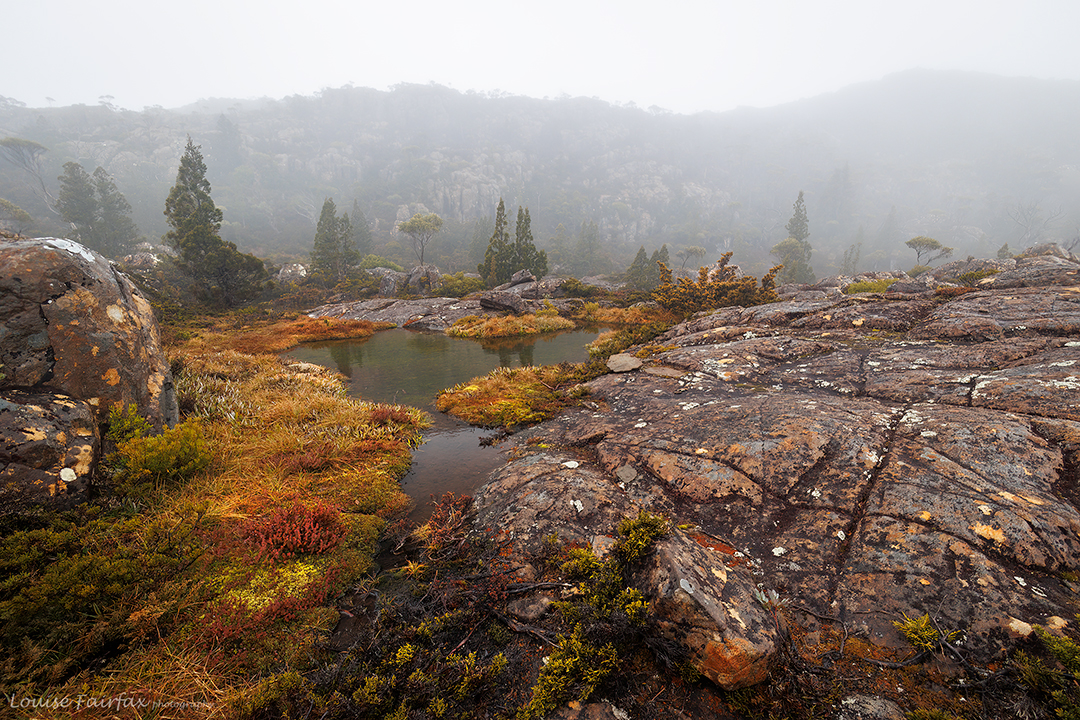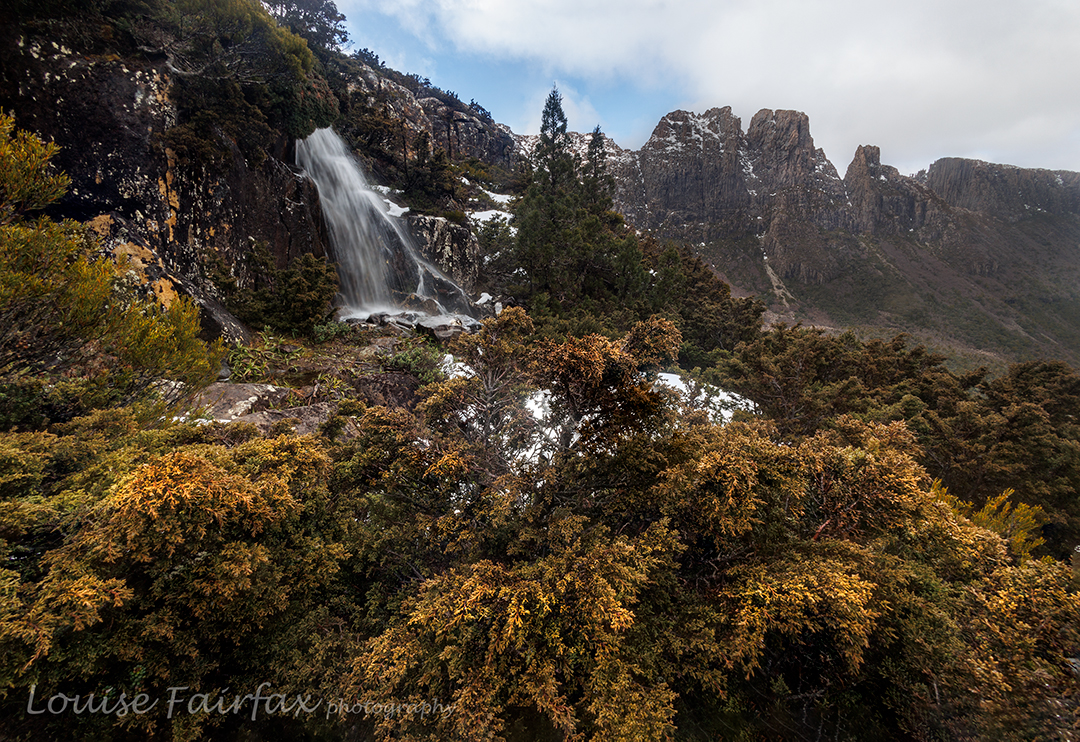 Three of us set out next morning for the heights, and I was excited to see the first snow before we'd topped out at the Parthenon saddle. Flippers would have been better than boots for getting around Lakes Cyane and Ophion, and, despite the forecast for just cloud today, light rain continued to fall, as it had done the day before. Lake Elysia looked magical in the watery mist, alternatively (and tantalisingly) hiding and revealing Geryon and The Acropolis. We stopped there for a snack and some photos before moving on.
At some point in there, the force of the wind coming in from the west hit us, and I started to wonder about the sense of camping up high in the snow in this wind (our plan). Luckily Paul was thinking the same thing, and Phil agreed. Our new plan would be to camp at the Pool of Memories down lower and in a sheltered spot, and then try for our goal of Hyperion with only daypacks, returning to the gentle harbour before nightfall. We were already thinking that Eros would probably be omitted.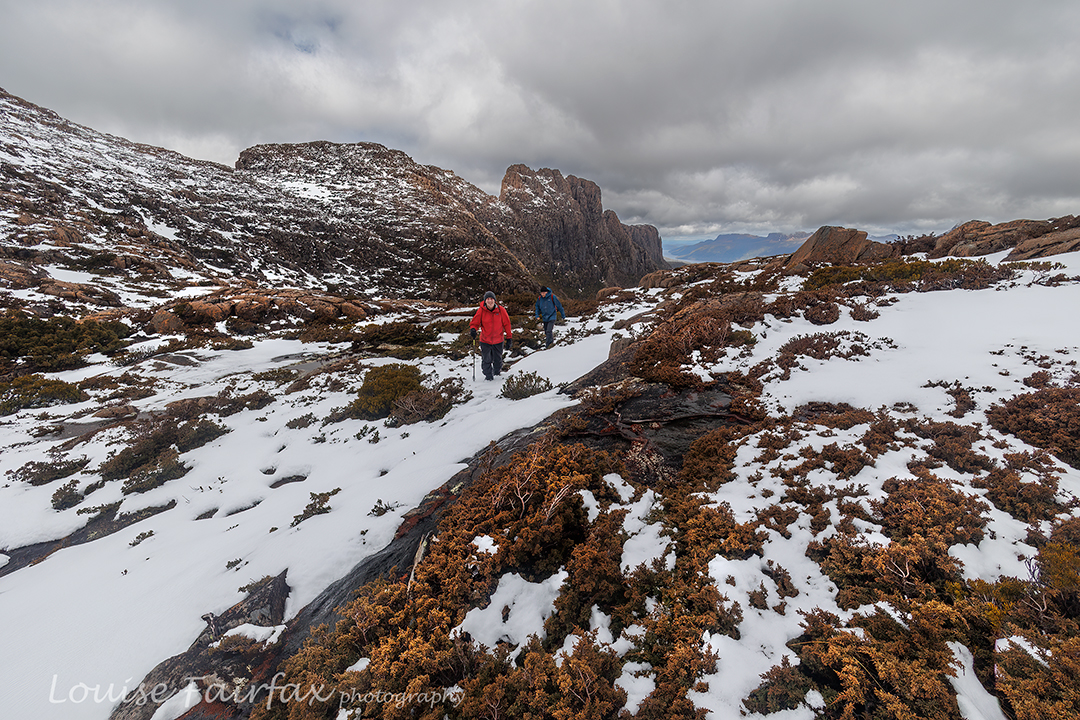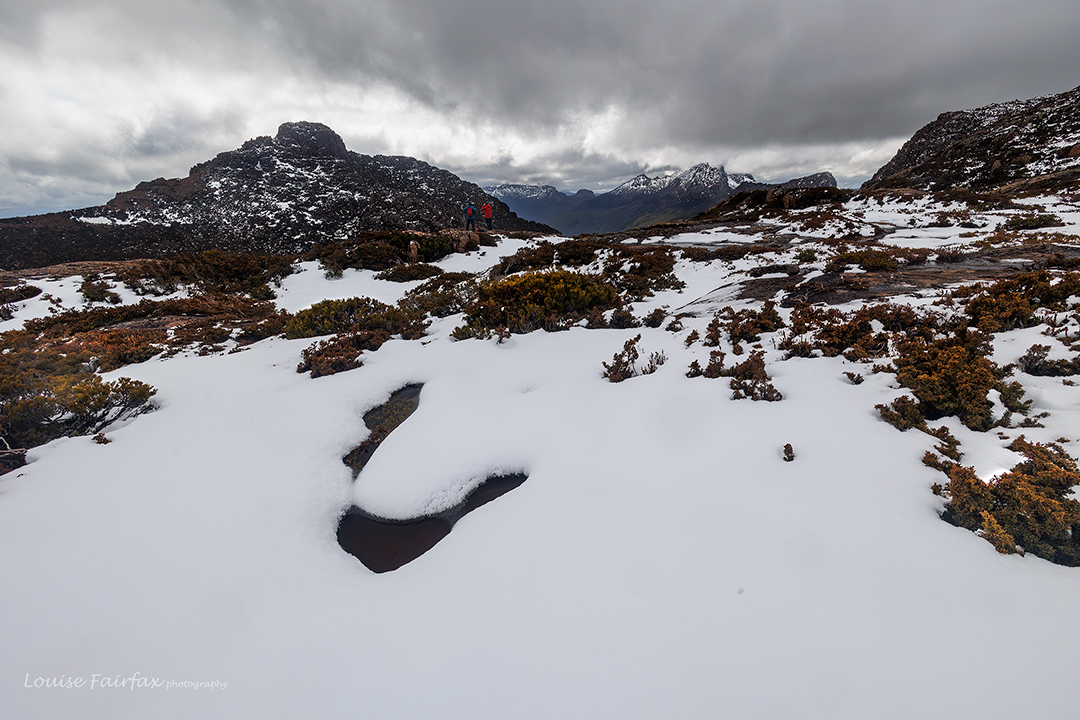 Thus, when we reached the Pool, we dumped the heavy packs, pitched our tents in readiness for our later return, had an early lunch and then began climbing through the snow. This part of the day was absolutely magic. I took heaps of photos: the tale is one of beauty and vistas.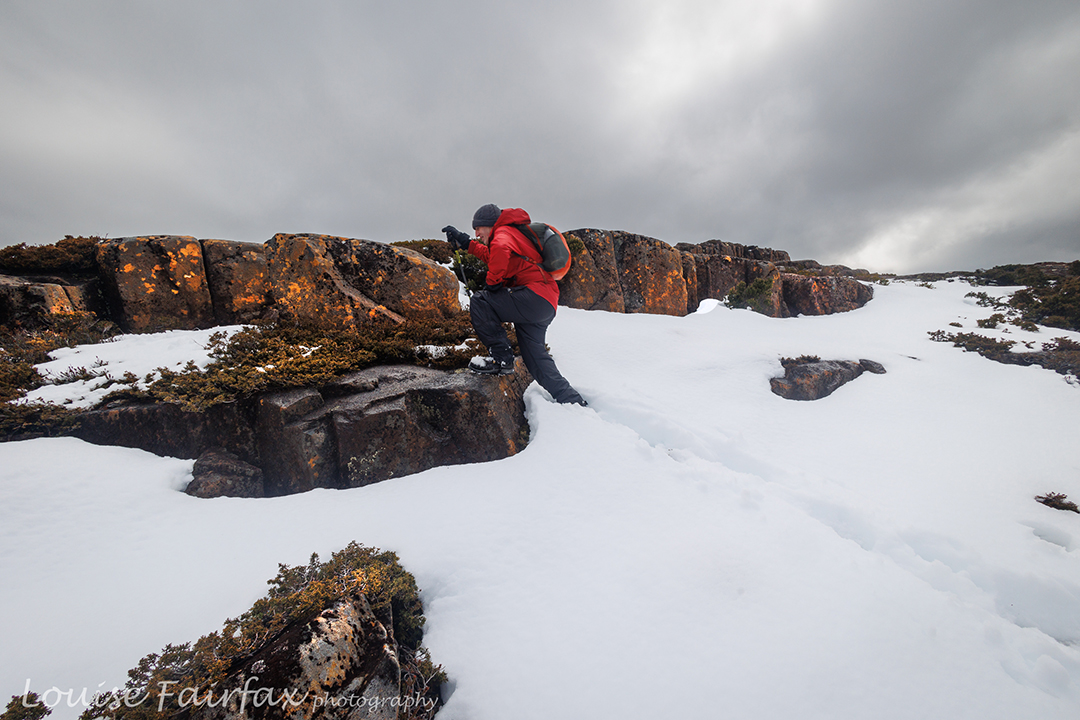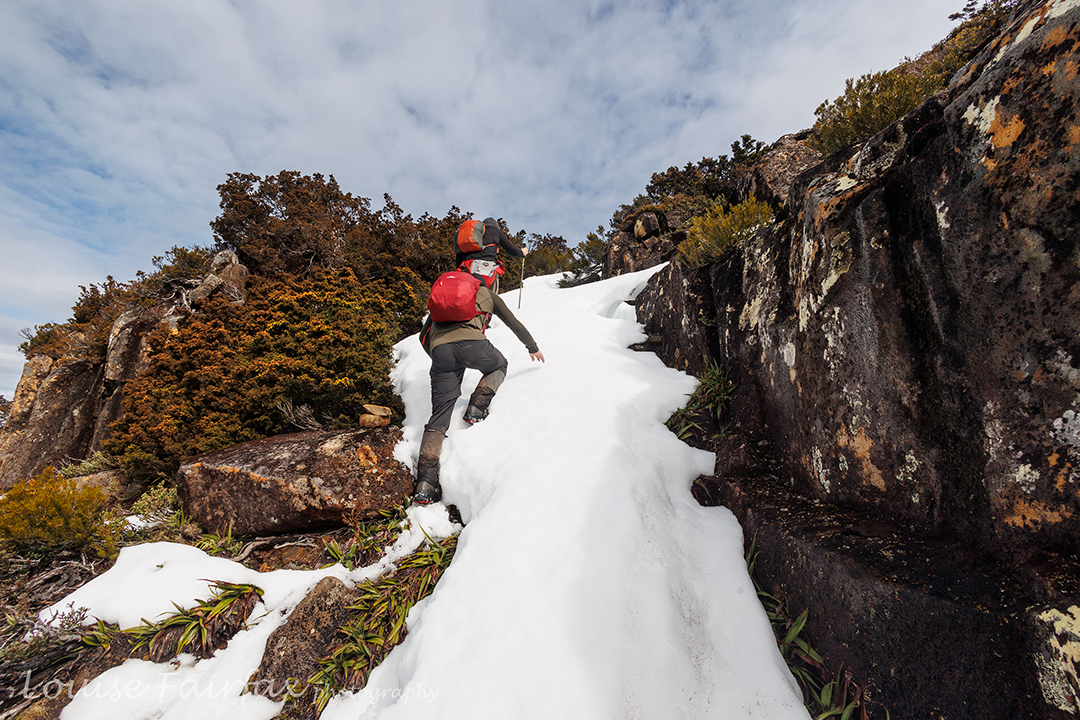 For me as photographer, plenty of action was required, as I had to run to catch up after each shot – kind of interval training – which is fun, but I did note the truth of the words that a photographer of this type needs to be a fit person. I enjoy the challenge: I mostly shot from behind and caught up; every now and then I went up ahead to get a front-on shot.
The third day was Walled Mountain day. This would be my ninth summitting of Walled, done this time in boring daylight hours, so I was tempted to skip it and just move on. However, I decided the exercise would be good for my fitness, so stayed with the other two. I am so glad I did!! It was absolutely wonderful up there, and nothing like the boring dull-light summiting I was anticipating. Descending, glissading through the snow, was a blast.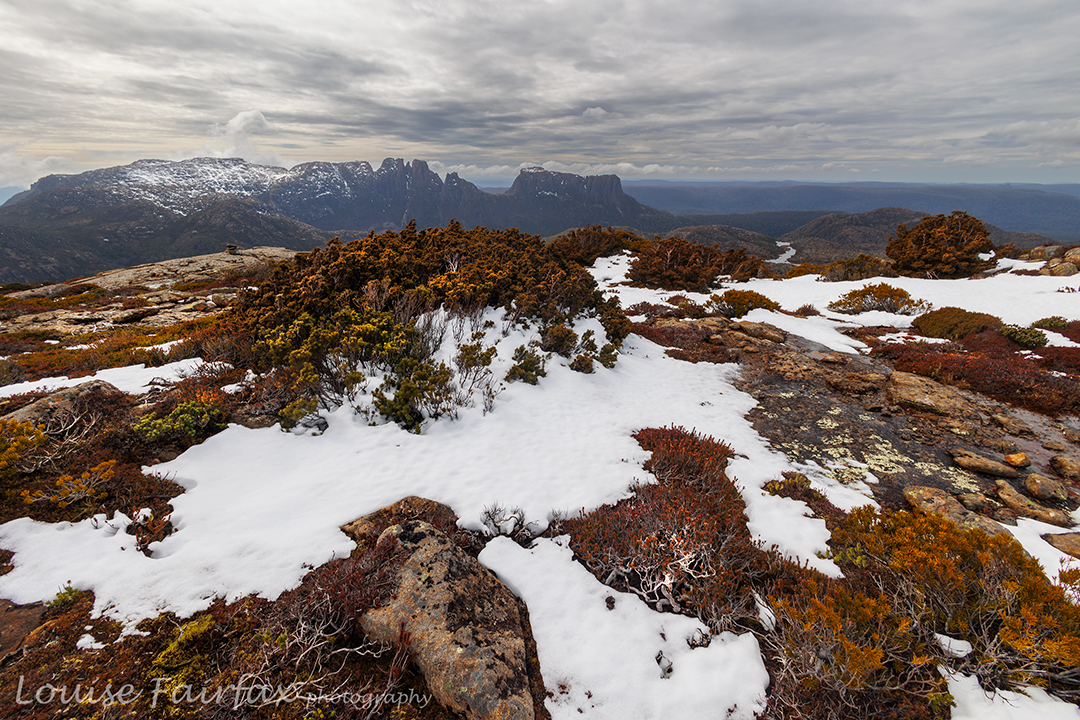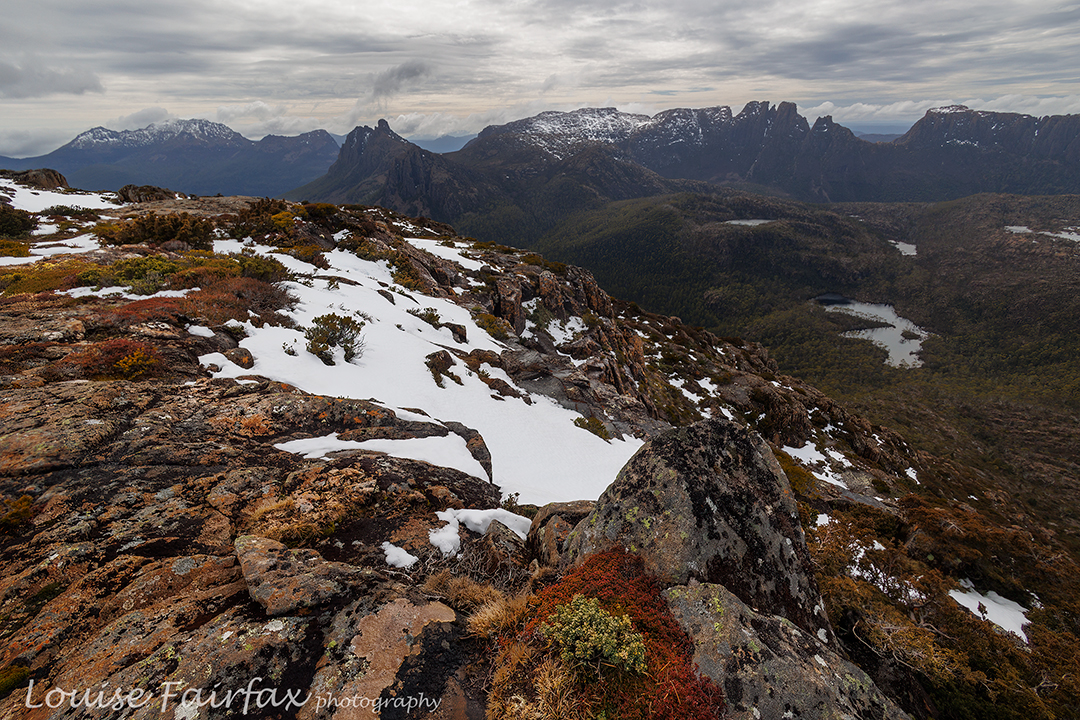 On we went and then down to Pine Valley for a late lunch, and finally on to Narcissus for dinner and to sleep the night. I pitched my tent by the river, and listened to its soft flow as I fell asleep. Already by this stage, my feet, having been pretty soaked for all of every day, were starting to blister up. Day four would be agony.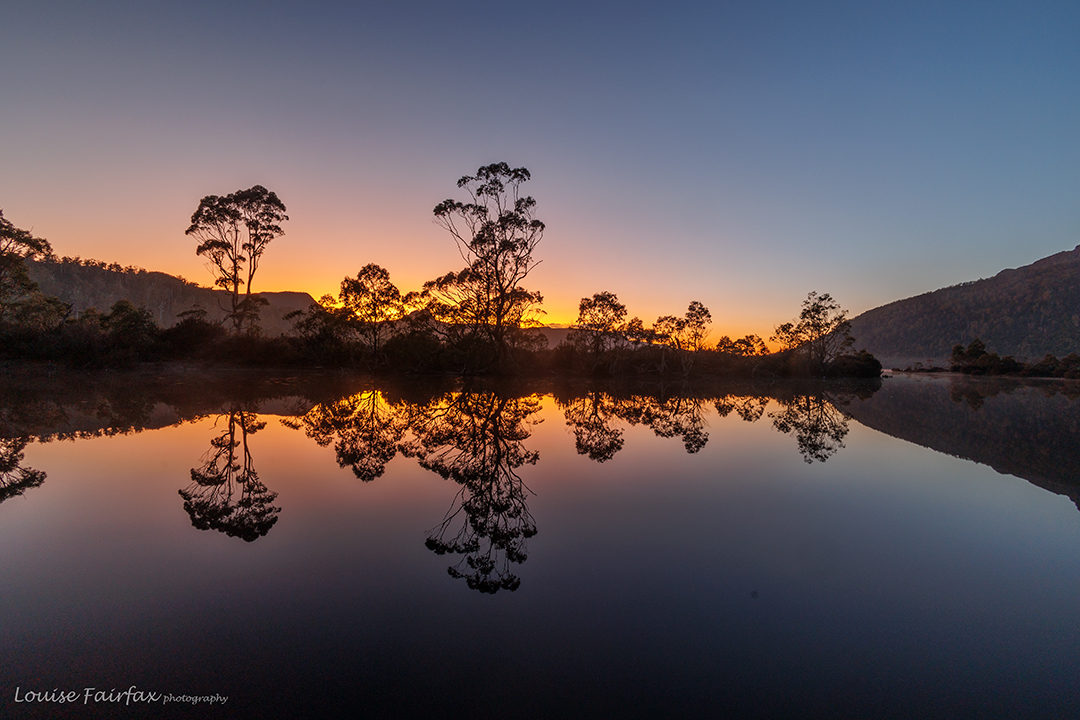 It was. I slowly trudged the distance, taking nearly as long as the advertised time I was so slow, but that pace gave me plenty of time to appreciate the extreme beauty of the forest, clothed in thick layers of moss, with a sparkling blue leeawuleena (Lake St Clair) beside me. I am writing this two days later, and my feet are still red, raw and swollen, although the blisters are starting to form a crust. I hope I can try running today. Putting shoes on my newly huge feet is a bit of a struggle.