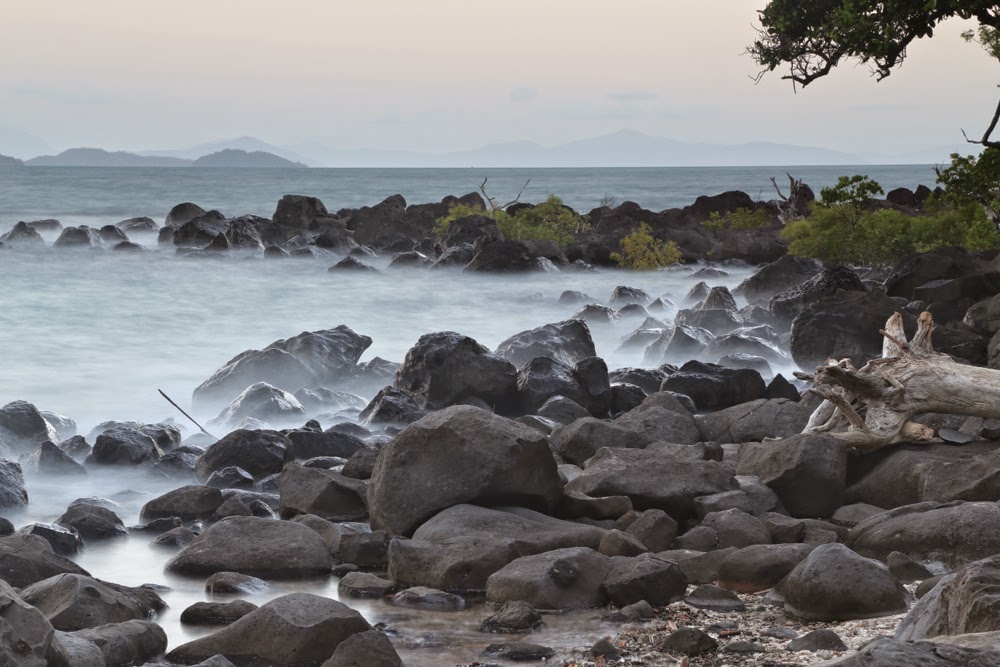 When we walked the Thorsborne Trail in 2007, my husband announced that he would never do that again: given his medical condition (Parkinson's disease), the track had overtaxed his dwindling capabilities. In fact, he told me he'd never carry a rucksack again. I cried. I am pleased to announce what needs no announcing to those who read this blog or walk with us: he is still carrying a pack. That is primarily thanks to the fact that our daughter and I finally convinced him to see a specialist and upgrade his medication. We did the Thorsborne for the next four years in a row, only stopping the habit when (a) cyclone Yasi ruined the island – Hinchinbrook – temporarily and (b) our grandson arrived on the scene. Even we baulked at the Thorsborne trail with a baby only a couple of weeks old, so we settled for the Daintree that year, and have kept it lower key ever since, as befits infant needs. Mission Beach, south of Cairns, is a great place to take a toddler.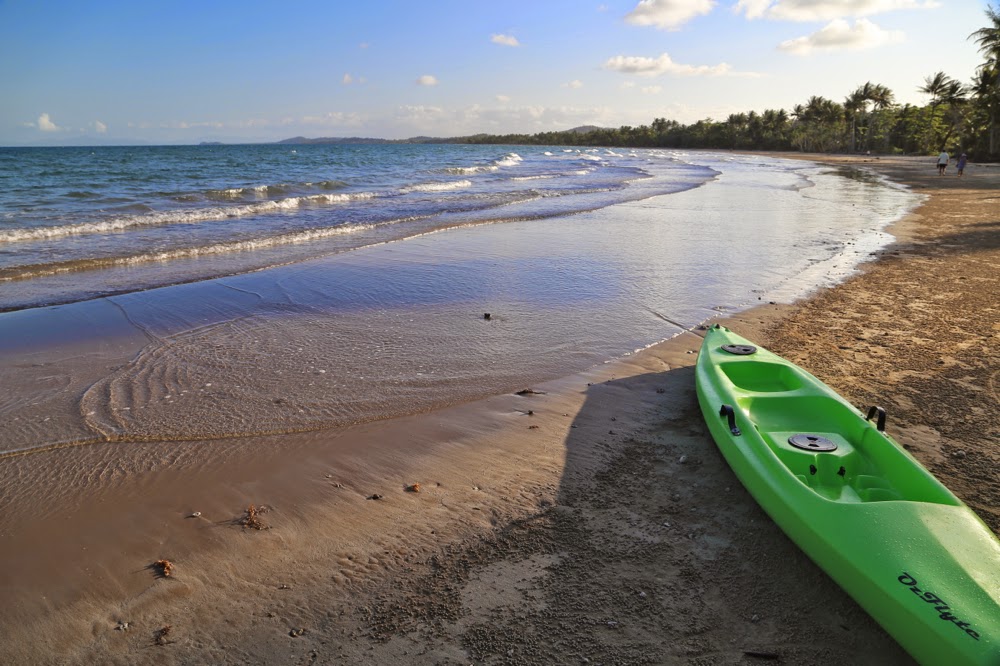 With all four adults (ourselves and our two daughters) on tap for supervision of Gus, kayaking and other adventures are still possible for the ones not "on duty".
Gussy enjoys the pool with his mum (Kirsten).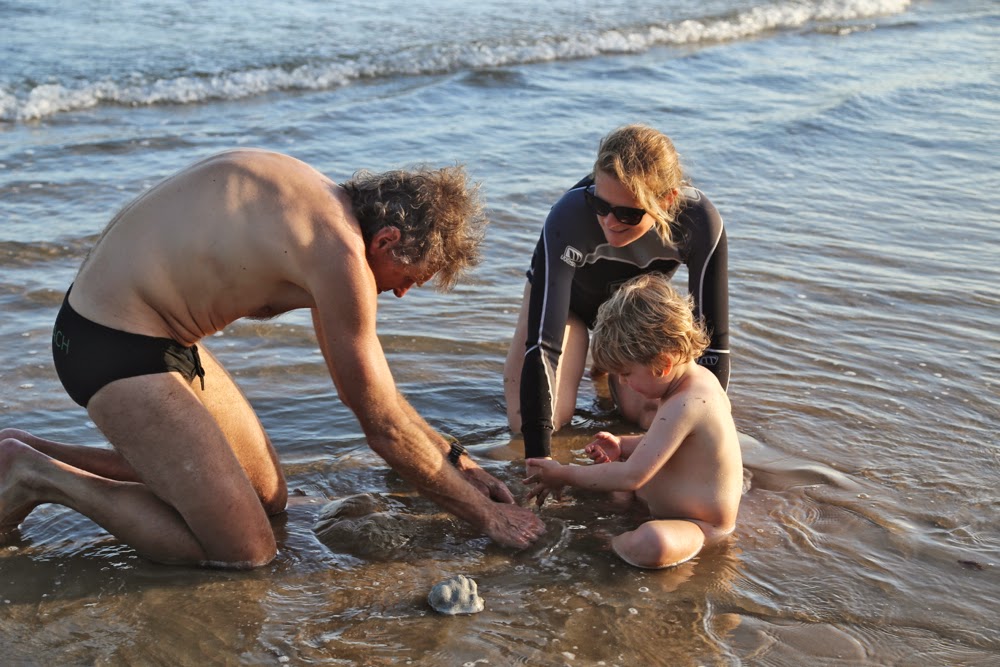 Waves flood yet another major engineering construction. Children seem to find endless delight in building and then destroying their creations. The adult form of this game is rather scary.
Building lasted well into the twilight hours, when Kirsten and I would disappear for more photography.
Our time at Mission is all about Gussy, and the days revolve around his wishes. Kirsten and I get up in the dark to go photographing while Yelena and Gus keep sleeping. (Bruce watches sunrise with us and then has a walk). After breakfast, both girls and I go running: two reps up Bicton Hill in Clump Mountain National Park, giving us a 370 ms altitude gain and a great workout to start the day. We did this on all four of our days there. This run is all along narrow trails through the lush rainforest with glimpses of the ocean every now and then, and a superb view from the summit. While we do that, my husband and Gussy eat and then head off to the pool at the back of our bungalow. We girls return and join the boys for a few hours of floating and playing in the water. My favourite games with him are "crocodiles" where I approach floating on my stomach snapping menacingly, to which he giggles and swims away, and "turtles" where I do breaststroke with him on my back. You can see we keep our games location appropriate.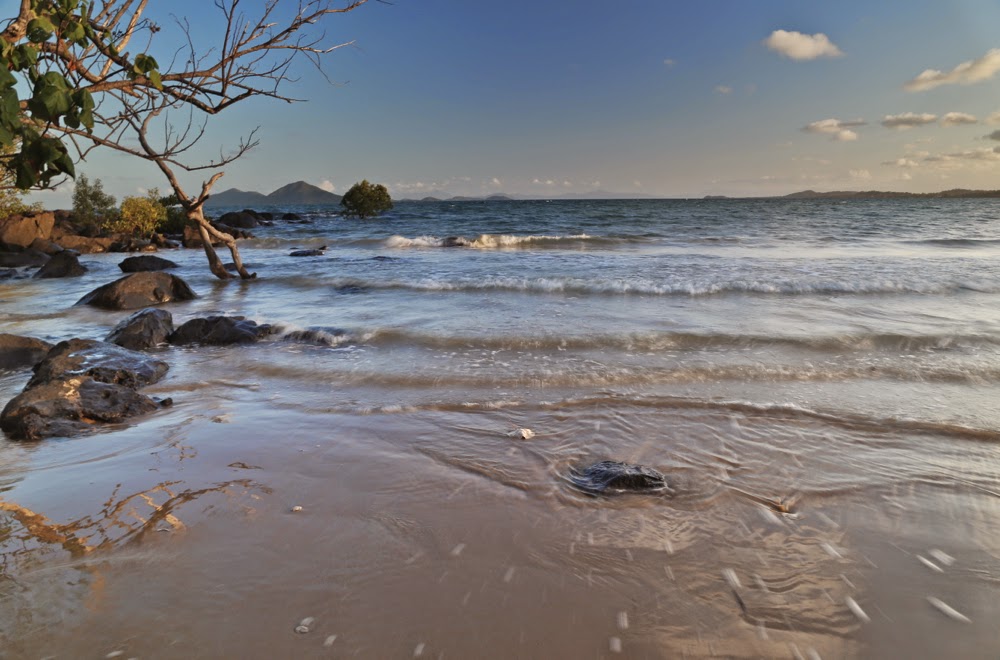 The beauty of Mission Beach towards the end of the day.
At some point, he announces he wants to do puzzles or go to a cafe, and then we all get out (with me hoping it's the latter request). The ecolodge has a great fund of jigsaw puzzles which Gus is able to change every day in a great hand-over ceremony after breakfast. Sometimes the boxes are as big as he is, so it takes a while to effect the deal. He also came equipped with his own library, so reading books is high on the list of preferred activities when he's managed to get cold.
What we love best, however, is just the act of being – of being there for him, of watching when he wants to be admired, of receiving cuddles or kisses when he feels moved to demonstrate his love, and, best of the lot, to share his joy and wonder at the life unfolding around him, whether it is sniffing a flower that has fallen from high above, or catching sight of an insect or other animal – or tasting a new food treat at a cafe or restaurant.
I also love to watch as his capacities grow. This trip he laughed at Rabbit thinking he could fool Pooh that his house was empty by yelling out: "Nobody's here". His eyes shared with me complicit glee at Rabbit's exposed stupidity. He was holding a biscuit and told his mum he needed two more to make the three he'd asked for. She excitedly phoned her husband to tell him Gus had done his first maths. This was far more exciting than the first step or tooth, and it is a privilege to be there when such significant moments take place.
The cute little fellow even loves joining in and looking at the daily catch of photos that we display on the iPad after dinner, saying "wow" at shots that please him.
He lives in Melbourne and seems to have spent each of the winters of his short life so far invaded by a series of viruses, which is quite normal for babes in childcare where they have built up no immunity yet, and where germs easily spread. It is great to see him heathy in the sun, to let him shed his thick, heavy clothes and have a brief respite from winter.