Myrtle Forest Falls 2019 Mar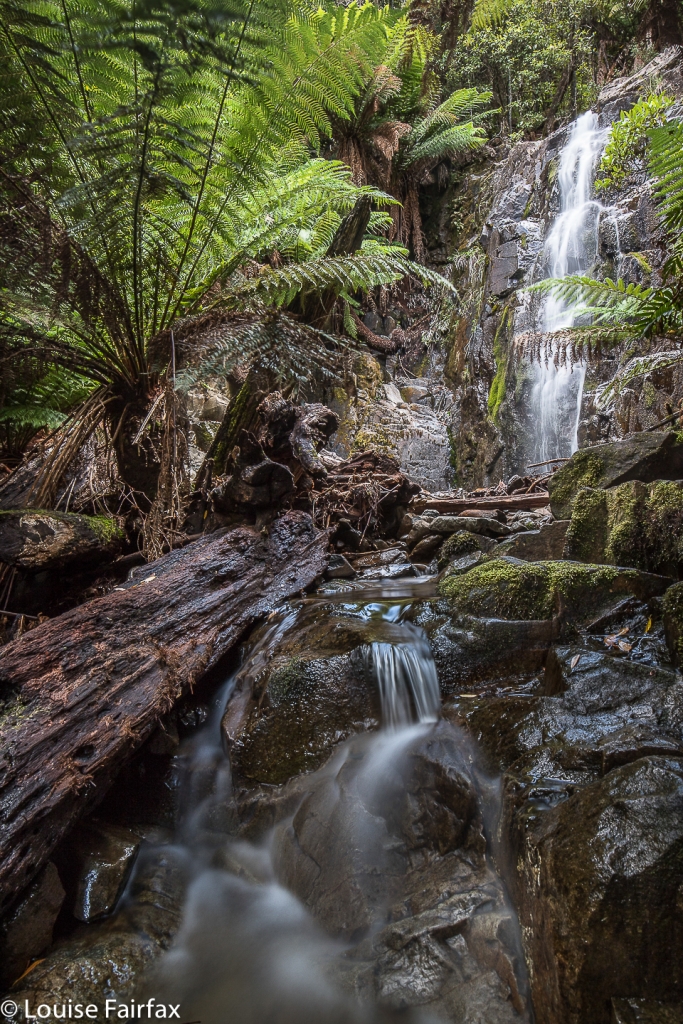 Not much water in Myrtle Forest Falls today – but that's OK; our purpose is to give the children an adventure, not to take a champion shot of a waterfall caught with its pants down.
It was time for a big adventure. We had originally wanted to take the children up Collins Cap, but set out far too late, so adjusted our goals. Our new one was the saddle before the last climb. That was doable for two small children (3 and 7). I think it is important with young ones to make a goal that is reachable so they have the feeling of success. When the goal is badly chosen (like today), they are happy to make a different one, but they do like to know where they're heading, and to reach that spot. "How far to go now?" needs a distinct answer. We show the children the map, and Gussy takes a great interest in the altimeter on his dad's watch (which he is allowed to wear on walks so he can plot our upwards progress).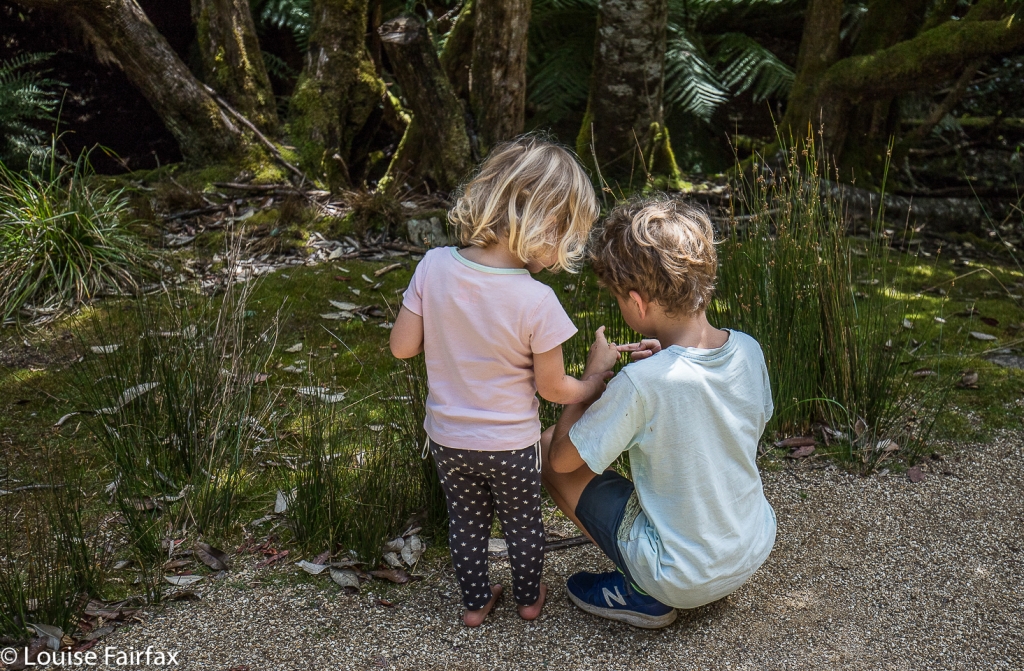 Inspecting some insect or other
On this day, with our late departure, we had lunch almost at the start, where there is a picnic shelter. The children had plenty of time to explore while we ate more than they did. Both of them love to inspect every insect and fungus … and anything else they can find.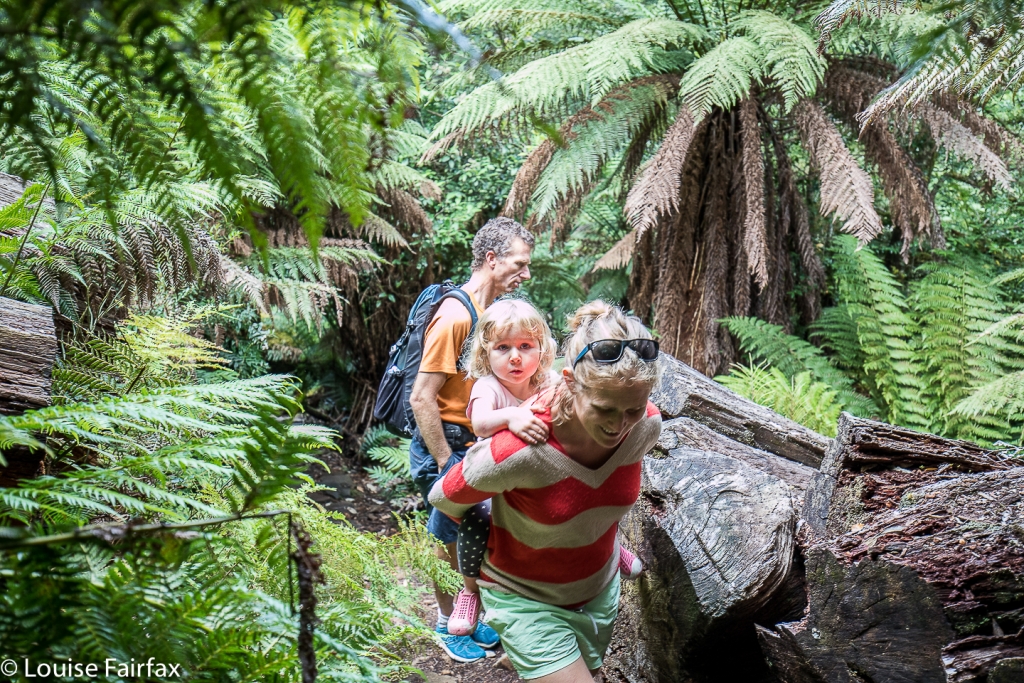 They enjoyed the waterfall that followed shortly after that, but were eager not to dally. I photographed, promising to catch up as soon as possible, which happened at the roped section. If I remember correctly, Abby had declared it time for some of the promised lollies. It seems that after our Lord Howe Island adventures, Abby has decided that a walk isn't a walk if it doesn't have a roped section, so it was good this walk obliged. She enjoys the challenge of negotiating the obstacles with the aid of the ropes that add excitement.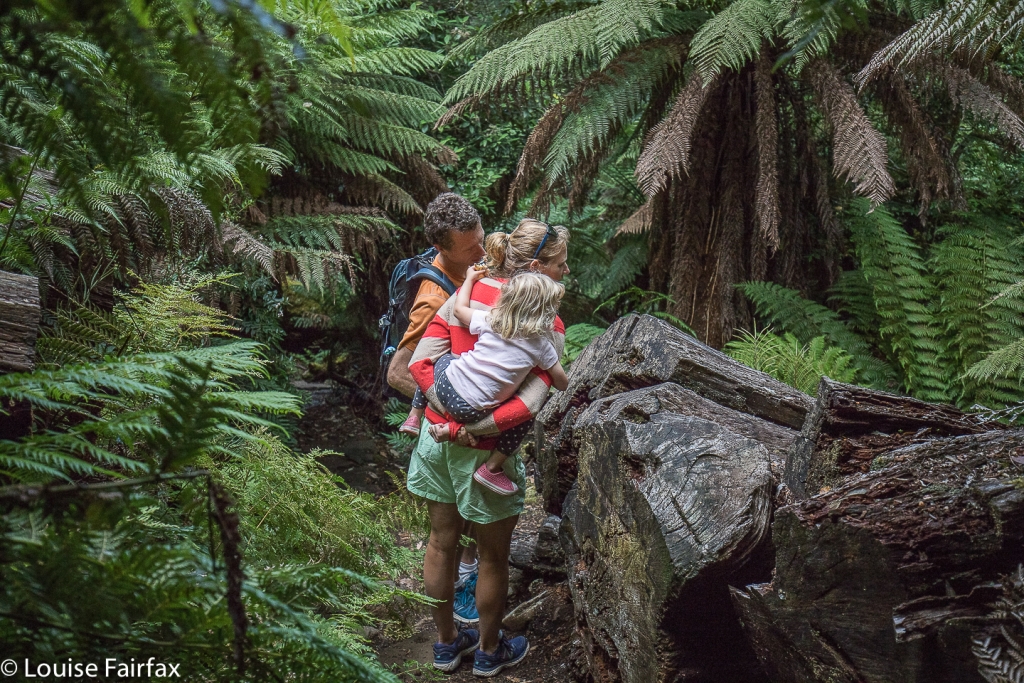 Inspecting a lizard
Up we climbed through the beautiful mountain pandani forest. By the time we reached the intersection of this little track and the big wide fire trail, Gussy was temporarily running out of steam, and Abby needed a piggy back. Luckily, this was our chosen goal. They knew this was the turnaround point, so their energy picked up immediately they saw their target for the day had been reached, and suddenly they had zest for running races along the flats with their dad. We laid out the picnic afternoon tea, and some other children came past with their mum, who commented on our special bushwalking food. I knew from her voice and body language that she, too, must have prepared something special for her two girls out on their adventure. We shared a complicit smile: two families teaching the next generation to love and care for the bush.
(The track to this area is very clear. It begins at Myrtle Forest Picnic shelter, which can be googled. It took us maybe half an hour to drive north from Hobart to reach it.)