Hullabaloo Falls and Upper Hullabaloo Falls, Apr 2018
If you have turned to this blog having come from my post on Narrawa Falls, you will know that the only reason I was at the start line for Hullabaloo Falls was that the name caught my eye when I was map gazing, and, noting that I was nearby, I answered the call. It seemed to me that the closest point to where the falls were was where my map indicates I parked, and, not having any information to hand, that seemed as good a place as any to start. There was a gate, which was kind of hilarious, as no car could even think about driving on the hint of a track. There was no house or sign of anyone I could ask, and meanwhile, no signs telling me to keep out, so in I plunged.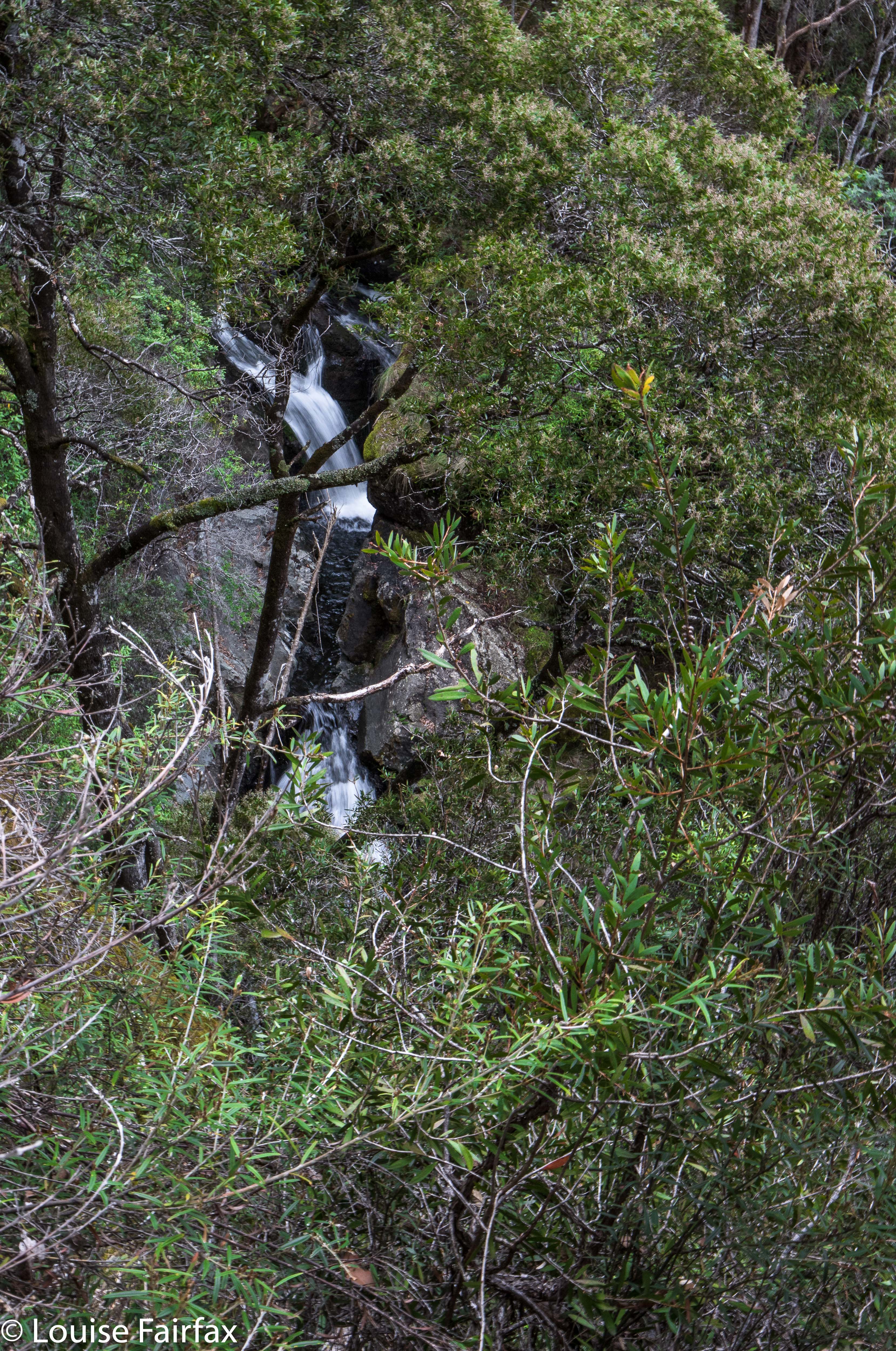 Hiding shyly out of obscurity: Hullabaloo Falls
At first, there was a track kind of thing I thought I might as well follow for a while, until the falls were due north of me, and it was time to abandon this easier going and begin the truer bush bashing. As with Narrawa, I could hear the falls long before I could see them, which was reassuring. Also as with Narrawa, I steered myself to a buttress that gave me a good, if not overly secure, vantage point. These falls were beautiful, so I began lowering myself very cautiously down the formidably steep and loose cliff. However, when I got to river level, I only had a view of the top of the falls, and the view I had had before had been better. I was not comfortable at river level, even though I had got there safely, as the young and healthy trees on which I could rely were not great in number, and I refuse to trust older ones. These trees were not about to run away, but meanwhile, I needed to reassure myself that I could actually climb back up, so got on with the job. I played around a bit once I knew I'd reached safety, and then returned to the car by a different route, just for the heck of it, because circles are more fun than an out and back route.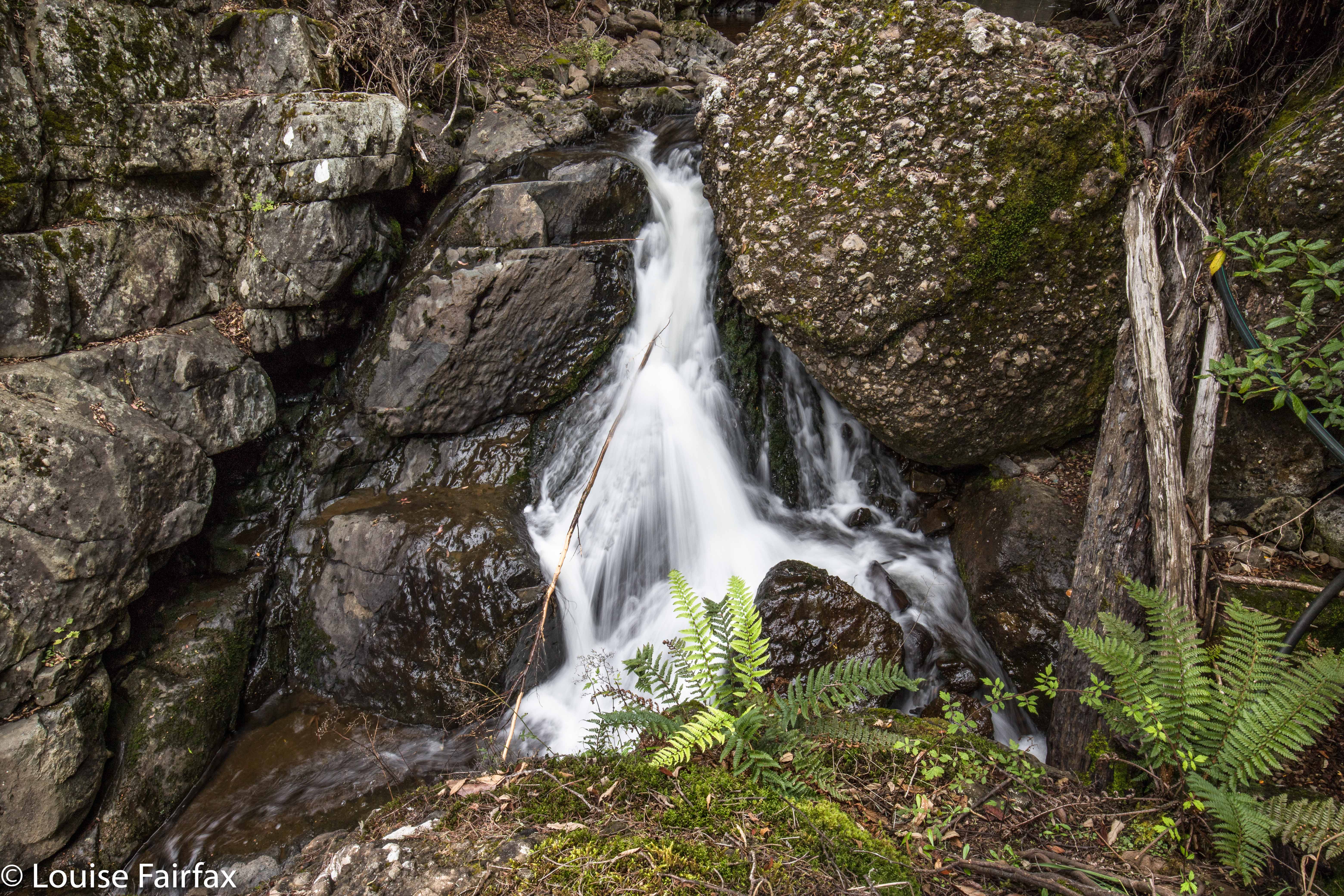 Here are the Upper Hullabaloo Falls. They are actually nicer, as you can get at them.
And yet again (that is, for the second time this day), just as I was about to leave, I saw a little bit of black writing on my map that said falls. These ones were not named. But heck, of course they must be visited. They were on the same creek (Bull Creek, which the Champagne and Bridal Falls happen to be on), but further upstream. I have thus, with an enormous amount of imaginative flair, named them "Upper Hullabaloo Falls" for the purposes of talking about them and referring to them. I reparked the car nearer to my goal, and set off yet again. You can see my route on the map below. When very near these falls, I came across tapes, but they seemed very random, and I had no idea where they had come from, or where they were going to. I did my own thing, enjoyed these falls, and, once more, returned to the car via a slightly different route, just to test out various alternatives.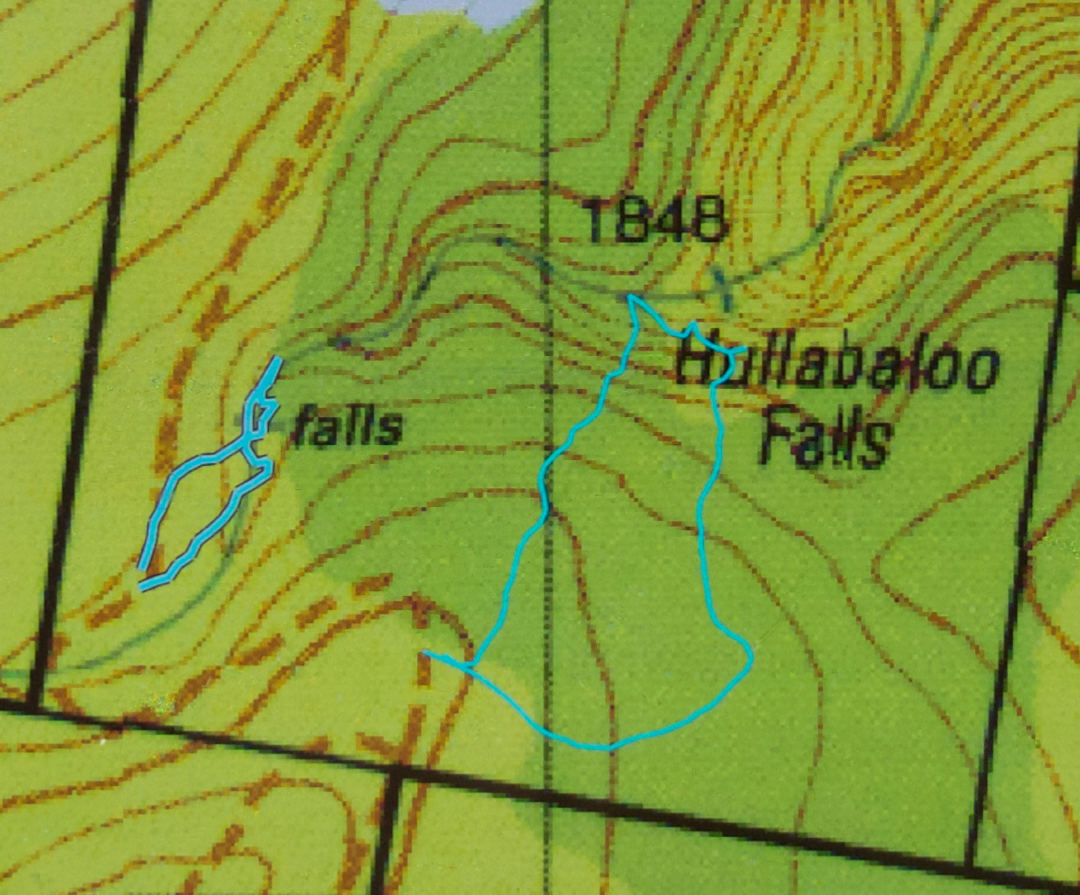 So, as said, given that the map has the lower falls, the bigger ones, correctly as Hullabaloo Falls, I named the much less significant upper ones as Upper Hullabaloo Falls. The actual placement of the Hullabloo Falls is a little too far downstream. When I was on the river bed, the water was beginning to flow away from me. From my vantage point top right, I was looking back left at the falls.
All of this had taken a while, and it was now 2.30, much too late to proceed to my original goal of Cradle Mountain. I decided to head for home via one last falls, viz., Hogg Creek Falls, which also had a location but no information as to how to best approach them. Oh well, if you don't try you can't succeed. Off I set. Hogg Creek is in between the Lake Paloona Dam and Lower Barrington, which seemed quite a long drive from Lemonthyme, but a very pretty one. Tasmania is looking ravishing in its autumn clothing.