Pelion East 19 Dec 2013
 I had last climbed Peion East fourteen years ago – at dusk in a white out. The tall, stately boulders were shrouded in circling mist, barely visible in the gloom at the close of the day. I lament to this day that I ran, and therefore didn't have my camera to capture that beauty other than in my memory.
This time, we walked, with my camera, and the sun was shining brightly. In fact, I was worried that the views might be spoiled by heat haze if we didn't hurry.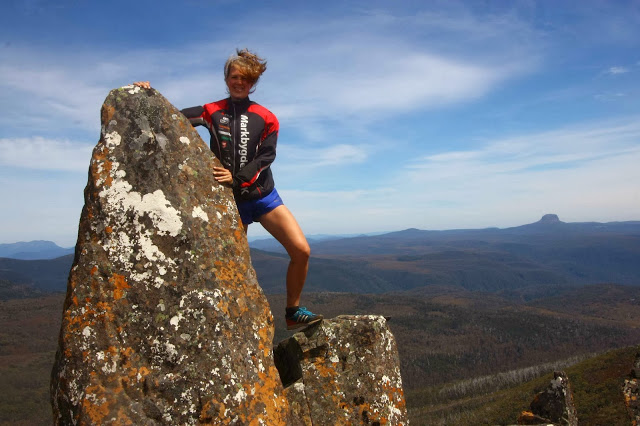 The route was exactly as I remembered from last time, namely, angle up to the right, then zag left, and then a short sharp pinch and you're there. Even though we were only walking, it was a mere 35 mins to the top, so not a great undertaking. Elin and I both enjoyed the workout, and the fact that we did have to climb rather than just walk to touch the summit, as with Ossa.
It's fun for me to have Elin for company. Like me, she loves to climb, hates stopping before the top, and has the same kind of urge I have to get to the top quickly. 


From the top, Elin greatly enjoyed lloking back at our clear path up and down Ossa, the mountain of her dreams.