Today seemed like a pretty good day to visit Upper Marriotts Falls, which, like mama bear's soup or chair was neither too big an undertaking, nor too small. It was a middle-sized adventure, which suited my time constraints. The drive from Launceston is not formidable, and the walking time commitment was a lot less than anticipated.
(For the walking route to the lower falls, named Marriotts Falls, see my blog http://www.natureloverswalks.com/marriotts-falls/).
I was expecting these falls to be very easy, as the WoT site mentioned tapes, so didn't bother telling anyone what I was doing. Hm. However, AFTER I left Marriotts Falls proper, I had been in the forest for thirty minutes before I ever saw a tape. This did not hassle me in the slightest, as I know what I'm doing in the forest; however, if you want a taped route or a pad, please stay away from these falls, as they are not fully taped, and kindly do not tape them.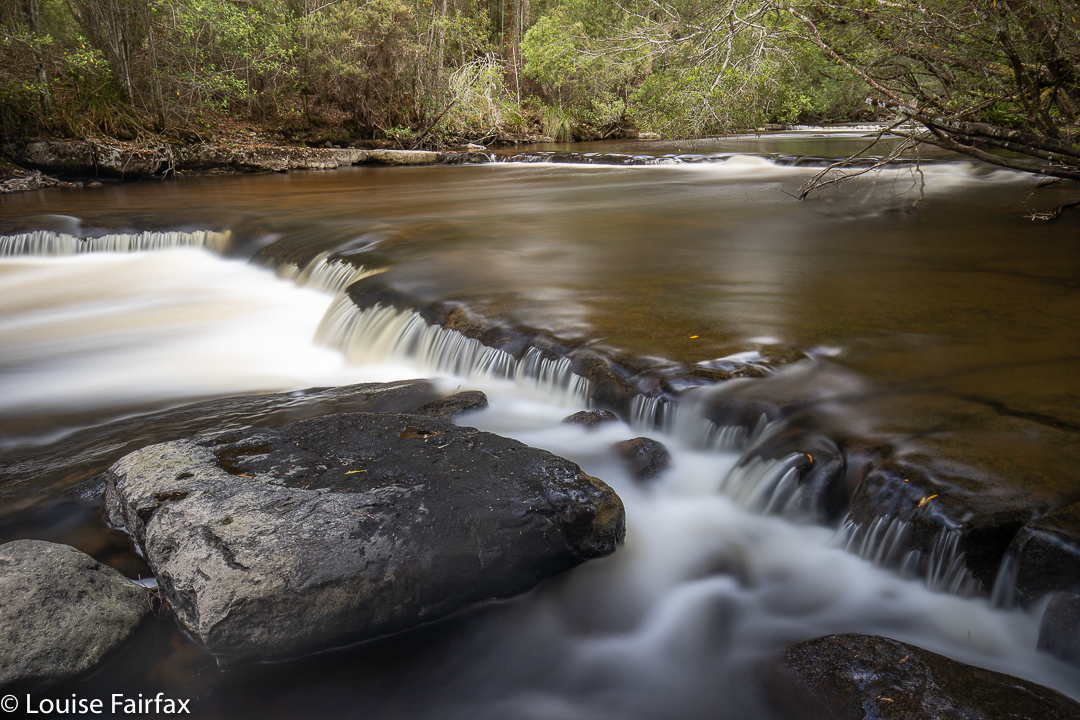 Can those of us who like to have the fun of finding our own way please be allowed one or two waterfalls left over? There are many of us who like to combine beauty with that special sublime sense that we are in a very remote place.
Tourist paths 1 m wide, viewing platforms, fake-material bridges and the like remove all sense of enjoyment for some of us who want our nature wild. Wilderness is by definition no longer wilderness when you build paths, bridges, platforms and other infrastructure to remove its wildness: when you dumb it down and defang it of its very nature. Our government departments seem hell-bent on de-wilding every square metre of our formerly beautiful bushland and forest.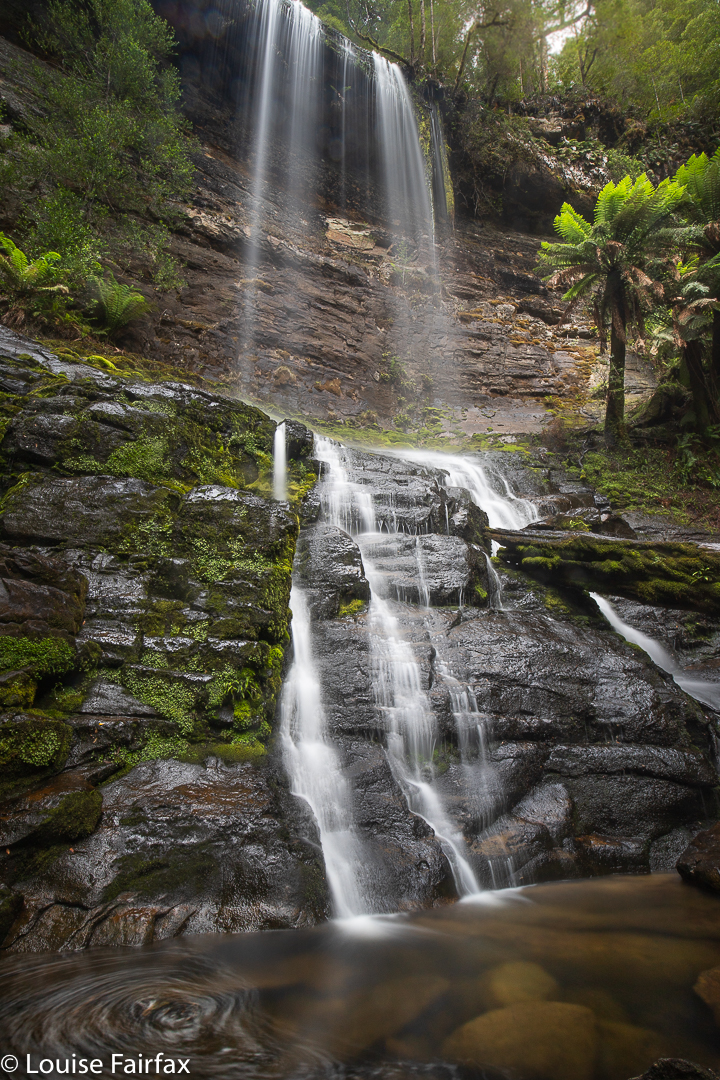 Those of us who like hiking away from the ubiquitous tourists are being shoved further and further from our homes, like the bears and wolves of Canada. Tourists now have enough places that have been destroyed on their behalf. Please leave this and other still-wild falls as you find them.
We have to earn the right to visit some places. I would possibly like to see the view from Mt Everest. I do not demand of the Nepalese government that they build me a tourist way to get there. If I want that view, then I must earn it by increasing my climbing and general alpine skills. Otherwise, I do not have the right to demand that view. Why does our government think that every living human has the right to see what is otherwise to be earned? – that people should be helicoptered or cable carried in to places that they lack the skill or knowledge to otherwise reach? If you gain the skills to reach such places, you will, at the same time, learn respect for them and become aware of the need to preserve them in their original, untouched state.