England. Lake District. On completion of the Wainwrights (English Fells). Essay 1. June 2017.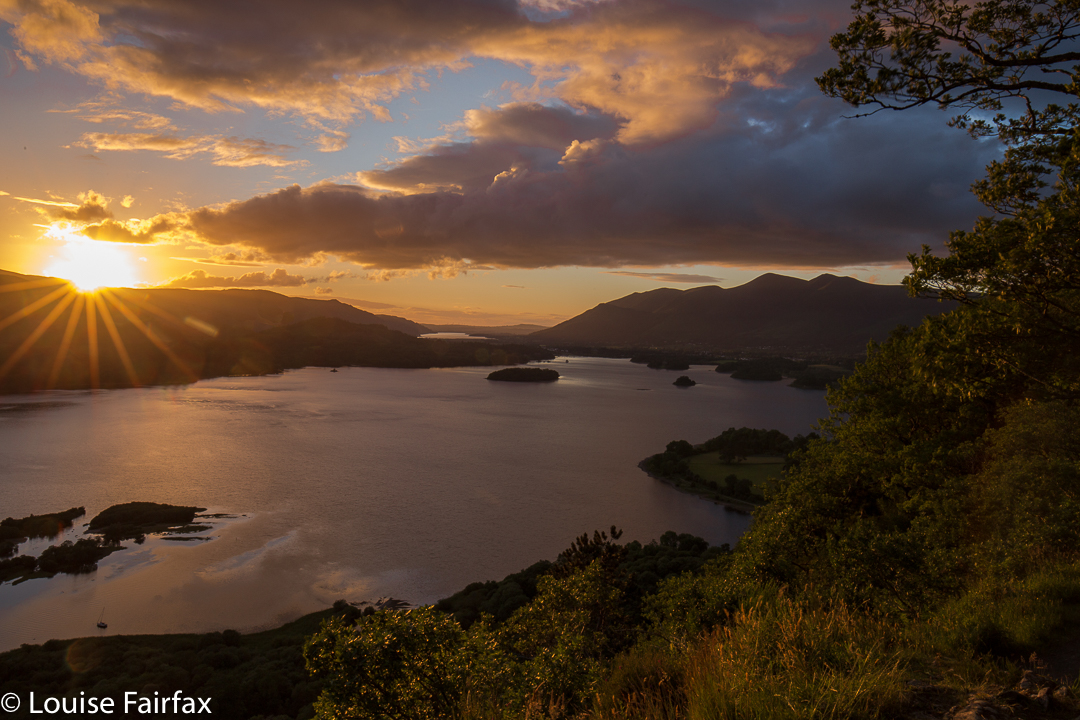 I am striding purposefully towards Sergeant's Crag. When I reach the summit, I'll only have three fells left before I have completed all the Wainwrights, and one of these three lies just fifteen minutes beyond the one I'm about to reach. I've left the easiest peaks until last. Right now, however, I'm having trouble seeing the ground properly – not because of thick mist (quite often the case up here) but this time because my wretched eyes have teared up. I realise I'm feeling quite emotional about this completion business. I have been on a beautiful journey getting to know these mountains, and I don't want it to end. To reach the end is like seeing a magnificent flower you have watched and tended since it was a stunning bud reach its fulness, knowing that from here on, a growth in beauty will be impossible. It is fulfilment, but it is also sad, filled with its own poignancy.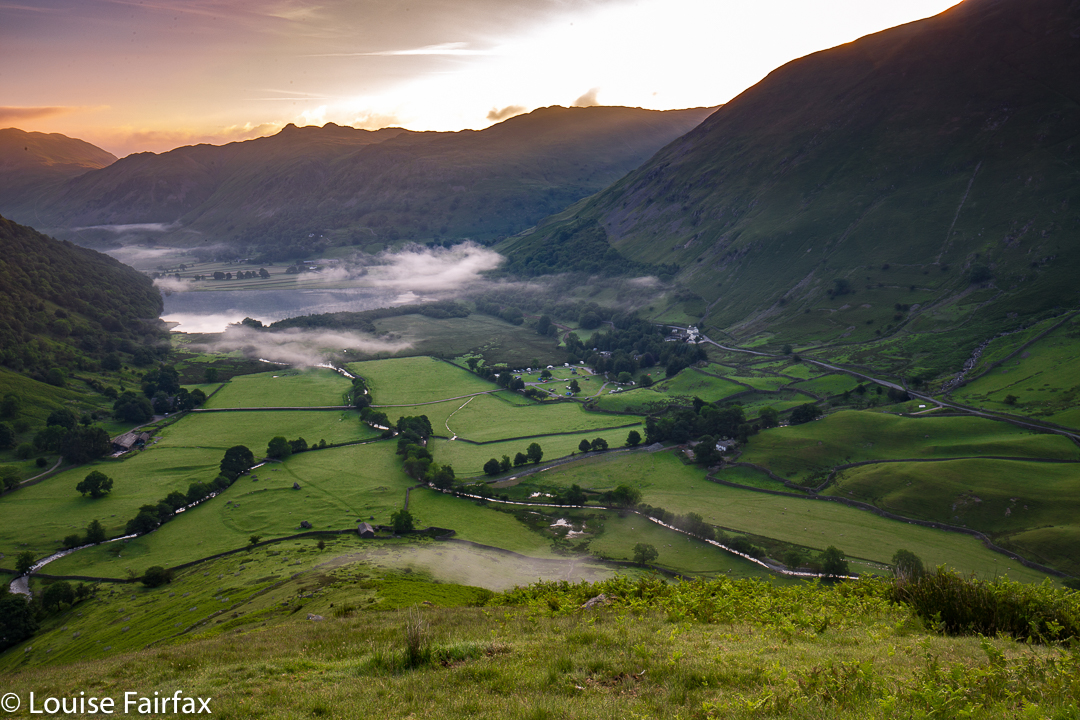 In the previous saddle, reached just before this story begins, I crossed paths with some walkers in quite a big "tourist" group of maybe a dozen or more. They were huffing and puffing as they laboured up towards the saddle I was merrily descending into, reliant on their leaders to guide them on their way. That saddle would be the high point of their day. Now, there is nothing wrong with this, and there is, in fact, a great deal of merit. Their confreres are possibly on a couch watching television at home. Nonetheless, hearing the puffing, and seeing their reaction to the fact that I had dropped to them out of a trackless wasteland (you'd think I'd popped in from the moon) and that I was eying up a route where I might make my way under some very steep cliffs to another saddle beyond – tricky, but I thought it was worth a try – I realised another aspect of this journey I have been on whilst completing these Wainwrights: namely, that my voyage is integrally tied to my love of freedom to go on whatever route I want, determining entirely my own direction and speed, and that that freedom which is my delight is entirely dependent on my ability to navigate confidently, and on my strength (relative to my diminutive size) and general agility in the mountains. Were I less confident, my journey would not have been the solitary one it has been.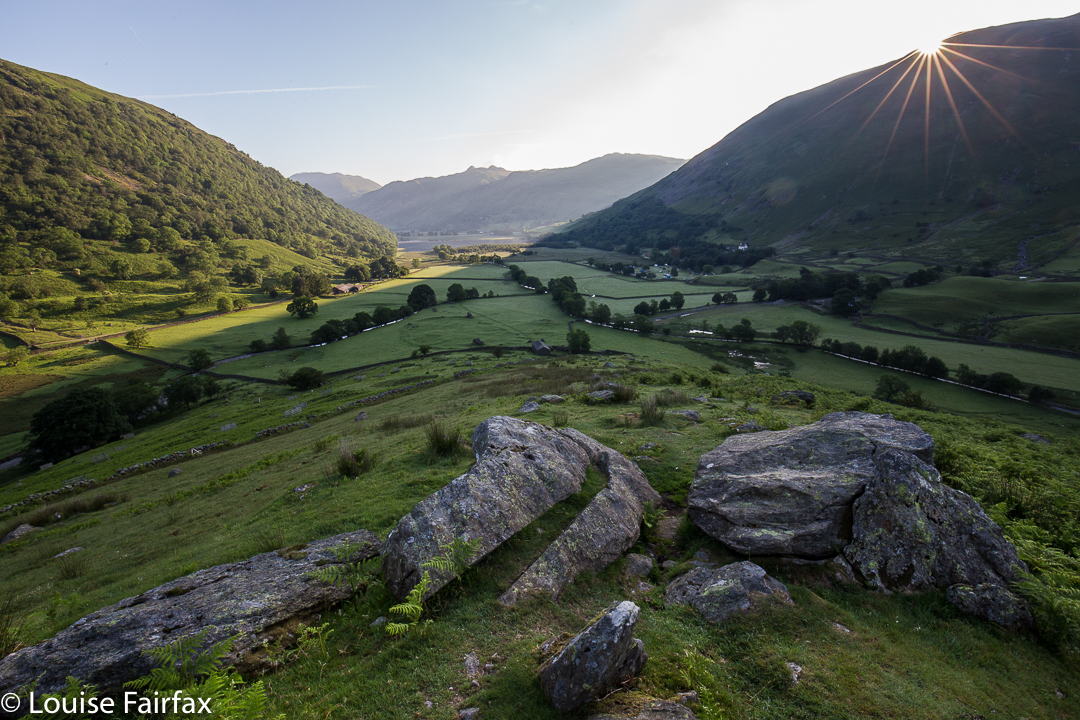 As I headed towards Sergeant's Crag on this "epiphany route", a few more important observations brushed my consciousness:
(i) the extent to which this whole journey was not about "achieving" something, but rather about a relationship between me and these mountains. Moreover, every single one of them thus far had been done either solo or in the company of my husband with whom I am one (and who, being slower than I am, has followed me up when he's been with me – maybe half the summits – giving me plenty of time to enjoy each top alone as I wait). This solo space at the heights has given me a special relationship to each mountain: it has been about a triad, viz., the mountain, Louise and infinite space; an experience of the sublime that is different for each mountain. I value each encounter.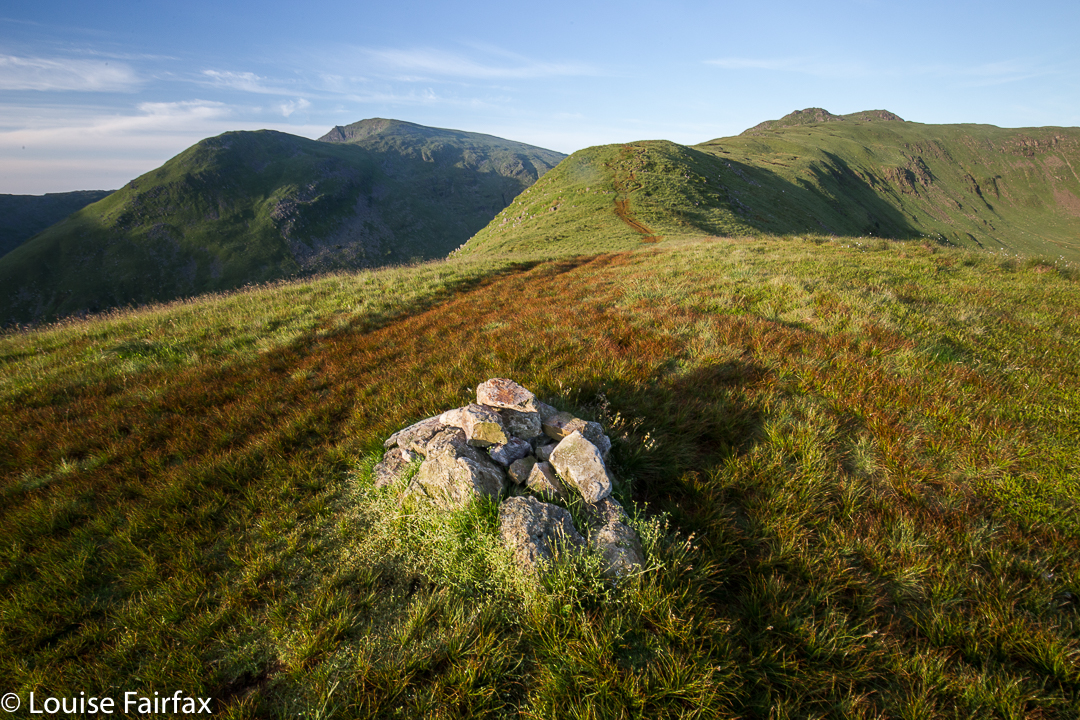 (ii) the German phrase das Gehen ist das Ziel could be said to be a motto and description of my attitude to my journey. It is not about arriving, or completing; it is about the process and joy of getting there. I will soon have ticked all the boxes on a list, but I will not have completed my business with these mountains. My completion, such as it will be, will be like passing university entrance exams. I will have achieved the first phase in learning about these mountains, but by no means will that learning be complete. My knowledge of most is based on a single encounter. What sort of knowledge is that?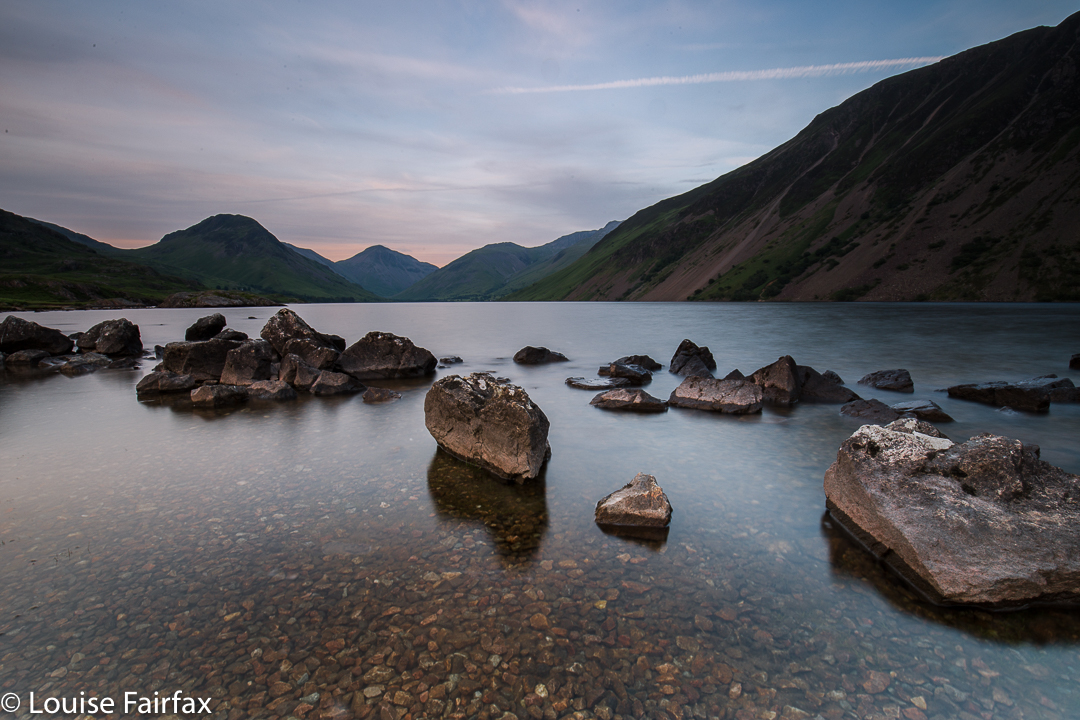 Every mountain you see in every photo of the Lakes District, I have climbed. You have no idea how satisfying that feels.
(iii) because the whole journey has been about a relationship and not about achieving something, but has been a celebration of my freedom and independence in the mountains, about delicious solitude and doing it myself, unaided, the very last thing I wanted to do, I realised suddenly, was to do my final mountain differently: that is, in the company of others. I wanted whatever emotion I experienced – and observation of my behaviour on this mountain suggested it would be teary rather than celebratory – to be mine alone and not shared with (very nice) strangers. It would be a spiritual time, and I wanted it to be quiet. Now, this was a problem, as, not knowing in advance how I would feel, I had responded positively to the suggestion by the fabulous David Purchase that I do the final climb with a group of special people he was gathering for the occasion. What an honour!! This seemed like such a lovely idea – it was. Only now did I see that my feelings had moved. I didn't want chatter in my holy moment. I didn't want other moods or expectations. I didn't want to have to wait if these other people were slower, or, worse, be led up my own last mountain. I didn't want my final fell to be any different from all the others.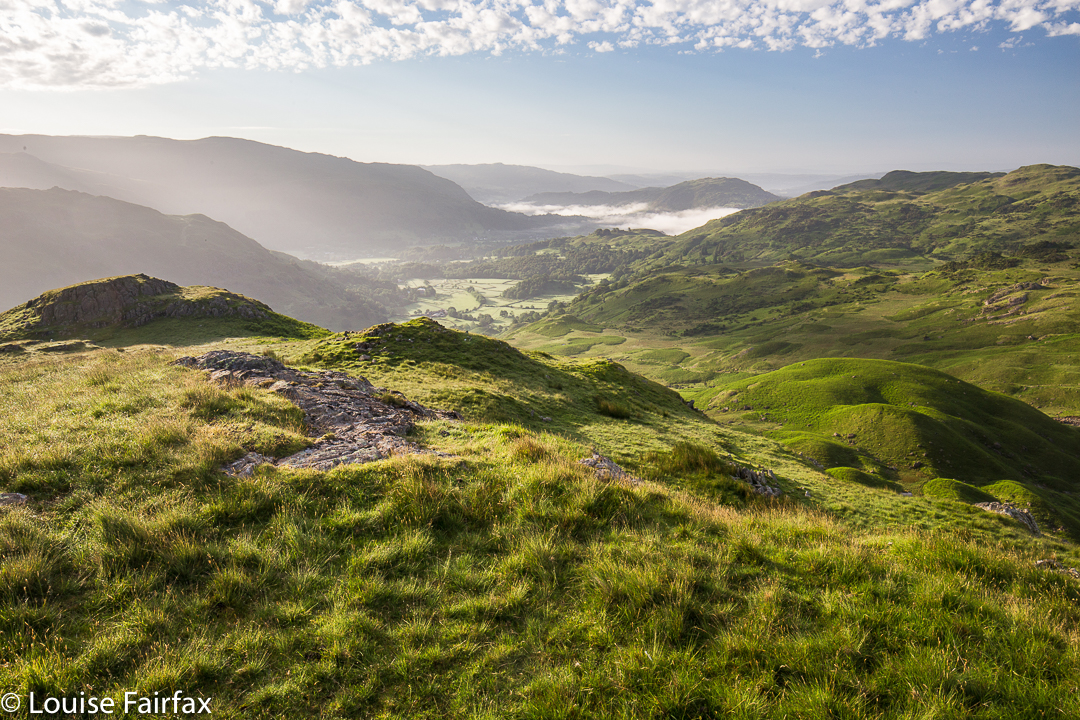 And so, the most important thing I realised was that I was going to, intentionally, ruin my own party. I was going to do my final mountain today, two days earlier than expected. I would do it tonight, at sunset. I would have preferred dawn on the morrow, but already a forecast of several days' heavy rain had been made (an excellent excuse for doing it early); today would be better. Then, if David would like, I could do a celebratory reenactment of the final climb with the others, or, if the rain performs as expected, we can skip the idea completely. I will be his servant, and most willingly.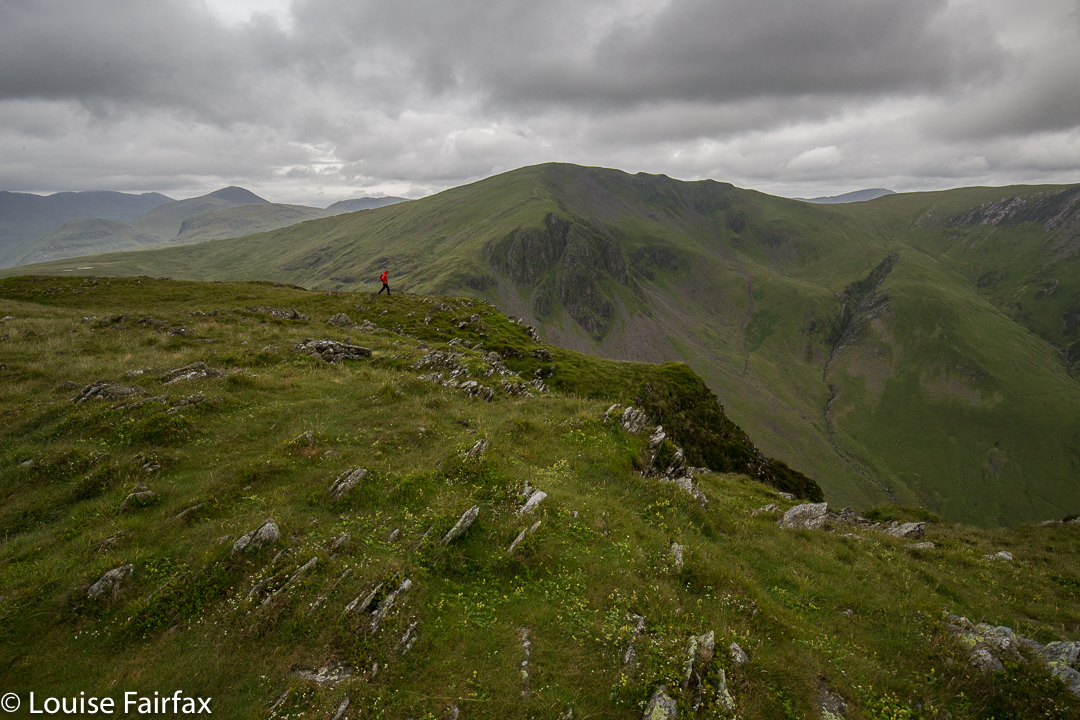 That delicate red dot is Stephen Moore, who represented the UK in the World 100km championships several times, who holds the record for the most completed rounds of Wainwrights, and who came to my completion party. The two of us climbed High Spy together in a fabulous afternoon's outing after my completion rather than reenacting my final climb. This was a more interesting option for both of us.
Believe it or not, I offer the final statistics:
214 summits. 211 summits experienced solo. 213 summits without rain on top – and I repeated that single erring summit, so can also say 214 without rain on the  summit (we won't discuss the way up or down). I did have "grey-out" on a significant portion of tops; it's hard to tell from the photos, but my guess would be at least half, if not more. I experienced very strong winds on several, but only one summit had me crawling to it (Hindscarth) and only one (Knott Rigg) had wind so strong that I had to snake my way on my belly for the final few metres for fear that I would otherwise find myself in the next county.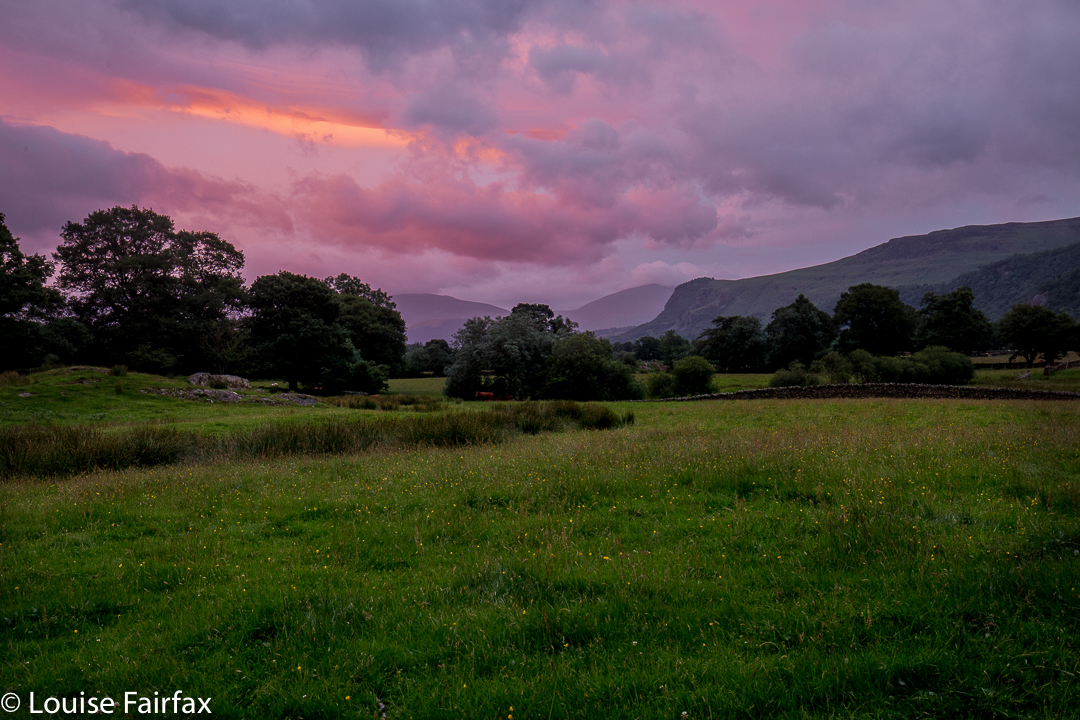 What do you do when THIS presents itself out the window during your celebration party? Do you leave your guests and be hideously rude and rush out with your camera, or stay demurely smiling, crying inside at the beauty you are not photographing? What I did (the rude option) is rather manifestly clear.