Walled Mountain 14-15 Dec, 2013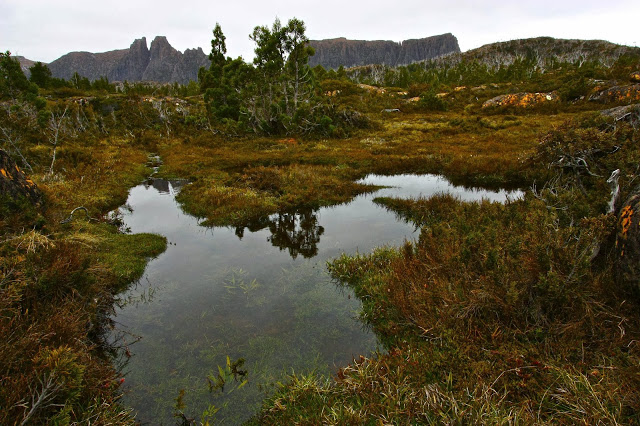 I love sleeping on mountains; for me, that's the best part of bushwalking. So, having read that Walled Mountain had water and space for a tent at the top, I wanted to see its view and sleep on its summit. Excitedly we packed for our next adventure.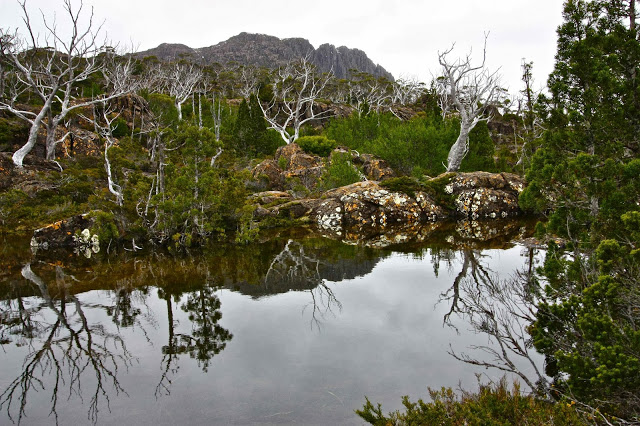 Elin was excited too. "I'm so happy I'm jealous of me", she declared. This was to be her first experience of what I call real bushwalkng, viz. walking with a 'real' pack and sleeping out. The plan was to do Walled and Macs Mountains, and then see what was what. We had food for three days.
"You're lucky with the weather the ferry man said as we neared Narcissus. It's been raining and snowing all week, but the good weather is due today."
"It wasn't luck", I thought;  I'd timed things according to the forecast. Alas, it was wrong.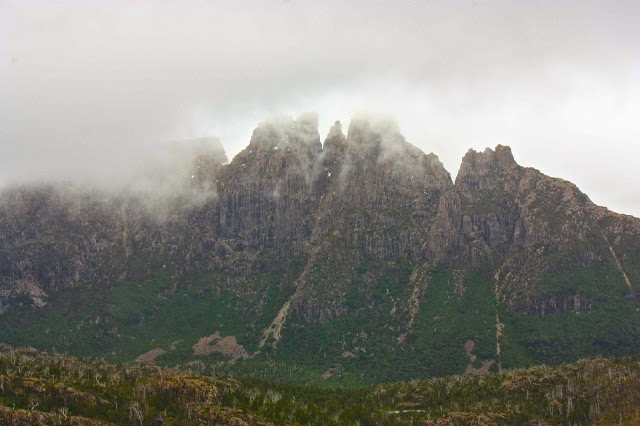 Alas, also, I slightly tore my calf muscle (over-use running innjury) after only an hour. Damn !!! We had been looking forward to this for too long to pull out … and the ferry is too expensive to pay and not get any walking done. I limped very slowly in to Pine Valley, made it, and decided to push on regardless. I'd developed a way of walking that protected the injured muscle by taking the effort and weight elsewhere. Up we climbed on to the Labyrinth.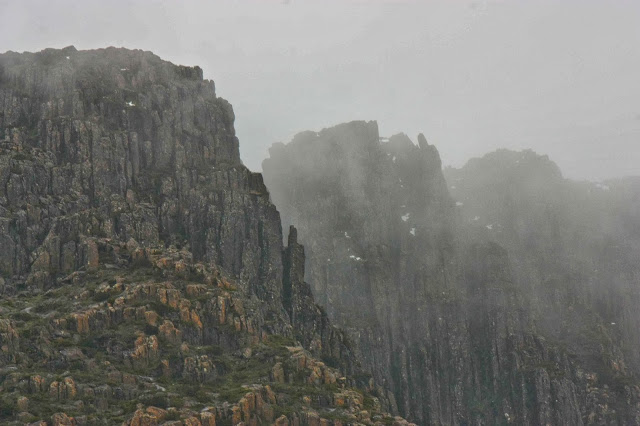 Thanks to all the rain things were pretty deep in water up there, but silvery, watery beautiful. Grey mist swirled around as we slopped our way around Lakes Cyan and Ophion and then climbed a bit to Eurynome. At this stage we could still see the majestic mountains around us looming out of the mist. Our own destination, Walled Mountain, looked quite spectacular as the mist swirled about its Jurassic dolerite cliffs. From below, or rather, from that particular angle under the cliffs, it seemed impossible that one could camp up there. It was so jagged and rugged.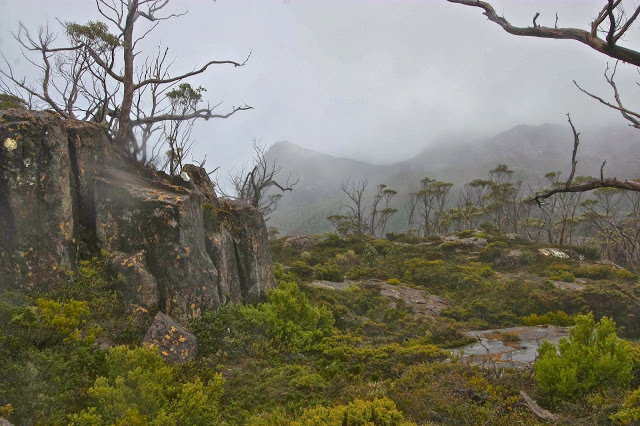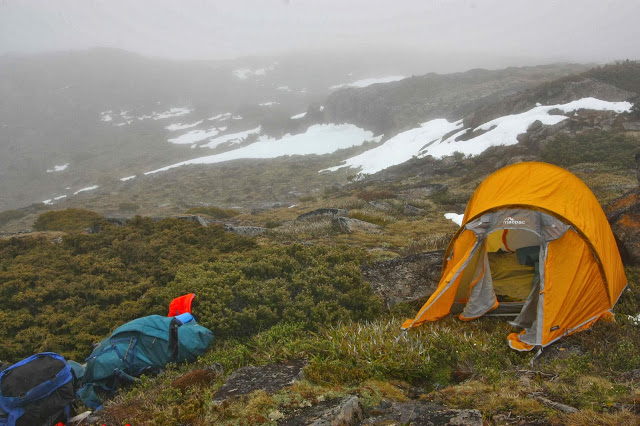 By the time we had reached the top mist completely enveloped us; there was no view of anything but each other, and the wind had picked up considerably. In light drizzle we quickly pitched the two tents right under the summit in a swampy, snowy bog and began cooking tea before it got any worse. All three of us squeezed into the two-man tent to eat. It was crowded but cozy and fun.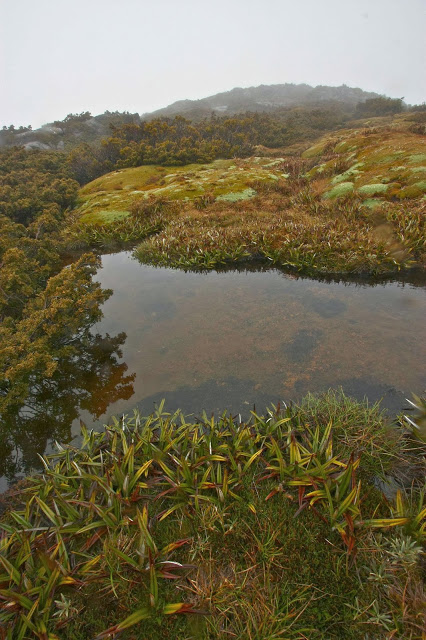 My GPS said we were 13 meters below the summit, and sure enough, it took less than two minutes to climb the next day. My leg had held out and I was ecstatic to reach at least one goal. However, drizzle had become determined rain, and visibility was still zero, so we wandered around the top exploring, but gave Macs Mountain a miss, and packed up and descended to Pine Valley and a hut where we could be dry to eat our lunch, and attempt to dry out some of our gear (pushing through wet bushes had wet it rather thoroughly). We had thought that maybe we could take the Parthenon as we passed by, but we were already so wet that pushing through more sodden bushes when we already wanted lunch lost its appeal. I was not even sure if the best route would be from the saddle or from a bit further along. Nothing seemed obvious apart from hunger and the desire to dry off.