Liffey Falls – mostly fungi. May 2015.
Mt Bobs seemed a pretty unwise destination when it looked as if every tree in the state was trying to uproot itself, and when the car could barely stay on the road, struggling against the force of crosswinds. Having seen the forecast in the week before, we cancelled our intended expedition (again, oh woe. Will I ever get to see this mountain? This is the fourth cancellation). The attacking rain that accompanied the ferocious wind made the decision easier to bear. Instead of Bobs, my husband and I chose the much tamer alternative of fungi hunting in our local area, and went to Liffey Falls.
There we found abundant fungi, and there was even a rather flooded waterfall at the end.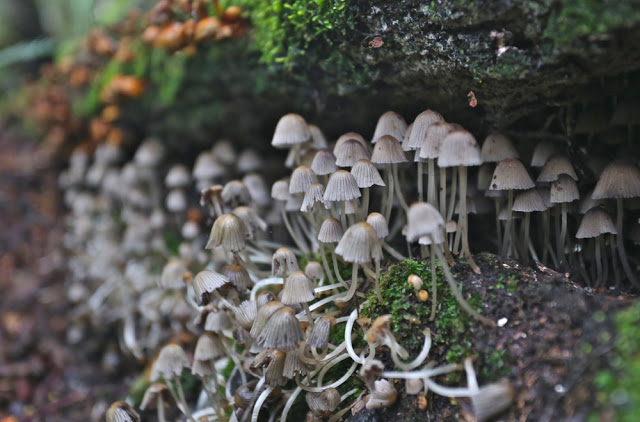 Coprinus sp I presume. As you can see, they were present in abundance.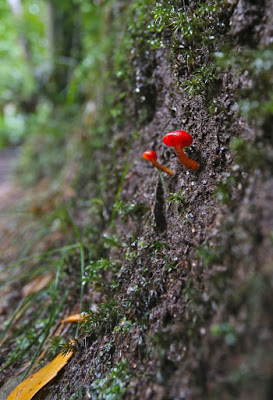 I have labelled this mycena firma. Hope I'm right
Hygrocybe miniata is my best guess for this one
Mycena interrupta. No need to guess for this one.
I'm pretty confident this is Russula persanguinea
This is a singleton of the group below, but I haven't identified these yet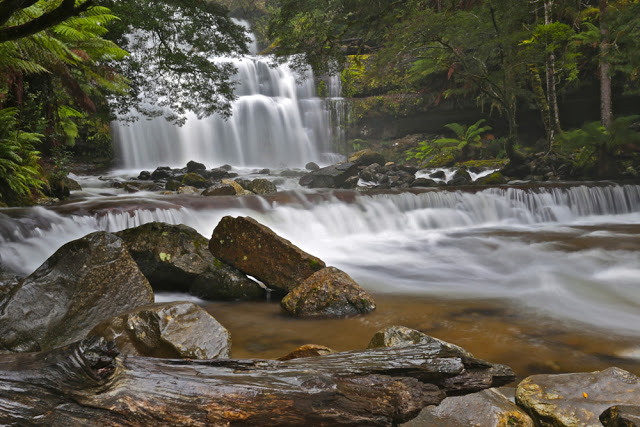 And yes, at the end of the fungi display was the waterfall, beautiful as ever.
I have also included some shots I took on our way home from climbing Mt Littlechild. Our return route took us via Lilydale, so it would have been churlish not to pay these Falls a short visit. Our courtesy was repaid with a sighting of three giant cortinarius archerii specimens, fresh out of the ground and shining in their joy to see the world (see pictures under a separate LIlydale Falls blog)