Split Rock Falls, Shower Cave Falls, Cleft Rock Falls 2018 Nov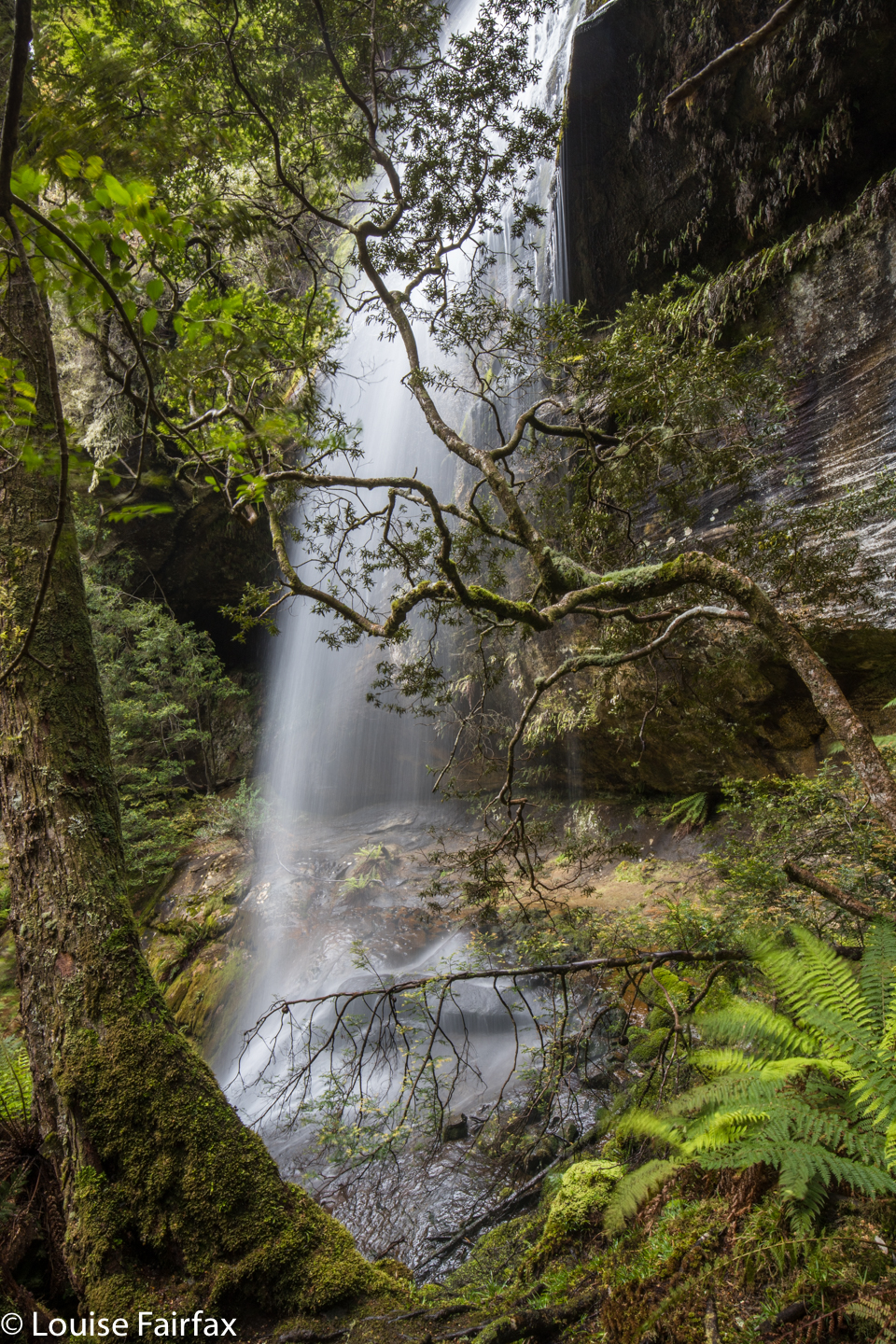 Split Rock Falls (Cleft Rock Falls) 
I have caught a cold (sob), so didn't feel like running, and thus made the excellent decision that I should substitute waterfall bagging for running, and that my chosen ones for the day should be Shower Cave Falls and Split Rock or Cleft Rock Falls (these falls go by both names: the map calls them Cleft Rock Falls, but locals refer to them as Split Rock Falls, ignoring the map. I'm covering both bases for search engines here). I chose these, as the map suggested that, although the climb was very steep, the distance was short, so it would be a good, but not overly long, workout. I was right. It took me 22 minutes to get from the car to Split Rock (a fantastic hunk of rock if ever I saw one); another 6 minutes to the base of Shower Cave Falls, and I was at the top of Split Rock Falls in a total of just under 38 minutes: a perfect workout. And then the photography began. As with yesterday, I took 90 photos, which is a big editing job for later, but when the area is so magically beautiful, it's just very hard to stop.
Shower Cave Falls
As said, I began my photography at the end of the waterfall line, as it were (although I am sure there are more up higher which I will return to explore one day. This was just a short recce): with the higher of the two mapped falls being Split Rock or Cleft Rock Falls. I had no idea whether the track that my very out-of-date map has was still there, or if it went near enough to the falls to see them from the track. The answer is, the track goes all the way to the upper falls, and even beyond, in a kind of loop returning through the middle of the Split Rock. The star on the Waterfalls of Tasmania website for some unknown reason is at Split Rock, and not at the falls, which are further on, and higher up. List maps has them pretty accurately marked. So does my map below, where I have marked all four waterfalls I saw with a yellow waymark. The position of these top falls, in particular, their angle relative to the wind, meant that there was quite a  strong air current in their vicinity; they chucked out quite a bit of spume at me, and all the ferns were doing a merry dance, which made long exposure photography tricky. Things were much calmer lower down. Despite these difficulties, I stayed there quite a while, surrounded by mosses and ferns and humungous boulders, all green and fleshy and soft. After a while I ran out of excuses to stay, so packed up my gear and began my way back down the slope. I felt so sad to leave. The time gap between Shower Cave and Split Rock falls was 8 minutes up; 9 minutes down. Time for more photography.
There was nothing tricky about the track, which I found to be well marked and extremely appealing, fitting beautifully into the landscape. I have, however, heard of people getting a bit lost, and / or failing to find their goal, so I guess I should add the warning to be alert and pay attention to the signs of the bush that tell you people have been this way. The path is very satisfyingly steep. It was 1.5 kms out, and in that 1500 ms, it climbed 300 ms: that is a 20% incline. That is steep!! (Note the WoT website incorrectly tells you this is a 6km journey. They have doubled the return journey. It is 1.5kms each way, which makes it a 3km return trip. Steep it may be, but not harshly or uncomfortably so, and the scenery is utterly distracting. The boulders and overhanging cliffs dwarf you, and are huge fun.
Unnamed waterfall short of Shower Cave Falls
The Meander River was also looking her most gorgeous self today, so after I had finished, I sat down there by the gurgling waters and had lunch …. and then did a spot more photography before setting out for home. I needed caffein to ensure I didn't fall asleep at the wheel, so went to my new discovery in Deloraine, 'Deloraine Deli', and had a lime and raspberry tart for desert as well as an excellent cappuccino.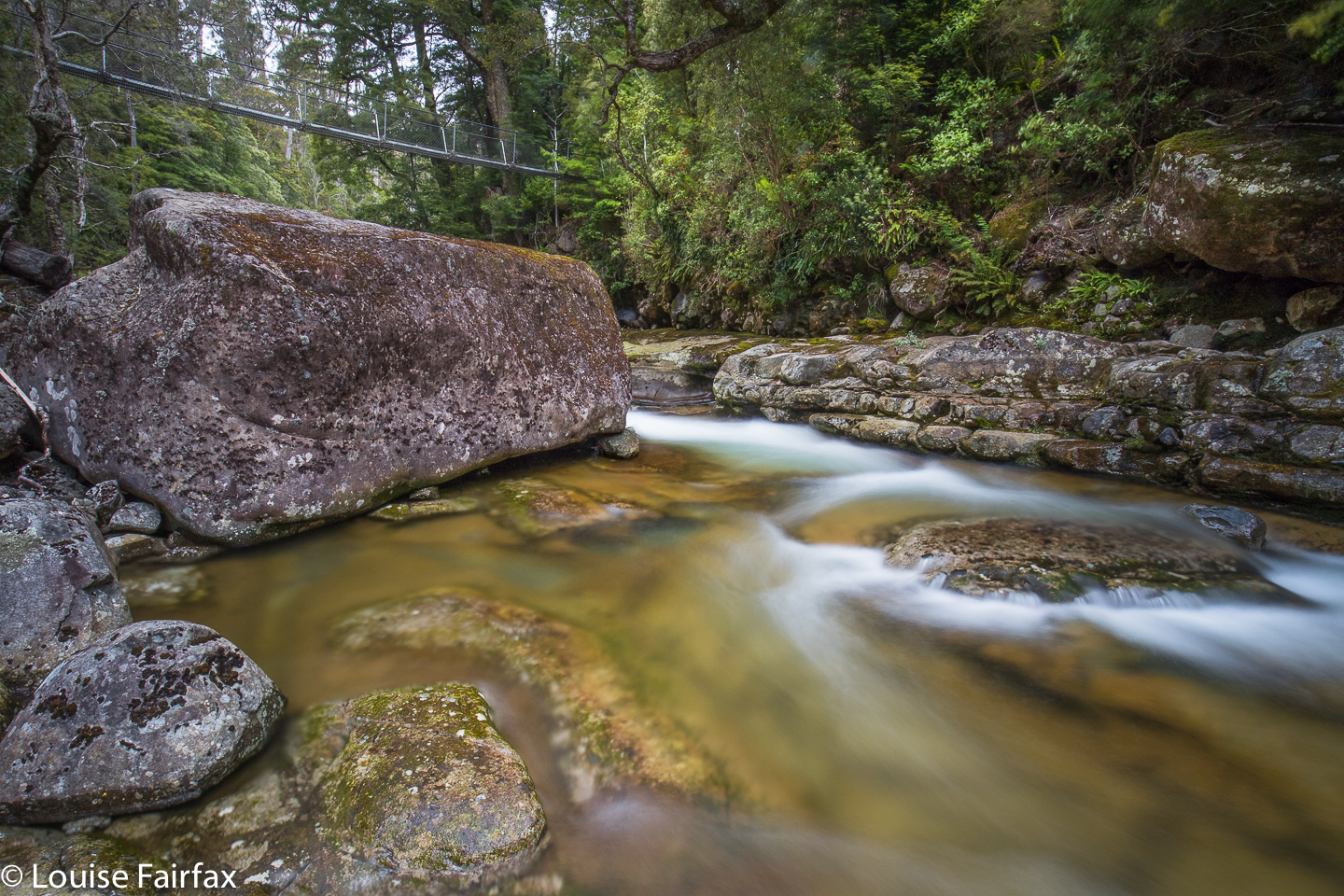 Suspension Bridge over the Meander River at the start of the walk

Map of the route. The starting point is the Meander Falls carpark, only, instead of heading up the hill to those falls, choose the little path on offer that leads down to the river. Split Rock has a blue signpost. From right to left, my waypoints are: Split Rock, unnamed falls, Shower Cave Falls and Split Rock / Cleft Rock Falls.