Kermandie Falls are not a sanctuary for those seeking beauty, or who want a pleasant day's excursion … and certainly not for those who want to take a sweeping landscape picture that will do well in competitions. I fear it is only for the very curious: those of us who want to see what every waterfall looks like, at least once, and then return to the favourites … which is not this one.  Unfortunately the base is utterly cluttered with fallen timber, which, today, was covered in masses of spray due to the high winds and voluminous amounts of water around. Crawling all over the giant fiddle-sticks game to get a front-on shot was entirely out of the question. I can't even say that the walk in was vaguely enjoyable, especially not the way I did it. Perhaps if you started down the bottom and followed the stream up (although I have heard that that is an irksome obstacle course), maybe it would be more attractive. I never saw a parking spot, and I did see a sign to the falls, so took it, wondering where it would take me.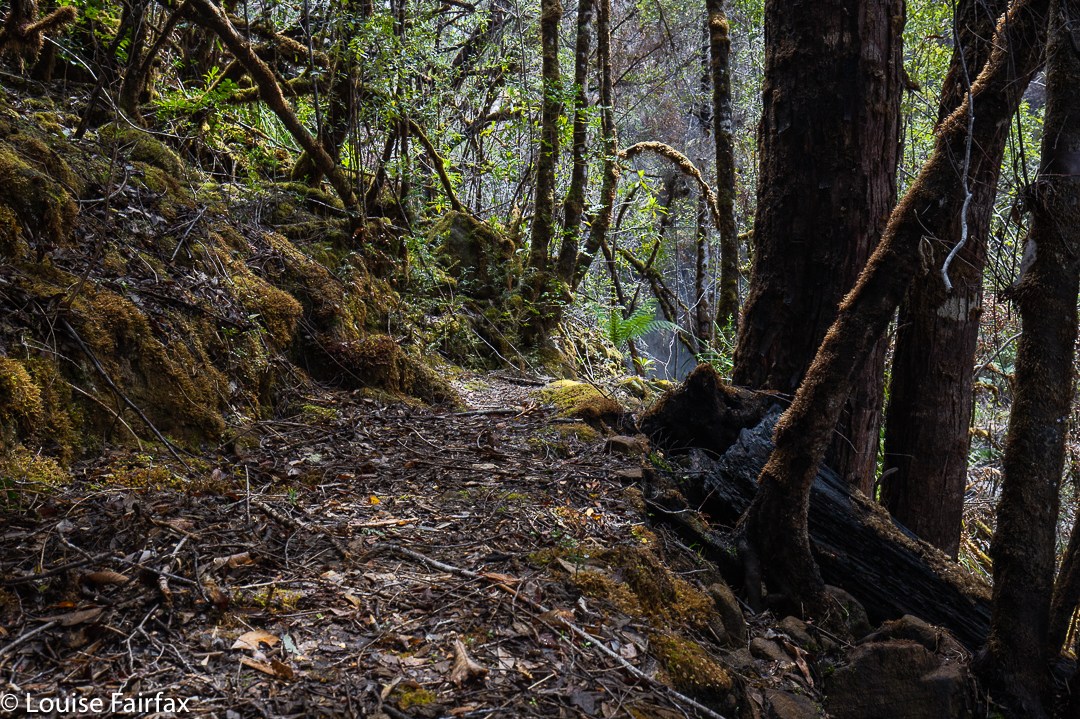 My route featured burnt-out trees, about a quarter of which had toppled over in an untidy mess that I had to find a way around.
I added to my own problems by not having my head in the right space. I knew I had left my PLB and compass at home, thinking they were in the car, but alas they were missing when the battle drew nigh. But I consoled myself that at least I had my gps.
I drove up the Kermandie Falls Rd, which was even signed at the base, so I thought I'd see how it went. I was especially curious to know whether there was still a boom gate across the road. Answer: No. Instead, there was a newly fallen tree, but it was further on than the now-open boom gate. I went to get out my gps to see how far it was to where I wanted to be, and, oh no. Search and search as I might, I couldn't find it anywhere. How could that be???? I distinctly remember putting it in something (I thought, my silva bag), but it was not to be found. This meant I not only had no tracking device (and no compass) but also no map, and, as said, no PLB to get help if I became unstuck. I began to feel very anxious about this jaunt.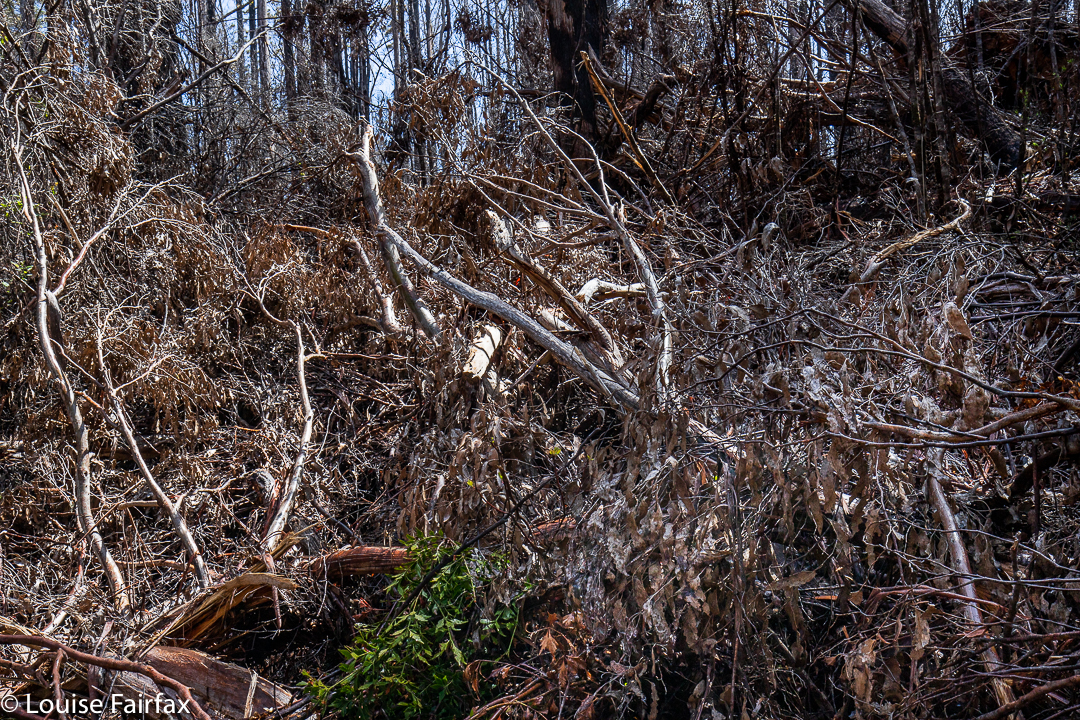 Well, luckily I had had a really good map stare before leaving home, so the necessity of going on map memory was not too bad. I seemed to be high and to have swung around, so I hoped the corner I wanted was coming up soon. I decided that if it came up in the next 20 minutes walking, I'd then proceed to try to find the falls by hearing; otherwise, I was a girl who had driven a long way for no dinner.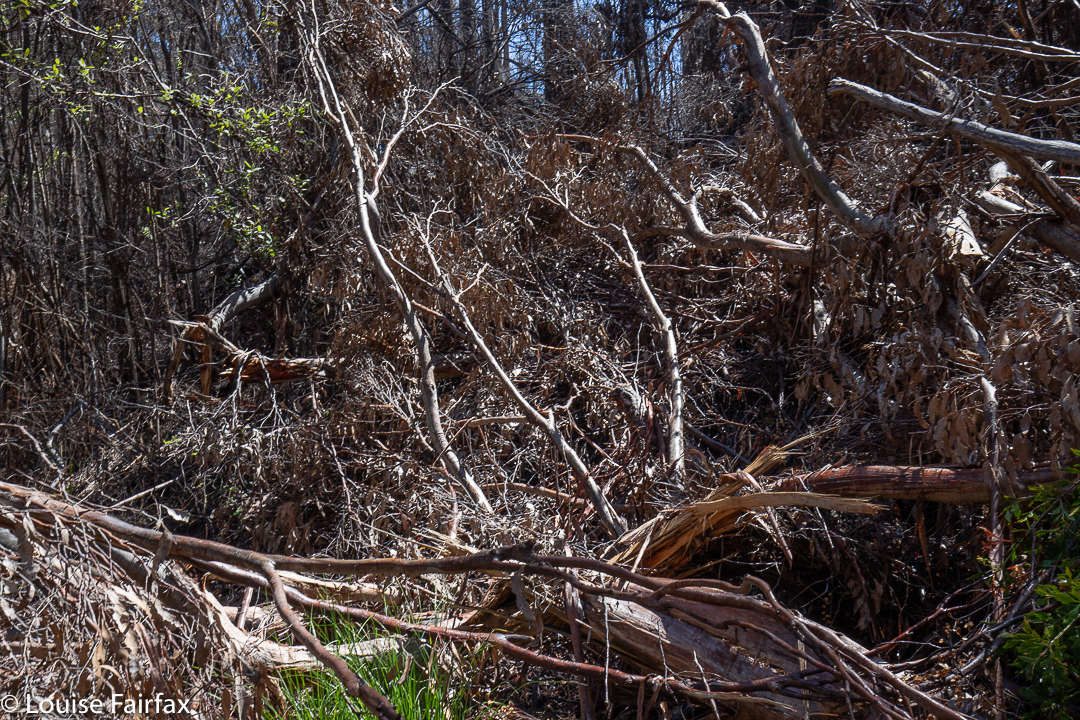 In six minutes I arrived at the corner I wanted. But was it the right one? How many corners were there? I couldn't remember. Certainly there were neither tracks nor signs in evidence. (I sussed around further for confirmation). I decided I was only comfortable fluffing around for about half an hour, so if I got the falls in that time, good; if not, I would need to give up. I would have to commit every single step and feature of my journey to memory so as to be able to retrace my steps without a map. Full of concentration, I set out gingerly. If a burned tree toppled in the gale raging above, I was gone. (One fell quite near). If I failed to remember properly, I could be out overnight. This was not good, and I felt that 'Fairfax' had used up its good will in the Geeveston area with Bruce's disappearance. What would the Geeveston police say if they were told Louise Fairfax was missing? I didn't want to find out.
Luckily, by 30 minutes, the sound of the falls indicated they were extremely close, so I made it near enough to my cut. Right near the falls there was some pink tape, and a bit of a temporary track, so I thought I'd follow it down for a tiny way, and then hope I could wing it on instinct back to the car. I was very, very happy to see that metallic grey through the trees. Phew.
I went and celebrated my success at my favourite cakeshop in the whole world: Geeveston's Old Bank cafe. YUM!!!! I think the lady there was rather surprised at the volume of food I bought, but she decided I looked sporty enough to consume it without too much damage.