Arve Falls 13 Oct 2017

We parked in the designated Arve Falls carpark, but, despite the fact that it was mid-October, and thus halfway through Spring, it was snowing lightly. Being a wussy duo, we sat in the car and read, gazing out between page turns at the swirling flakes and listening to the howling wind. Eventually the precipitation eased, although the wind continued. This was not going to be a pleasant jaunt.
"Do you want to come Brou?"
He gazed out at the grey mist and listened to the angry howls and said he thought he'd read instead, but as soon as he saw I really was heading off into that stuff, he bounced out of the car to join me. If you know what happened to us the next day, that Bruce would accidentally wander off the track and die from a complication of his Parkinson's disease, you will agree with me that this was an incredibly important decision, but at the time, I was unaware of its poignancy. I was about to do my last ever bushwalk with the man who has been by my side for 10/13 of my life – a smidgeon more than 3/4s. I was a tiny, insecure teenager when he met me. I grew up with him beside me, sharing and shaping, but Life was about to take him away.

Not knowing the future, we did not walk arm in arm. Instead, we buried ourselves in our Anoraks, shoulders closed in on our chests, but this strategy provided little defence from the blast that was so noisy we couldn't hear each other. We scurried along the track, eager to get to where the land dropped, figuring we might gain better sanctuary there. I did have time within this scuttling to notice the glistening moisture on the rocks with their blotched lichen.
The falls are not far along the track. Soon enough, I was photographing in a relatively protected spot (although I have noticed the bushes are not in nice focus due to the wind; I was reluctant in those conditions to be fancy and do a short and long exposure for later combination – sorry). As ever, Bruce gazed out at nature and the falls, meditating while I shot.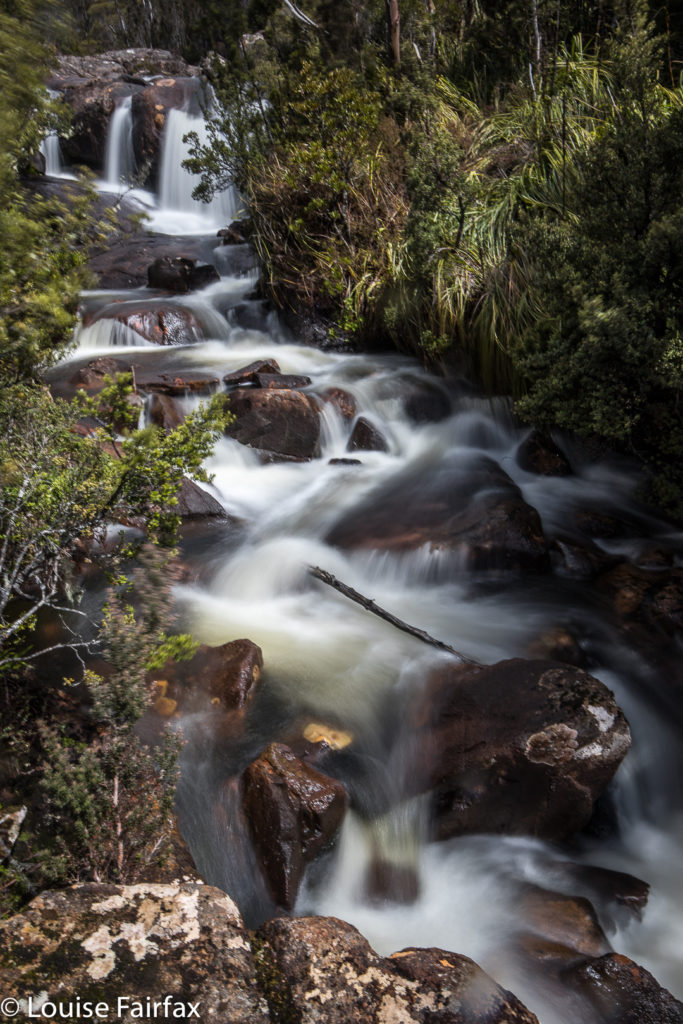 When we got to the lookout, I of course did a bit of fancy work to get a better angle while my mother-hen husband clucked in angst as he watched his wife climb barriers and perch on ledges. He didn't find my antics to be a relaxing or pleasurable spectator sport. He was very fearful of heights himself, and didn't like me being in danger. From the safety of the viewing platform, he enjoyed the deep drop of the falls to a base that couldn't be seen, way below. (I want to return and get to that place).
Photos finished, we returned to the car, and headed for Dover, Bruce's choice amongst the possible options for that night. A helpful lady at the Geeveston Tourist Centre booked us into Driftwood Cottages, a bit further south, into a little bungalow on the waterfront. The incredibly kind lady who greeted us at Driftwood was to later take us under her wing and offer us a place where we could "relax" – well, none of that got done – after dark and before 7 a.m. as we continued day after day in our fruitless search for a wandered Bruce, but that is another story. (See www.natureloverswalks.com/creekton-falls/ ).