Walls of Jerusalem in Summer. 2019

It has been a long, long while since I have visited my old playground – the Walls of Jerusalem – in summer. For the last few years, we've only gone there in winter, in glorious snow. However, I was in the mood for chasing scoparia, and, even though the season for this beautiful flower was nearly over, I hoped to catch some isolated specimens still in the flush of glowing youth.
I made this decision on Saturday. On Friday, I had been so busy I was still collecting peaches at 10 pm, and making jam until 11. Next morning, it rained more peaches on my head, so I made more jam, and then spat the dummy, asked my neighbour if he could mind Tessie (dog) for a night, packed my bag hurriedly and left. I was starting just a little late, but it's not a long walk in. I'd be there before sunset. I was at Herod's Gates in just a click over two hours' walking, which was pleasing, so I could climb The Temple while waiting for sunset and generally roam about exploring various pools, deciding where I wanted to be when and if the sky gave me some colour.
I dumped my pack – I'd attend to matters of actual accommodation later – set up my tripod and rampaged to and fro and up and down. Bushbashing with a set-up tripod and camera sporting its fragile filters makes for an interesting diversion, but I managed. I nearly missed good views for sunset, having not quite timed myself to be in the very best spot for the best lighting, but I didn't miss by much, and did get light that pleased anyway.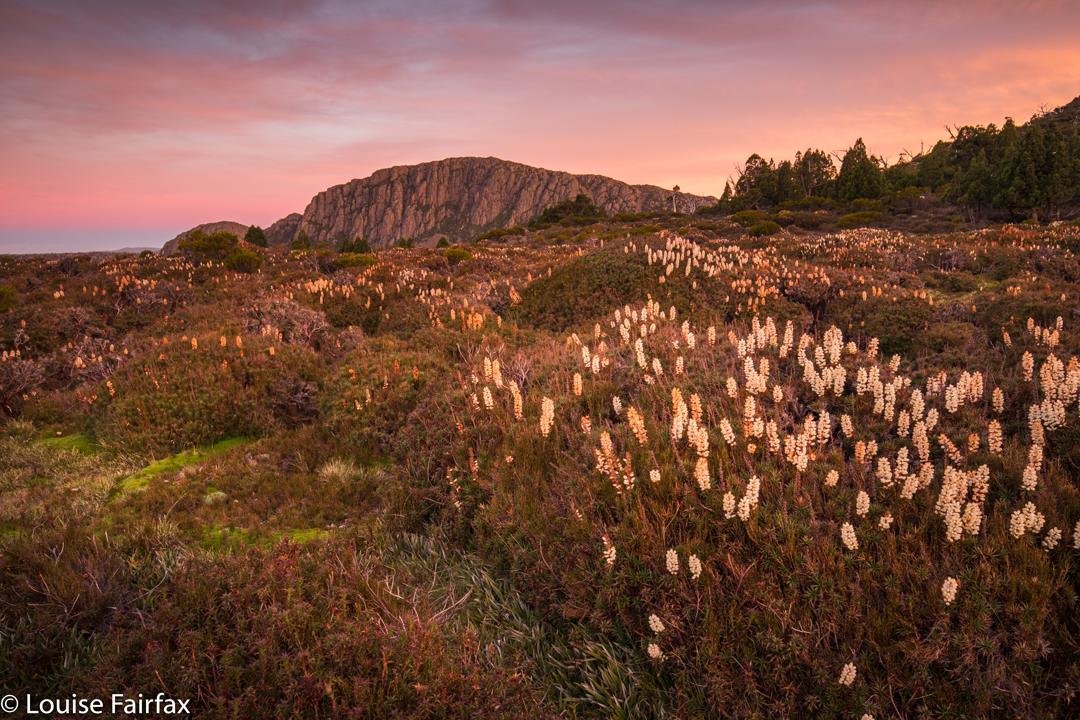 During the night, I didn't get much sleep. The stars were so lovely, and just being alone in the wilderness so beautiful, that I didn't want my tent fly to spoil the view of the stars. I woke at 1.30, too cold to sleep. I put on extra layers, but left the fly up. I just couldn't bring myself to block off my beautiful view. At 3.30, I was so tired, I admitted defeat, and closed it down. I didn't know another thing until my alarm went off at 4.45. Time to get up and get into position for sunrise. Yawn.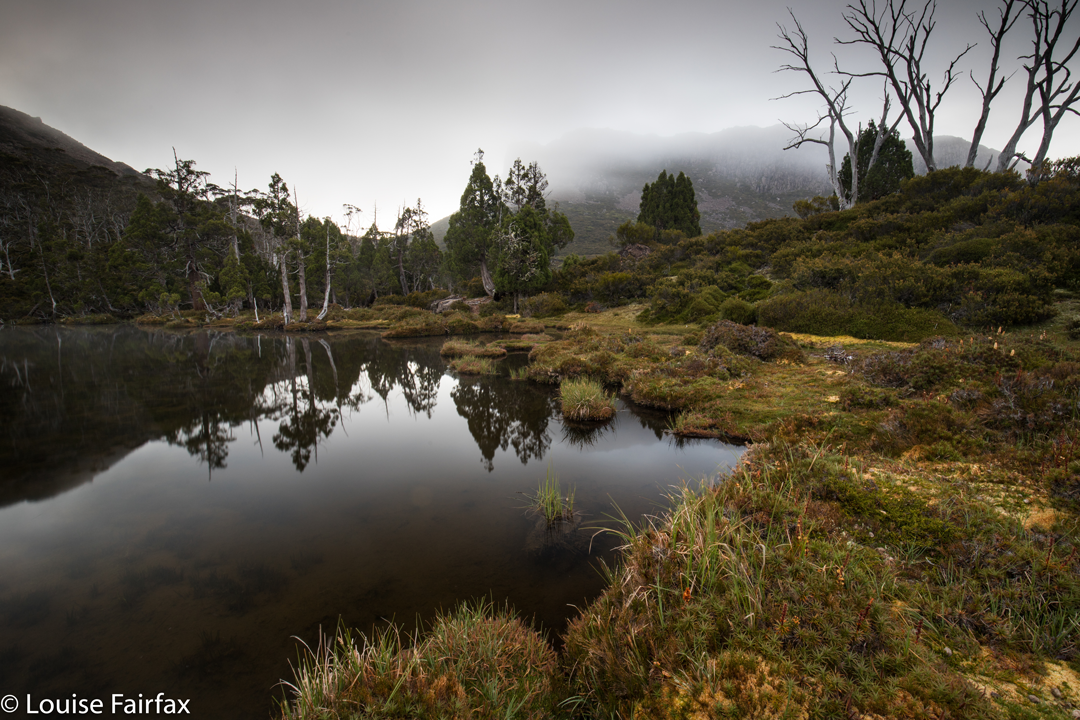 With so little sleep, driving home was a very dangerous business. I could feel myself staring into space and losing focus – terrifying danger signals for me. I saw a sign that said "Coffee", but I didn't know this place. I was in the middle of nowhere. It couldn't be good coffee. But then, I reasoned, this is my continued life we are thinking about here, so I did a U-turn and decided to inspect this building. What a find. It's called Earthwater Cafe, and is 3 kms west of Mole Creek on the road leading to Marakoopa Caves and the Walls (and Lake Rowallan).
The owners only opened in December, yet already the place is very popular, and with good reason. The coffee was excellent, the vanilla slice right up there on a short list of best-ever v. slices, and the garden I sat in to relax and imbibe this much needed food (I have forgotten to mention I was so busy photographing last night I didn't bother with any dinner) was shady, welcoming, and idyllic. I want to return to re-experience all three (coffee, food, garden), although I might try the prune and apricot tart next go, just to try more things out. The staff couldn't have been friendlier. I loved it.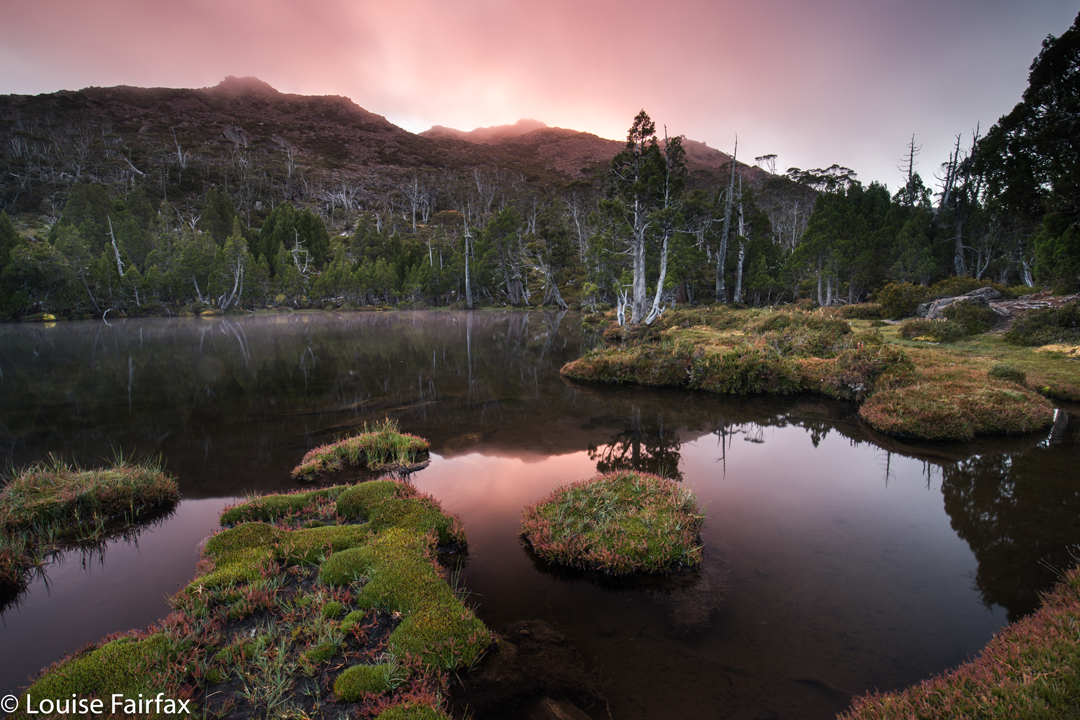 Thus fortified, I made it home alive. I was in much greater danger this week from fatigue than I was the week before from fire.