Mt Henry May 2014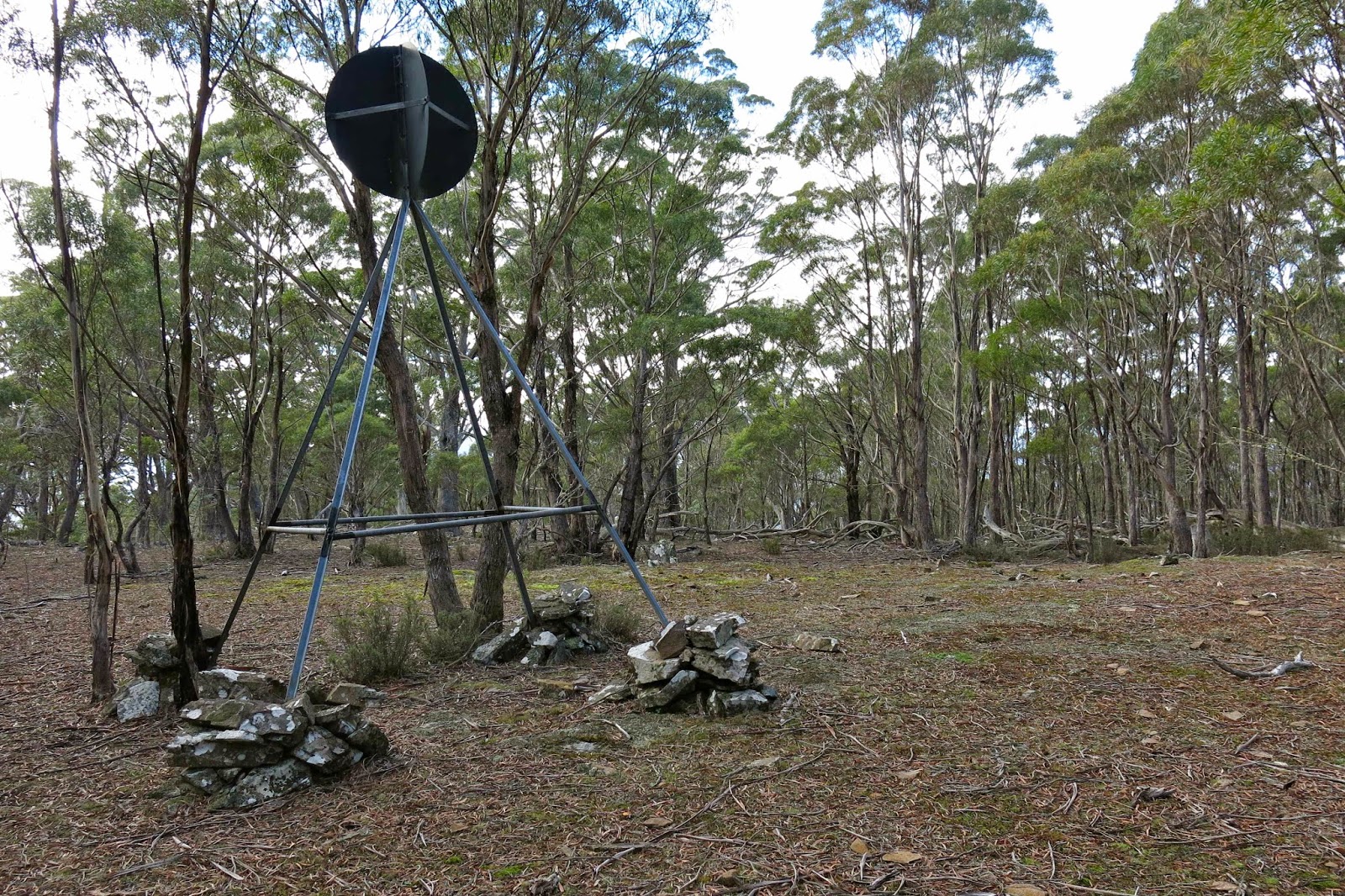 Summit cairn. I was terrified on this knife-edged peak.
Today I set out with the intention of climbing one mountain, accidentally climbed a different one nearby, yet coveted a third.
The mountain I intended to climb was Mt St John, but the road I wanted (a dirt road that runs parallel to the line of the mount, north of it) was blocked by a thick and long fallen limb. There was a possibility that I could mount the edging and drive around it in the short grass slightly above, but I have a 2WD, was travelling solo, had only about ten pages left in my book (i.e., not enough for a long rescue wait) and thus didn't want to risk getting bogged. It has been pretty wet lately. I thought it was time to test out whether there were roads to the south of my goal that were reasonable (unmapped roads abound in Tasmania). I drove past her bulk, waving hello, and kept driving southwards for another eleven kilometres without ever having an offering of a side route that would get me nearer. My mountain was out of sight, so I did a U-turn and decided that Mt Henry was an undervalued mountain that needed investigating.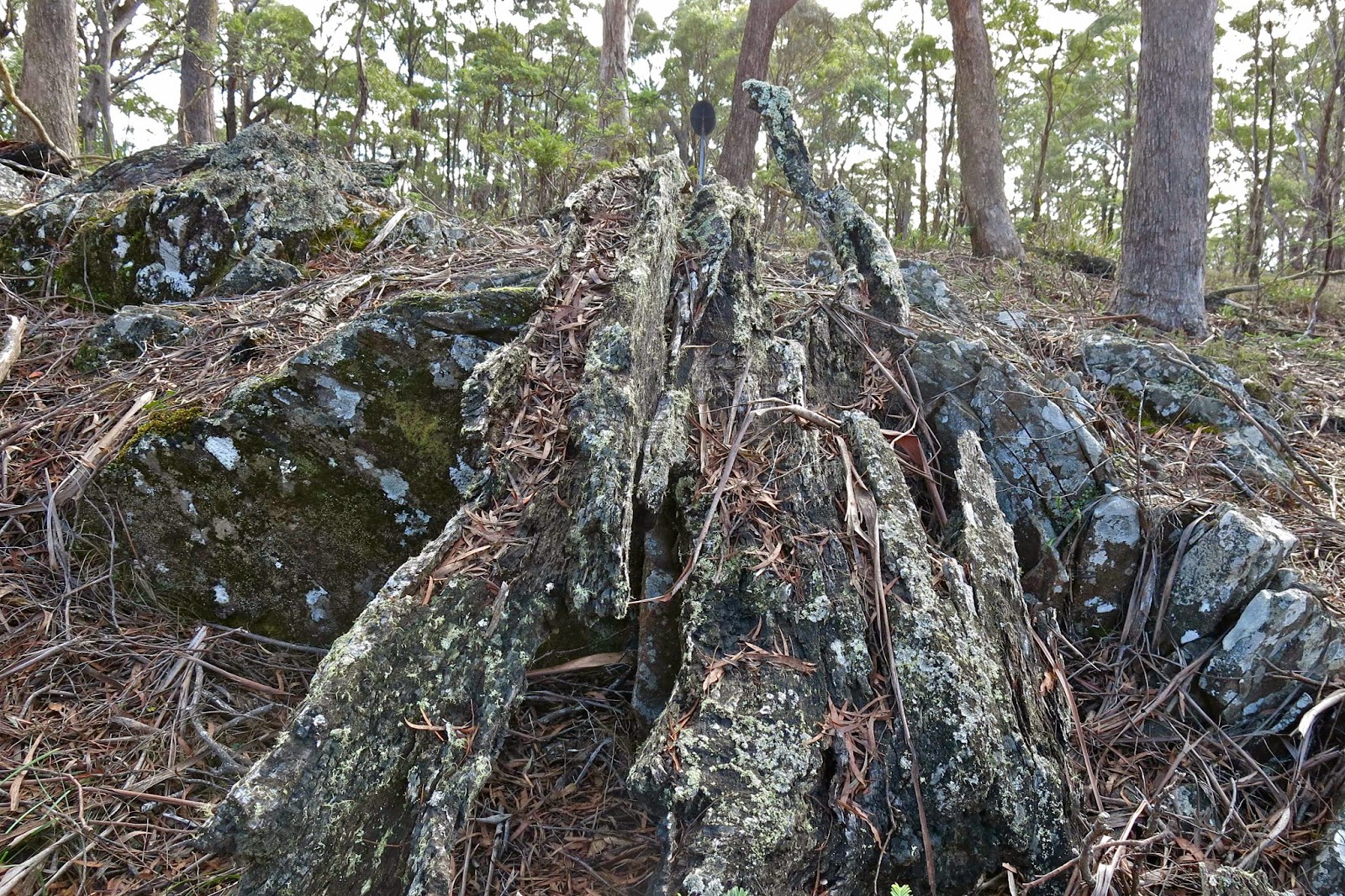 Nice jagged rocks for variety
It may not be the peak I wanted, but at least it was a mountain, and it was accessible from this road, so I parked at the base of a ridge due east of it, in a spot chosen because I could get off the road, and it had a kind of vehicular track at the start that might give me a free lift for some of the way if I struck lucky. I got at least 50 metres favour there. With this mountain, you only rise about 400 metres from where you park, in a distance of 2.3 kms in each direction, so it is not a Grand Excursion, but a lot better than a drive with no climb.
This is what the scrub looked like in the middle band
The day was getting on. It was 11.30 when I finally set out – way later than I had planned.
There's not a great deal to be said about this mountain that is not said by the photos, and the map below. There is no pad or track; you just follow the ridge up until you reach the summit. The going is relatively open at first, then becomes quite thick in the central phases, and eases up for the final bit to be very open indeed. The middle section was no party, but I've experienced a lot worse. At one stage, a branchlet poked into my plait and I was skewered from behind, which is not such fun in solo conditions, as I couldn't see what was happening back there to pull myself out, but, as I'm here typing away, you can see that the story ends well.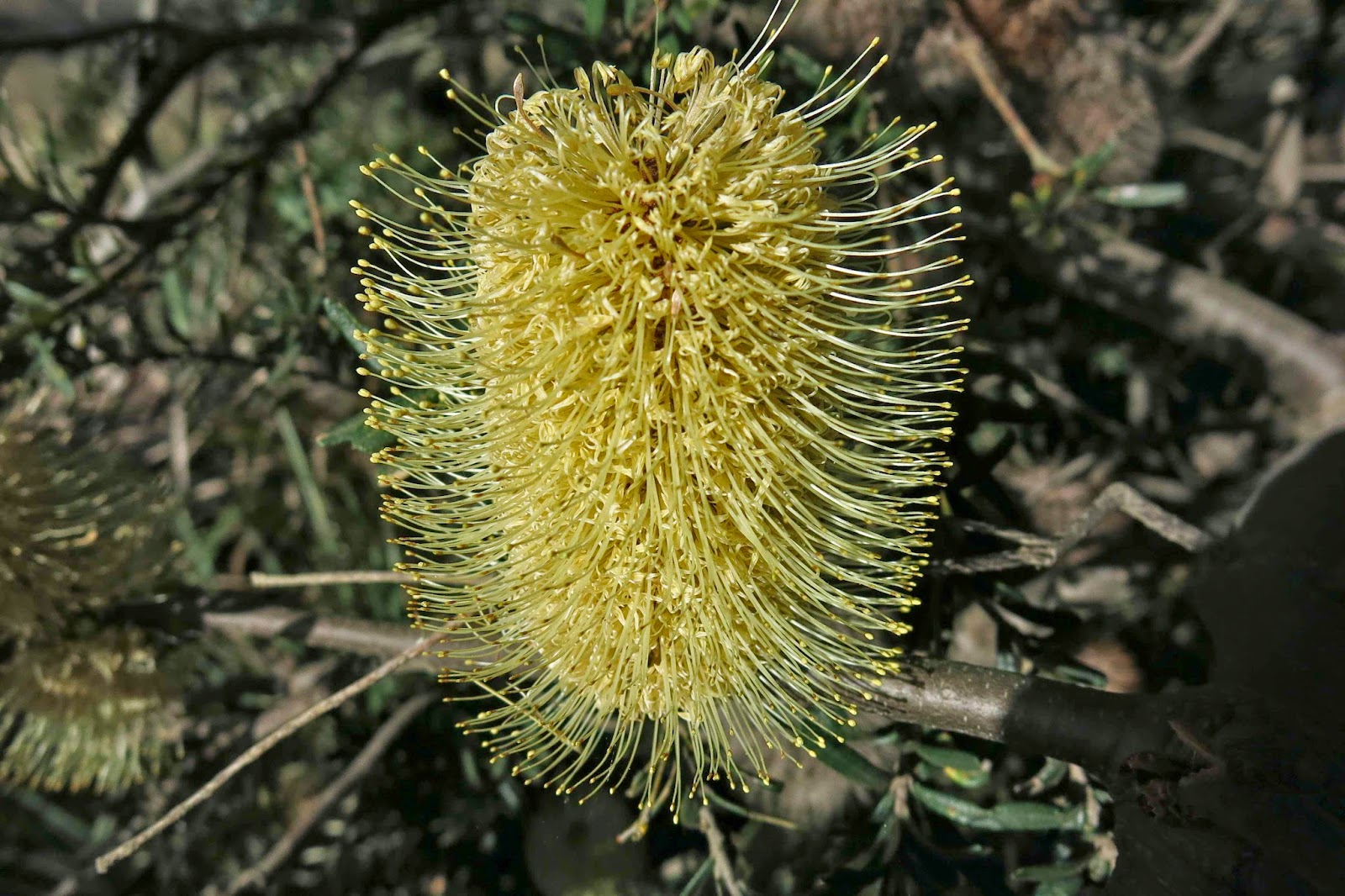 Because it was only 2.3 kms each way, and a mere 424 altitude to rise from the car to the summit, I thought it would be a pretty short trip – but that's because I hadn't seen the middle band of scrub. My watch says I took 50 mins up and 51 down. My gps ungenerously says 28 up, 26 down, but that's because it is very rude and describes some of my best efforts through the scrub as "no movement at all". I consider myself to have worked for 50 mins in each direction, and am taking exercise credit for the same. There were no breaks in that time.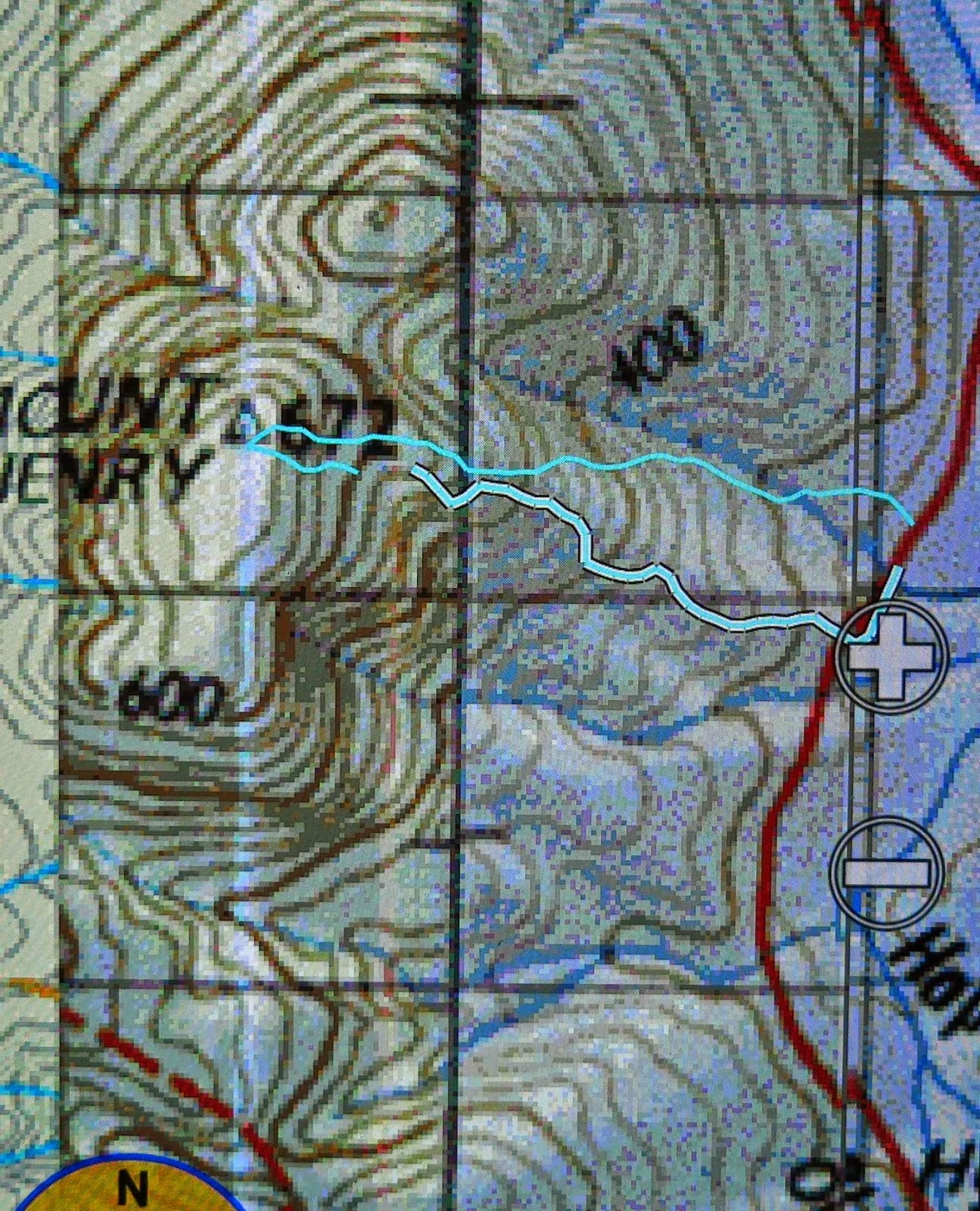 Although the summit was nice and clear, this was not a mountain that thrilled: there were no vistas, no sense of space; no experience with the infinite. I was the most colourful little thing (or big) to be seen on its flanks. The banksia marginatas I found were on the roadside as I did the final bit there back to the car. Some mossy, jagged rocks were perhaps the highlight. That said, it was not an unpleasant excursion, and it's good to experience many different types of mountain.
The mountain I coveted was nearby, St Paul's Dome, which stands taller, more commanding, more promising. However, as I eyed it up I decided I was now hungry and wanted savoury food (I had only brought snacks). At Cleveland on the drive home, a sign touting "Game and Guinness Pie" wrested my attention. I parked my car near the post where my old horse should be and went inside. Delicious!!
PS. As this is a 'choose your own route mountain', mine is only one of many possible routes. I know of others who've done it starting closer and having less climb (see that saddle to the SSW of the summit – via there), but they had to do more driving to get to their spot, and I wasn't there to do minimum distance or climb: I could have stayed at home and achieved that. I wanted, as usual, a workout, so gave myself one.