Mt Scorpio, Apr 2017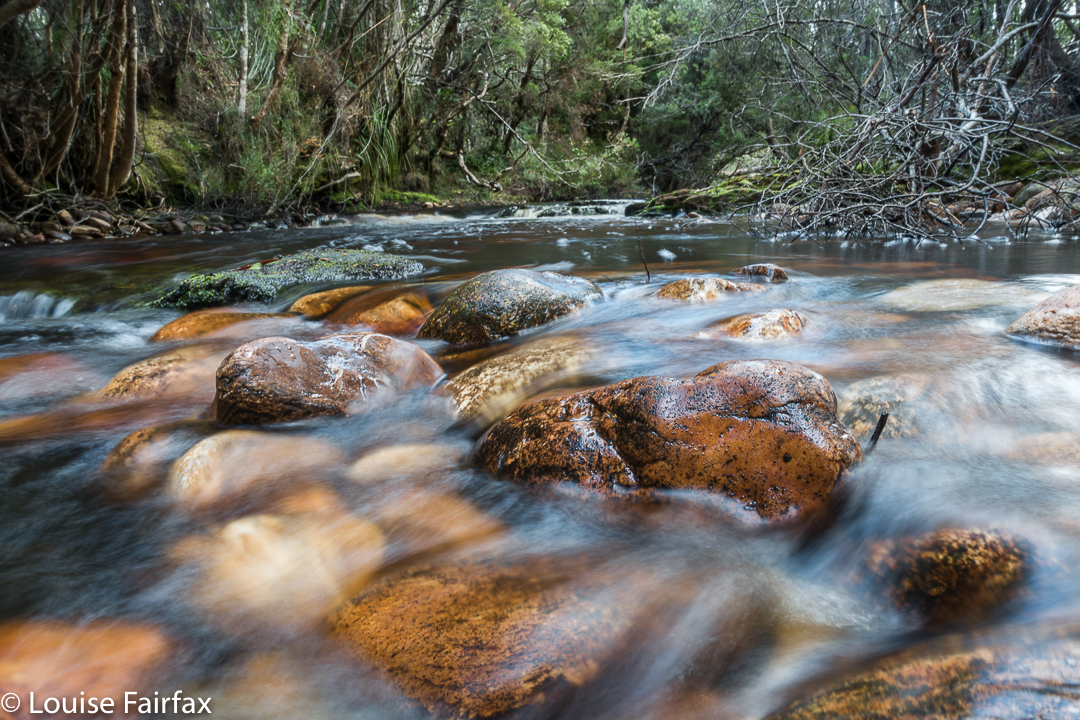 Our camping spot, Seven Mile Creek.
Mt Scorpio, stuck out there towards the eastern end of the Western Arthurs, has always had a certain allure. Perhaps it's Dale Lisson's photo in the Abels II book, with diminutive, rucksacked figures walking up a knife-edged slope, that gave birth to my feelings towards this mountain, and created a mixture of respect and fear, combined with a  desire to be on it myself one day, and to summit it via that edge.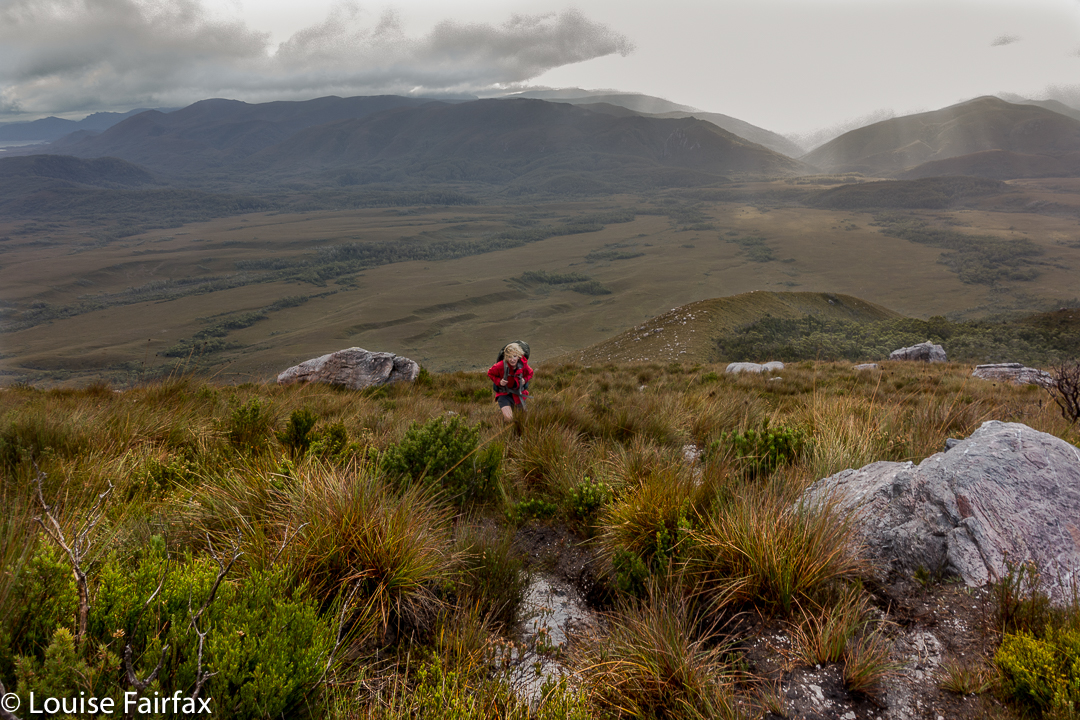 Climbing Kappa Moraine.
At last I got my chance this Easter. Unfortunately, a different book said not to climb it in wind. Even more unfortunately, the weather whipped up a beauty of a blast, together with mist and rain, on summit day. Oh well. That's nature. She doesn't cede to our desires.
On our first day, we had walked in over 20 kms along the MacKay track to Seven Mile Creek. It was not necessary to walk all this way – there is a Kappa shortcut in existence – but we decided we wanted to camp there this time; we'd go up the shortcut on our second visit to the area (we both envisage many visits yet to come). We knew the forecast for summit day was not good, but Angela is a working woman, and sometimes you just have to take what you can get.

We both loved this glimpse of Promontory Lake before the clouds came in. I must go there one day!! And I must climb Carina Peak to its right.
We were quite hopeful as we walked across the plains from our tent site next day (about one hour's duration). It was cloudy – a little bit misty – but that was all. At last we were climbing, not having a clue if one of the mountains we were looking at was our mountain, or just a kind of prelude to it. We only got glimpses. We could feel the wind increasing, so, short of the top, donned extra layers in case it got wild up there. Good move.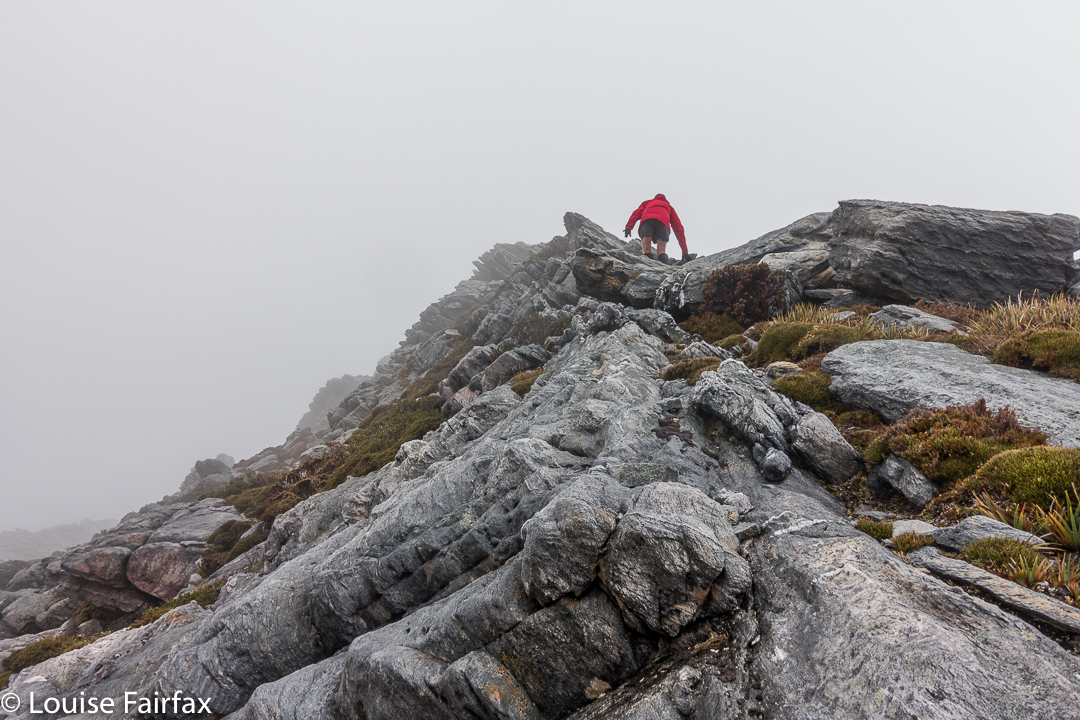 Angela climbing the final stretch.
The Abels book implies that you just kind of walk straight to the top, but when we reached the nearer end, we could see no obvious route up, and certainly not the one of the picture, so I voted that we go to the further end instead. THERE we found the scene I was awaiting. I didn't want to completely copy Dale's image, so chose a different angle and asked Angela to please go on so I could photograph her on the dramatic slope. The wind blew more strongly.

Summit "view".
After she had finished posing for me, Angela ducked left, not enjoying the deadly drop down the cliffs to the east, and heeding the warning not to climb on the ridge on windy days. I followed up at this stage. I saw where she had gone, but was rather enjoying the airy space, and had plenty to hold on to, so kept on the blade. I got to the summit, photographed, wondered where Angela was, and began to descend, hearing her calling  me as I did so. The wind was so strong I couldn't hear what she said, and neither did she hear my full answer.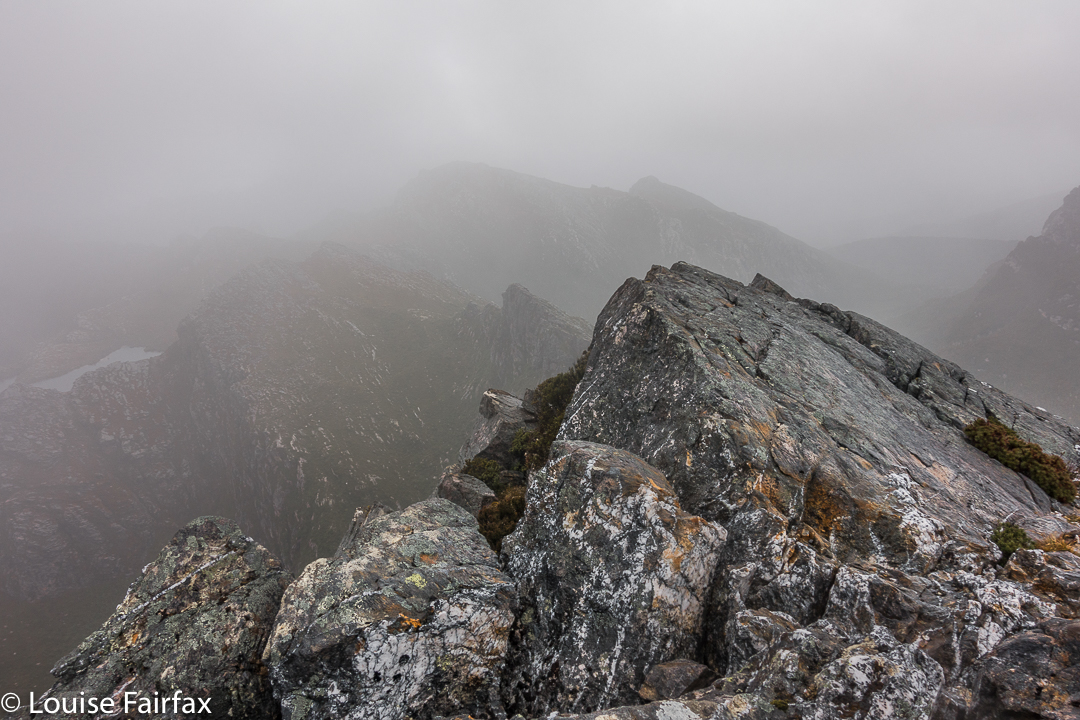 When I got back to her pack, and saw she was not there, mild panic set in. (She didn't want the wind buffeting her rucksack, possibly knocking her off balance, so took it off for the final climb. On the other hand, I wanted my back protected from the iciness of the blast, and thought that if I fell, I'd prefer to land on my pack rather than my bones. If you could see the drop, you would know that whichever part of your anatomy landed first would be utterly irrelevant, and that pack or no pack would be of no consequence at all. Be that as it may, my pack stayed on).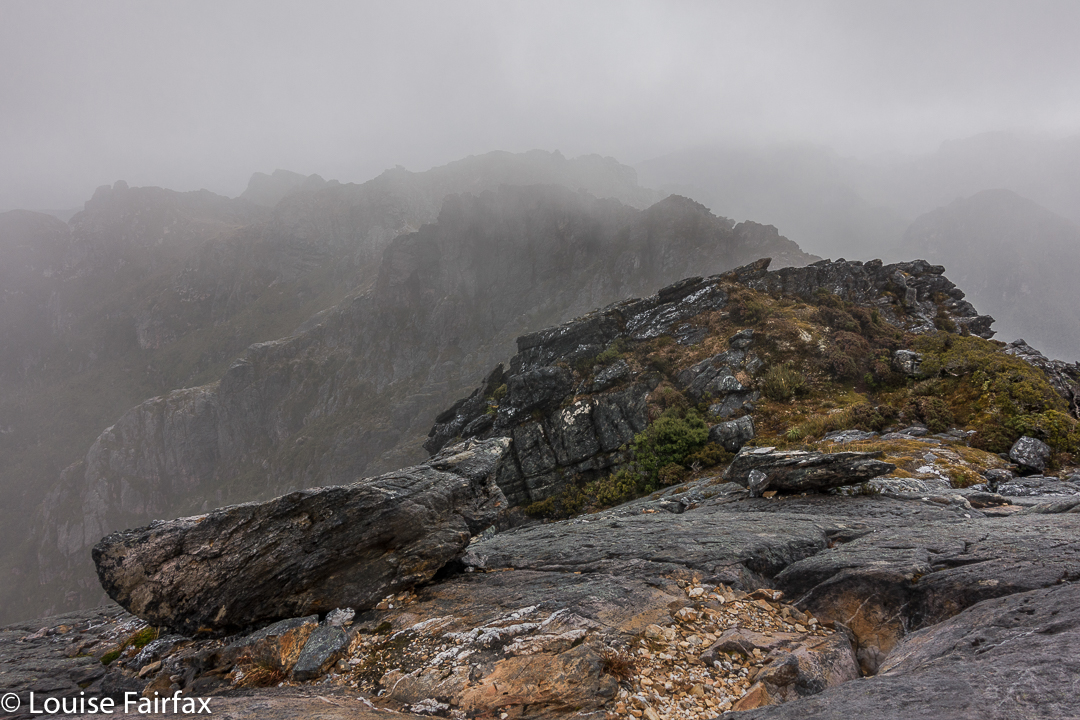 I was unbelievably relieved when I saw her emerging around the corner. Her yell had not been for help: it had been to tell me she'd found a cairned route up that was not exposed at all. She enjoyed her route. I liked the mild adrenalin rush of mine, as there was no real danger if you didn't let go, and the handholds were firm.
All of those antics complete, it was now 10.30. We decided that, despite the weather, we'd continue on towards Aldebaran. However, with each step, it seemed, the rain got stronger and the wind more forceful. We had to cross a saddle before Lake Sirona, and in this stretch, I was blown a metre to the east on several occasions. It was taking all my might to fight the wind.

The knife-edged ridge from beyond.
Up we climbed, … up a chute which was quite slippery, but doable, and along to another saddle. Ahead in the gloom lay numerous lumps and bumps of unknown difficulty. This next saddle, like the one before it, had huge drops on the leeward side. I was now moving very slowly in my attempt to deal with the effect of the wind and to protect myself from a huge but terminal flying lesson.  I wasn't moving fast enough to stay warm, despite my multiple layers of clothing. Reluctantly, I told Angela I thought I should quit. She was very obliging, and about we turned.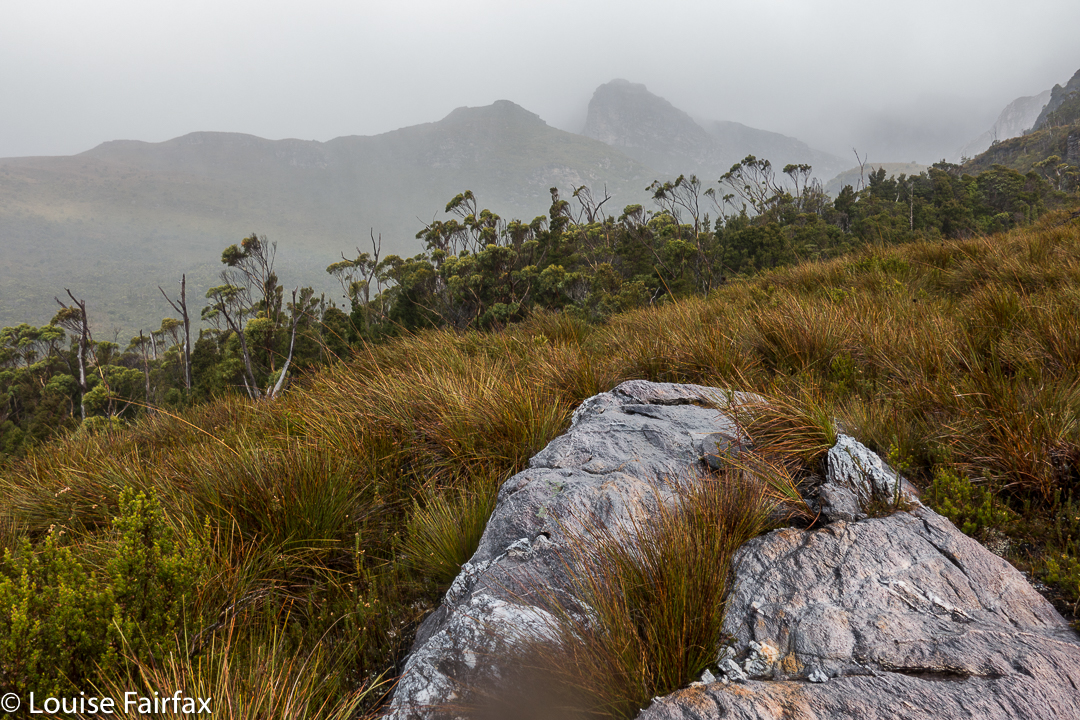 The way back was windy and wet, but as we got lower, I could move more quickly and thus stay warmer. It was far more fun being out there dealing with wild nature than lying in a cosy tent, that's for sure. We were back mid-afternoon, and seemed to spend most of the remaining hours of the day eating, calling the food a variety of meal names.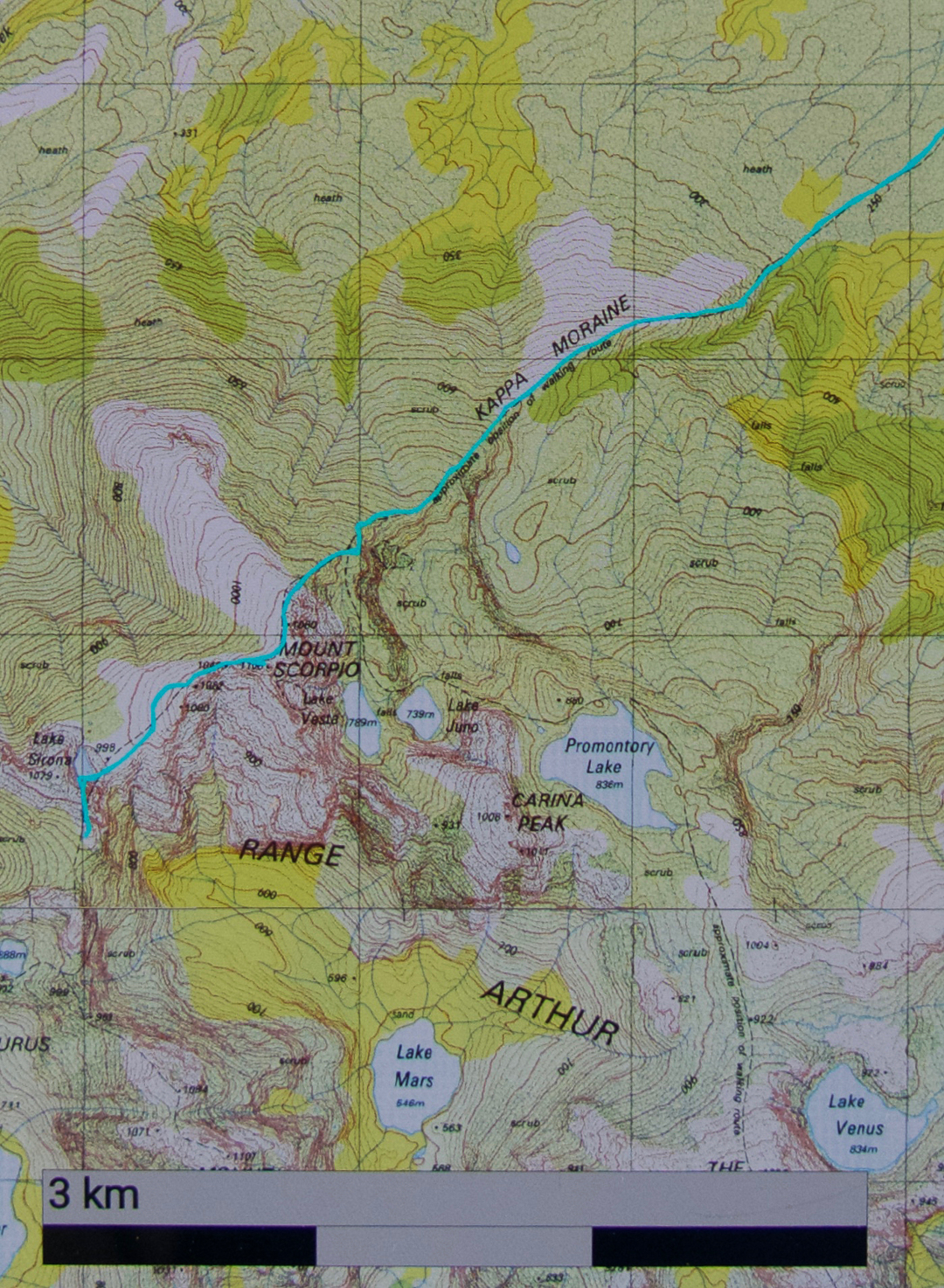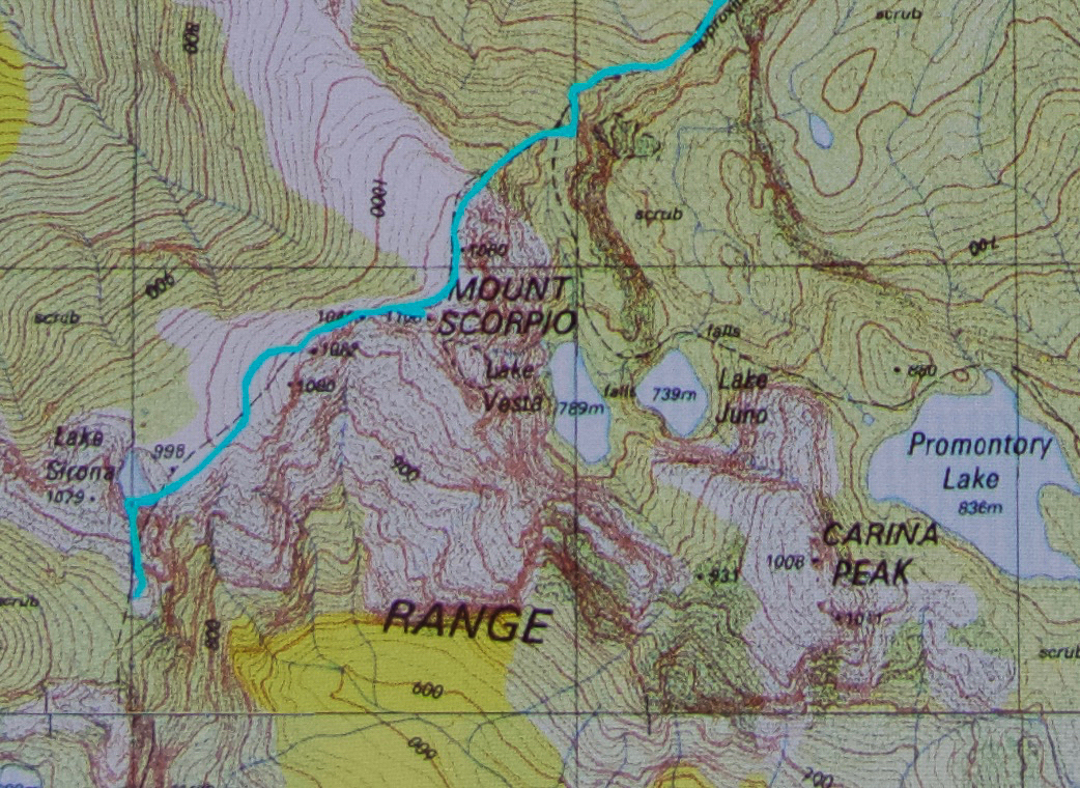 You can see we climbed the final stretch via the "back door".