Pyramid Mountain 14-16 May 2017.
(For Day one of this three-day hike, see natureloverswalks.com/Rocky-Hill/).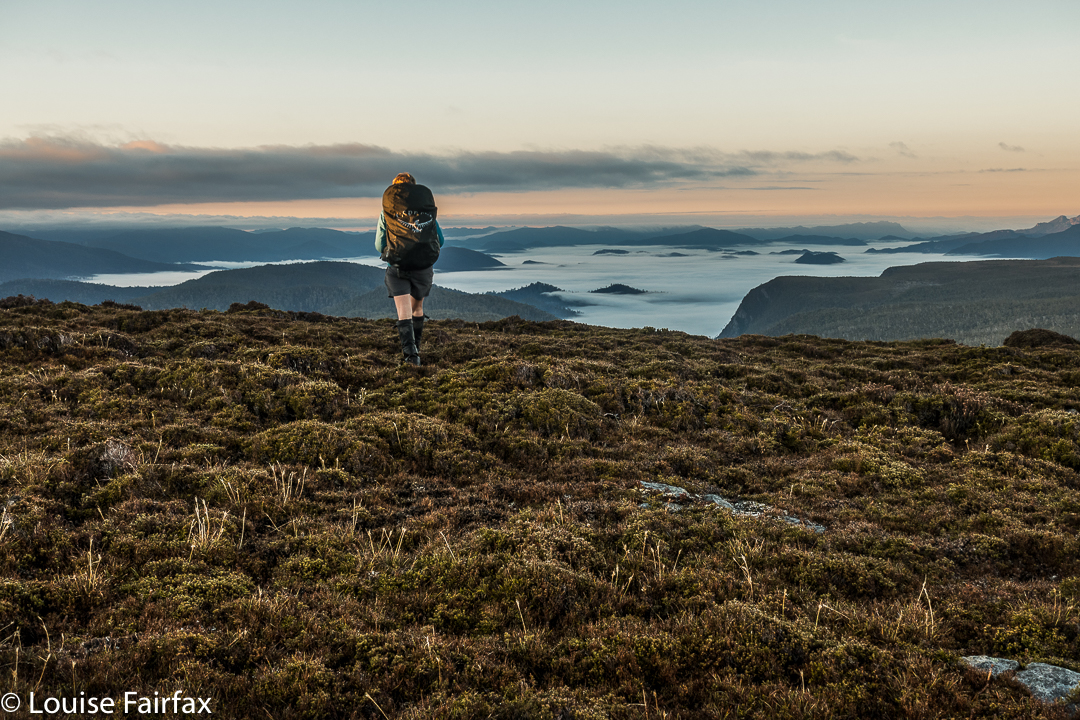 Summit day for climbing Pyramid Mountain dawned. A light fog surrounded us; the grass, of course, was icy, as were our tents. The sun was a kind of dispersed yellow glow to the east. Mountains like High Dome, Pyramid and Goulds Sugarloaf were beautiful silhouettes as we ate breakfast and prepared ourselves for our adventure. How would things play out? Could we do this in a day at this time of year?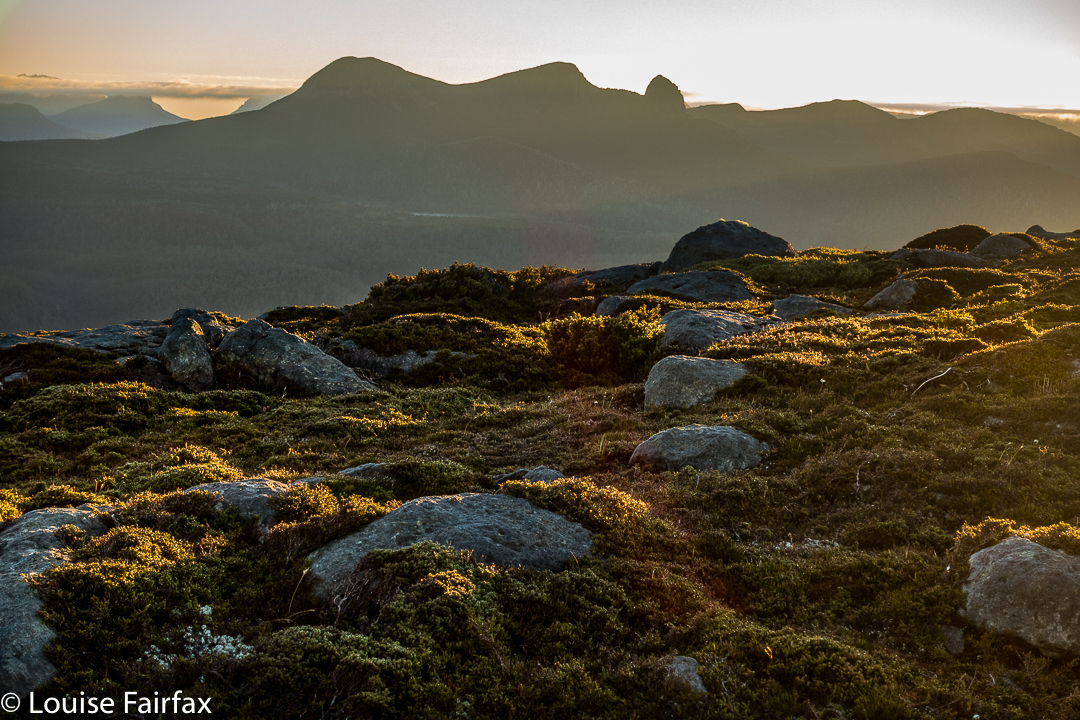 We set a turnaround time of 12.30, given the now early time of sunset, which didn't give us much room for hold-ups or errors should we land in highly-resistant scrub. Off we set, both curious and hopeful.

We were at "hill 1173" within 45 minutes; passing Mediation Hill in another 45; and topping the next hill after leaving the main Eldon Range route (Hill 1129) in a further 25 minutes. Things were going well so far. Pyramid looked pretty close by now, and we'd not quite been going two hours. And then the rot set in. After this hill that was a bit of a bulldog in lamb's clothing, came a route that went first SE and then swung along a ridge that looked fine from a distance, but was like a duplicitous politician at close quarters: deceitful, barbing, and best avoided. Trouble is, we needed to traverse it all the way along its mean and nasty length until it started climbing to the next hill that was so uninspiring it didn't even have a name or a height number. At least we didn't need to go all the way to the top of this one, as there was a saving patch of rainforest if you contoured around to the next saddle, the (whew) last saddle before the bitch of a climb up Pyramid.

"I thought you liked climbing, Louise!" you say. Yes, you're right. I love it, but not when the climb is in thick, dense, impenetrable, energy-sapping, defeating scrub, where you work and work and then look at a your map and realise you haven't even covered a hundred horizontal metres and you can't see the mountain, and you can't even see a way of going forwards. You try left and right and retreat a bit, telling yourself retreat is often the best way to advance … but when you retreat all the way back to the start triangle it isn't (well, bit of hyperbole there). After what seemed ages, we came to a spot where we could glimpse something. Ahead lay a gulch. Beyond that, cliffs and more bushy climb. We decided we needed to drop down and get on the spur above the cliffs. Somehow that went quite well (face-in-the-dirt steep), which is good as I was becoming increasingly despondent, fearing we'd come all this way to be locked out of the summit at the last minute. Once we were above those cliffs, we could see paths of erosion ahead that would lead us the rest of the small distance to the top without any hindrance other than good old gravity, and who cares about it? Not I. Well, not normally. I was feeling tired and hungry by this stage. One hour after leaving the saddle (a distressingly small distance below us), we were standing on the summit. I didn't stand for long. It was 11.30 and I wanted lunch. NOW.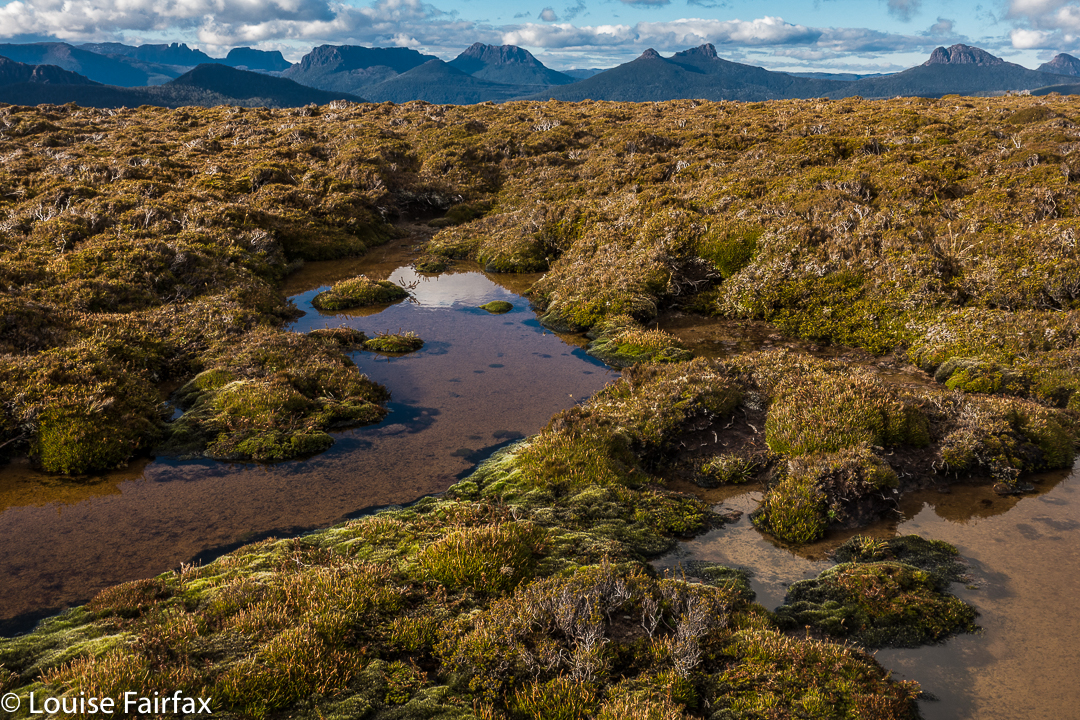 The return was faster, much faster. From above, a better line was easier to find, and what took us an hour up, only took thirty-three minutes down (and not just because down is faster than up). The ridge didn't seem quite so inhospitable now we were in a buoyant mood, and we had a much better route from it to the summit of hill 1129. It was so great to curve around the summit of Mediation Hill and know that our bushbashing for the day was over. We just had to follow the ridge back to our waiting tents. There was no way we would not be there before dark. We even had time to have a drink or two and photograph the dramatic cliffs below our camp. Drinking was unpleasant, as the water was so cold it hurt.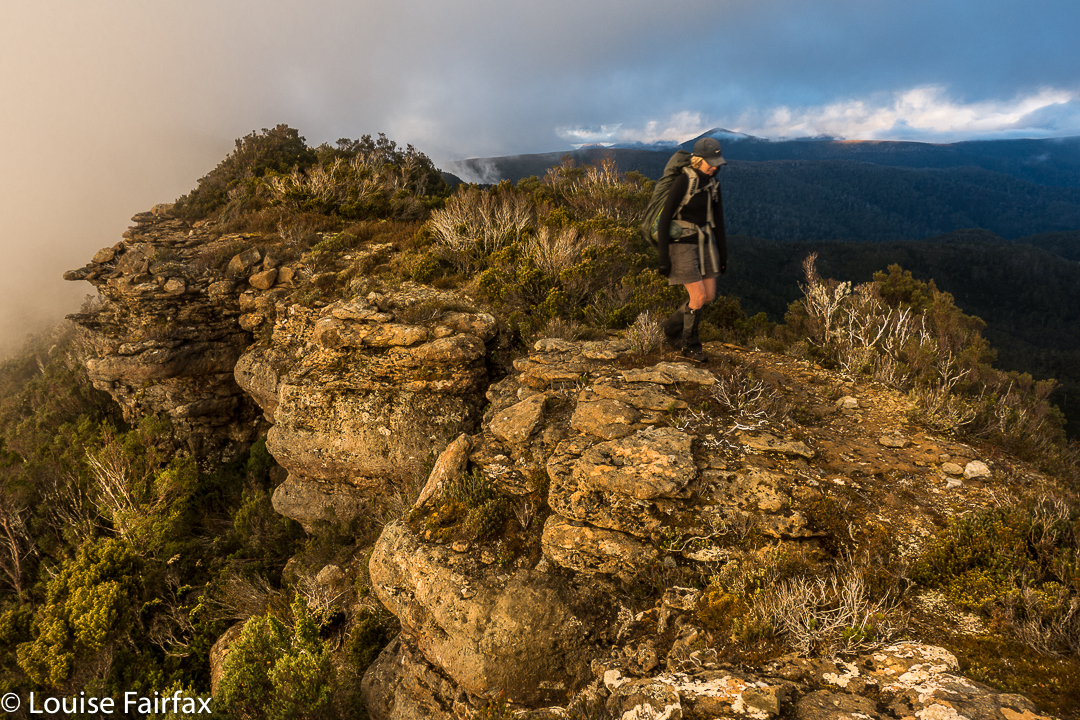 It was a freezing night. Temperature-wise, it was by no means the coldest night I've had in a tent (it was probably about minus four; I've experienced minus ten and worse), and yet I swear this night holds my personal record for condensation. My sleeping bag became saturated, and ineffectual along with it. Everything got wet. I suspect it might have been because my utterly drenched socks (wrung out, but there was still a large amount of water left in) were inside the tent, along with my somewhat damp coat and long pants. These things were inside, as they might have turned to ice if left in the vestibule. I feared my boots would freeze, but only the laces did.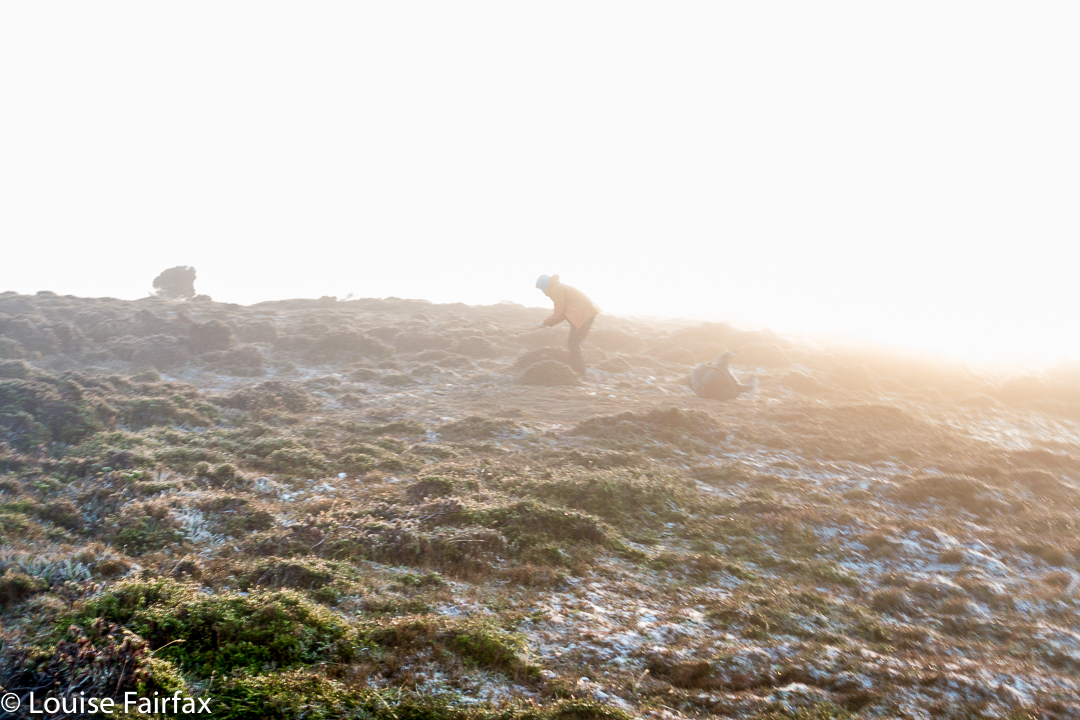 In the morning, the ice layer on the tent was a thick and heavy sheet that I had to prise off using my tent peg, it being the only implement I could think of that could do the job. Normally my ice is in cute white crystals. I took ages to pack up in the morning, probably because I was dreading the moment when I would have to put those frozen socks back on, and the pants and coat that were still damp from the moist bushes the previous day. There was no point in putting dry socks in sodden boots, and carrying wet, heavy ones in the pack. It had to be done, but was not a pleasure.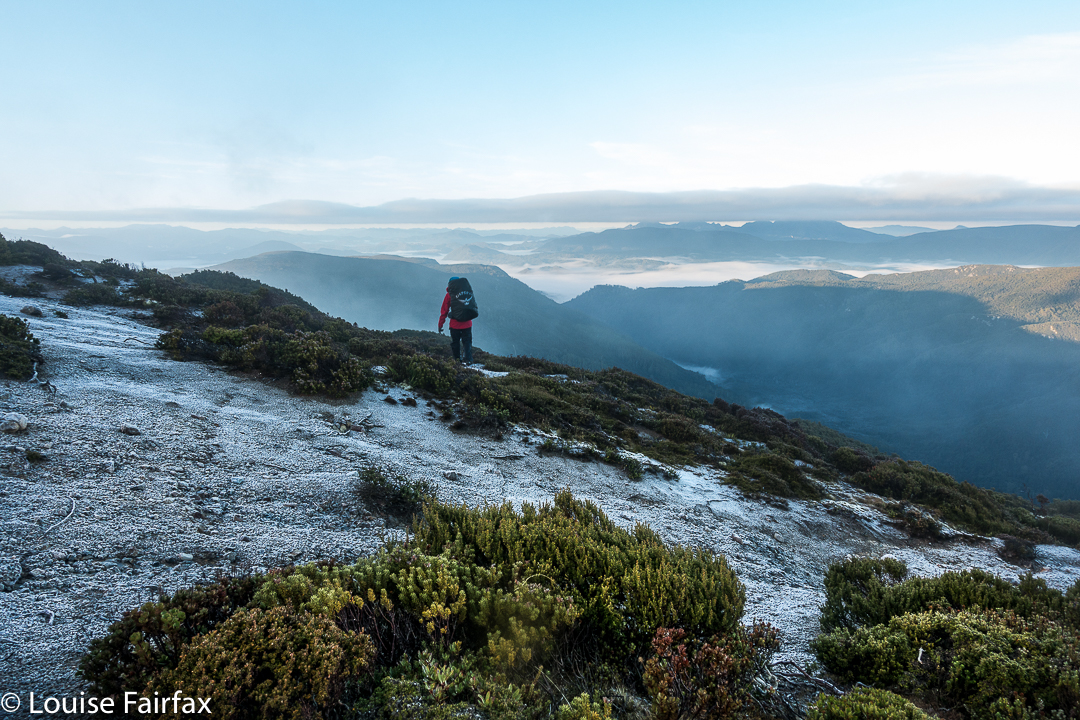 We stopped at "Stu-slept-here" Hill (1111) for a drink, but, as with other days, drinking hurt. By the time we reached the glorious rainforest section of Pigeon House Hill, we knew we would easily make it to the car in the light – it was not yet mid-afternoon, so we relaxed and started to examine and photograph darling fungi on the way along that section. They were there in their hundreds, so many delicate beauties.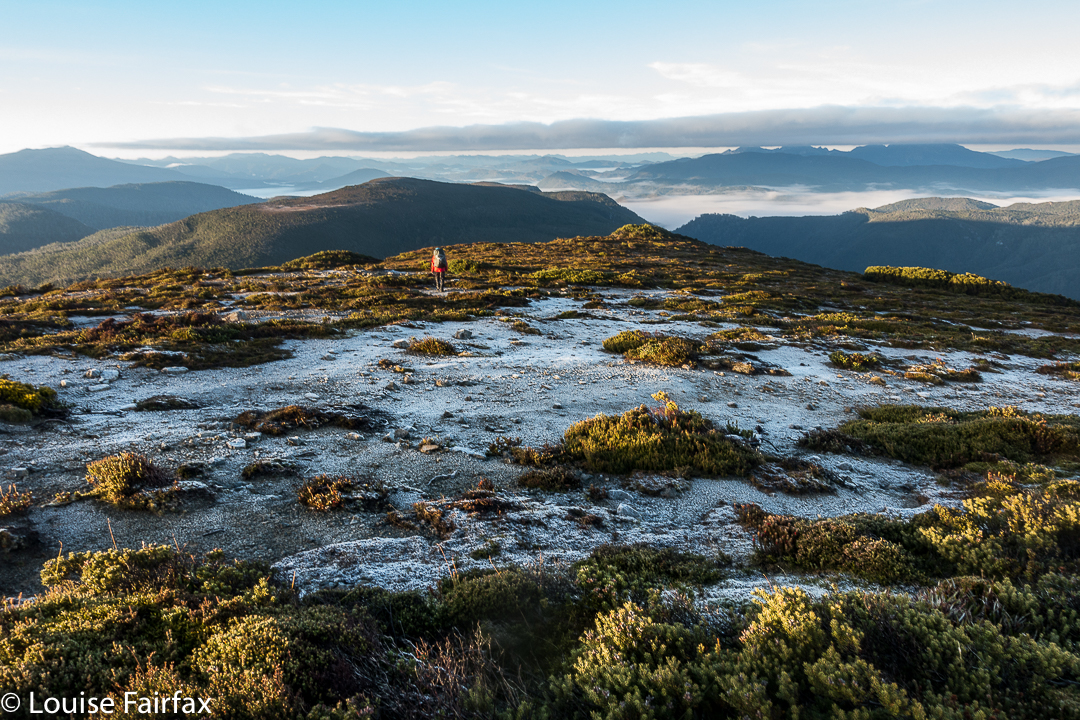 I made sure the camera and phone were well sealed before the final river crossing. At least if I landed in the drink so close to the car I'd be freezing, but would not hurt my electronic gear or get hypothermia. The world was good. We'd done it.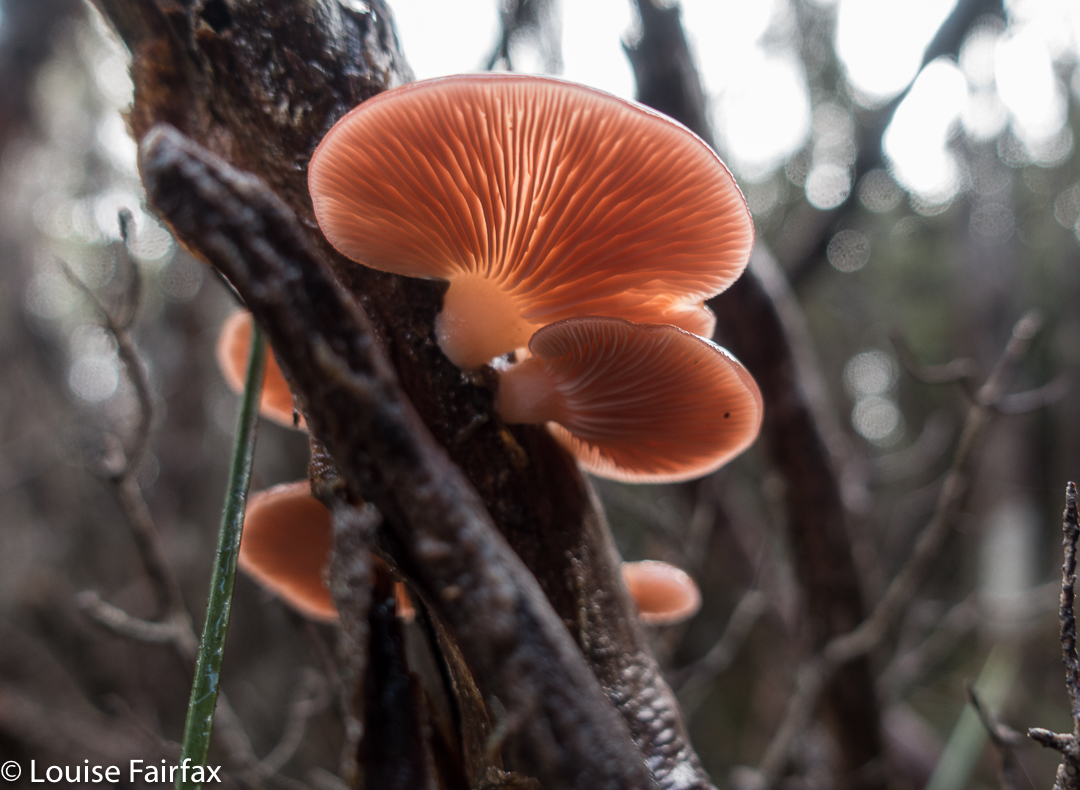 crepidotus sp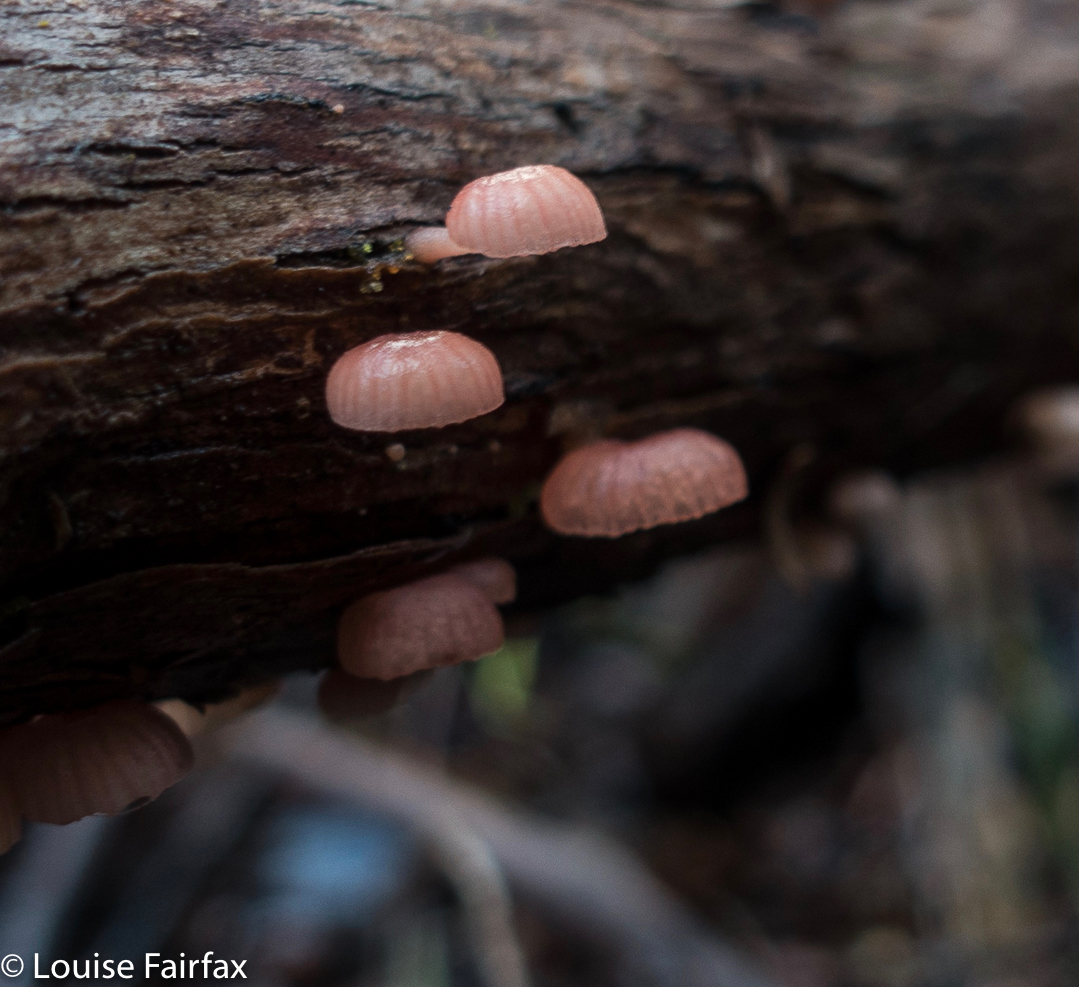 Mycena clarkeana I think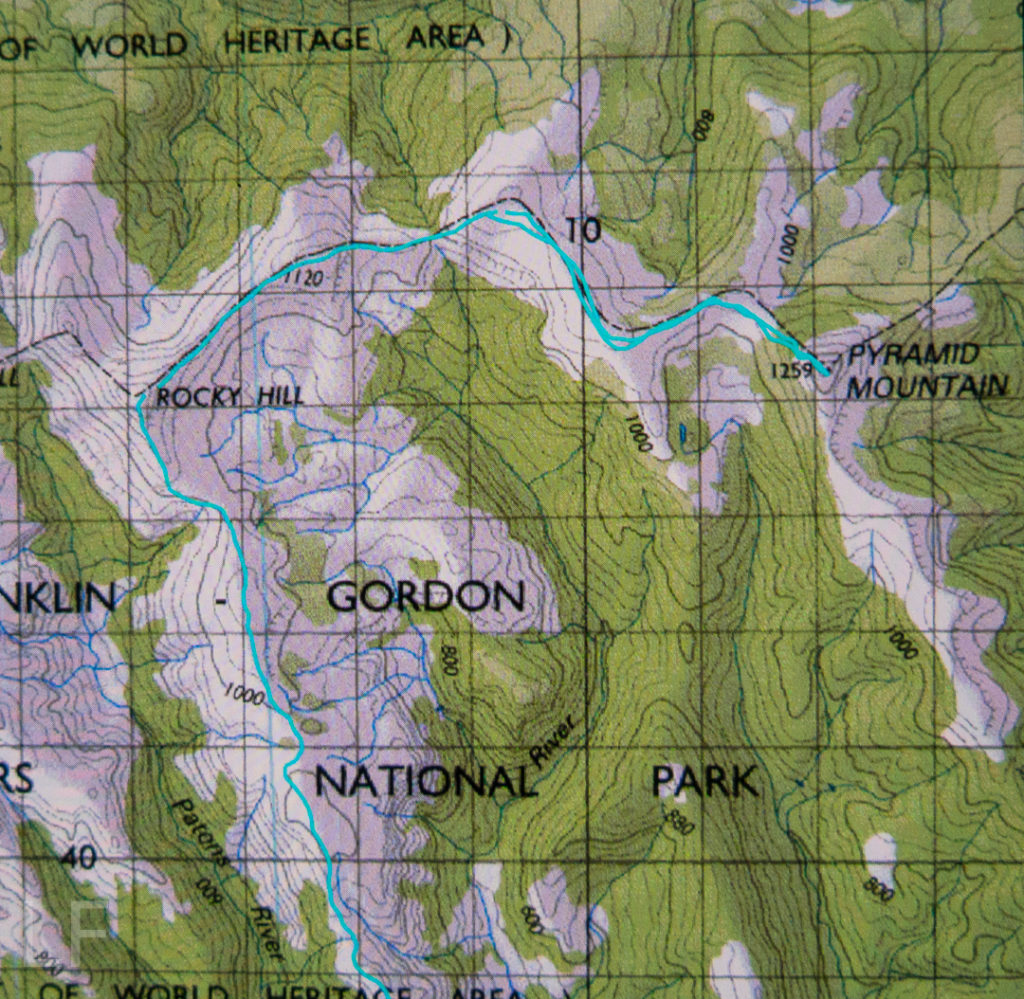 Please don't be fooled by the dark lines there into thinking they denote a track: they're depicting National Park boundaries. The boundaries, and our route, follow the ridgeline. Please also note that I refer to Hill 1173″. It is that height on the 1:25,000 map that we used for the greater detail. Oddly, the 1:100,000 map, used here for greater clarity, it is marked as 1120. I guess more modern methods have resulted in a height revision. Not sure.