Apart from the joys of walking and talking, or of gazing at wild animals together, sharing meals high on a mountain top gazing out at infinity or laughing together with new friends in the huts, if I try to select special moments, I guess two stand out.
One is of my daughter and her love of photographing wild animals. In the Shetland Islands, she took about 400 shots of puffins (so says her husband), and here she tried to equal that record with both marmots and ibex. It is funny as a parent to see your own proclivities repeated in the habits and hobbies of the next generation. I love marmots and ibex and photography, but stop after about 15 shots. I find it endearing that our daughter just keeps on going.

The second is that of our final morning, and what a finale!!! We had climbed to the hut at Lac blanc in falling snow – wonderful, gentle flakes of it – but now I was sleeping in the kitchen (because of snorers). It was still pitch dark when I heard someone moving and I feared I was about to get into trouble. However, the noise was from our daughter getting dressed near me rather than in the room where she might disturb people. "Dawn will be here soon, mum" she said. I rolled up my mat and quickly dressed to join her. There in the steely sky was a white world around us, with the sharp peaks of the Aiguilles du midi thrust into the darkness; Mont Blanc lay beyond. Clouds filled the valleys below. We were very high, and it was magic. For the next four hours we alternated between being outside and photographing the most beautiful sunrise I have ever witnessed, and dashing inside to try and warm up – it was quite a bit below zero out there!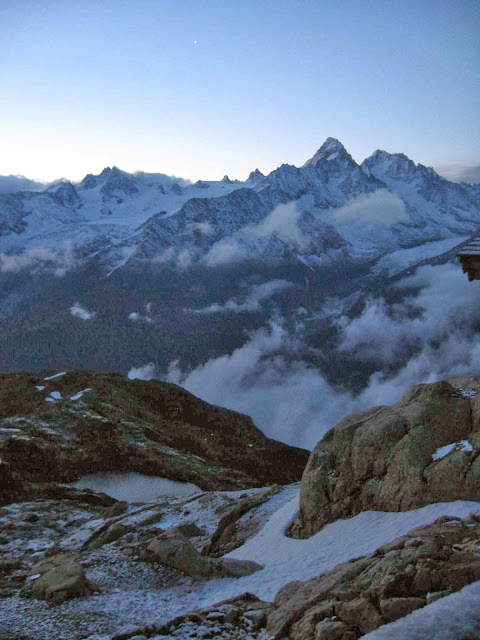 Dawn from lac blanc
And the good news for us was that K and K still had one year left at Cambridge and that we would all do another long walk, same time next year – the Via Alpina. I had a whole year to draw up the plans.