Geoff O'Hara, Tony Woolford, Paul Geeves, Rohan Hutchinson (L to R) – all great bushmen.
In January 2015, Bill Wilkinson asked me to make a list of people who had completed, or nearly completed, the Abels. We agreed that '20 or fewer to go' was the male cut off point. I have decided that making it to 75 gave a good representation of the top female Abelists, so that is the female cut-off; he agreed we did not want "Abelling" to look as if it was a game only for the boys. He was going to publish the List in his book.
Since his request, a certain faction has done some campaigning, and now the presence of such a list in his book seems unlikely. I have done a lot of work on his behalf getting the list together, and encouraging people to climb, so do not want my requested homework wasted. I have found a different source of publication, whose cut-off is the end of March. Here is the List as it now stands. If any information there is incorrect, please let me know, and if anyone has made it onto the list since January 2015, please let me know so I can add them. Thanks so much to those on the List who have encouraged me in my stats keeping. Well done all on the List for knowing our beautiful mountains in such variety and for undertaking the expeditions that are required if one is to be here. You are all great bush people who deserve respect.
Carolyn Farrar, President of LWC and great bushwalker, having just conquered Tramontane
Completed all Abels, in order of completion:
01 Phil Dawson             Record: first completer
02 Paul Geeves            Second fastest to do a round of Abels: 17 yrs 10 mths.
03 Kent Lillico               Second youngest finisher (50 on completion). 
04 Tony Woolford       Record: First family man to complete
06 Malcolm Waterston
07 John Cardwell        Record: longest time to complete: 54 years.
08 Brian O'Byrne        Record: oldest completer: aged 68 on completion.

09 Martin Doran
10 Mark Wright
11 Dale Lisson
12  Maureen Martin    Records: First woman; oldest woman
13 David Walker
14 Zane Robnik          Records abound. Youngest completer; fastest round of                                                                              Abels. Aged 25 yrs and 358 days on completion.     Completion took him 2 years and 197 days.
15 Shelly Napier       Second female. Second fastest to complete. Fastest female completer. Youngest female completer; second youngest completer overall. (7 yrs, 5 months, 18 days to complete). Age at completion: 36 yrs.
5 or fewer to go:
Harris, Dave                 (2)
Stuart Bowling           (2)      A
ged 44. Second youngest male on the list
Terry Brain                    (3)
Graeme Pennicott    (3)
Lee Evans   (F)             (3)    Third woman. Abelling 47 years so far. Aged 61
David Tongs                 (4)
Steve Jacobs               (5)
6-10 to go:
Louise Fairfax (F)      (10)  Fourth female. Began peak bagging in 2012.
David Young   (SV)       (11)   First supervet. David is over 70

Mark Hallam                  (13)   Aged 39, youngest male on list
Chris Howard                (13)
Rohan Hutchinson     (18)
Matthew Cloudsdale (18)
David Seaton                (19)
David Griffiths             (20)  Aged 75. Second supervet
Geoff O'Hara                (20)
Maureen Martin returning from climbing Mt Norold (not an Abel)
Females:
Maureen Martin    (158)
Shelly Napier          (158)   Youngest female to complete (and youngest on list). Shelly Napier          (134)   Aged 35. Youngest on the list. Aged 35. Youngest on the list. Fastest female completer .
Lee Evans                 (155)
Louise Fairfax        (148)

Helen Thyne           (124)
Sally Coltheart       (118)
Suellen Jones         (107)  Aged 71. First female supervet. 

Carolyn Farrar        (103)    Aged 40, second youngest on list.
Vonda Kerrison      (100)

Amanda Lennard  (88)
Pamela Tabor         (75)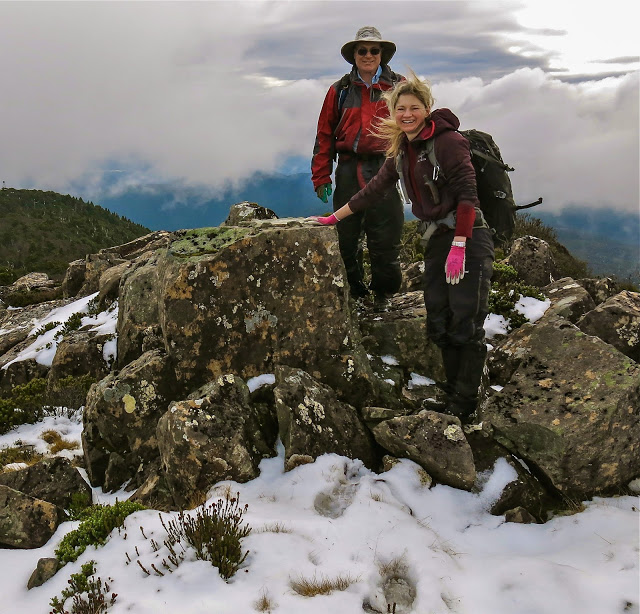 Kent Lillico, second youngest completer so far on Mt Dundas with Monika Povolny, a keen bagger of peaks and Abels from the mainland.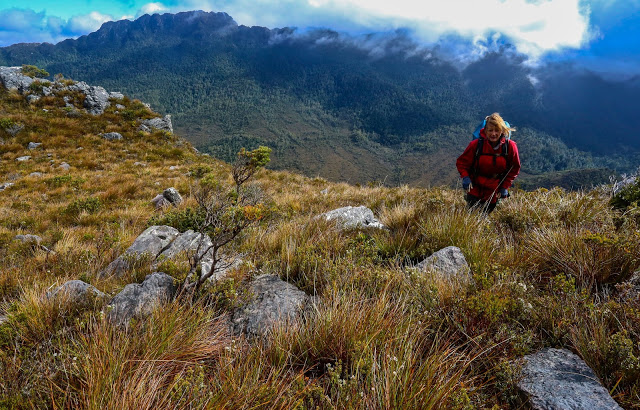 An inspiration to us all: Suellen Jones still in action at over seventy years of age. Here she is on the Coronets having a bushbashing fest.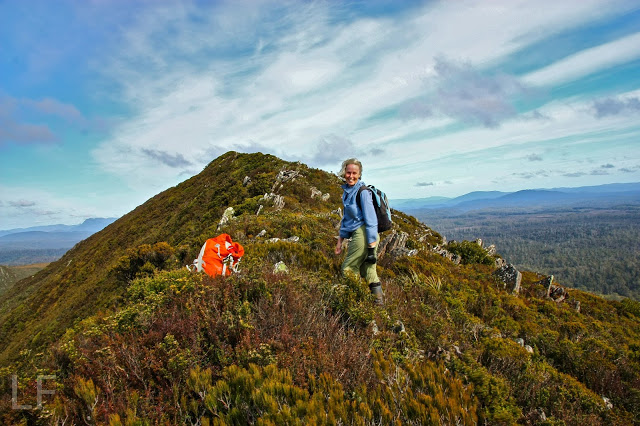 My dear friend, Pamela Tabor, who made it to 75 Abels before being tragically killed a short time ago in a car accident. Pamela was always full of fun and ready to give anything a go. I was tempted to use a shot I have of her that has her engulfed in mist and snow, still pushing onwards with her husband (John), but this one shows her happy face, which is how I want to remember her. I'm so glad I take lots of photos, as I have many physical prompts to spark happy memories of the fun mountains we have shared, and adventurous times in snow, hurricanes, blizzards and heat.