My daughter and I only had a day and a half on Bruny in which to enjoy the light, but managed to squeeze in quite a lot of walks, including bagging the only waterfall on the island (Mavista Falls) as well as the only mountain worth points (Mt Mangana), plus doing a couple of other popular walks, like Fluted Cape and Cape Queen Elizabeth. I love exercise, so enjoyed the walking. Lena  had work to do, so combined sitting at the dining table of our fabulous air bnb (Baywatch) editing, with joining me for most of the walks.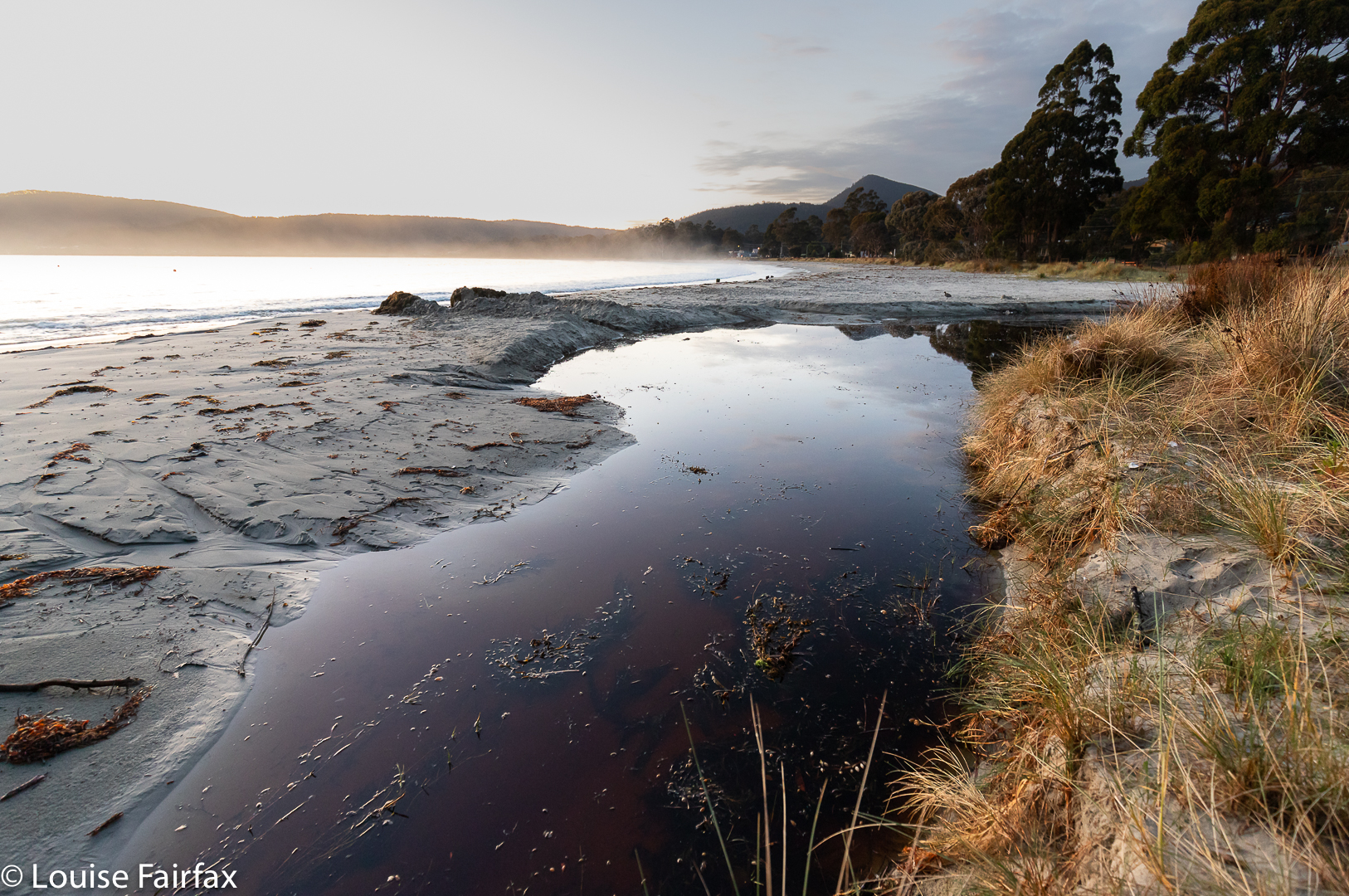 Much as I love walking, however, I think my favourite part of being on Bruny was shooting the dawn.  I really do love the early hours of the day: the light and colours thrill me; I like having the landscape to myself; and I love hearing the dawn chorus, which is far too early for actual sunrise, but I like to arrive about 40 minutes or so before the sun comes up, so I get to hear the ornithological choir practising.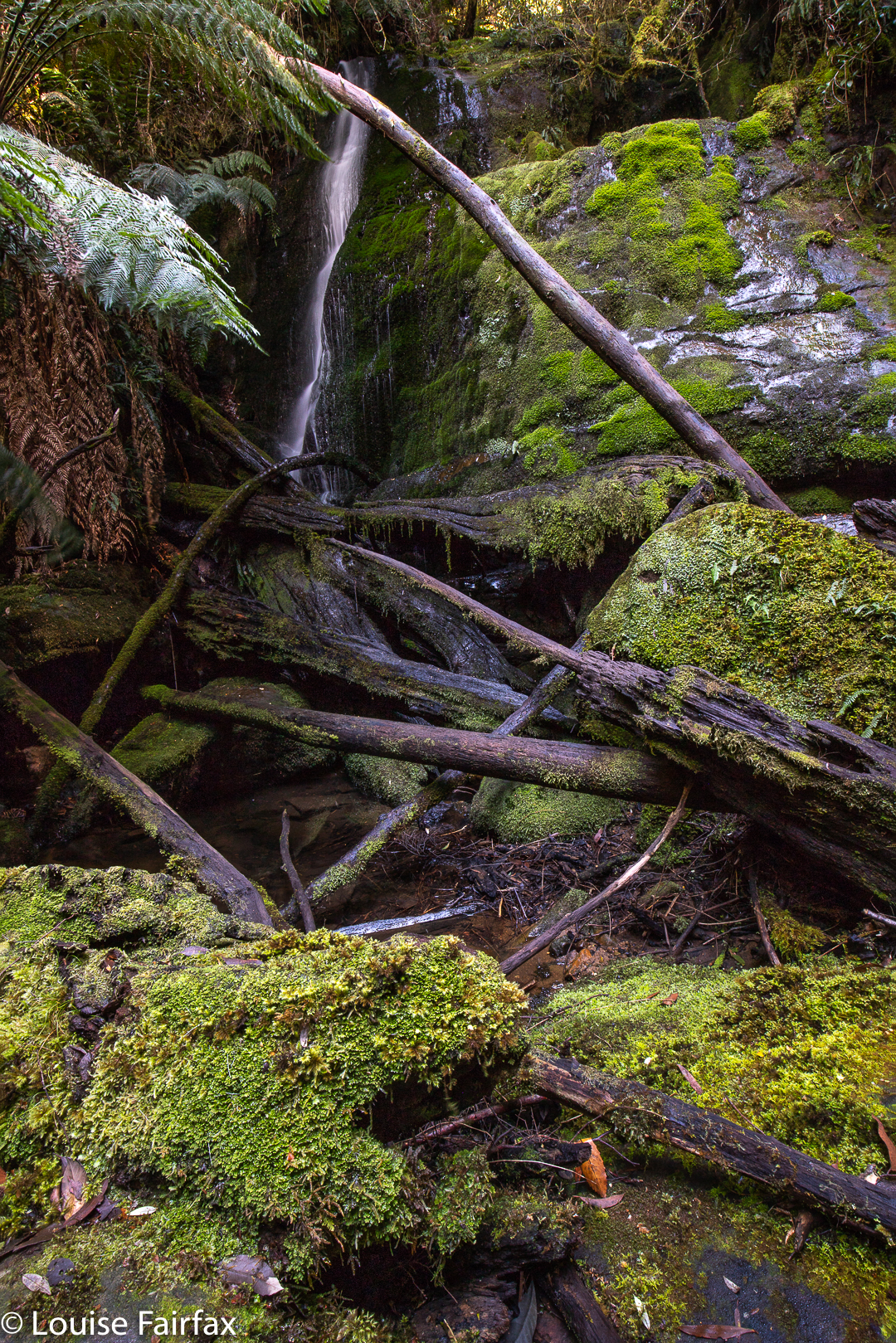 As I really love seeing waterfalls, whilst Lenie prefers other types of walks (she doesn't enjoy bushbashing), I visited Mavista Falls alone, whilst she used my absence to knock off some of her work that was pressing. I find that each waterfall I visit engenders a certain feeling connected uniquely to it. And what is the lingering aura connected to my short walk to Mavista Falls? As usual, I guess, part of what resonates is the actual process of movement through place, of negotiating my way through that particular environment of lush greens and rich, muddy browns – similar in type to many such places in Tasmania, and yet with its own individual characteristics that make it different: under, over, around fallen logs; through the creek many times as this side, then that side was easier; trying hard to leave no trace, as the moss was so beautiful yet greatly and noticeably compromised by people who were careless of where they trod, and did not respect the place or the right of others to see it in its pristine condition.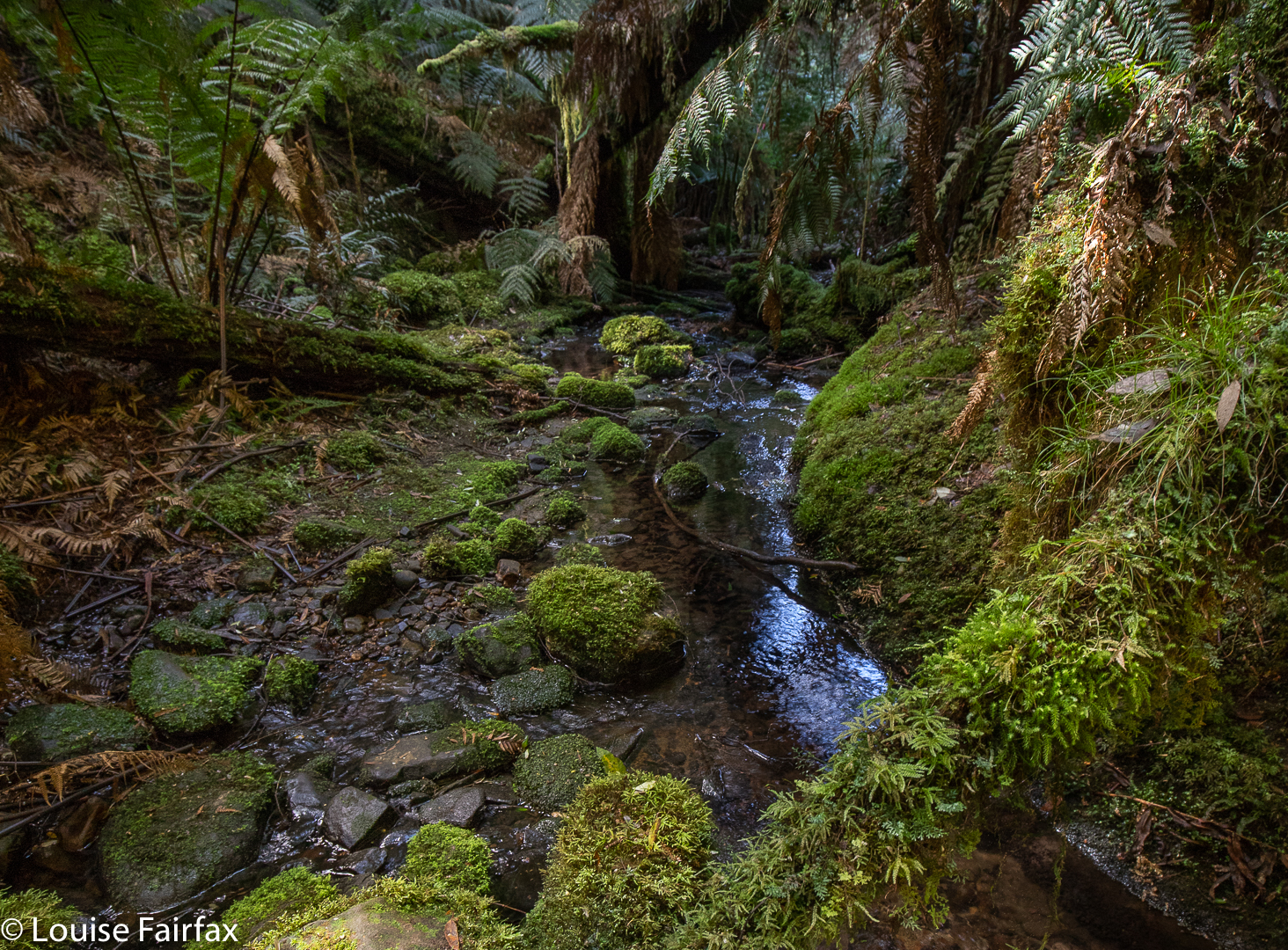 The creek was wonderfully clear as it ran its course under the mossy logs. This should have aroused sheer pleasure, but I couldn't help being disappointed at the way moss had been trodden on unnecessarily, and I was rather alarmed at the amount of mud under foot. It looked as if a pack of elephants had been to see Mavista Falls. Perhaps some teacher had taken in a school group? Why do these people have to tread on rather than over a log that is a mere 30 cms high? Why do they have to tread on mossy rocks when other options are available? And why on earth do they go to such a beautiful place – hallowed ground – and leave behind drink bottles, tissues and pink plastic? Is it really so very hard to treat nature with respect?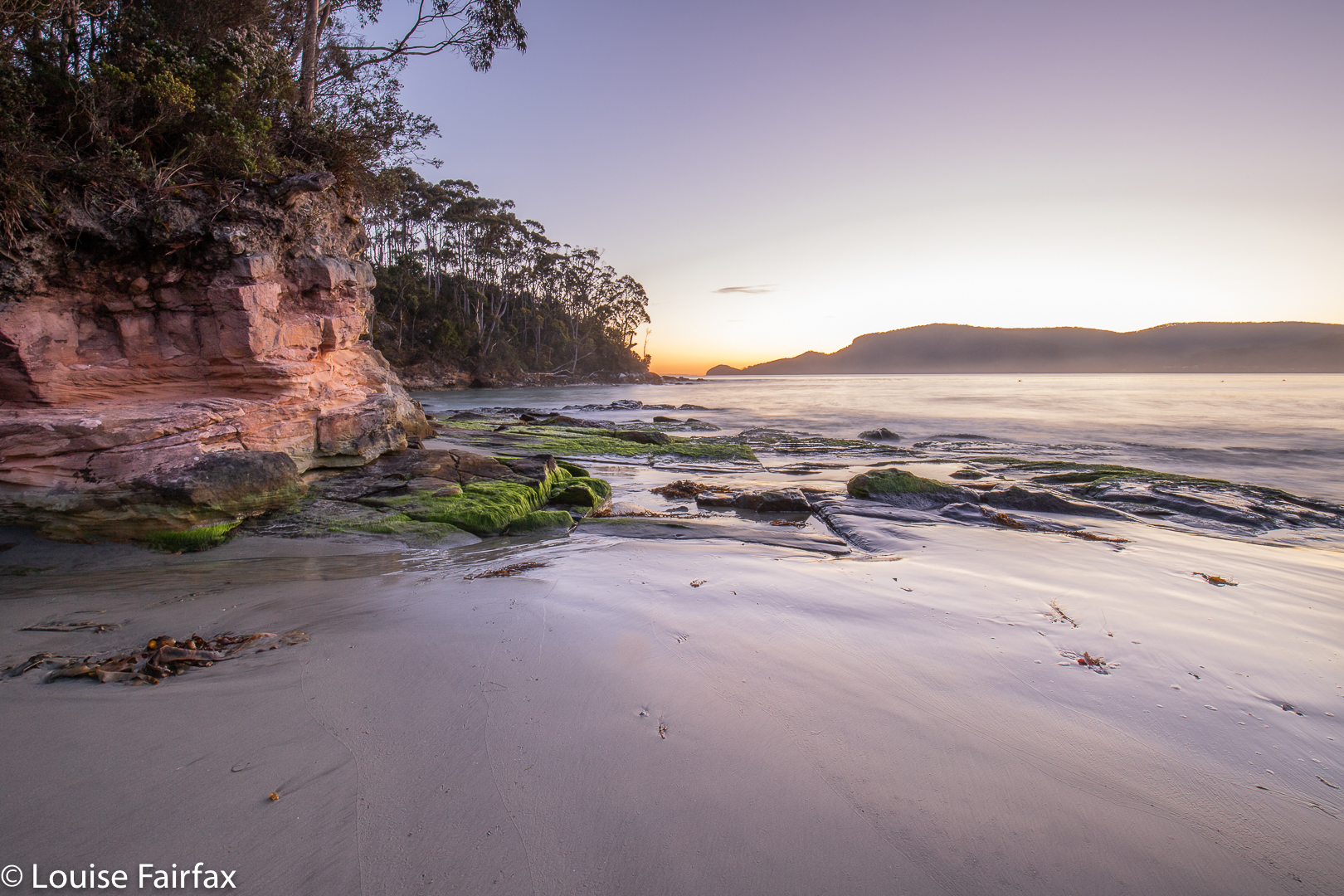 The falls themselves teased me. The map said I was there, as did my gps, and the 7 metre drop in front of me was the right height; however, the October output was significantly less than that of the only photo I have seen of the falls, taken in enthusiastic winter flow, and I became uncertain that I was really there. One thing is sure, however: I must return when Bruny has had some really good rain. What I saw was still lovely, but I know it can look even more wonderful in the right conditions.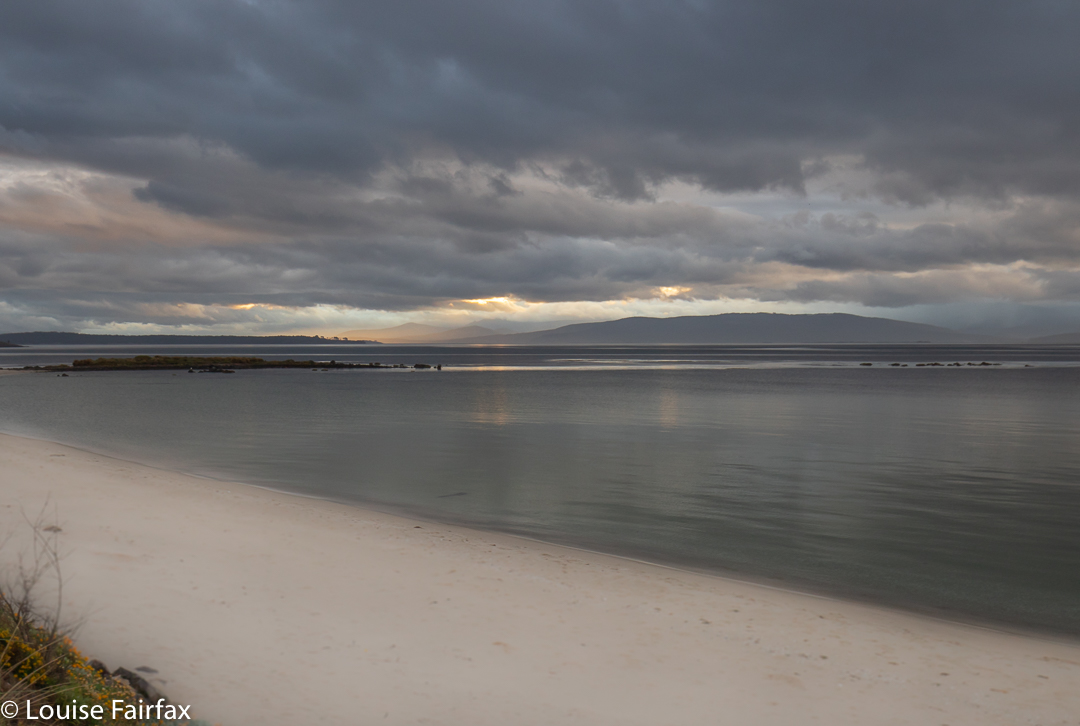 Besides, I need to return for other reasons. Bruny was fabulous, and I have not nearly tasted all she has to offer. I actually did rather a lot of the other kind of tasting: enjoying coffee and scones at the Penguin and Pardalote Cafe in Adventure Bay, oysters at Get Shucked and dinner at the Bruny Hotel, where the whisky mouse was maybe even better than the fish. But … er … I wasn't really there to eat. That was just to fund the exercise.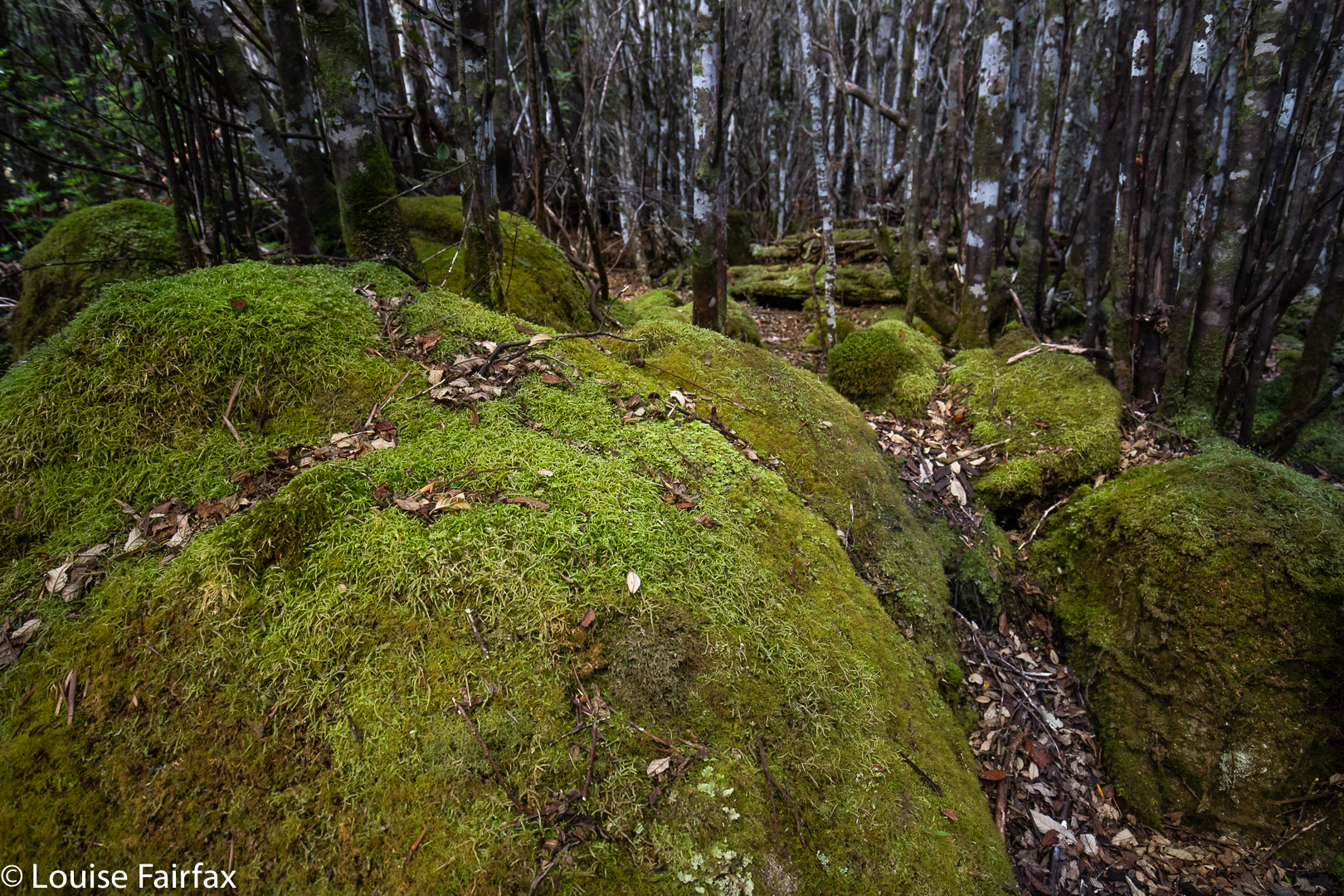 Before I went to the waterfall, we "climbed" Mt Mangana, which was a nice little excursion (30 minutes exactly in each direction), although not much of a workout, as you drove almost to the top, and so just enjoyed a fairly flat walk along a quaint path through very lovely green and mossy forest until we arrived at the rather non-event of a summit, the only unappealing part of the walk. The forest had been cleared and a tower erected, but there was no view, and you were not allowed to climb the tower (and were prevented physically from doing so). I longingly eyed up the kind of short trunks going up the pole, but there were none at my kind of height. I guess workers bring a ladder.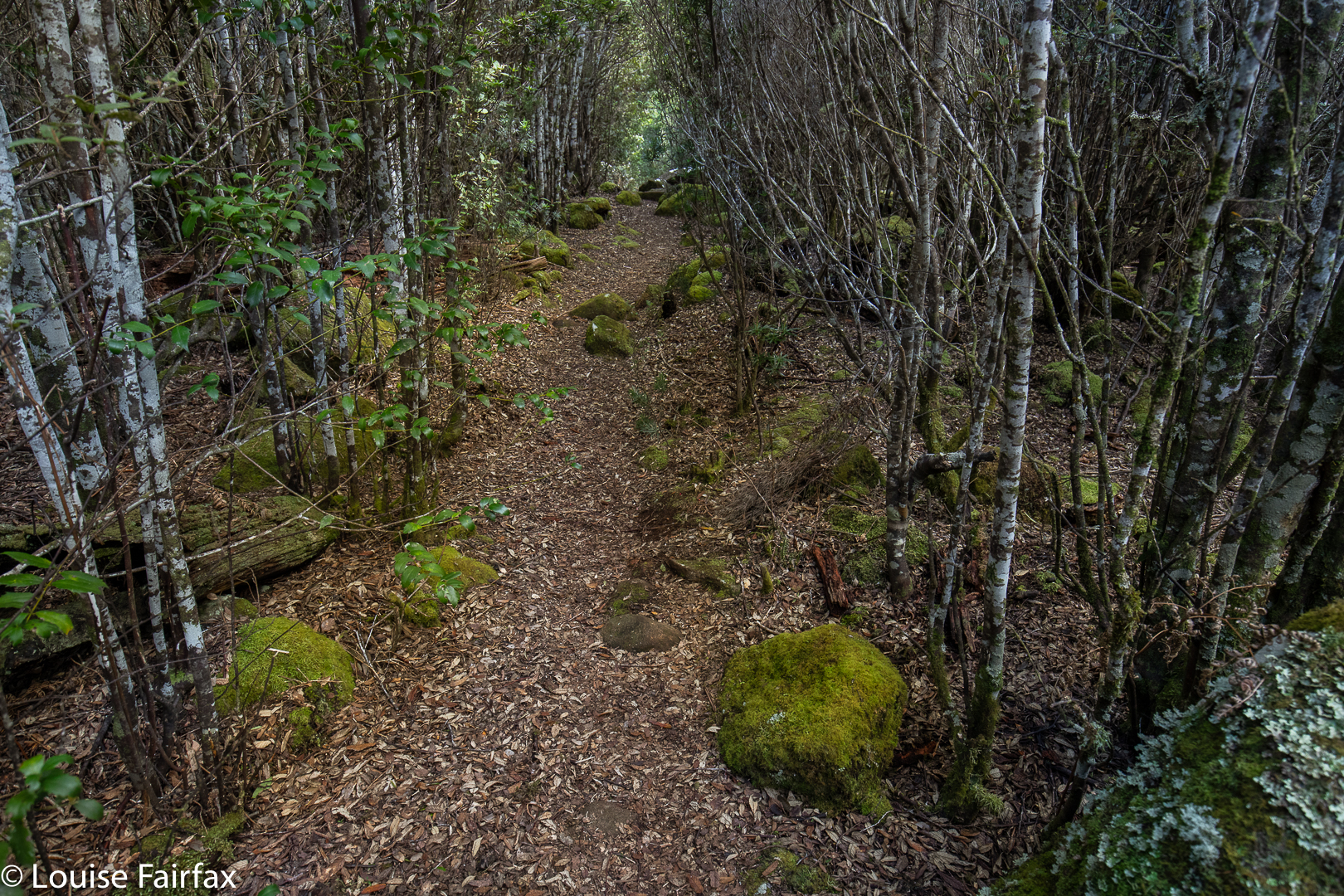 Two walks that did have a view were (i) Truganini's Lookout near The Neck, a fun little climb for an expansive glance over a large length of beach, although it takes no time at all to reach the highest point; and (ii) the Fluted Cape circuit.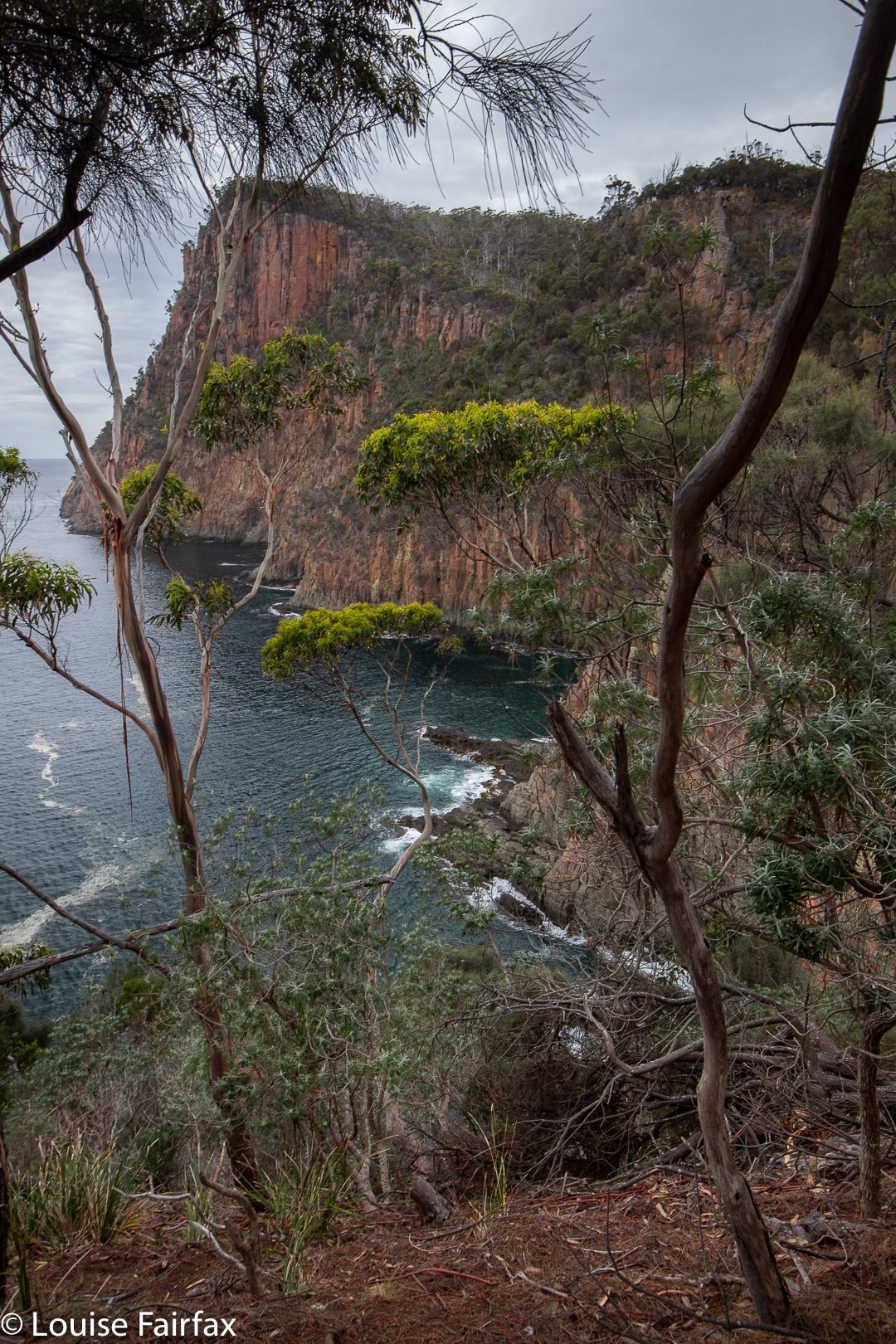 I did both of these with Lena. The Fluted Cape walk begins with a flat 23 minutes to Grass Point, before climbing nice and steeply for another 32 minutes to reach the summit of the cape (272 ms asl). The views along the way are very dramatic, even on a day like the one on offer, which was rather dull and flat. I thoroughly recommend doing this clockwise, as I think that makes for the best views and drama. (It took 34 minutes to get back from the summit to the car, making for a round trip of nearly 1 hr 30).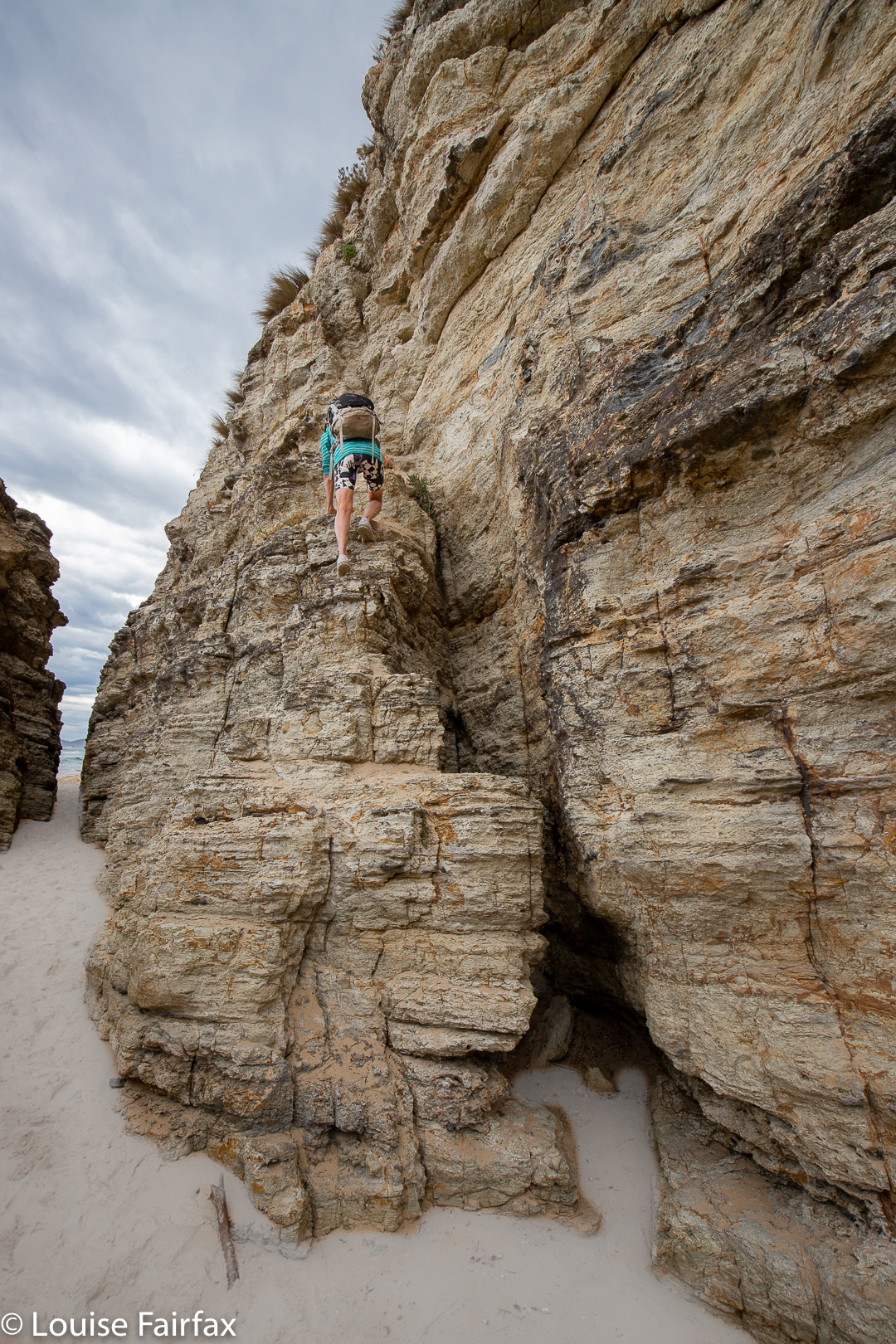 The other walk we did on this 1.5 day visit to the island was to the beach at Cape Queen Elisabeth. There were fabulous rock crevices and caves that were fun to explore. We took 30 minutes in each direction to the beach, and then spent maybe 20 minutes exploring rock formations. We haven't nearly explored all the possibilities of this walk, or of Bruny Island. I can't wait to go back.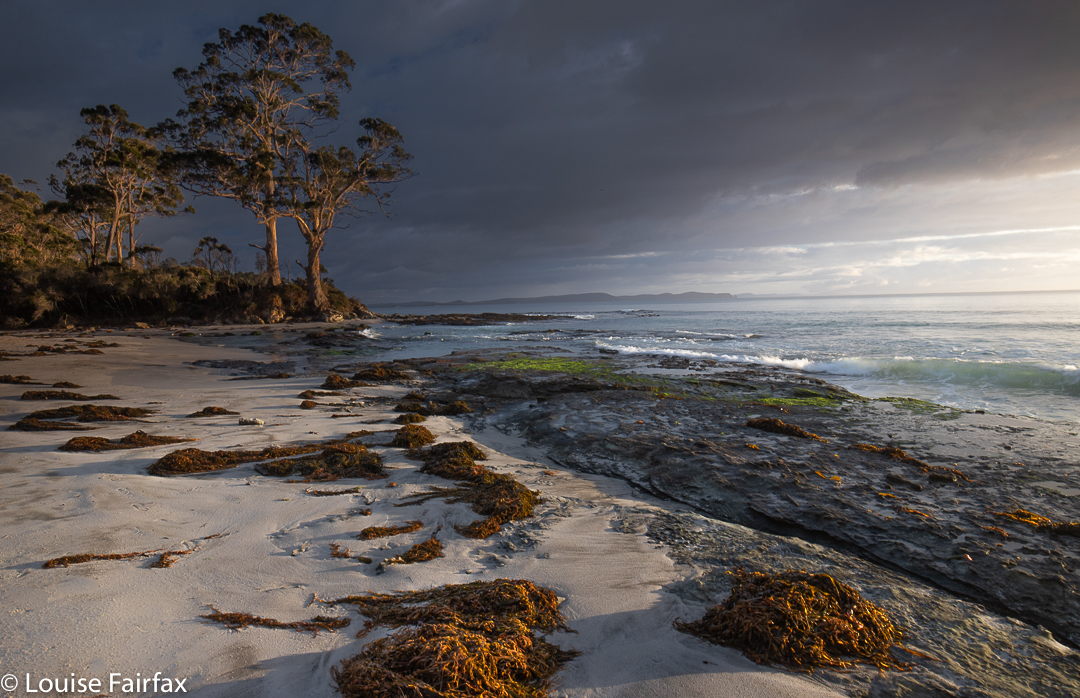 Please note: not one of the places mentioned here knew who I was, or that I have a blog. My good opinion is not bought, but I like to support small businesses, so when I have enjoyed what they have to offer, I try to give them a good word.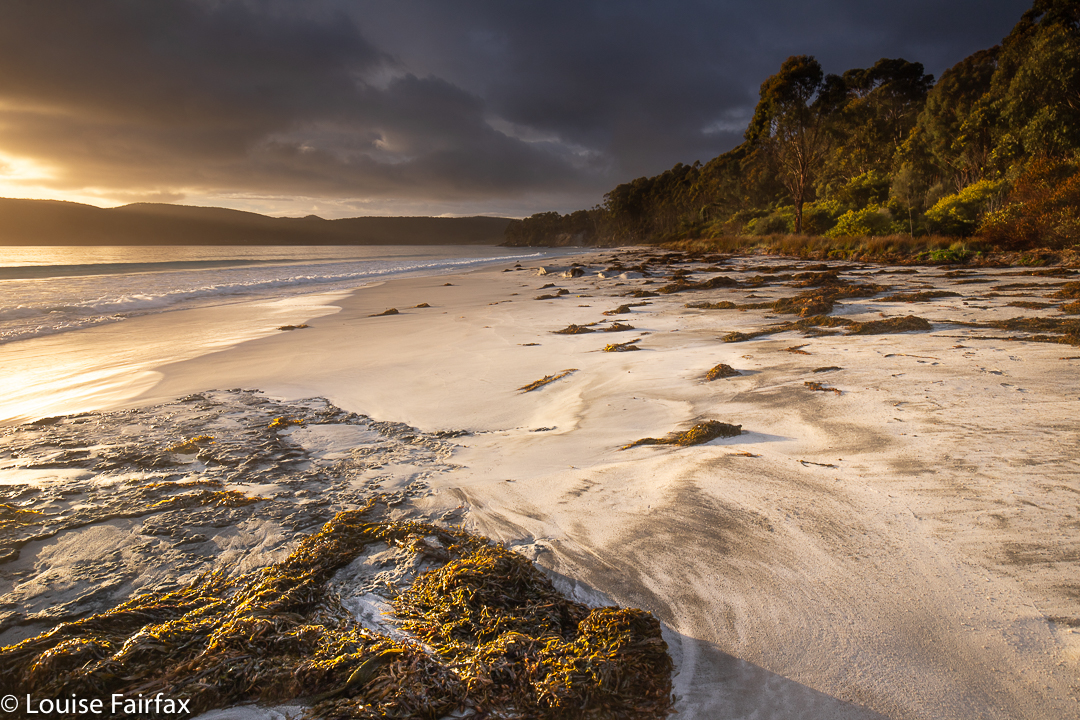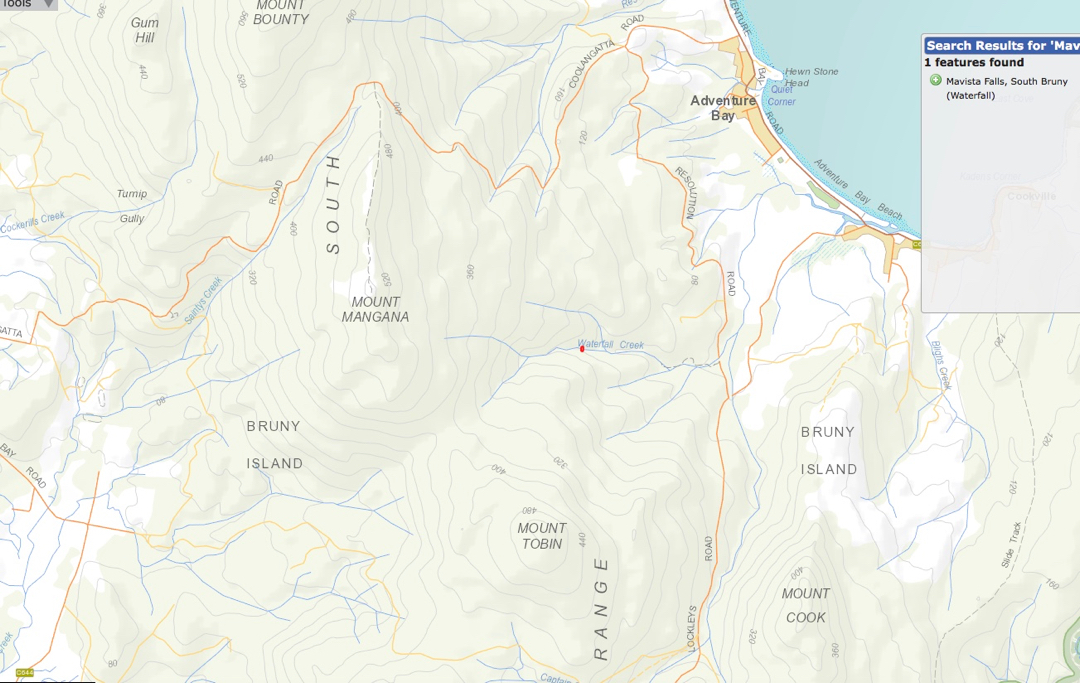 The red dot on Waterfall Creek (centre, above) is the location of Mavista Falls, which you approach from Adventure Bay. Google maps will take you to the start anyway. After that, follow a nature trail for a while, and then either call it quits, or follow the creek to the falls. Mt Mangana is also on this map, and you will see you also approach it from Adventure Bay (just north thereof). Again, Google maps will take you to the car park, where you will see the start of the walk.