Italy, hiking, AV2, Dolomites: a sad case of a broken sternum
I was most surprised when tidying up my blog – now that I can at last see things alphabetically due to changing to wordpress – to notice that there were a few omissions in my posts, such as the AV2 trek of 2013. Perhaps the fact that I struggled to do it with a broken sternum, and, in the end, retreated home in a great deal of pain, has something to do with forgetting to write it up at the time. Don't worry. I remember it well.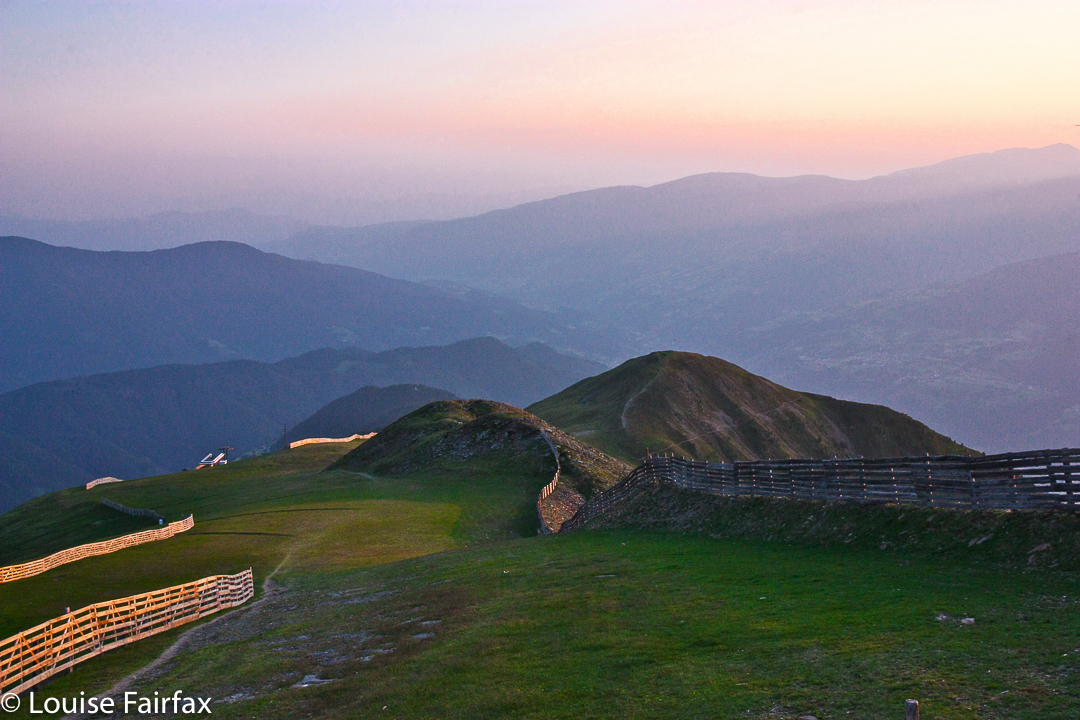 Day 1. I began this trek rather suddenly, and unintentionally. I knew I had hurt myself badly in a fall at the end of AV1, and wanted a rest, but at the YHA Bressanone, I met a nice girl who was about to start her AV2 that day, and she urged me to start with her. I could find no compelling reason not to. I had some tasks to do first, so we agreed to meet at the top, at the place whose view is pictured above. Despite my pain and worry, I was thrilled to be high in the sky once more (at the Plosenhuette).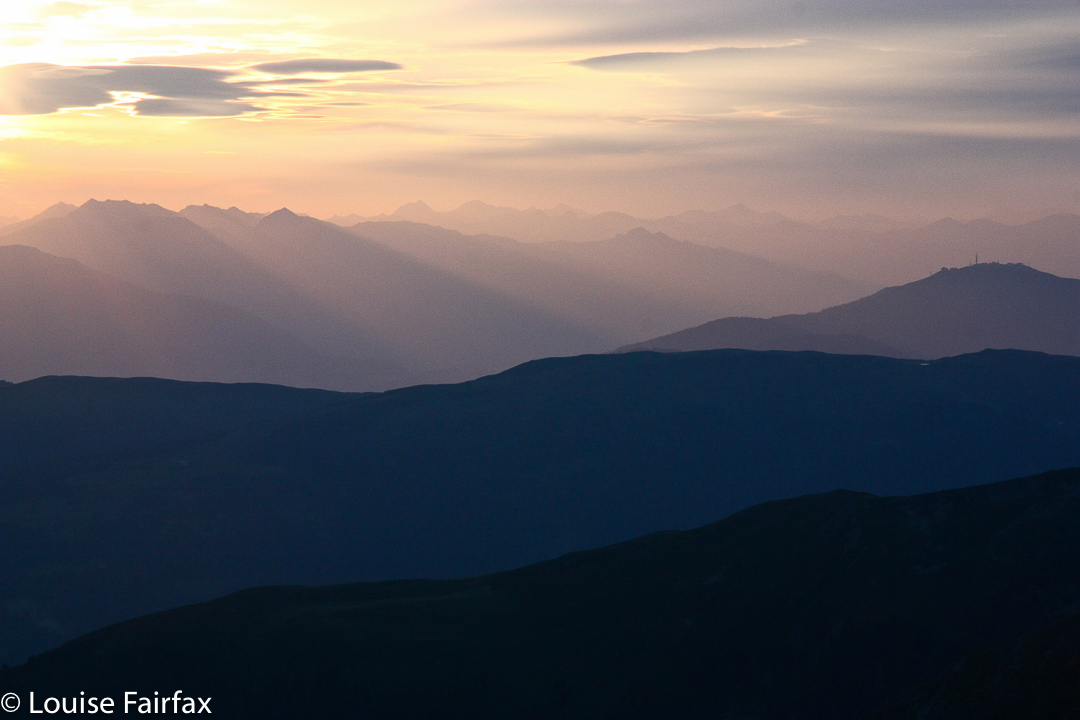 Sunrise the next morning, as seen above and below, only served to further excite me, and make me happy that I had begun on this route.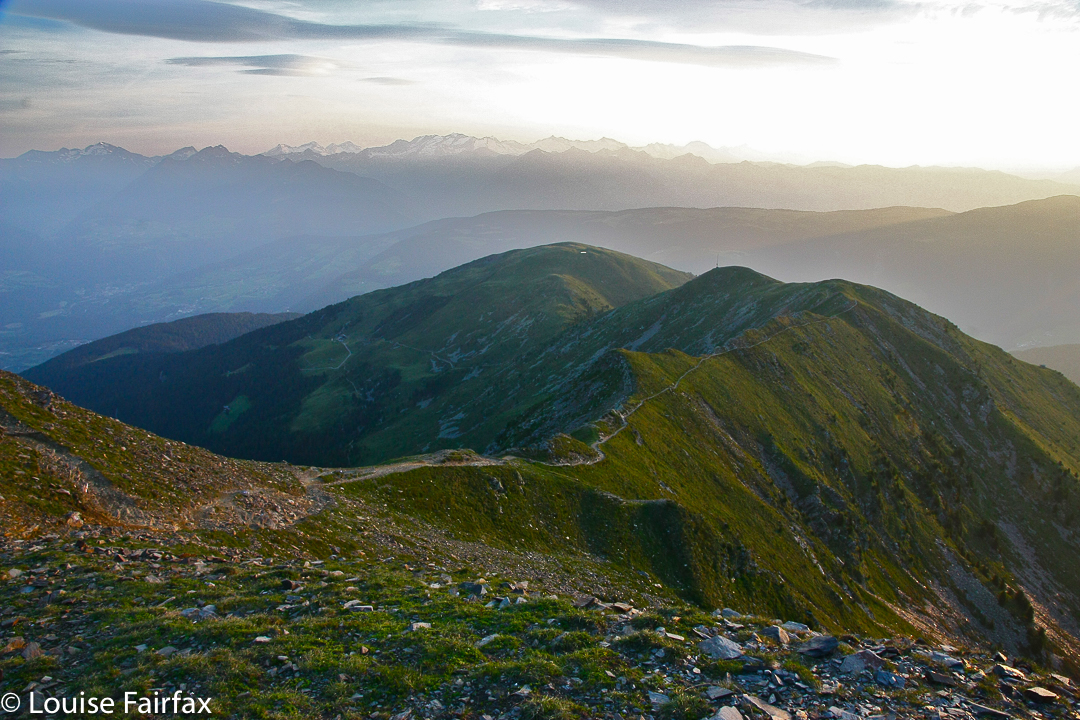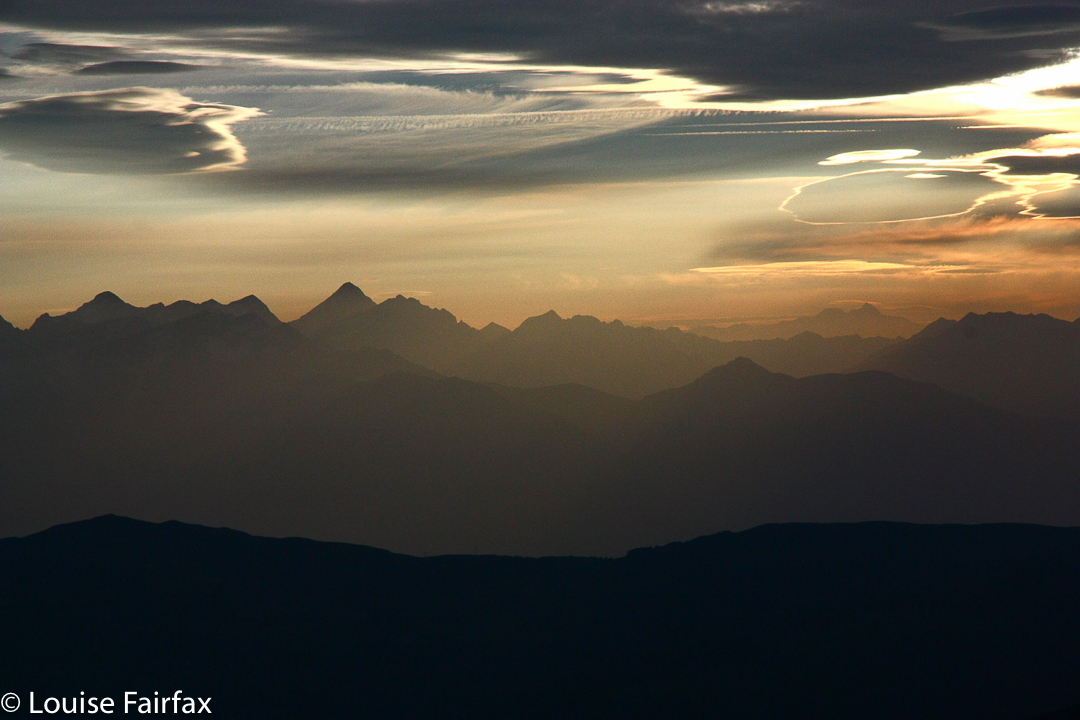 Day 2 was a short one, which left us room for doing a spot of climbing not too far from the hut. There were two mountains we could choose from, both of which had via ferrata as part of the climb. We were both feeling a bit nervous about these, so chose the easier: Francis had had a frightening experience on one without a harness in Slovenia, and my ribs were aching badly enough so that I could not trust my arms for anything. We both decided to leave tricky climbing for sections where it was compulsory rather than optional, as here.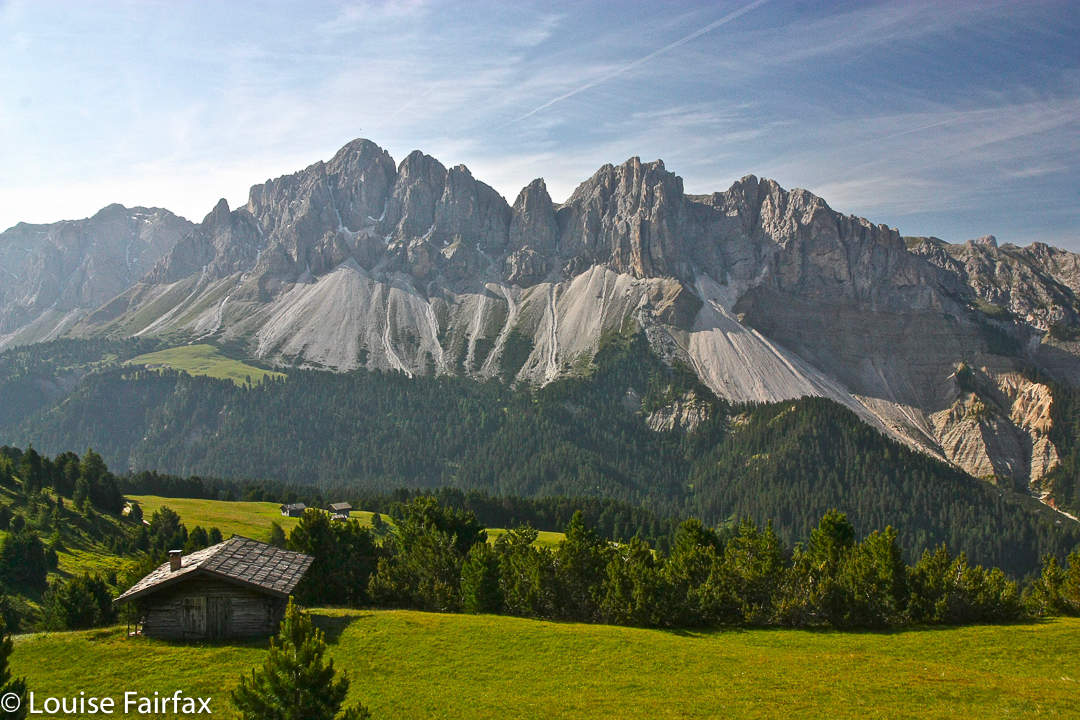 Hut porn along the way, Day 2.
That night, we sat next to an unusual pair, a German-speaking man and a very old English speaker.  I wondered how a man his age (Ray, aged 80) had got to the hut, which did not appear to have road or Seilbahn access. He'd walked there, he said (like us). We talked of climbing our mountain that afternoon. Yes, he'd climbed too, he said. Which one? The hard one. At this stage, I roared with laughter, that two supposedly fit younger things had not dared to go up this mountain (Francis was 23), but this octogenarian had done it with ease. He had my immediate and undying respect, and was to be a role model and inspiration to me, not only for the rest of that trip, but at later times of my life when I have felt wussish. I also learned that the duo was related: Ray was Herwart's father in law; this trip was his birthday present. Wow. I would love to think that I could still climb mountains at 80. Ray gives me hope. What a fantastic birthday present!!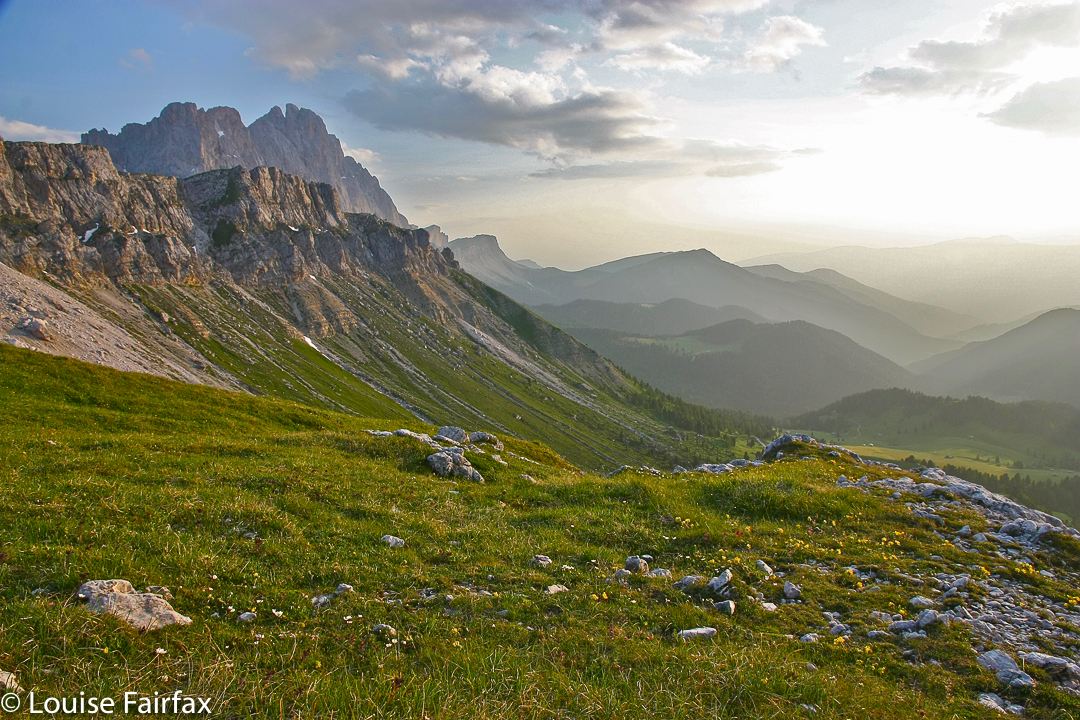 Day 3. After another glorious sunrise, we set out for the next, rather frightening phase of the journey. Why frightening? More via ferrata? No. The fear was in a section that had no help at all. I learned that I loved the via ferrata, as there was something to hold onto. The section that unnerved me was about 15 cms wide, on loose shale, with no handholds at all, and about 400ms drop off to the side. I trod tentatively, yet caught up first to a Swiss couple, and then a gang of Italians. They all moved to the side to let me through on a hairpin bend. But with a 15 cm path, there is NO room for passing, and I was jelly with terror and didn't want to pass anybody anyway. Please, please just let me stay here in the middle of you all, I pleaded. On we trudged. I did not look left or right, but concentrated on treading exactly where the girl in front of me had trodden, figuring that if she stayed alive, maybe I could too. I wanted to vomit I was so petrified.
Eventually we got to the pass. They wanted to be photographed with me, because I was "so brave". This is the biggest joke ever. How deceptive appearances can be. Apparently I am brave because I "dare" to travel alone. It's hard to smile when you want to vomit, but I managed somehow.
That night I talked with Ray about his route. He did not only what I have described, but then climbed a steep mountain in the snow afterwards, as he hadn't done enough. I had had more than a lifetime's terror in a single hour. I explored flatter lands in the afternoon.

Piz de Puez, above Rifugio Puez. Nightfall, day 3.
I climbed to this spot to photograph sunset, and sat up there chatting to Herwart. In 2015 I would climb the mountains you see, but this year I was too insecure with my unreliable torso muscles. I hadn't really been using my upper body yet, so all was going OK.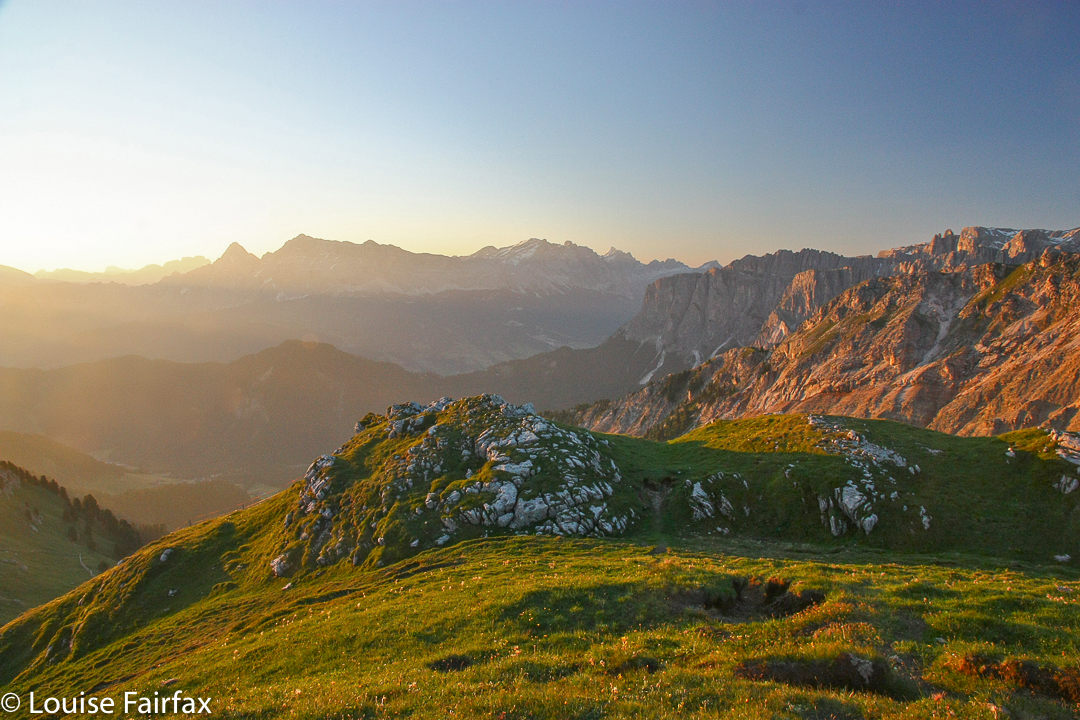 Day 4. The following morning, I farewelled Ray and Herwart: our paths were sadly diverging. Off I set alone into the mist that had now formed to wend my way along and then down to the beautiful Passo Gardena, and later to try my hand at the first proper via ferrata on our track, that en route to Rifugio Pisciadu.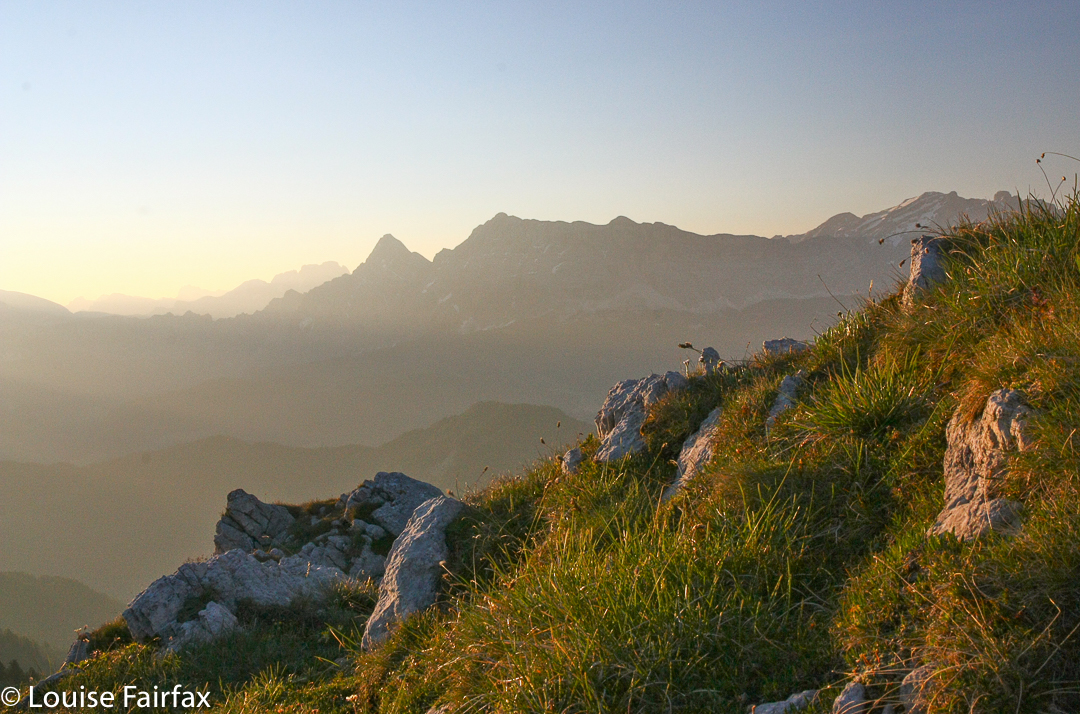 This path upwards was very steep, and challenged my ribs (assuming that was my problem. I had not been to a doctor), but tugging on the ferrata did not take them into catastrophic dimensions, so I was OK.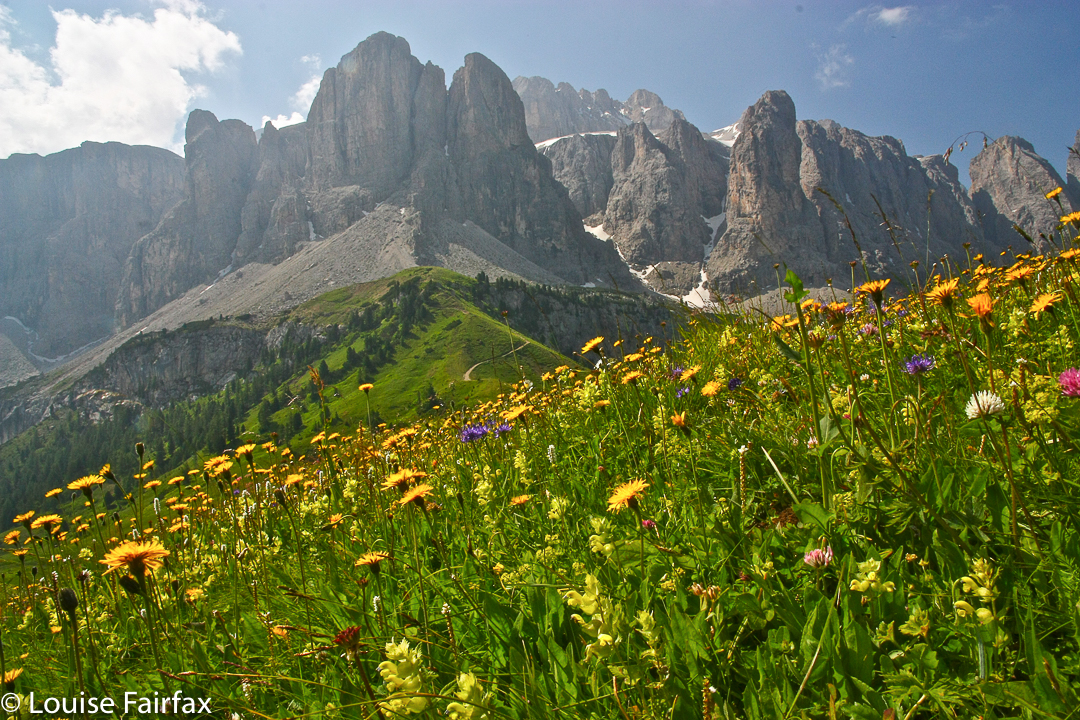 Passo Gardena, living up to the garden of flowers connoted by its name. My route lies up one of those chutes ahead, to the rocks on top.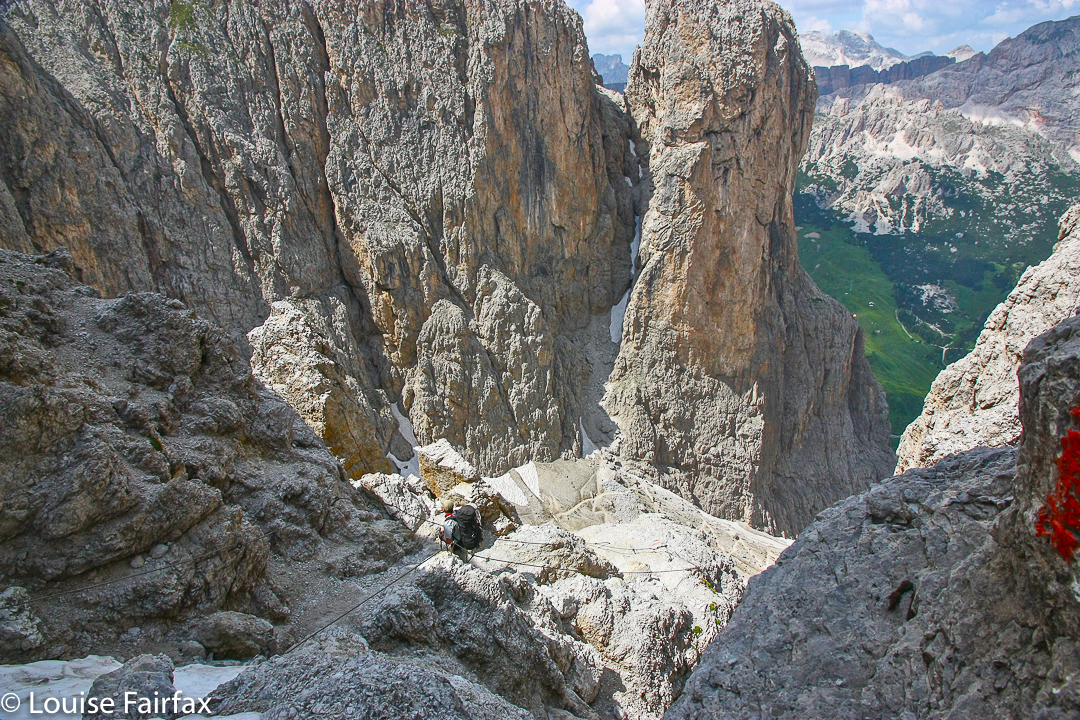 Passo Gardena is the bit of green way down there. This funnel is my route up.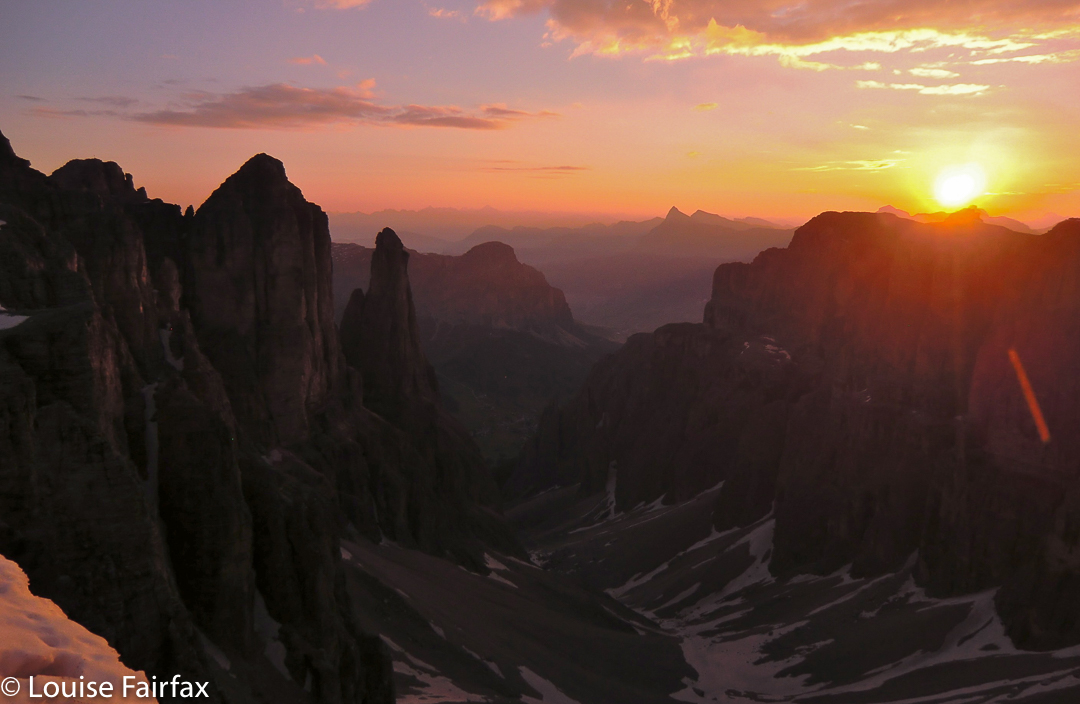 Rifugio Pisciardu is a very beautiful place, which is why I returned to re-see it (and the AV2) in 2015, and I will return again, soon I hope.
The next day, day 5, I went to the next hut, staring all the while at Piz Boe, which I was feeling too scared to climb in case it tugged on my ribs. Just as I was procrastinating by climbing something different, two stick figures appeared on the icy snow way below me (I was climbing on the rocks beside the snow, as I didn't dare use the snow). As they got closer, I heard someone call my name. These brave and daring sticks were none other than Ray and Herwart, on their way to climb Piz Boe.
All of a sudden I had the courage to climb it too. I said I'd climb the one I had now set out for, but would give chase and hopefully see them by the summit. Just knowing that Ray was doing it, that somewhere on the mountain was a man aged 80, who was going to the summit with more assurance than I had, meant that I could do it. We met on the summit, and there had our final farewell. I have not seen them since, but have sure not forgotten them.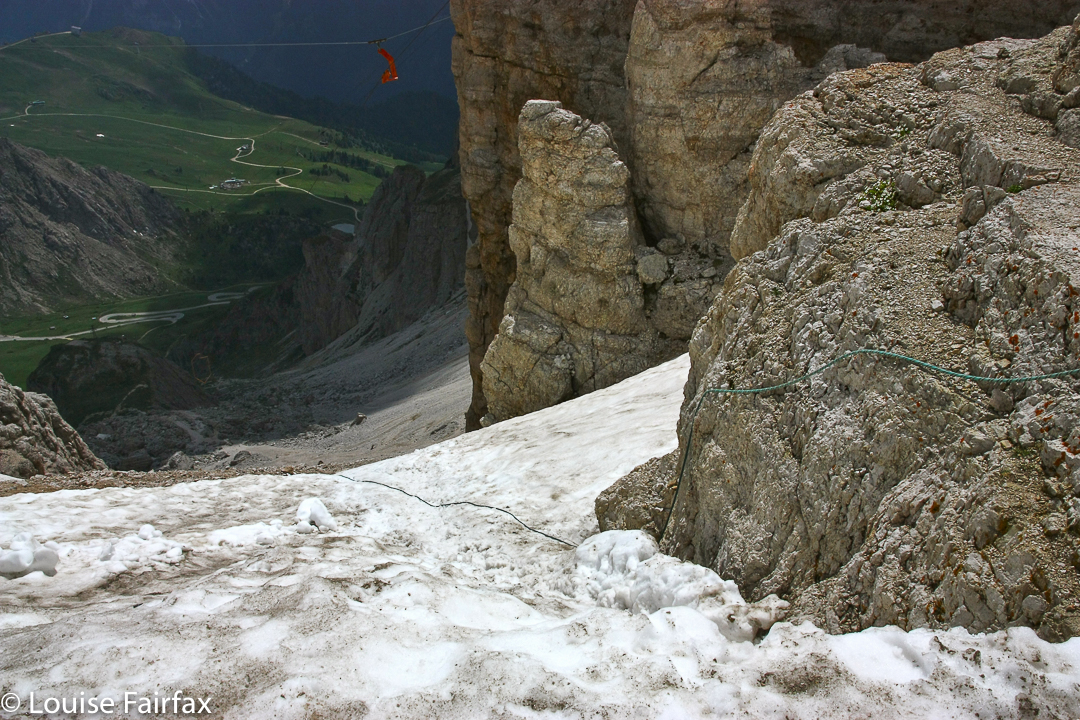 Can you see that bit of rope lying on the snow? That scrap to hang on to while you lower yourself over the precipice? That there was my undoing. Down I went, even feeling quite confident now, but my feet slipped on the ice, and I came thumping down on my derrière, still clinging to the rope for dear life. I yelped with pain. The rocks heard my call. In a single moment I went from maybe 40% usage of my arms to zero. Oh howl. I had worsened my injury big time. Nonetheless I managed to get down to the valley (Passo Pordoi), and to the friendly, fabulous hotel there, with a big bed and fluffy towels and the most sumptuous food imaginable. These should cure me, yes? Unfortunately, no.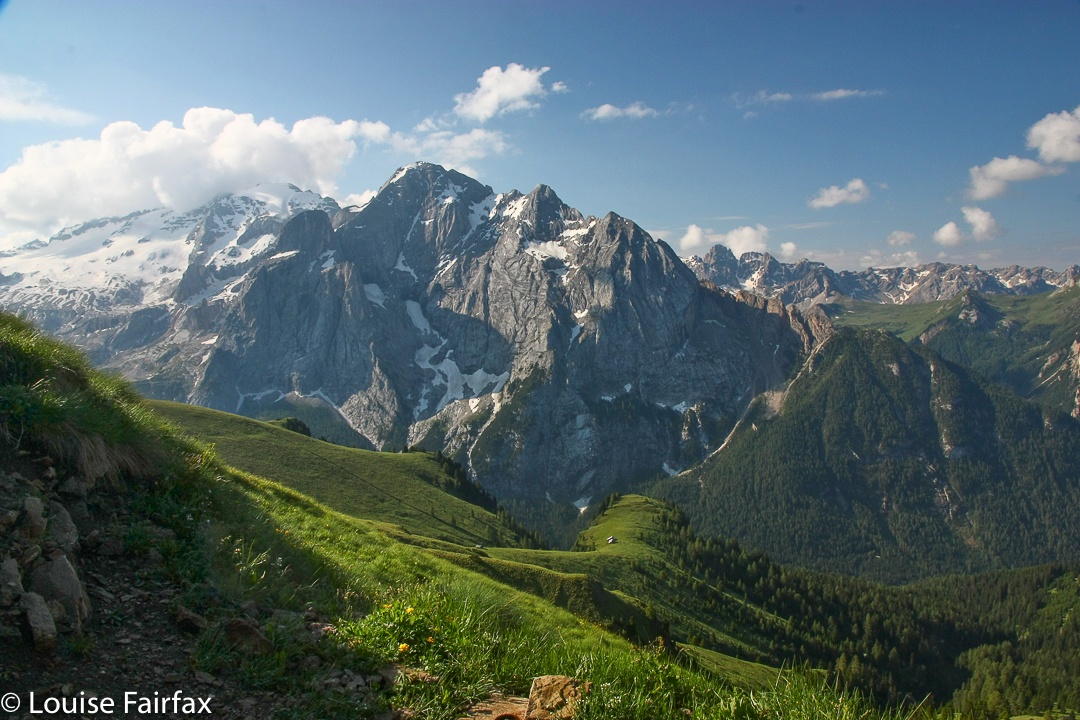 Day 6. Not quite undeterred, but not yet completely beaten, I set out for the next refuge. However, when walking along this path, I knew I was in monster pain. After less than two hours' walking, I came to a refuge that had fantastic smells coming out of the kitchen. I thought if I stayed here, with that food and this view of the Marmalada, maybe I would be better the next day. Did they have a bed? One, if I was prepared to go cramped in a full dorm of males. Sure.
The rest of that morning, and then all afternoon, I explored tiny hills instead of mountains, and watched flowers and marmots. The simplest of climbing tasks was dangerous and beyond me as I had no upper body at all. All of a sudden, these previously simple mountains became hideously challenging.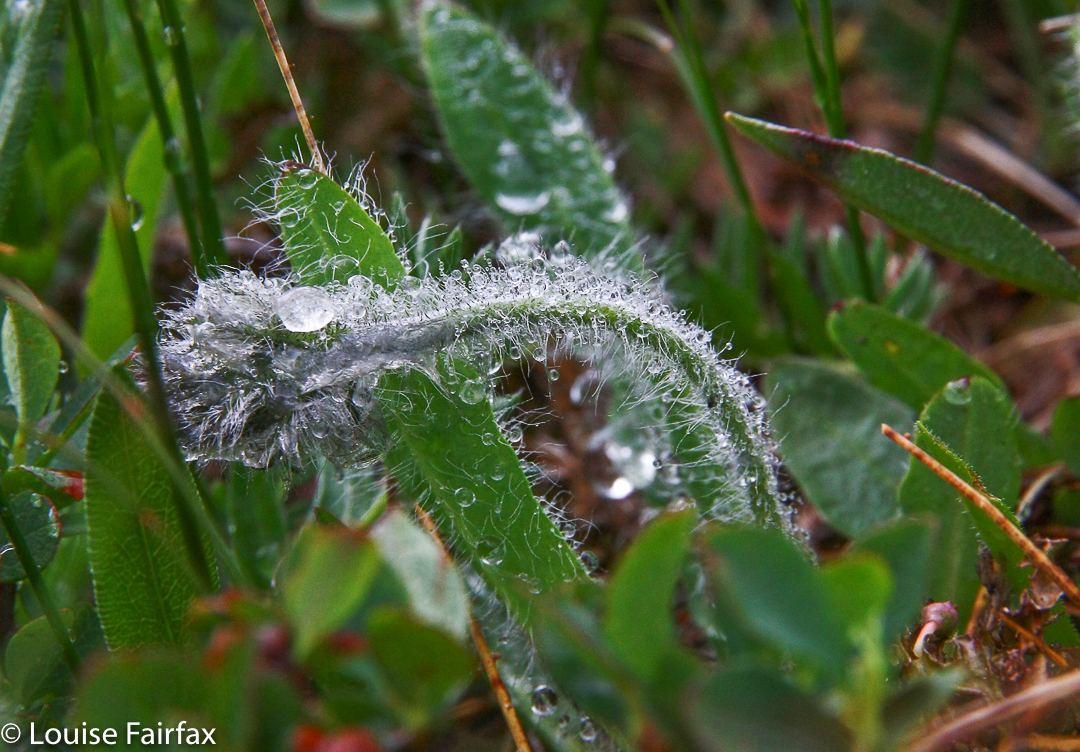 Day 7. The following day, I tried to put on my pack, but even that simple act killed me. I had to admit defeat. I turned around and headed for the valley from which I'd come. I phoned my husband who phoned our travel agent to arrange my early return home. The insurance company insisted on an x-ray. A guest at the hotel offered to take me to hospital. Oh dear, I have broken my sternum, but not punctured my lungs, so I may fly home. No wonder carrying a pack hurt so much. The doctor said I must have had an almighty crash, as sternums are rather hard to break, being rather resilient and important bones. Ah, I have a very strong camera that was strapped to my chest, and fell at speed, I informed him.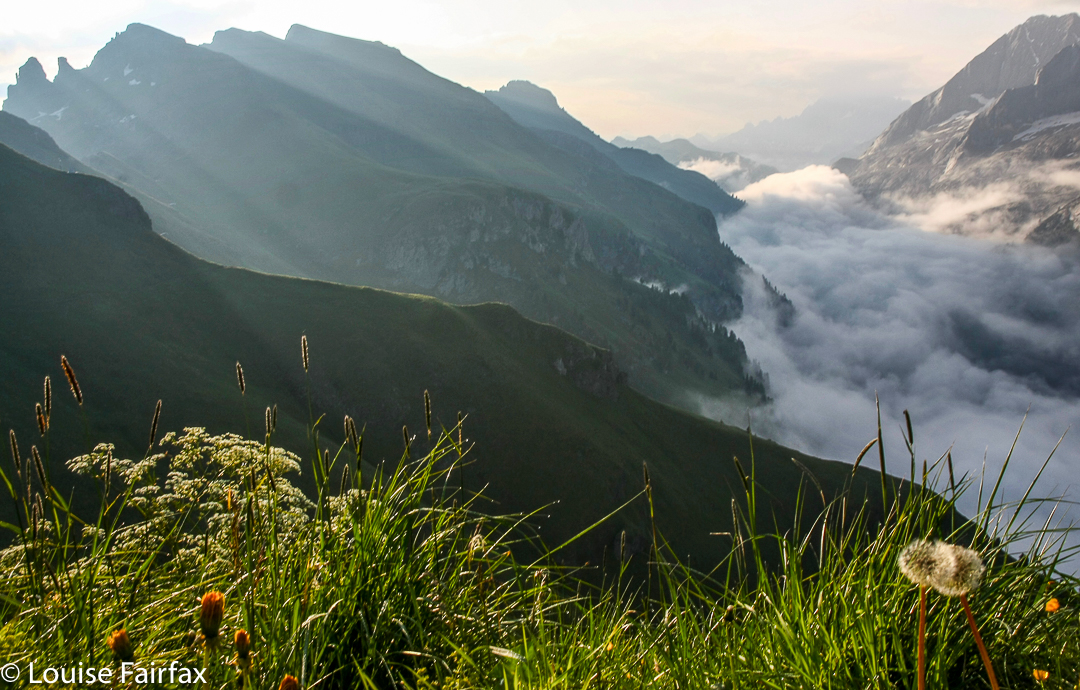 Here is sunrise on my final morning of the AV2. How I love the Dolomiti. My memories are of glorious mountains, of magic sunrises and sunsets, of friends made and a feeling of wonder and well-being. I know as a fact that I was in pain, but that fact is entirely academic and has no effect on the positive emotions I feel if anyone so much as mentions the word "Dolomites".