Why on earth was I so apprehensive as I almost reluctantly picked my way down the path to Snug Falls, my first base for the bigger catch of the day: Cataract Falls, higher up? Was it just because Caedence had said it was the toughest hike he'd ever done, or was it some sub-conscious misgiving about my health following the latest virus? Certainly, also, with the warm weather arriving, I was worried about snakes in bush that thick, and about the fact that I was diving solo into unwelcoming scrub where the ground would not be visible, and the opportunities for mishap, many. Oh well. Here I was at Snug Falls. Easy part finished. Now it was time for business.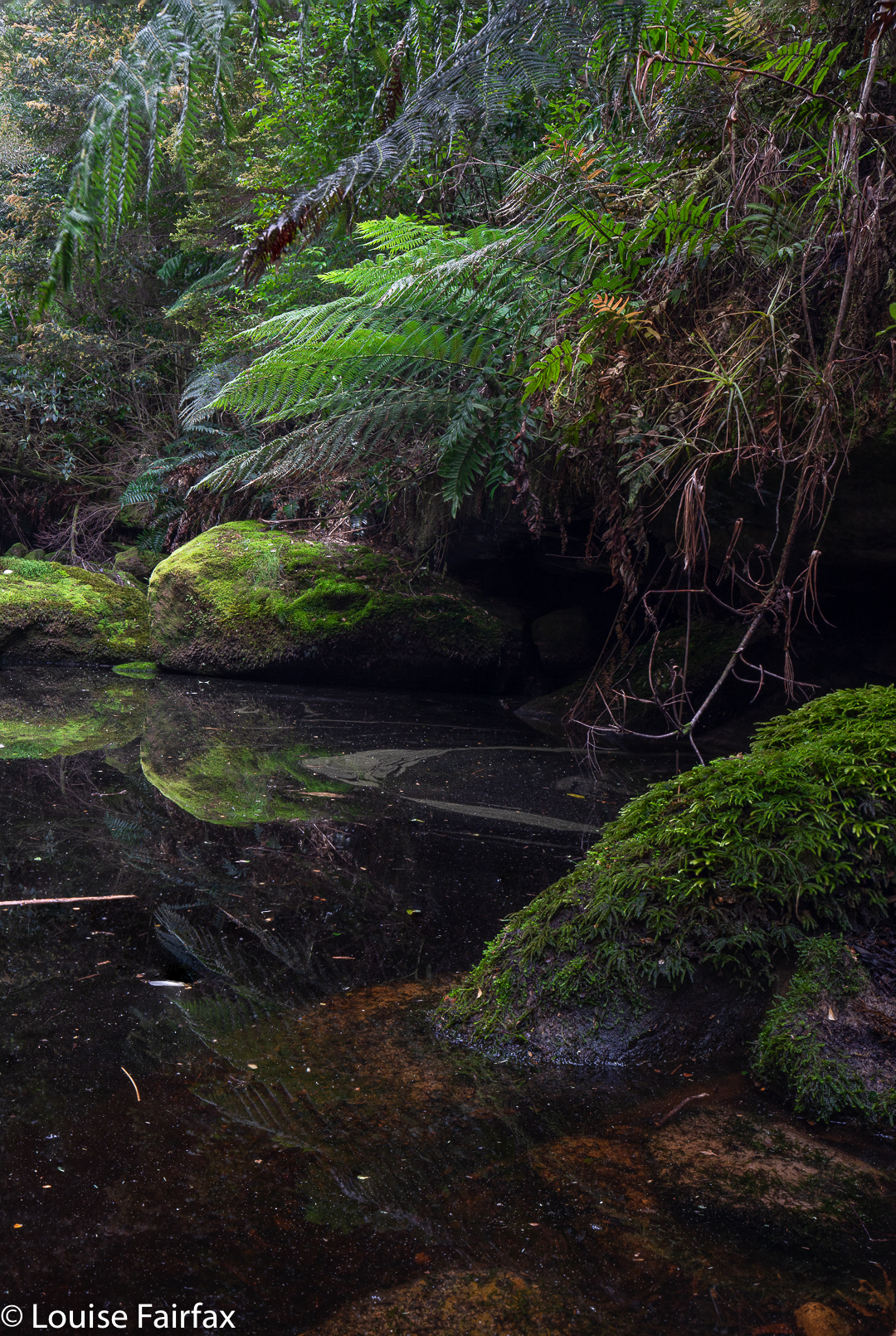 En route to my courtesy pop-in to Snug F, I eyed up potential "dive in" points for my initial climb to the top of the falls, stage one of my venture. I saw an interesting cave with a possible route to continue higher beside it, so returned to that point, and headed up. It worked. I climbed happily, and 19 minutes after leaving Snug Falls, I was at a high point, looking down to my right on the yawning gap that shaped the falls, and the land that sloped to the Snug River straight ahead. Sad to lose my precious height, but the direction I needed was down, dropping to the creek. After a further 11 minutes, I'd reached the first intersection of two creeks above the falls. Now, I had actually been going pretty well (30 mins since the falls, plus 20 to get to the first falls). However, the fact that my watch said "50" and I'd only kind of just begun on my quest disheartened me for some reason. I guess 'cause I knew the hard work had only just begun. The bush had not thus far been exactly friendly, and had a reputation for hostility. Better get on with it.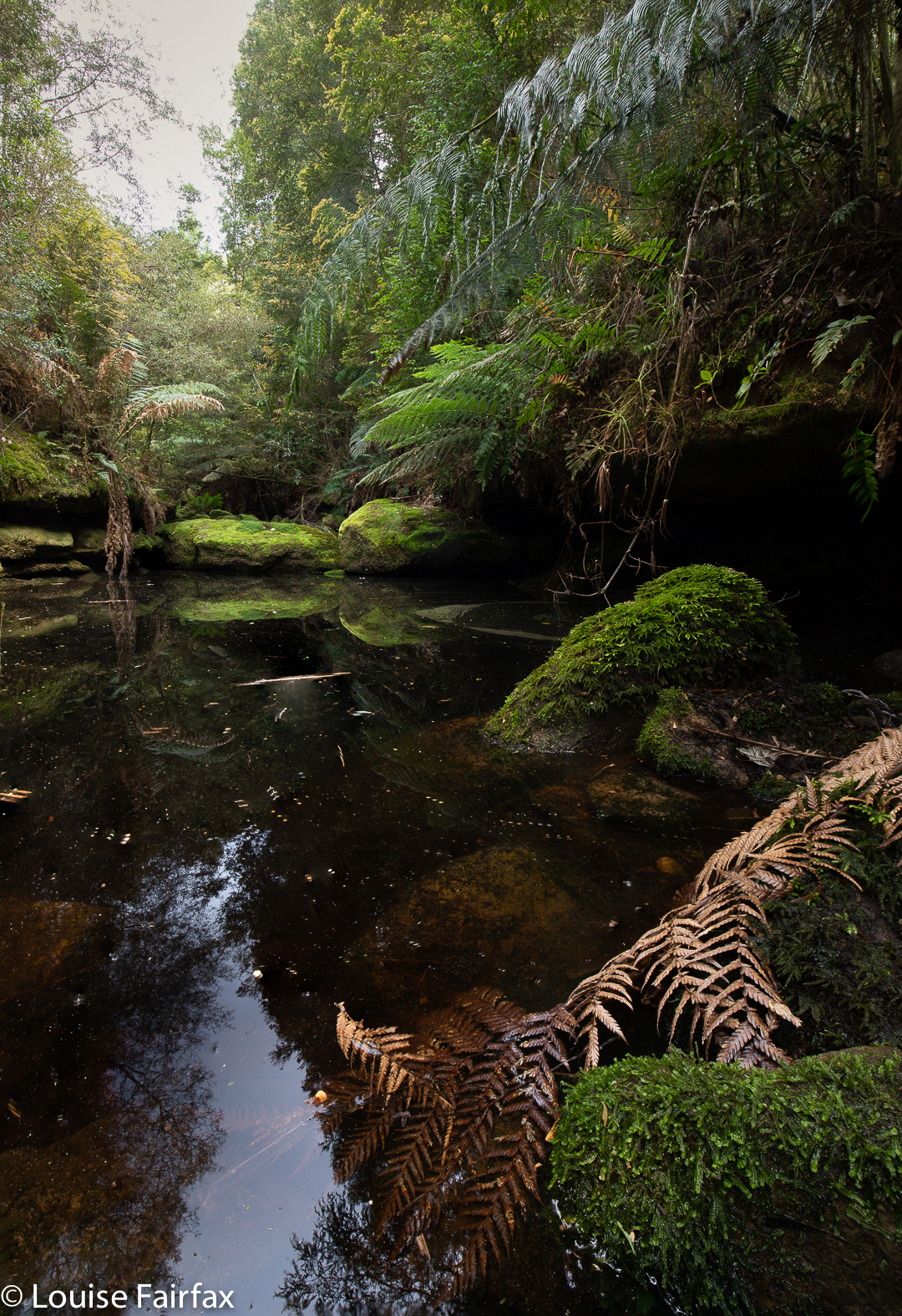 I didn't even stop for a drink. After all, I'd be now working my way upstream, and Caedence advised to keep in the river. But Caedence: the river is slippery as ice, and blocked by countless trees of various sizes. Moving up it was not possible (besides, I now had to climb a small cascade with steeply sloping sides). No. I'd need to backtrack and use the bush. It shoved me up the hill as I tried to get around huge fallen trunks. I played this game of being forced up, traversing a bit, making my way back to water level only to be repelled by choked and cluttered conditions for what seemed like an eternity. I should add, though, that there were some sections of forest that were more open and thus very beautiful, and some magic pools along the way. However, I was feeling so much "goal angst" that I didn't even get out my tripod for photography, but used trunks and logs for stability. I was lugging, as ever, my usual heavy tripod, filters, and even cleaning liquid and materials today.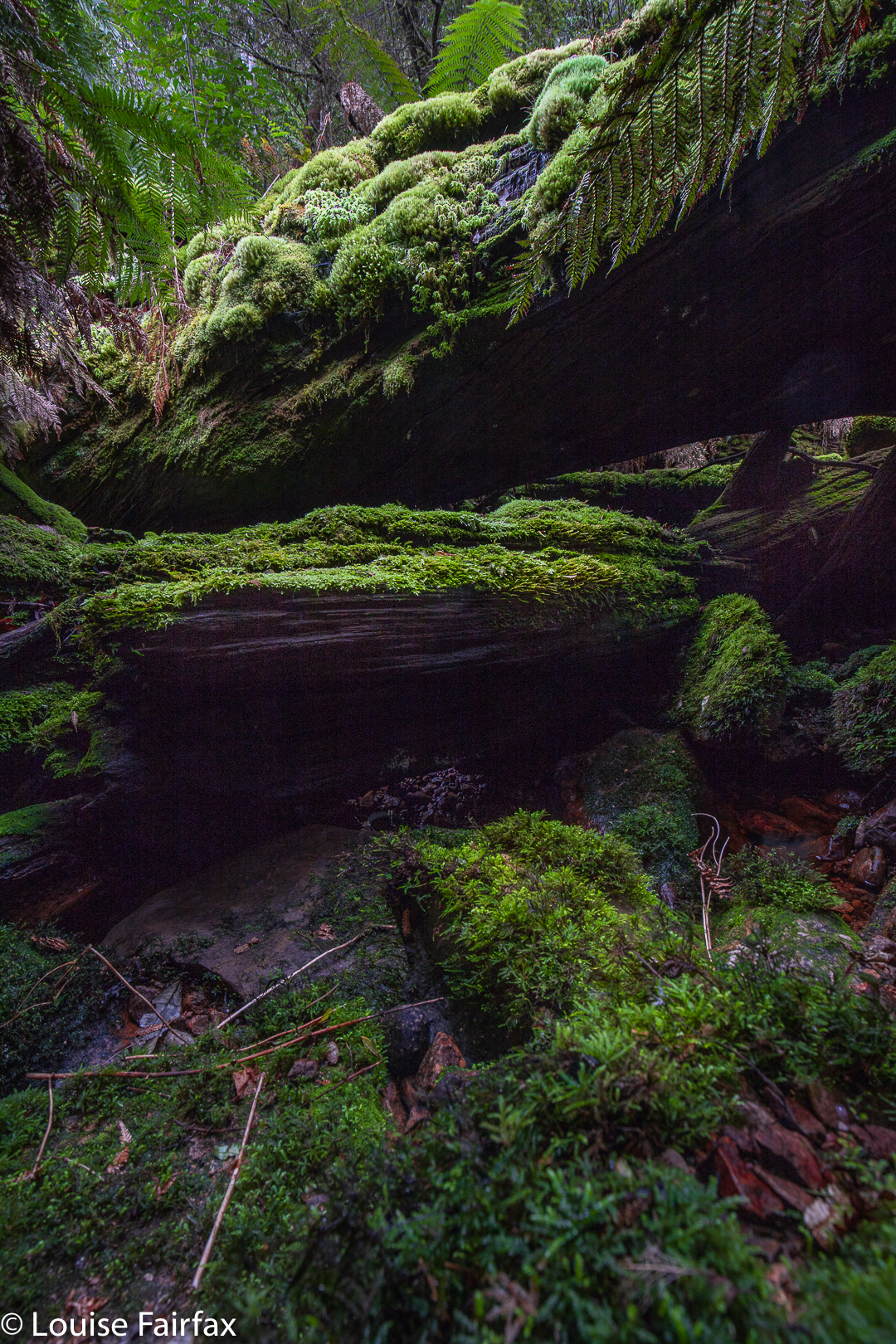 I started to become mentally tired: this felt like a university exam, where maximum, uninterrupted concentration for a prolonged period of time was required. I was on edge. It was all so blocked, slippery and difficult I couldn't relax my guard for a second. I felt the strain of having to rely solely on my own mental reserves. Having someone else there somehow takes the pressure off and shares the load. Doubtless this was character building.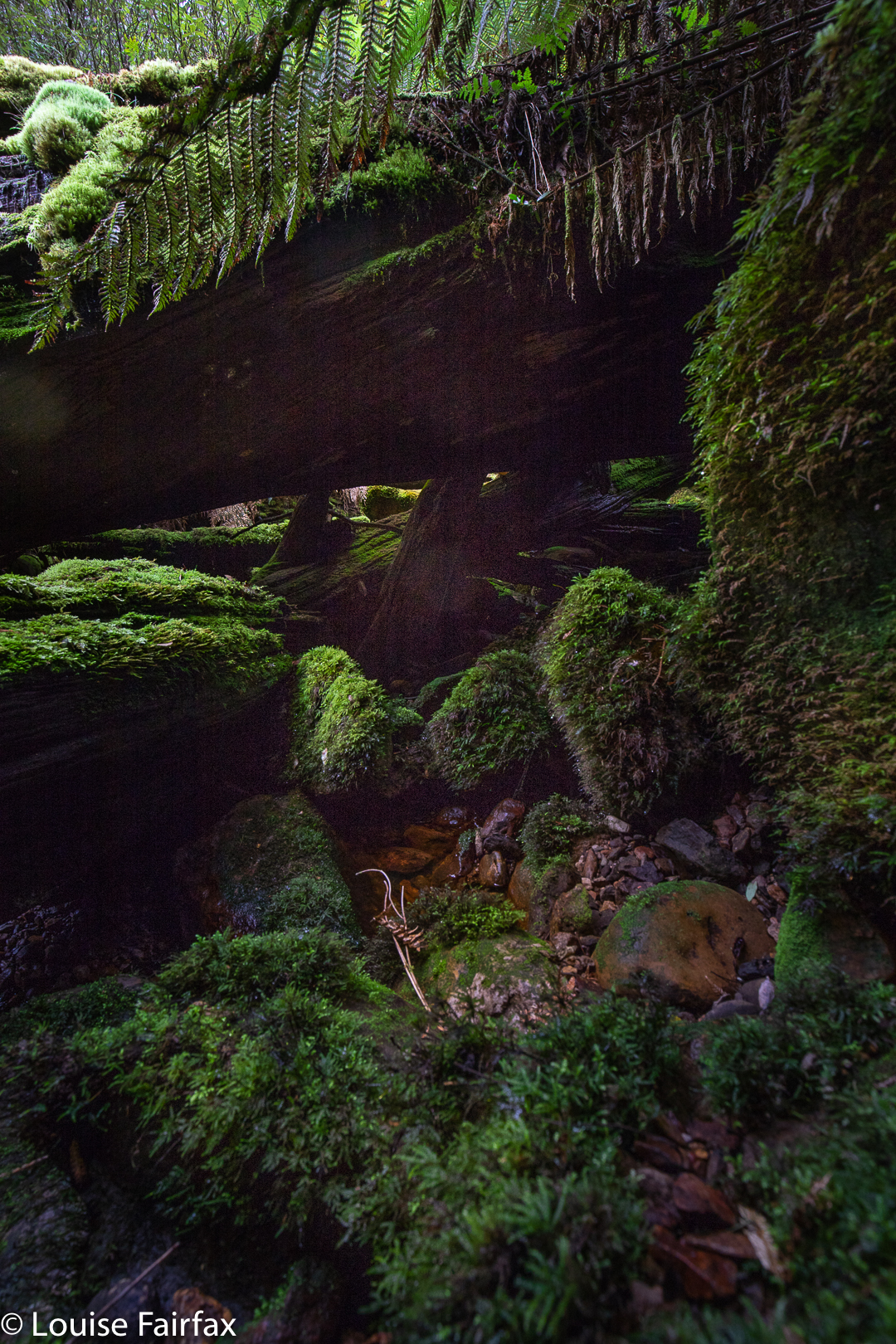 After about 35 minutes, but possibly only 6-700 metres progress, I arrived at a pool that was pretty, so decided to photograph it to give me a break. A further 35 mins, and similar distance again, (so I had now been going 1 hr 40 since Snug Falls), I saw a 6-metre-high waterfall. "Hoorah" I yelled in my head. Somehow I didn't feel like actually yelling; I was already too subdued for that. This must be the bottom tier of Cascade Falls. At last!! I checked my gps.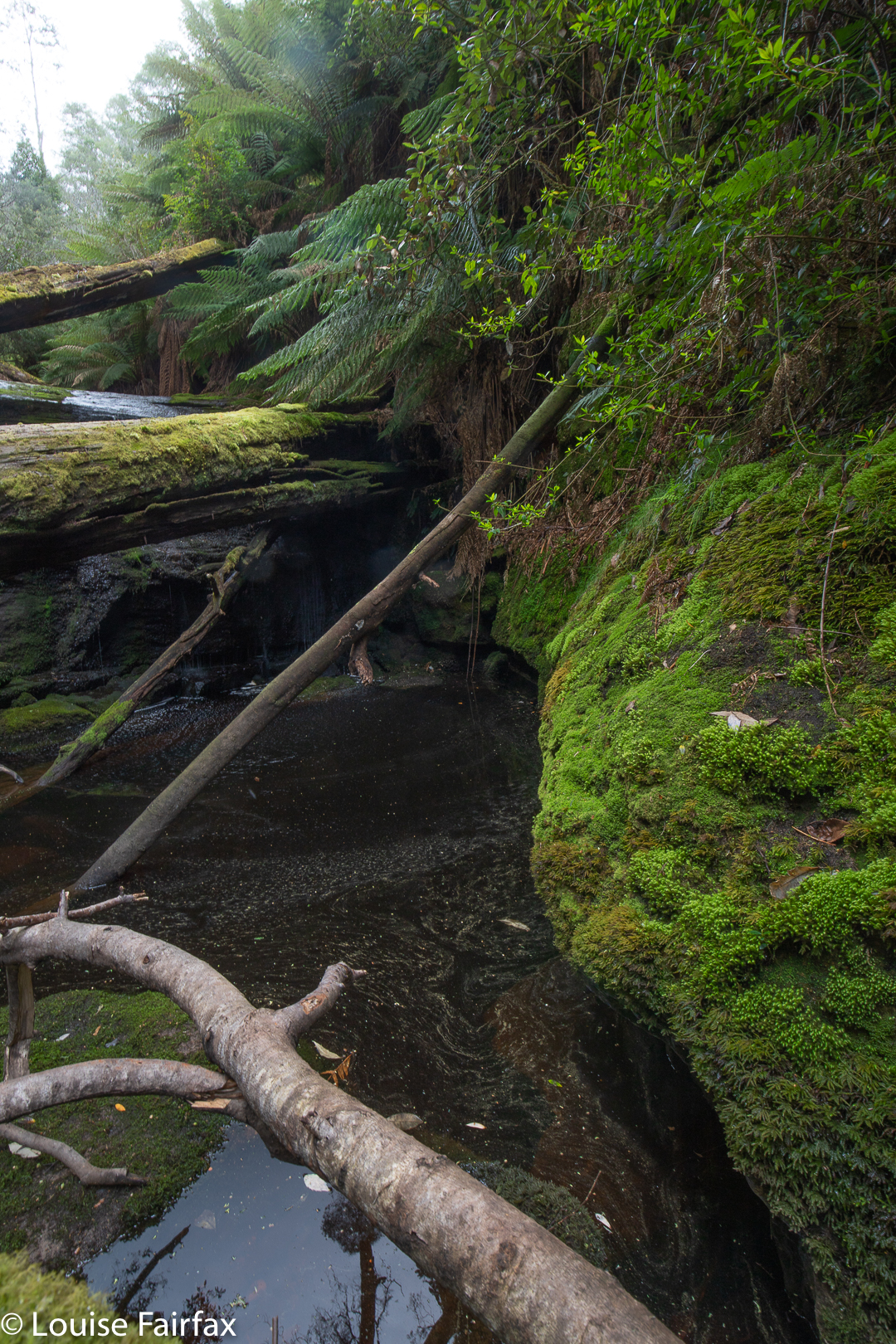 Oh no. I am not nearly there. The falls are still maybe 300 metres or even more away, and in this terrain, that could take me half an hour. Things were violently junky here, so it could even be an hour. I sighed and continued, but when I hit a wood and rock wall that completely defeated me after 30 minutes, when the distance I had made since Hoorah Falls was to be measured in double rather than triple figures, I felt I'd lost the battle. I had now been going 2 hrs 10 mins since the falls. If I quit now, I might get back to the car in reasonable shape; if I continued, I may or may not get my grail, but I might be so spent it would be a pyrrhic victory, won at too great a cost to my own general good. I didn't actually debate this out with myself, or consciously decide to give up: merely, one minute I was struggling against the rubble upstream, and the next, I had done a cute 180 degree pirouette and was jauntily making my way downstream, light of heart.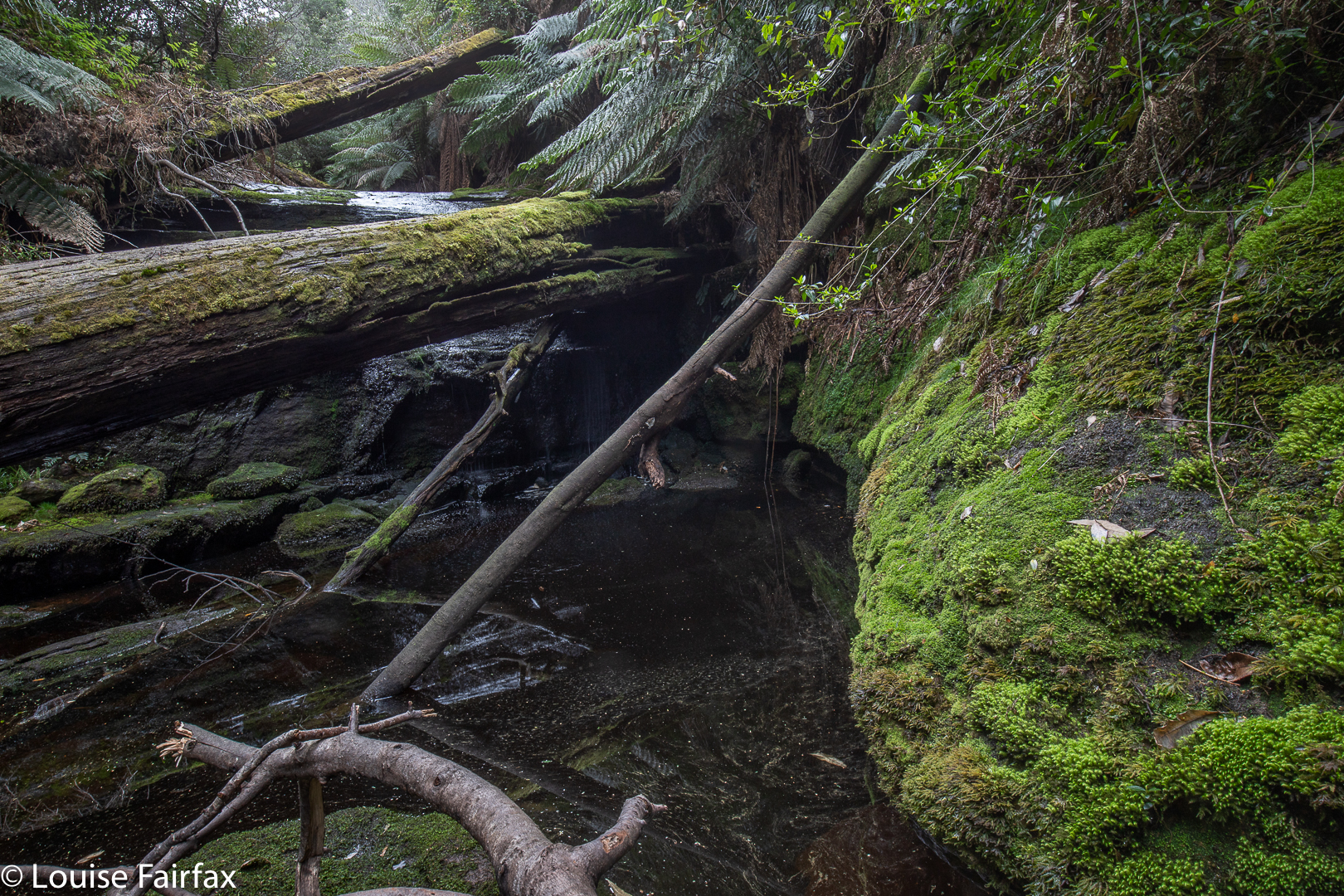 I covered the 30 mins upstream since Hoorah Falls in 14 down, and stopped for a drink and a snack and a map stare at a pool before the water cascaded over the lip. High, high above me was a 4W-D track on the map. My map is very old; would it still be there? At least where it used to be should be visible. I'd risk it. It was a long way around, but I had had enough battling with the creek. 28 minutes was all it took to reach the end of the road. Oh joy. I climbed like a pussy cat, so happy to be going up rather than along. 52 minutes later, I was at my car. The track was also impassible (you couldn't walk on it at all, there was so much storm fall), but it was still better than what I had been enduring. Eventually it turned into Snug Tier Rd, which offers fantastic views out over the harbour to Bruny Island on the right, with views of the Wellington Range ahead and left. And you could walk, just walk; oh it was great.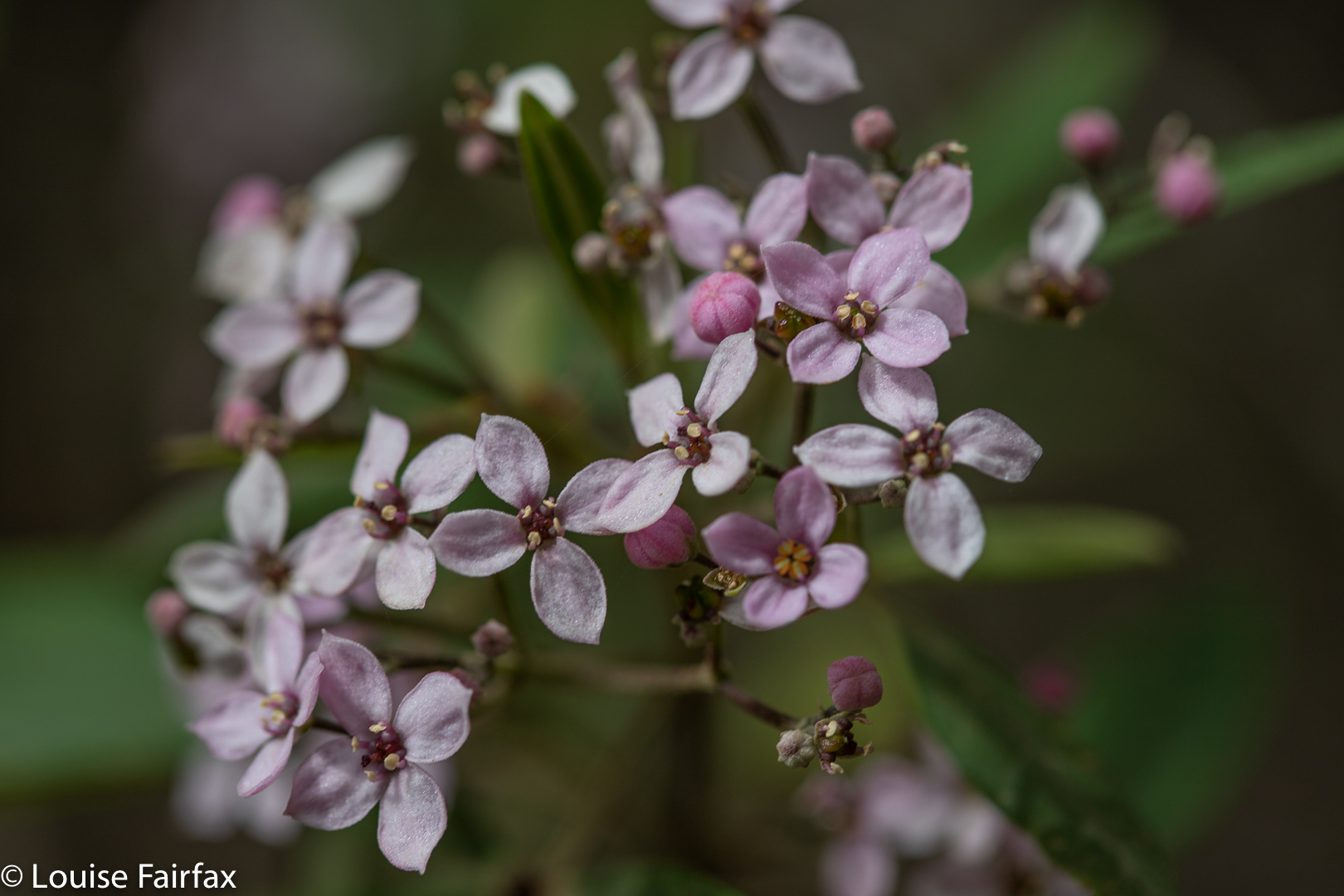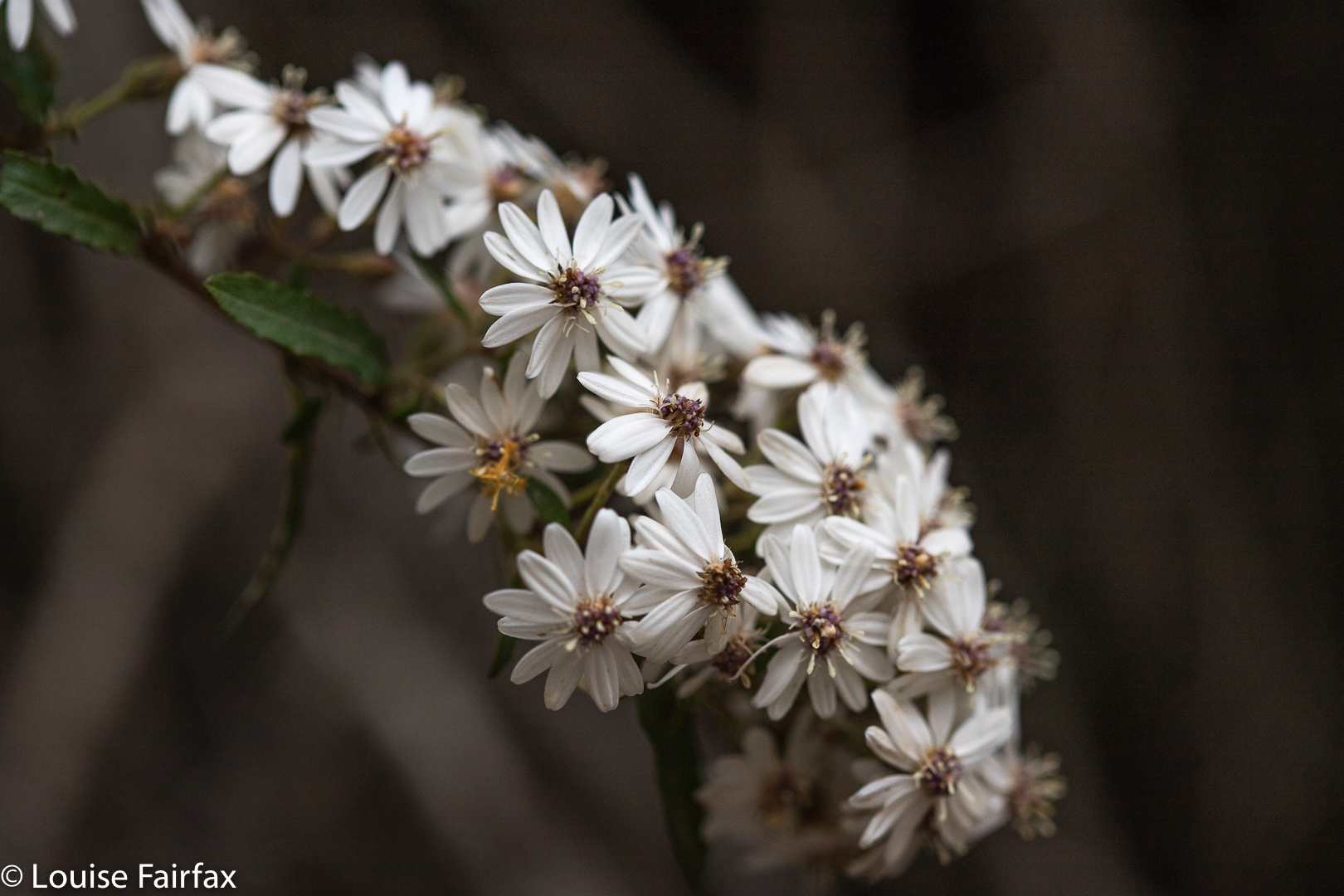 Back at the car, the wildflowers nodded their colourful heads in the quickening breeze. I hadn't seen one snake all day, hadn't injured myself, and had found Hoorah Falls. Hoorah. I'll try Cataract again later, in a better frame of mind, and hopefully with some company to offer moral support.