The forecast was horrendous: gales and sleet – not anyone much's idea of fun. Gussy and I had hoped to climb Mt Mueller with HWC, as then we could get past the locked gate barring cars from a decent entry point, but, perhaps not surprisingly, we were the only two who turned up. The leader bailed out, and so I decided to take young Gus (9) to climb Trestle Mountain instead. We'd approach via the Mountain River track, which I find to be very beautiful: I love the mossy greenness of its path, and the fact that it is more a pad than a highway, which all too many Tassie paths are becoming these days. The forest would protect us from the wind right up until the final saddle, I decided. The light rain cum snow, we'd just take on board as we went.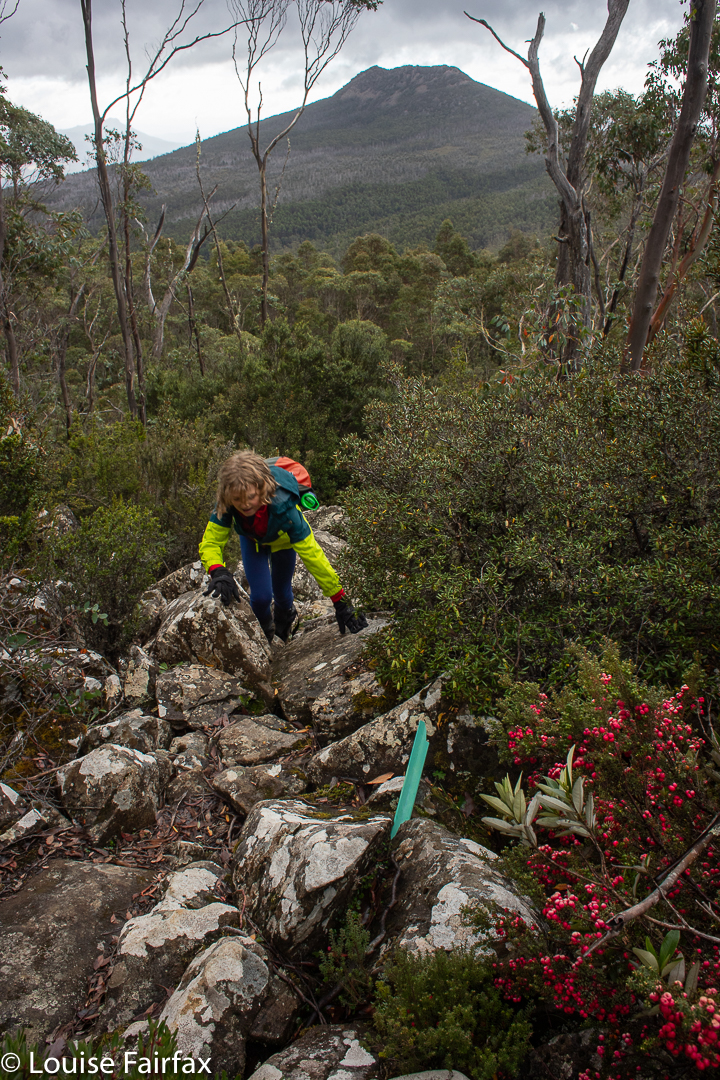 The other thing I like about this path is that it is very, very steep: almost unrelenting, and I just love the act of climbing. Perhaps the steepness is what has saved it from highway status. We would warm up nice and quickly.  (The temperatures were not, at this stage, exactly appealing.) Looking up into the thick mist, I told Gus we only had about 20% chance of making the summit, but we'd at least have a workout.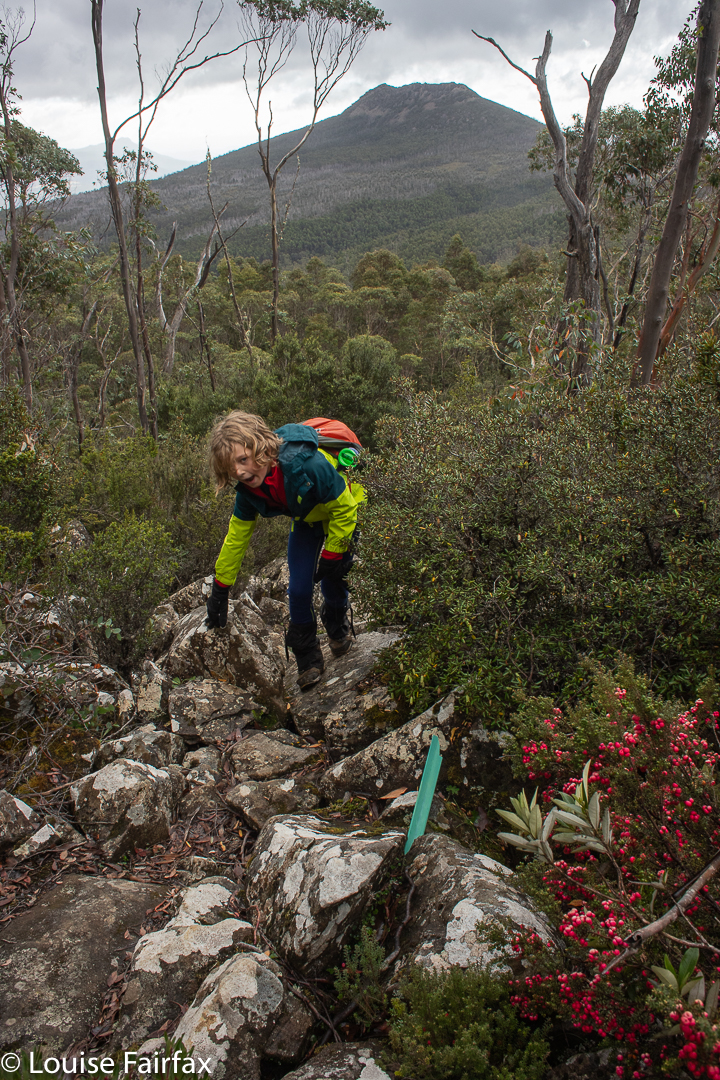 Up we climbed, Gussy doing very well indeed, and the saddle between Trestle and Collins Bonnet getting ever nearer. I had already increased our chances of summiting to 75%, but no higher, even though the summit was very near now, because I feared the blast across its wind-tunnel might be prohibitive, and we were only in this for enjoyment, so if Gussy found it unpleasant, we would immediately about-turn. He was, at this stage, worried about gusts and ice on top, which was another reason for the low percentage so high. I pointed out the rocks ahead that lie under the summit, and said if we made it that far, I'd increase our chances to 90%, but I wasn't committing to a sure summit before I could see it close by.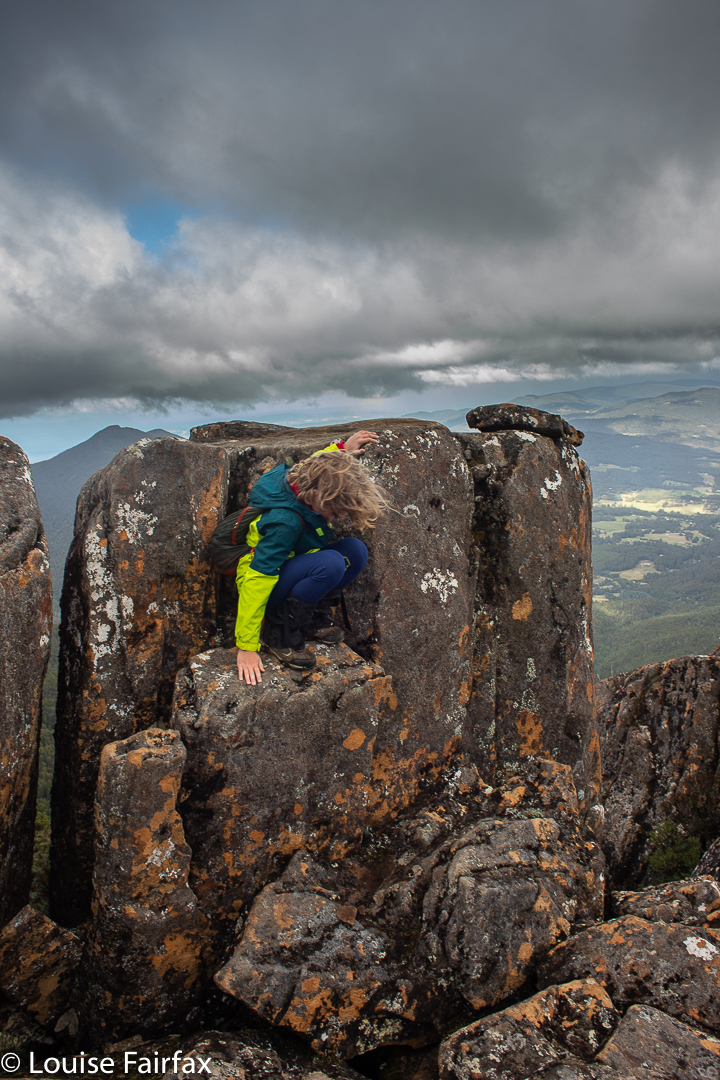 The day before, I had had a hard knock in the head with a soccer ball, playing goalie for five primary students who were shooting two balls at me (or the goal), and suddenly felt a little wave of slight, yet passing, dizziness. I asked Gus what he would do if I actually fainted. He said he would phone his parents using my phone (and rattled off their numbers), and, if he couldn't raise them, then he'd call emergency. He thought his parents would deal better with authorities than a grade 4 student. Good answer Gussy. On we went.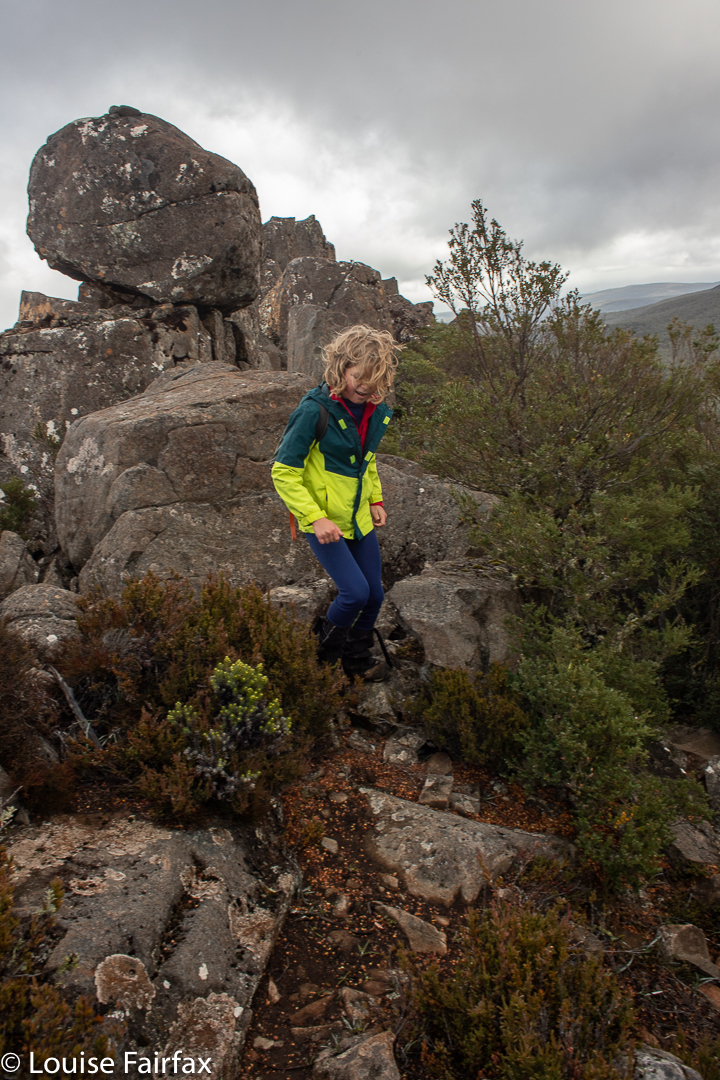 The conditions in the saddle were much milder than we had anticipated, but not pleasant for a rest. On we forged. I was delighted to see tree coverage going up the slope until quite near the summit. I thought we'd definitely get to the 95% point, but may yet be fouled out by gusts and ice on top. Gus liked our odds.
As it was, there was a brief lull in the fighting force of the wind, and we got to the summit, took a brief couple of shots and descended before the fury began again. Gus was not a scrap interested in snacking up there. In fact, he held off having food until we reached the car over two hours later. And there, we refuelled mightily! His mum had packed us a veritable feast, originally planned as a forest or summit one, but now had under more clement conditions down low. It was still lovely there.
Data; 23.63 km equivalents, comprising 14.02 horizontal kms + 961 ms climb.