Montezuma Falls Mar 2018.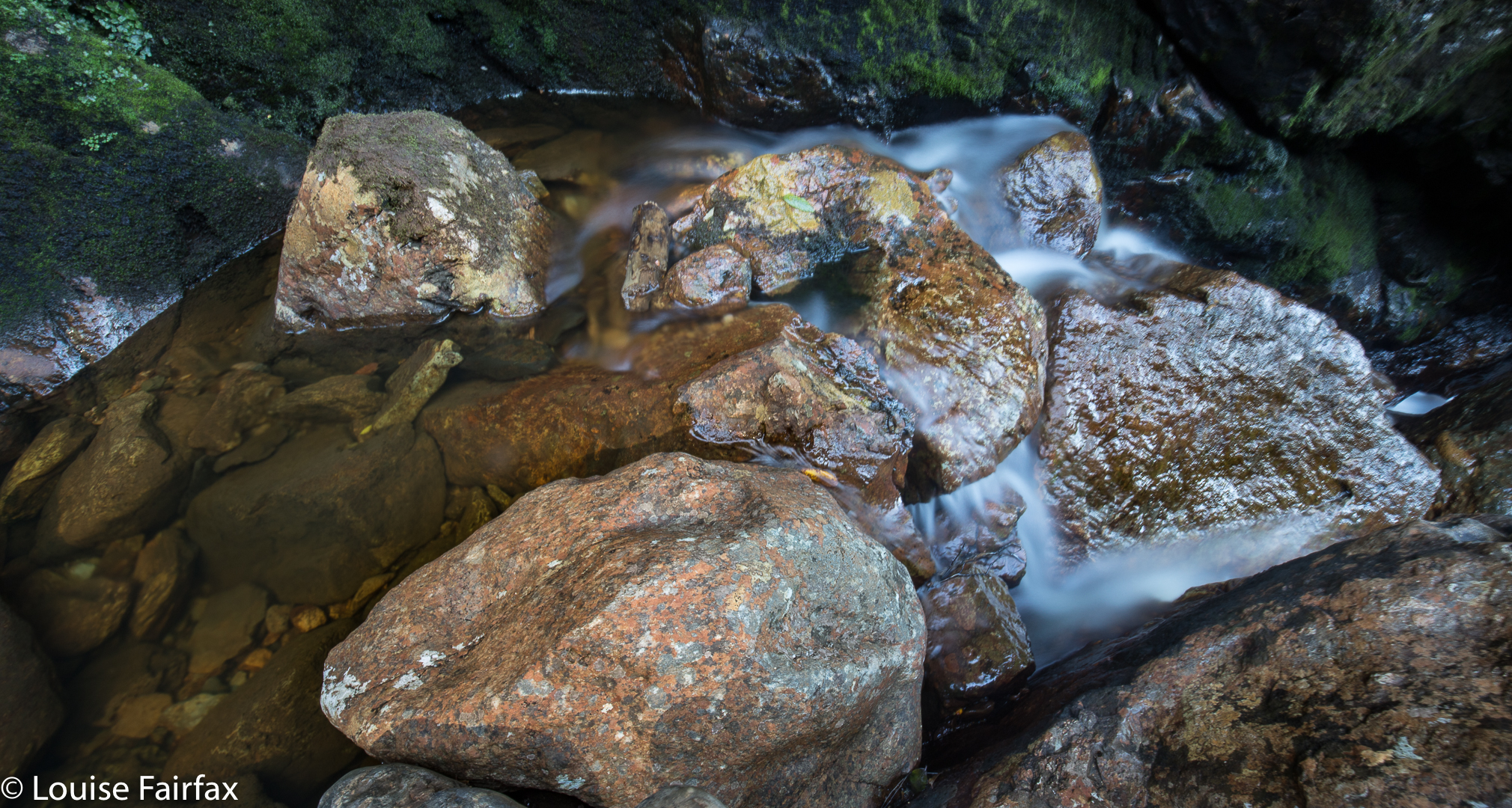 Water tumbles quietly over the base of the falls
I feel rather ashamed to write that last weekend was only the second time I have ever visited the renowned Montezuma Falls. This is especially shameful if one considers how very beautiful the area in which they are situated is. And it is perhaps even more so if I add that I only actually visited them as I was on my way to other, more distant waterfalls; they just happened to be the first ones I came to directly on the track.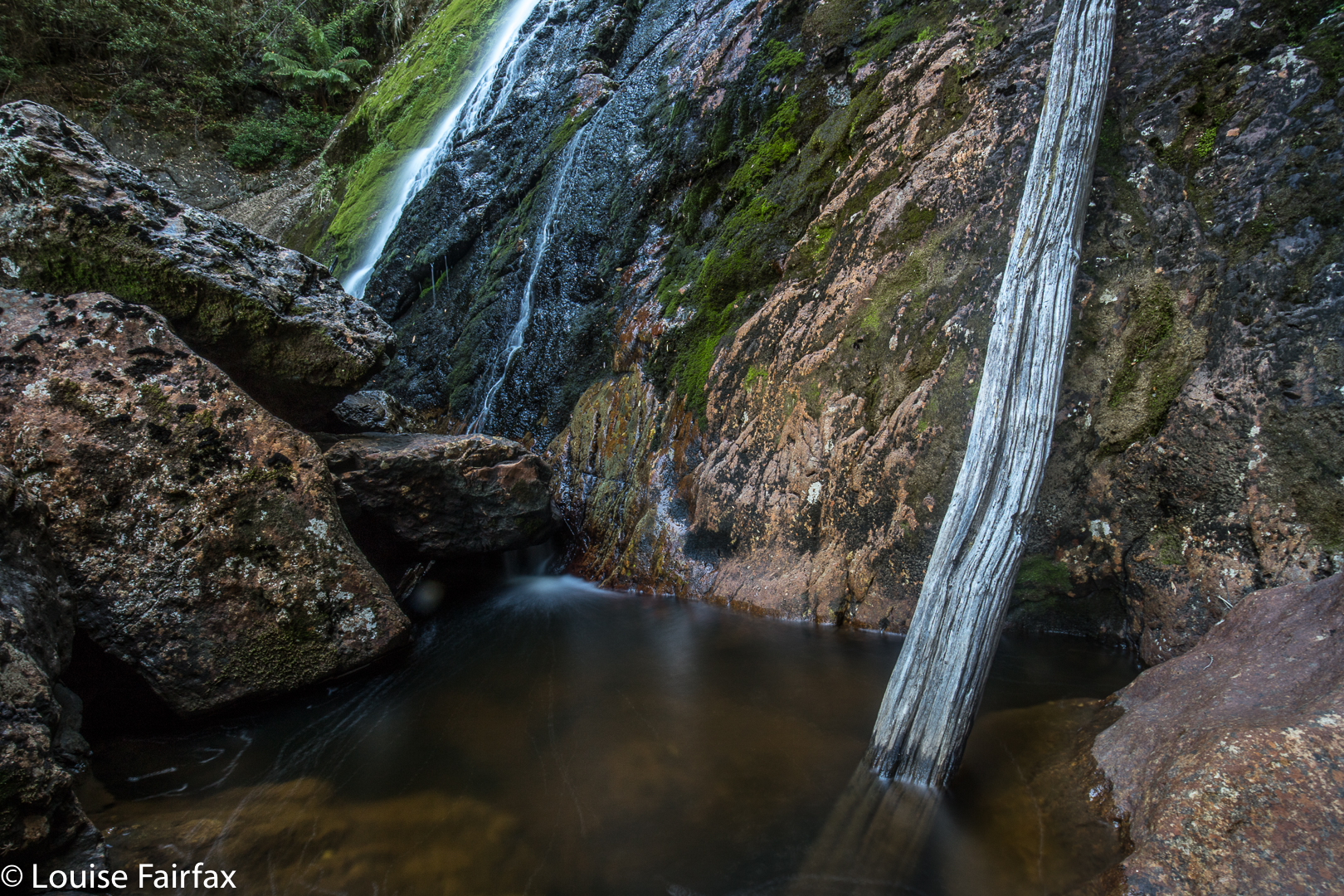 On  my first visit, they were pumping so wildly it was impossible to keep the spray off one's lens, and I threw my picture out. This time, the problem was kind of the opposite, in that they were flowing so demurely that I could sit on top of them and not really get wet. As a result, the photos included here are more "details" of the lower outlet of the falls. You could certainly get up close and cuddly this weekend. Meanwhile, however, if you're not obsessed with seeing massive and unphotogenic gushes of water down your falls, the delicacy of the offering was, for me, quite appealing, and I absolutely adored the lush green forest en route.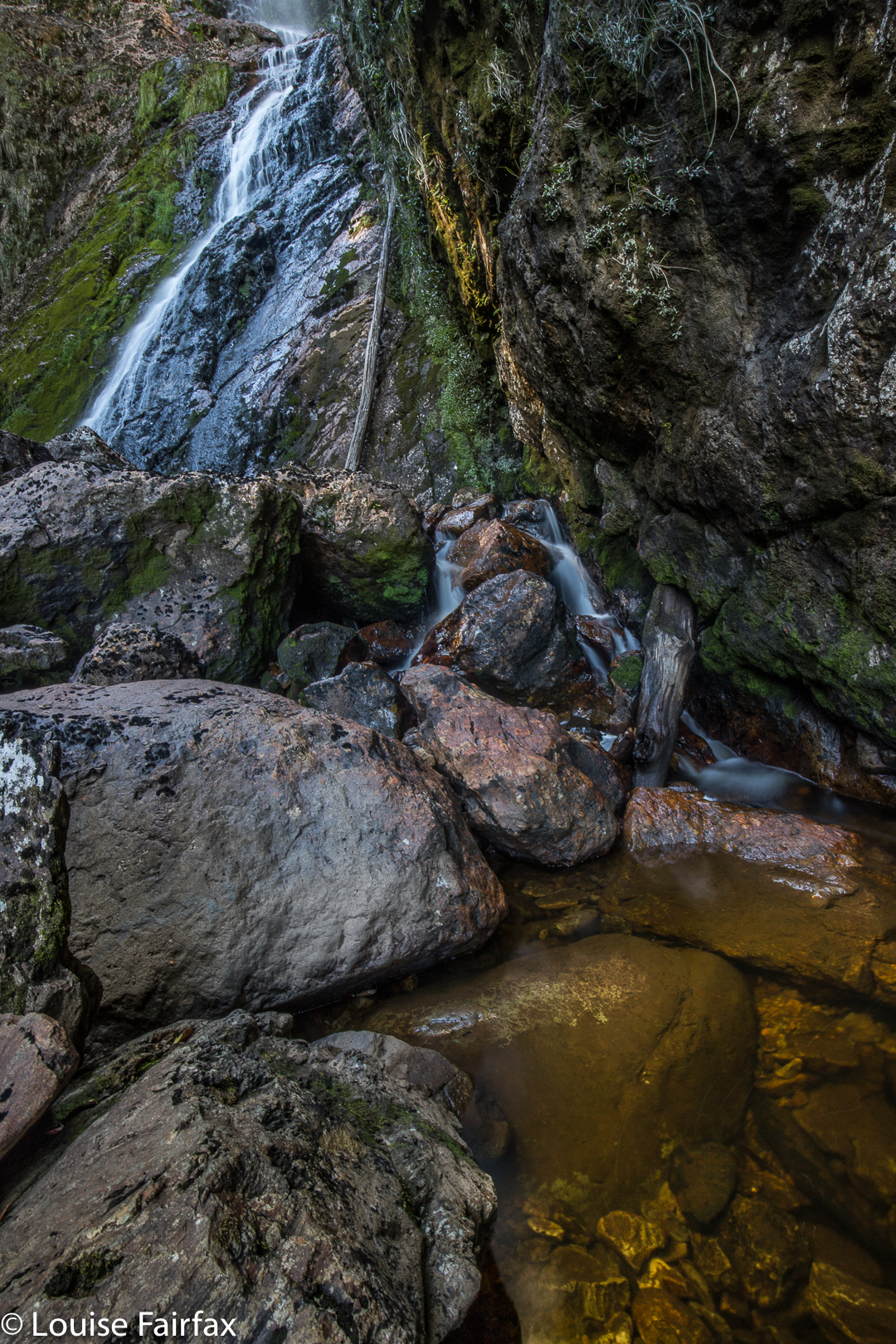 And why on earth did I visit these falls on a hot day in March when the water was bound to be undramatic and the forests bereft of fungi and mist? Because, essentially, this trip was a recce to check out Rawlinson, Frazer and Svengali Falls. I would be driving down from Launceston, and then covering about 22 kms over rough ground on foot, some of which would be bushbashing. I wanted to be able to move quickly (not too much mud) and to walk in river beds should I need to, just to suss things out and get a rough time-frame for the expedition. I now know, for example, that it takes about 55 mins to reach Montezuma, another 38 to reach Rawlinson, and 30 mins to climb up to Frazer. Such items of knowledge are handy when planning future trips. I also learned that bringing just one ETC salad roll and florentine plus OJ is not enough to keep me in food for such an expedition. As usual, I was hungry most of the day, and was stealing lunch by 10 a.m.. I got very low on blood sugar by the end.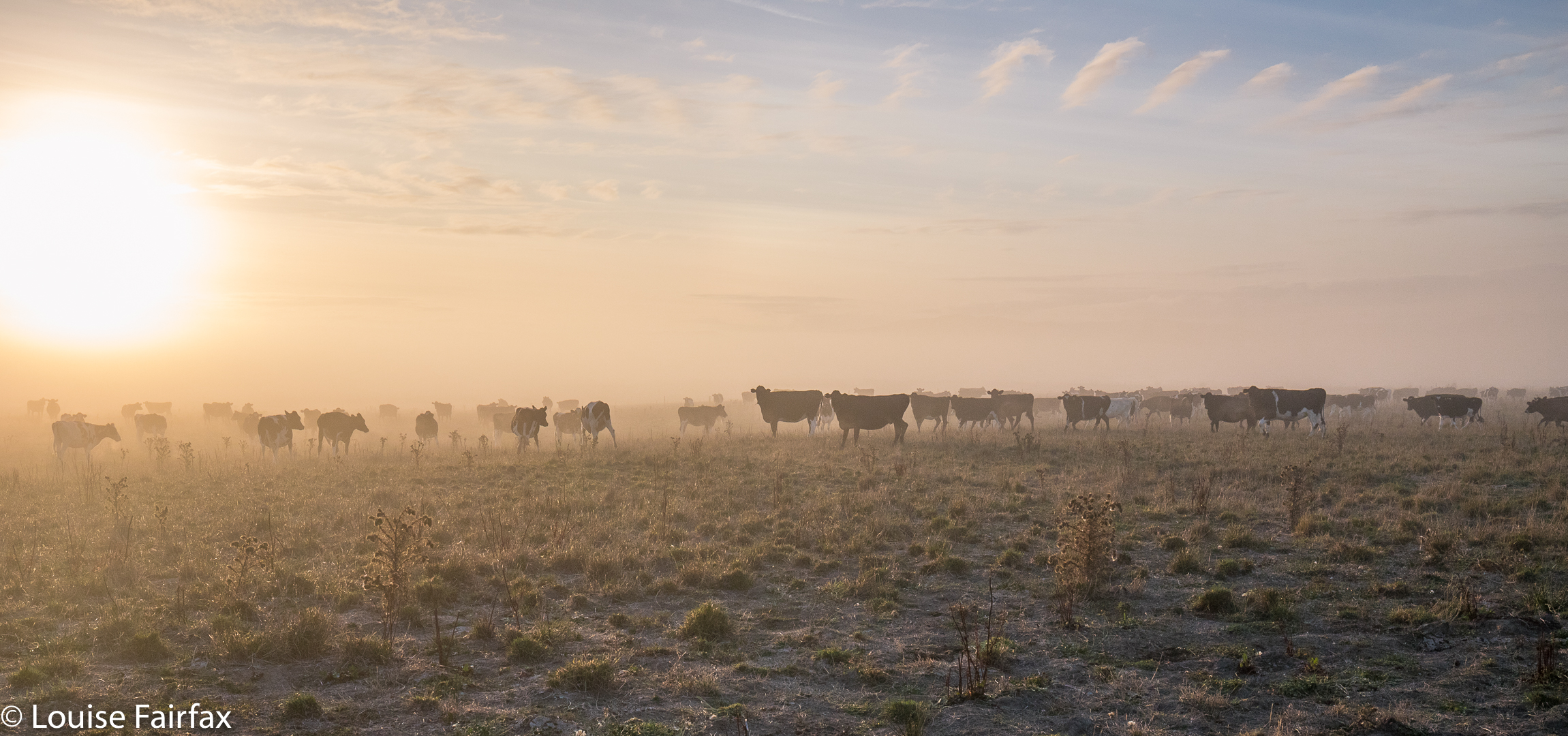 Loved the cows early on in my trip to the falls, shortly after leaving Launceston.
For reports on the other falls, see www.natureloverswalks.com/rawlinson-falls/ and www.natureloverswalks.com/frazer-falls/. I was too tired and hungry to do any more than a brief exploratory journey in the direction of Svengali. They're for another time.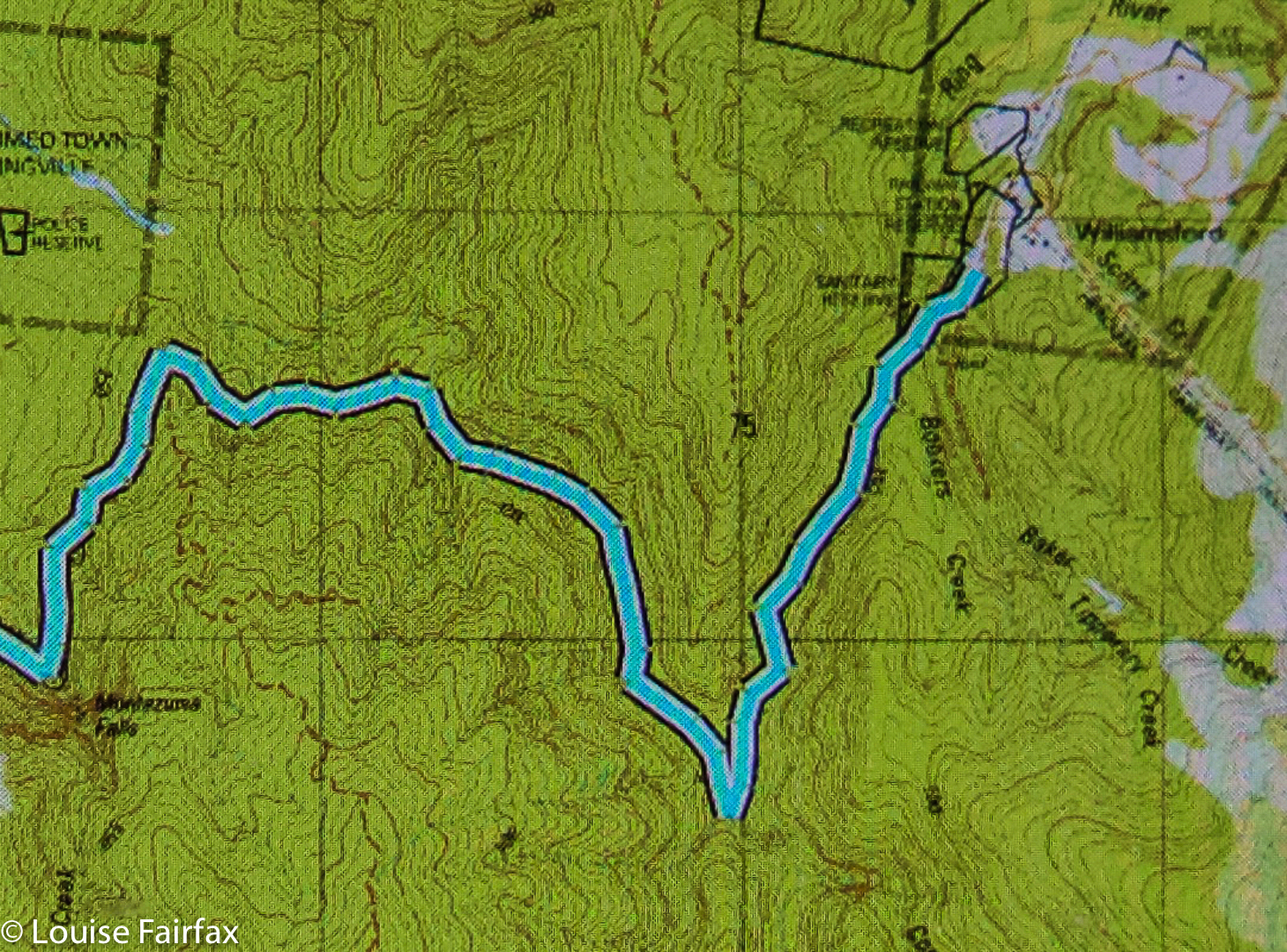 The tiny "settlement" in the top right corner is Williamstown, where you park. The road to it begins 2kms south of Rosebery, and is 6kms long. The Falls are marked on the sign that says Williamstown.