Dasher Falls Apr 2016
We did Dasher Falls in combination with Redwater Creek Falls Upper and Lower – a pleasant short trip from Launceston.
(See www.natureloverswalks.com/redwater-creek-falls/ )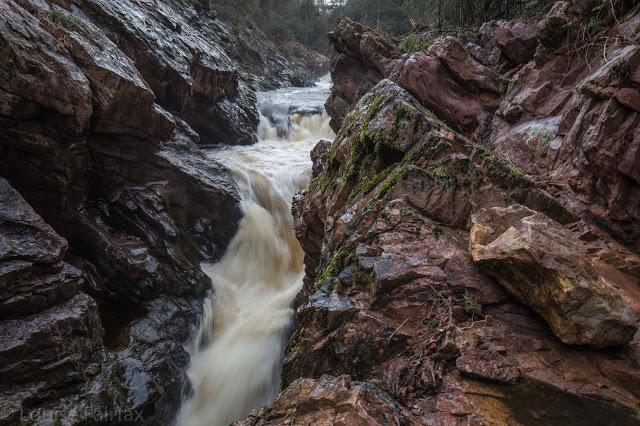 Dasher Falls
How to get there:  Driving from Sheffield, we turned towards Beulah at the intersection, along a road that the map (but not the signage) calls Bridal Track Road. We followed this along until there is a road off to the right at the bottom of the hill with a sign that says Lower Beulah 3 kms. This road crosses the Dasher River within 20 metres of the intersection. The falls are now about 400 ms upstream. You can either park there and walk up the road, or be lazy and do what we did and drive back up the hill for about 200+ ms until you see a pine tree with a pink tag on it. Parking there is fine pulling over to the left from this direction (but parking coming from the other direction and trying to spot tape etc didn't appeal to us). From this tree, follow tapes towards the river, and then upstream to your right. Soon enough (a mere 100ms or less) you'll see the falls. Today, after the heavy rain we've had, the mud and rocks were slippery, and my husband and dog both backed out of actually gong to the falls, settling for a walk back along the river on safer ground. I would not under any circumstances bring a child here unless it was on a lead! Maybe the picture is enough to tell you why. I was too scared to look over some edges.
After you've visited the falls, you can turn around by putting your nose into a dirt track that is on the right shortly after the pink-taped tree.