Eaglehawk Neck is not a place that thrills me, in that it has no high mountains and no lush rainforest, but I do like beaches and cliffs, so, as my camera club had a weekend there last weekend, I decided to join in.
It would be fun to see the Tessellated Pavement under different lighting conditions, and spend some time at the beach. I have always found the paths to be too tame and manicured for my particular tastes, but the tourists like them, and they need some spots, so this one does the trick.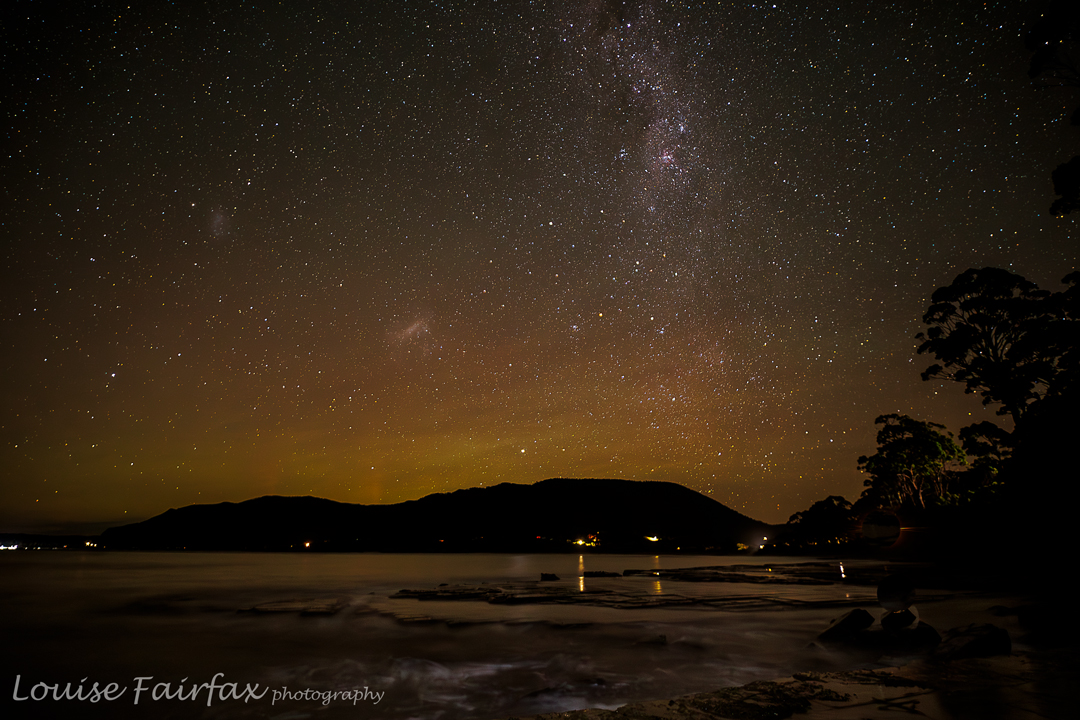 As it turned out, I hardly saw my club members at all, but I made some lovely friends instead, and they gave the trip a pleasant flavour. In particular, I had fun with Daniel and Sarah from Sydney while we waited in the cold for the moon to set so it would be dark enough for aurora spotting. I had delicious coffee on the hill with them next morning, but had to do the 1 a.m. shift alone, as nobody else seemed to want to get out of bed at that hour. I received a small aurora as a reward.
Tessa, my dog, mostly lived in the car, as my accommodation was a "pets not allowed" place, but Tessie is fine with that, as she knows I keep popping in to visit her, and that she gets several runs and walks each day. She feels secure in the car, and does not suffer from the normal separation anxiety that has been her lot since Bruce's death. We both adored the Neck beach, where dogs are allowed to romp and play. She dashed in and out of the surf with joy. It's so great to find a beach that lets dogs have some fun.
On the day I left, I popped into the Springs on kunanyi, and made friends with Sharon; we had fun walking trails together and talking heaps.
The next few days were spent admiring the wonderful Gussy and Abby, and watching gymnastics, waterpolo, chess club and the regional Primary School Athletics Championships –  photographing Abby's gym and Gussy's Aths races.
Shown here are some highlights from the trip..