Weavers Creek Falls, Nov 2018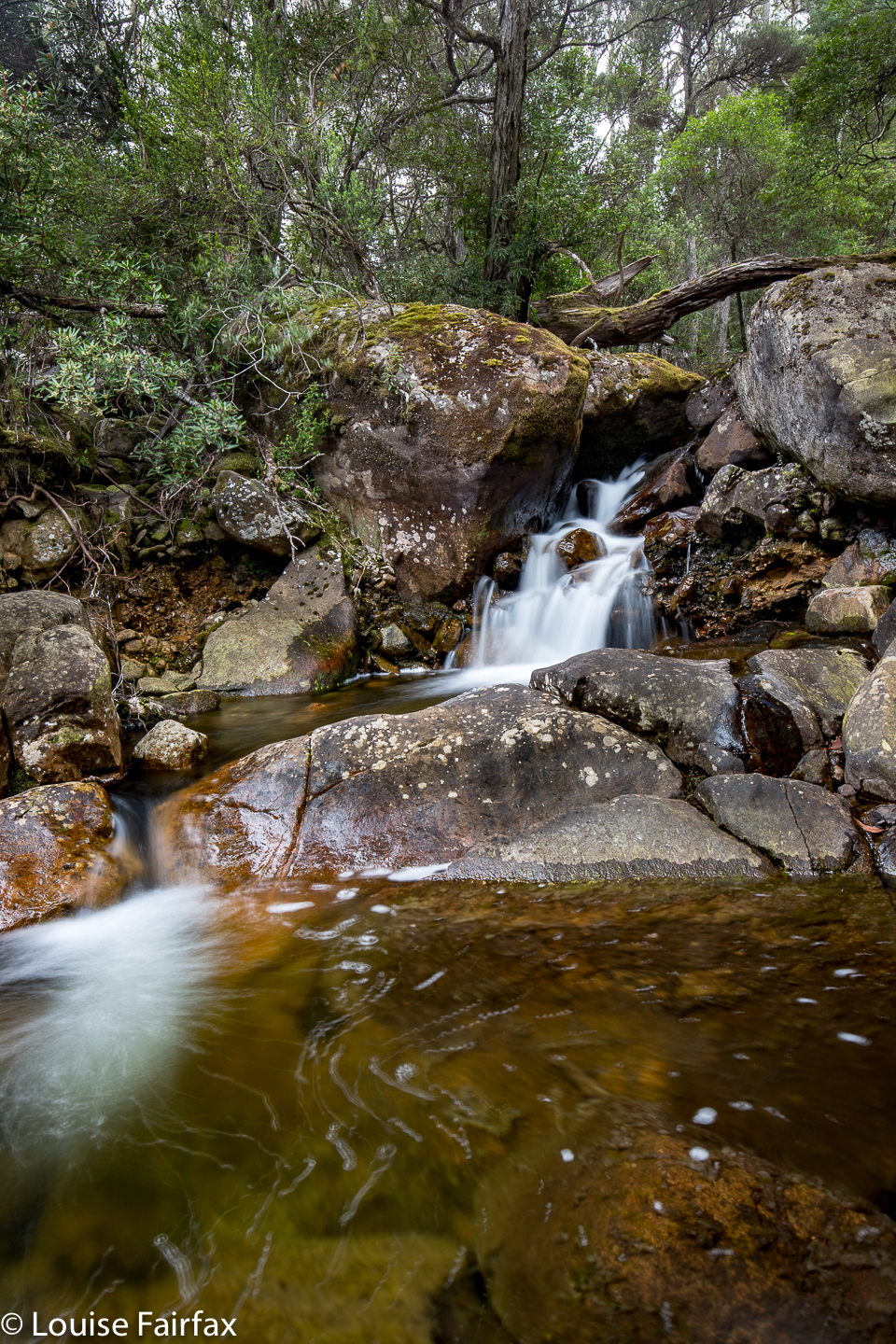 My visit to Weavers Creek Falls involved a huge discrepancy between expectation and reality. My expectation was: 30 mins to Nunamurra, an extra 10 minutes for the 11.3 kms Waterfalls of Tasmania (WoT) said from there to the falls; 10 minutes photography; 10 minutes back to Nunamurra; and 30 more home. Total time expenditure: one hour thirty minutes; a nice afternoon's jaunt. Tessie agreed; we packed our bags accordingly, and set forth at 2.30 pm. It was 25 degrees, so there was no need for a jacket, but this is Tassie, so I tossed one in anyway. I was wearing shorts and a T-shirt. There was certainly no need for food. We'd be home by 4 and could have afternoon tea before doing a bit more work on mulching, shovelling, carting and sawing before dinner. Also, it sounded very easy: find the Discovery Trail, drive for 11.3 kms and, presto, there's your waterfall beside the road.
And the reality? Well, the half hour to Nunamurra went well. When there, we saw a tiny blue sign off to the right to the Mt Barrow Discovery Trail, so took it, even though the web didn't say to turn right here. First intersection: one half is closed, "Open only 10.30 to 12 daily", the sign said. Oh. Is that where I was supposed to go? Who knows? I am already on roads that are not on the map and nothing is signposted. I decide to take the road that is open. Smart move. Up we go. Oh oh, another intersection. This time, I have two viable possibilities, but no help to decide which is the one. I choose the right option. My map doesn't have Weavers Creek marked, let alone the falls. Up I drive, on and on. I choose an unnamed creek and ask it to please be Weavers. We drive across it. No falls. I stare at the map – that really was the most likely looking creek. I have a go at another. No luck. This is a silly game. More map staring. More asking google if it knows anything about this. Google tries to send me to America, but I have neither time nor inclination to oblige. I decide to go back to Nunamurra. I have now been driving an hour. Luckily my tank wasn't low.
I ask the kind lady in the petrol station. She has never heard of Weavers Creek Falls, but suggested I try Weavers Creek Road just five minutes down the way; it might be a good lead. Well, it might indeed, but it has a no-nonsense gate, locked, with Private and Thou Shalt Not writ over the door. I didn't go there. I explored further down the road to the Mt Barrow turnoff, for, after all, WoT said you were on the lower slopes of Barrow, and I didn't feel at all near Barrow at Nunamurra. Back to the petrol station. A different lady was there. The first was possibly asleep by now. No, she had no information, and had never heard of the falls either (she was very nice about it, and told me to write to forestry). It was now after 4.15. "The sign says I have to be out by 5 or the gate will be locked. Is this true?" "Na," she reassures me. I hope she's right. "Stick to the main road", she offers. I thought I'd already done that, but, I'm a persistent little beastie, so, back I go to try again.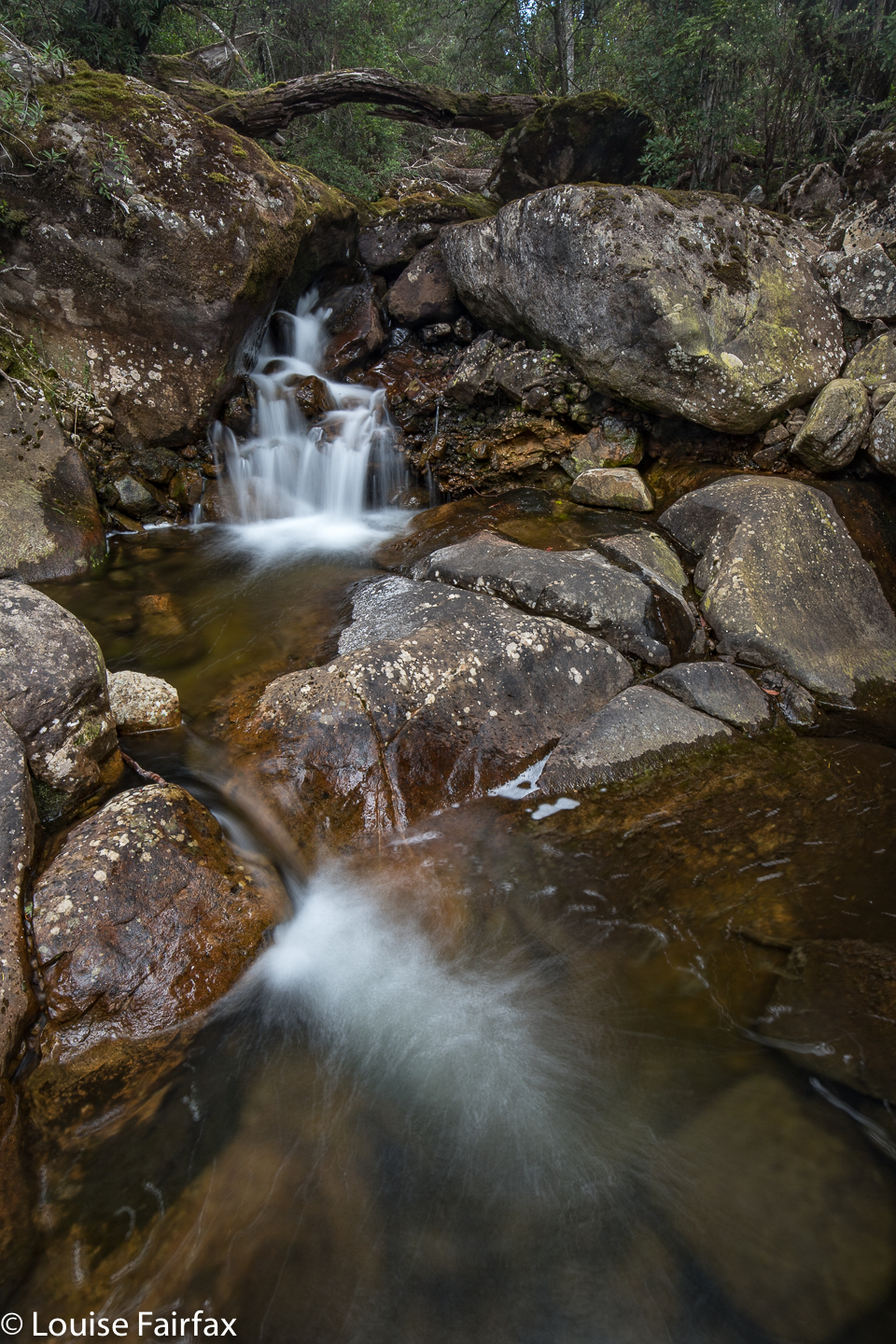 This time, I choose the left fork. A bit later, I get a few signs that indicate I made a good choice. Hoorah. I am watching the odometer pretty carefully at this stage, using the 11.3 as a bit of a guide. I pass Foone Hill, elevation over 800 ms. I pass a fabulously huge rock with Maxs Lookout perched atop. Another fork, and all of a sudden, the indications stop and both forks look unpromising. The one on the left says "Mt Barrow Discovery Trail", which is what WoT said my goal was on, so I ignore the felicitous name "Weavers Creek Road" and follow directions. Wrong. The road got very bumpy, the rocks and corrugations got bigger. 11.3 kms came and went and on and on I drove. But pictures of things that were not there in reality, like Tassie Devils and Wedge Tailed Eagles, were posted up to encourage me, so I continued in my quest.
Eventually I came to the top end of Weavers Creek. I am not on a road on the map, but I am on the creek, and I hope the road will go where I am assuming it will go, in which case it might cross Weavers Creek lower down and give me a waterfall. The temperature is now 8 degrees. It is after 5. The road does what I want, and I cross Weavers Creek again, but still there is no waterfall. I hope for a third crossing. Getting pretty desperate at this stage. And cold. And hungry.
And at last I see a little white bit of churned water, cascading over a rocklet, and disappearing thence under the bridge I am about to cross. There is a bit of a parking area. I get out and inspect this foamy droplet. Yep, it is the "falls". They are about 2 metres high if you are generous as to where you take the measurement from. They do not fall; they cascade. However, if you are not cranky, jaded, hungry and freezing, you could admit they are a little pretty. Anyway, I need to photograph something after all this driving, so I do. I got home without further incident at 6.45. My meanderings had wasted two and three quarter hours due to lack of specific information and decent signposting. Listmaps does not acknowledge that these falls exist, and they can hardly be blamed for that. I am wondering what bureaucrat pulled what strings to get this put on the website as a waterfall. Anyway, it exists on a list, and I have bagged and photographed it, although not with very good grace. Pity, as it is rather cute. I think the problem is not the size or any other aspect of the falls, but the fact that I was led to believe this was a brief and easy frolic, but encountered a frustrating epic. By the way, the reading of 11.3 kms only works if you take a short cut and go around the circle in a direction not originally intended. Presuming there's no traffic on the road, that's probably OK. The problem is there are no signs anywhere to direct you on roads that are not on the map. But hey, I live to tell the tale, and so can you, so give it a try.